BOOK YOUR QUEENSTOWN AIRBNB SOLID WITH TOP QUALITY PROFESSIONAL QUEENSTOWN AIRBNB PHOTOGRAPHY
Do you want to get more bookings for your Queenstown Airbnb this ski season? Are you struggling to get bookings while you watch other listings get tonnes of traffic?
Well, the good news is it's not rocket science. The key is Top Notch Professional Queenstown Airbnb Photography.
Over the past couple of years I have been doing a lot of Queenstown Airbnb photography. As a result, I often get asked by my clients how professional photography can help their Queenstown Airbnb rankings and get them more bookings. While I don't claim to be the world's biggest Queenstown Airbnb photography expert I do have some experience on the subject. So, I thought I would take this opportunity to share some of the insights I've learned over the past few years. Hopefully this info will help you to get more bookings for your Queenstown Airbnb property.
4 REASONS WHY YOU NEED PROFESSIONAL QUEENSTOWN AIRBNB PHOTOGRAPHY
(I know I'm a bit biased on this subject, being a professional photographer myself and all. But please hear me out).
House interior photos are notoriously difficult to do well, even for a serious hobbyist photographer. Even a pro photographer without the relevant experience, skills and equipment will not be able to get great results.
#1 One reason you need a pro for your Queenstown Airbnb Photography is because many rooms are small. Small rooms require a specialised lens and even specialised software in order to shoot an image that shows the whole/most of the room without distortion. (Many "normal" ultra wide angle lenses will allow you to shoot most of or all of the room in one shot but they will curve the vertical and horizontal lines. Meaning your room and the objects in it, start to resemble a fish-bowl!).
#2 The other major reason is because even in a well lit room, if you are shooting in daylight the view out the window is going to be significantly brighter than the room itself. Which means that it is very difficult to show the view and the room well in the one photo. Typically the view out the window will be too bright relative to the room itself and will "blow out'. This will result in a bright white window with no/little view visible. Now, this isn't always a bad thing, you will even see it in some very pro looking Airbnb photos from time to time. This type of shot can give a light and airy (even heavenly), sun-bathed feel to your property. However, in a place like Queenstown which is renowned for it's stunning mountain and lake scenery, you definitely want most of your photos that feature windows to show that stunning view. (And remember, as a Queenstown local you may not feel your views are particularly flash but people from other parts of the world will usually be blown away by even the most ordinary of Queenstown scenery). So, many photographers will shoot using the HDR (High Dynamic Range) technique. This is where they (put the camera on a tripod for best results and) shoot a bunch of images of exactly the same thing, some really dark to show the highlights (eg the view out the window) well and some really bright to show the detail in the shadows well. Then they use one of the many different HDR software applications on the market to combine these images together into one image. The end result varies highly based upon the photographer's HDR experience, the software they use and also their personal taste. If the photographer goes overboard in their use of HDR software you can end up with images that look fake, over the top, or just plain wrong. But, as they say, beauty is in the eye of the beholder. Personally, I use a mix of portable lighting equipment and HDR techniques to achieve images that are beautiful, capture all the details including the view out the window, but also look real and don't make people yell "Photoshop!!!".
#3 Another reason you need to hire a professional photographer is because, although Airbnb offers free professional photography (many people aren't aware of this) for qualifying Airbnb hosts, you have to have an Airbnb property that is performing pretty amazingly well to even qualify. Even then, these professional photography services are not available in every area (to my knowledge they are not available in Queenstown). So, if you have a brand new or nearly new Queenstown Airbnb listing, chances are you will have to hire a professional photographer on your own dime if you want to get more Airbnb bookings.
#4 Your Airbnb cover photo is the most important photo of your property full stop. It is this photo that will draw viewers in to learn more – or scare them away permanently! The photo you use for your cover shot should of course be beautiful, professional quality and make your property stand out from the rest. But it's also very important that it be cropped specifically for the aspect ratio Airbnb uses for their cover photo. This is because the Airbnb website crops the cover photo automatically and may crop it in a way that looks weird or just doesn't look as good. The closer you can get your cover photo to the aspect ratio Airbnb uses, the greater chance the cover photo will look the way you want it to look once uploaded. Also note that the image is also cropped differently in the thumbnail view when you are browsing to how it appears when you click on it.
The Airbnb website will handle the cover image differently based on what device the user is viewing them on and which part of the Airbnb website you are viewing the image. As an example, below are 2 versions of the same cover image (not shot by me!!!). The first version of the cover photo is from the Airbnb home/search page on desktop (it appears exactly the same on mobile in this case). The next image is how the same cover photo is cropped automatically when the viewer clicks on the first thumbnail image and the listing appears. (Note: I did originally include a cover photo – again, not shot by me – from an Airbnb property I'm in the process of updating the photos for. It was a great example of non professional photography not always doing the property justice and also (in this case) being cropped weirdly by the Airbnb website when used as a cover photo. However, I couldn't bring myself to keep the photos in this blog post where people might not read the text and think they are my work. So instead I'm using a quite nice cover photo from a random treehouse somewhere in the US.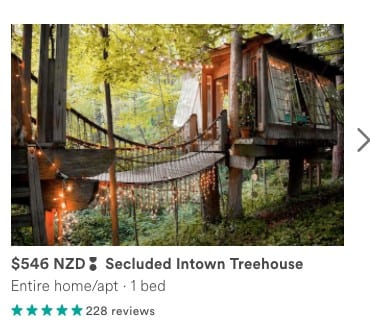 Above: this is the cover photo as it appears on the Airbnb home page/search page. Ie how it appears as a thumbnail.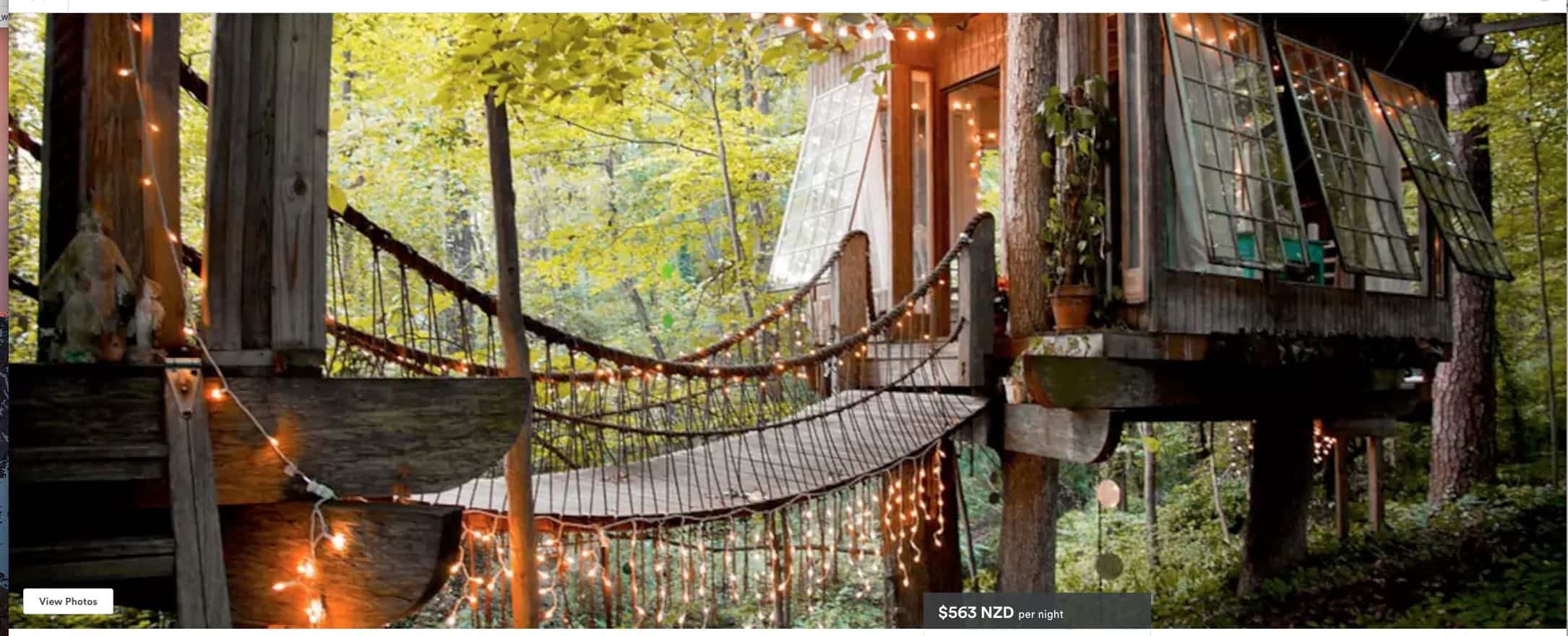 Above: this is how the same image appears on/is cropped by the Airbnb website when you click through from the thumbnail to the property listing. In this case the crop works well – sure we have lost the top of the treehouse but we still "get" the image and the treehouse still looks awesome. This is an example of a good photo cropped well for use as a cover photo.