QUEENSTOWN ENGAGEMENT PHOTOGRAPHY 101
Are you trying to plan the Most Romantic Queenstown Engagement Photography EVER? And you want to hire a Queenstown Proposal Photographer to capture that once-in-a-lifetime moment? AND you want it all to be a total surprise? (Don't ask for much do you?). If you want some free tips from a Queenstown Proposal Photographer then read on. I will give you the inside scoop on this whole Queenstown Proposal thing…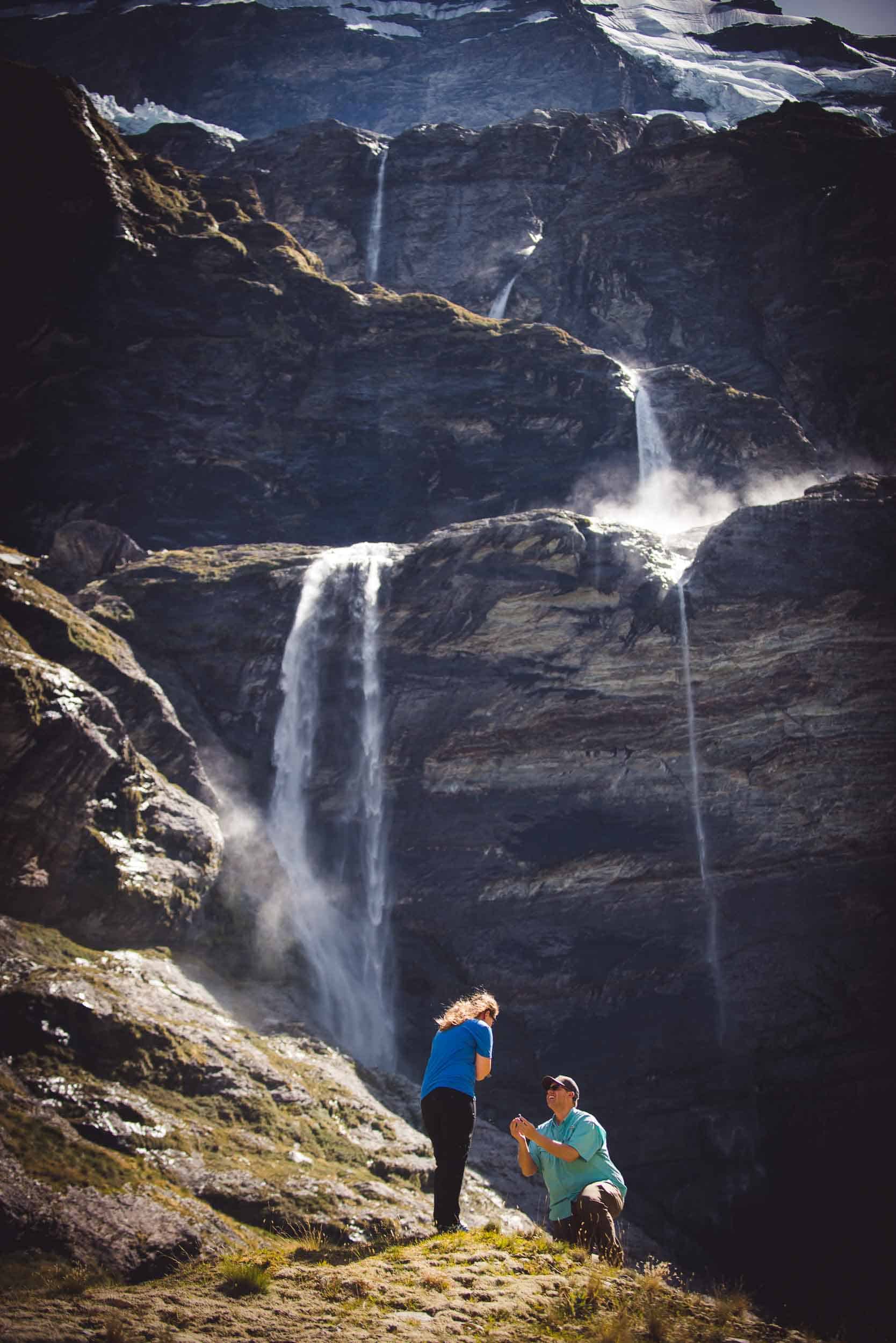 STEP 1: FIND A QUEENSTOWN PROPOSAL PHOTOGRAPHER WHO'S RIGHT FOR YOU
Now, I'm assuming you would like to get some professional photos done of your Queenstown Proposal. If I'm wrong about this, skip this step and read on.
Ok great, you're still with me. The reason I start with finding your Queenstown Proposal Photographer as Step 1 is not because I think the whole world revolves around Photography. (Although…). It's just that, if you want some professional photos taken of your Proposal, the planning will have to take into consideration your chosen photographer. Especially if you want the whole thing to be a surprise. So Step 1 is to find a Queenstown Proposal Photographer who is right for you. Obviously, start this search in the way everybody pretty much starts it. Hit up Google. Ask anybody you know (and like) who has done a shoot with a professional Queenstown Proposal Photographer. Use Tarot cards etc. Then pick half a dozen or so Proposal Photographer's you like the looks of out of everyone you've seen.
Email them all but make your email personable. Tell them a little something about yourselves, give them a glimpse into who you are as people. (Don't be nervous, they can't force you to buy anything by email). Getting to know your potential Engagement Photographer and letting them get to know you is a very important part of the process. It will help you to figure out which photographer might be the right man/woman for the job. And for the Photographer you end up booking, the better you know each other the better your Engagement Photos will be. This is mostly because you will feel more comfortable with them. Also, this way your Photographer will have more of a sense of who you are as people and can shape the shoot accordingly.

STEP 2: TRUST YOUR CHOSEN QUEENSTOWN PROPOSAL PHOTOGRAPHER
Right, you've found your Dream Queenstown Proposal Photographer. (Good work you!). Now, hopefully you actually trust them! (You are asking them to photograph one of the most important moments in your life after all). So if you trust them, trust their knowledge and experience and pick their brains on how best to pull off The Most Romantic Queenstown Proposal Ever. Now that's not to say you can't plan your Proposal your way. Of course you can. But it would be foolish not to ask the opinion of somebody who is a Queenstown local and has a tonne of experience with Queenstown Engagement Photography.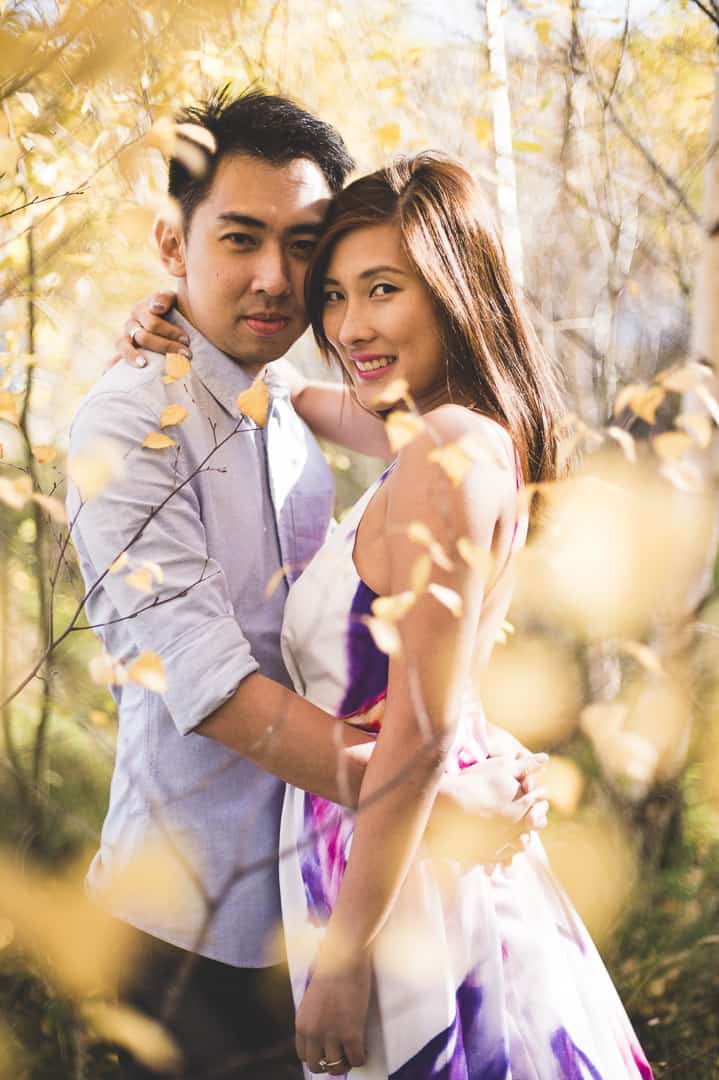 STEP 3: HAVE A (BLOODY) GOOD COVER STORY – A BELIEVABLE ONE
Now this Step all depends upon the exact nature of the Queenstown Proposal you are planning. But, generally speaking it can be hard to have your Proposal Photographer close enough to capture the moment you propose without being seen. So, your best bet is to hide your Engagement Photographer in plain sight.
Get somebody else to propose a completely different kind of Photo Shoot. Eg get your mum to give you two a gift voucher for a Couples Photoshoot while you are in Queenstown. Or maybe you can tie your Proposal in with some sort of guided tour or adventure tourism activity. And then your Proposal Photographer can pretend to be the official photographer for the group. Or perhaps your Photographer can pretend to be just another guest on the tour. A guest who is a serious amateur photographer.
If you're planning a Queenstown Heli Proposal then you can tell your fiance-to-be that there will be some other guests on your flight. Just say that the other "guests" are from a previous flight that got cancelled and they got bumped to your heli flight.

STEP 4: GET DOWN ON YOUR KNEES – AND STAY THERE!
Now you may think it's silly or old-fashioned or both to get down on one knee to propose. But I, for one, think it's incredibly romantic. And more importantly, the photos of you down on one knee are the only photos that shout out to the world "I'm proposing!". So I suggest you do the down on one knee thing. And when you do get down on one knee, stay down there for longer than you think is necessary. I would recommend 20 seconds at least – your Queenstown Surprise Proposal Photographer will thank you for it! If your now-fiance kisses you while you're down on one knee even better! (Don't worry, there will be more kisses later when you're standing).

STEP 5: HAVE A SECRET CODE WORD
(I mean come on – what good plan doesn't involve a secret code word?). So, you've managed to get your fiance-to-be to where you plan to propose. Your Proposal Photographer is there and your partner hasn't figured it out. Your photographer is nearby, maybe even with camera in hand pretending to be an amateur photographer. But even if your photographer is posing as a photographer, unless your cover story is a photo shoot involving you they can't be shooting or even looking at you two the whole time. So it's helpful to have a secret code word, gesture or signal that will let your Queenstown Surprise Proposal Photographer know that a proposal is about to go down. Or just agree on timing before-hand. Eg "I will drop down to one knee 5 minutes after getting out of the helicopter once the pilot has walked us over to a good scenery viewing spot".
STEP 6: INCORPORATE A SIGN, LETTER OR OTHER KEEPSAKE INTO YOUR QUEENSTOWN SURPRISE PROPOSAL PHOTOGRAPHY
This one is care of this Blog Post on www.howheasked.com.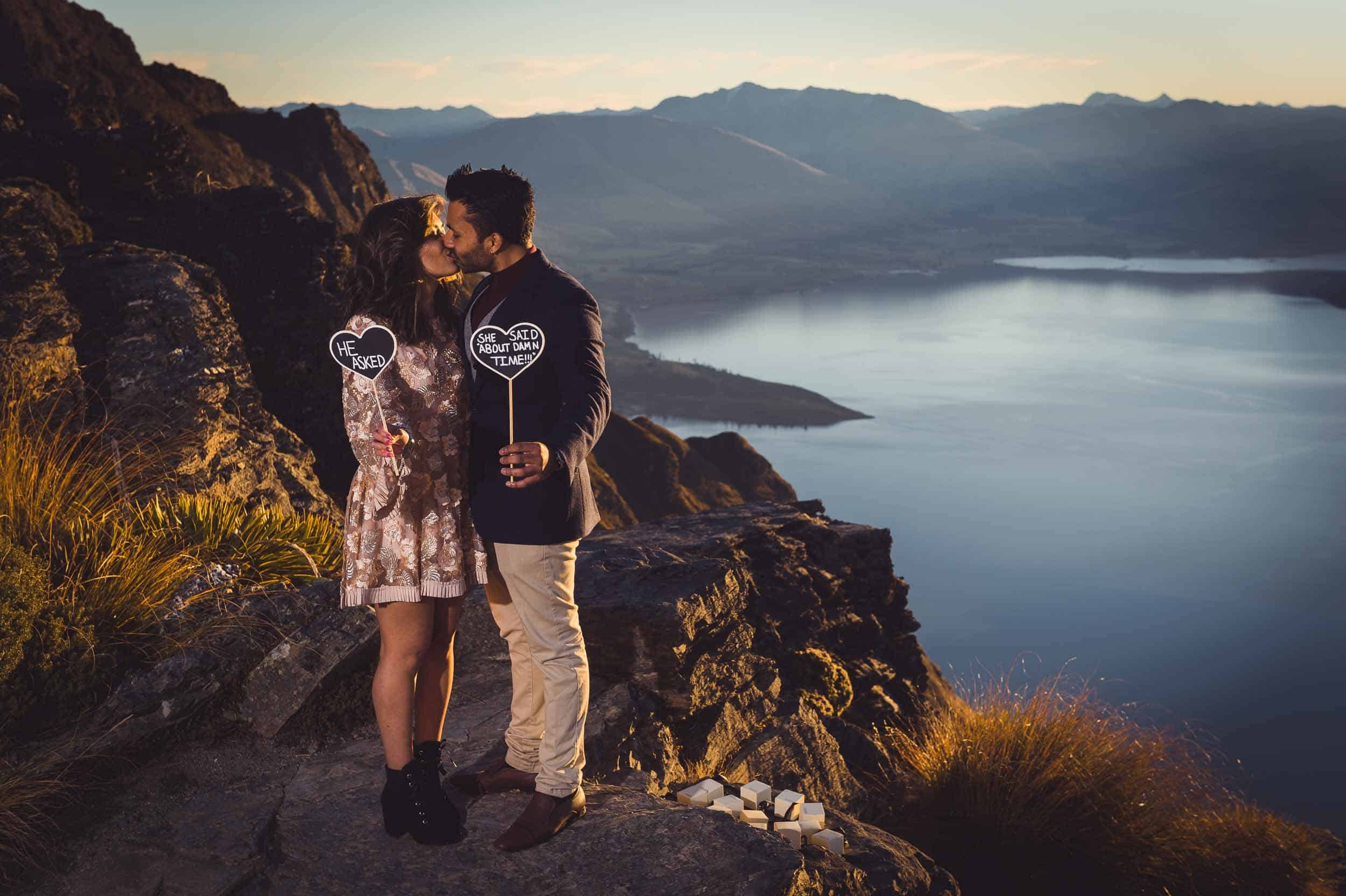 "Incorporate a sign, letter, or other keepsake into the proposal. We LOVE when we see something sweet and/or clever go into a proposal. For example, in this proposal, the photographer brought along two chalk boards and in the middle of the shoot, asked the couple to each write a sweet message to the other. When they flipped their boards around, the happy (and shocked) girl read "Will You Marry Me" and fell to one knee with him." – Emily, HowHeAsked
Right, hopefully this Blog Post gets your creative juices flowing and helps you plan your Queenstown Surprise Proposal and find the right Queenstown Surprise Proposal Photographer for you. If you need any more info or advice or you'd like to know about my Queenstown Proposal Packages, get in touch via my Contact Page. Alternatively you can email me at patrick@fallon.co.nz or give me a bell on +64(0)231737356.
You might want to also check out the following blog posts to see more samples of and learn more planning tips for Queenstown Surprise Proposal Photography;
Roshan + Sujata | Surprise Queenstown Heli Proposal
Rustam & Harustat's Surprise Glenorchy Heli Proposal
get in touch via my Contact Page
How To Pull Off The Perfect Photo Shoot Proposal – by howheasked.com.
Planning to propose to the love of your life and no idea where to start?
I can help. Get in touch below.
Ask A Question