Imagine a Queenstown Restaurant Wedding Venue set on top of a mountain with stunning views of Lake Wakatipu and the surrounding mountains. Picture all this set right in the heart of central Queenstown. Not only that, but you don't even need a car to get there – you can just hop in the gondola! (Or fly there and take advantage of their helipad). And when you get to the top, there is a private dining room (also with stunning views). Everything is set up for you with quite possibly the best buffet you or your guests have ever experienced.
Well, if all the above sounds good, Skyline Queenstown might just be the Queenstown Restaurant Wedding Venue for you. If you are after a stress-free Wedding with amazing views then Skyline is pretty hard to beat.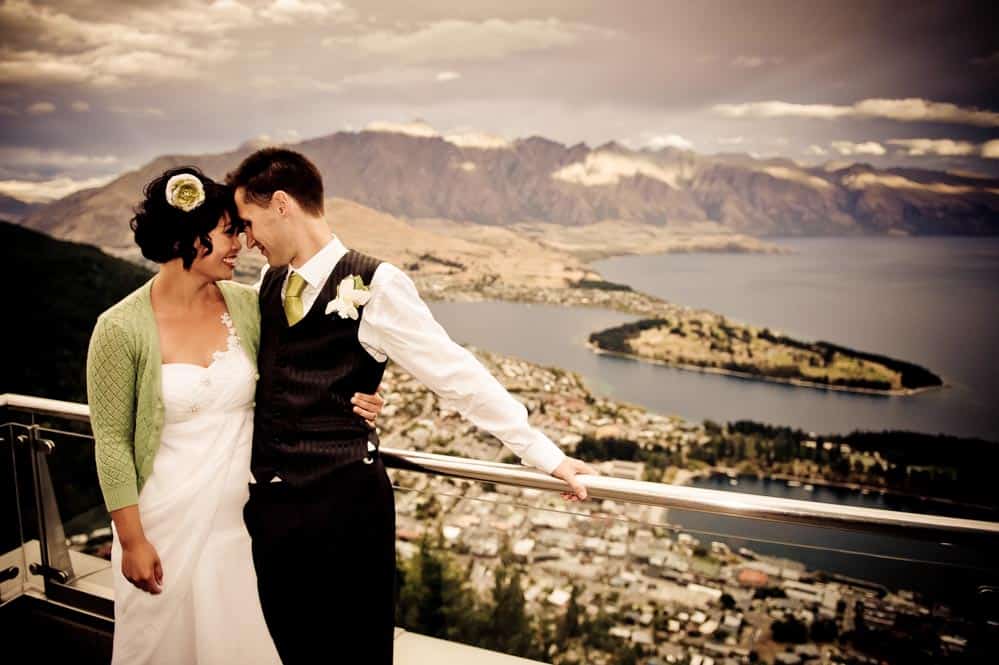 About Skyline Queenstown
Skyline Queenstown's restaurant and main building is situated on top of Bob's Peak overlooking Queenstown. If you look up pretty much anywhere in central Queenstown you can see the Skyline gondola. The Skyline restaurant complex is situated at approximately 700 metres above sea level, so approx. 400 metres above Queenstown itself.
Skyline is a popular destination for people wanting to enjoy all sorts of activities. Including paragliding, the luge, bungy, hiking, mountain biking or zip-lining with Ziptrek Ecotours. But Skyline is also a popular spot for those just wanting to take in the views or enjoy a coffee/snack or fine buffet.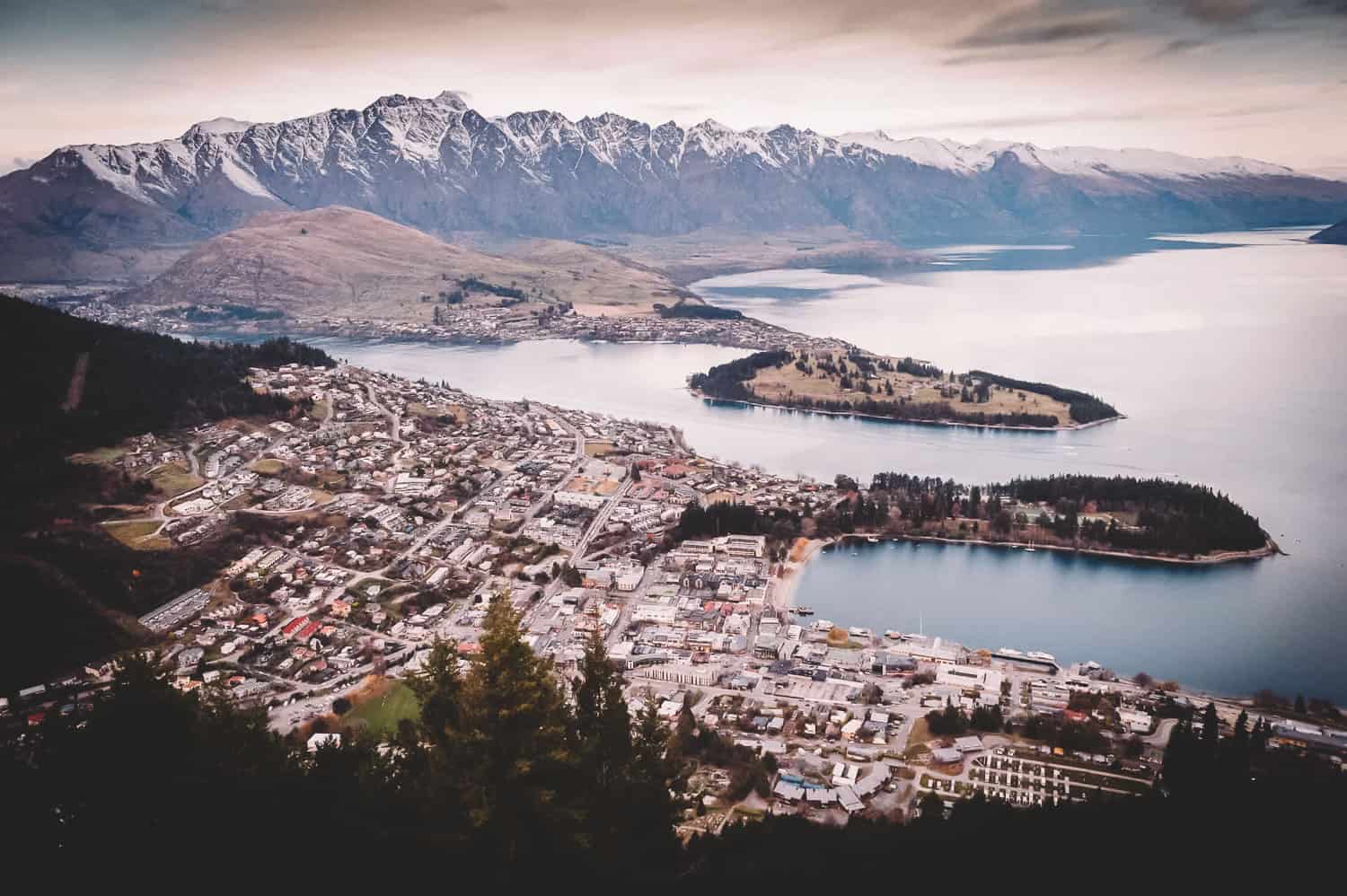 Skyline is one of Queenstown's most popular tourist spots and is almost always busy. However, the rooms where Skyline hosts Wedding Ceremonies and Wedding Receptions are totally private whilst still offering stunning views out over the lake and mountains.
Wedding Ceremonies at Skyline Queenstown
All of the wedding ceremonies I have shot over the years have been in the Wakatipu Room. This large open plan room has panoramic windows the whole length of the room overlooking Lake Wakatipu and the surrounding mountains. Because the ceremony location is indoors but has stunning views it is the best of both worlds and means you don't need to worry about the weather.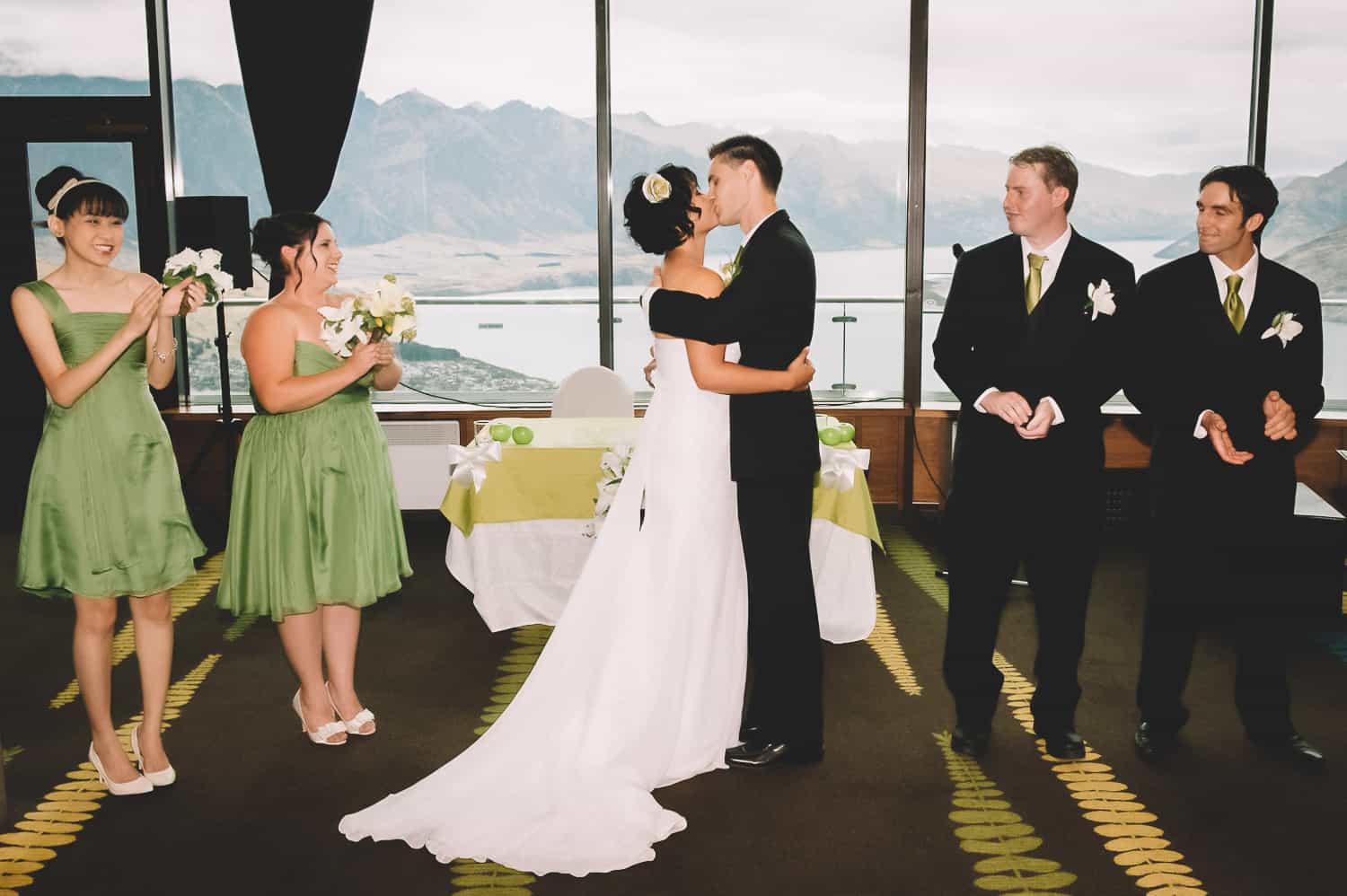 Wedding Receptions at Skyline Queenstown
The beauty of hosting your Wedding Reception at Skyline Queenstown is that they can take care of many aspects of the Reception for you. Skyline is famous for their buffet, and with good reason. (I'm not a huge fan of buffets but have always loved Skyline's buffet). A buffet is a great way of making sure that your guests get to eat things they like and that it doesn't take forever to server everybody. Skyline can also provide a bar all your alcohol and bar staff, tables, cutlery, plates, etc. The only thing you will probably need to arrange yourself is a band or DJ. If your guests are accommodated in central Queenstown they may not even need transport as the bottom of the gondola is an easy walk from the main street of Queenstown. (Although there are a few steps to climb on the way!).
Location Photos at Skyline Queenstown
Whilst Skyline Queenstown has stunning views, there are a couple of tricks to getting good bridal party/bride & groom photos there. The most stunning views at Skyline are to be had from the viewing deck on the front (southern face) of the building, overhanging Queenstown. However, this deck is mostly quite narrow apart from the main viewing platform. And the main viewing platform is invariably busy with tourists. However;
It is possible to get some small group shots on the viewing deck showing the view – particularly if you shoot from inside the Wakatipu Room through an open door with your subjects on the viewing deck.
You might get lucky and have no-one on the main viewing platform deck when you're taking photos.
There are one of two spots outside and above the restaurant where you can get uninterrupted views that will show the lake and mountains without a tonne of tourists/buildings in them.
Helicopters
It used to be that back in the day you could land a helicopter anywhere in Queenstown. But these days you are often limited to taking off and landing at the heli base. The helicopter companies all have their heli bases at Frankton near the airport. Given how busy both Queenstown roads and Queenstown wedding days are these days, often it's the travel time to and from the heli base that puts couples off. One of the big advantages of having your wedding at Skyline is that they have their own private helipad. This means it's possible to land right outside your Reception Venue on your wedding day. Note however that Skyline is limited to a maximum of a certain number of landings per year. And I believe they only work with one helicopter operator, The Helicopter Line. So do get in touch with Skyline to learn more.
Long story short
If you are after a Queenstown Restaurant Wedding Venue with AMAZING mountain and lake views, awesome food and service that can handle pretty much all aspects of your Wedding Ceremony and Reception then Skyline Queenstown just might be the perfect wedding venue for you.
P.S. If you enjoyed this post, you might also find this blog post on Queenstown Wedding Venues and this blog post on How To Find Your Dream Queenstown Wedding Venue