Louise + Tom's Breathtakingly Beautiful Queenstown Winter Wedding
If I could clone Louise & Tom and pretty much everything about their Queenstown Winter Wedding, I would have to seriously consider it!
CRAZY CATS
These two crazy cats are such awesome people – natural, relaxed, loving and funny. And on top of all this, they're good looking too! You could pretty much use the exact same words to describe their Queenstown Winter Wedding.
A COURTHOUSE WEDDING
Their wedding day was kind of an unusual one. It started out with a small and intimate courthouse wedding with just their closest friends and family in attendance.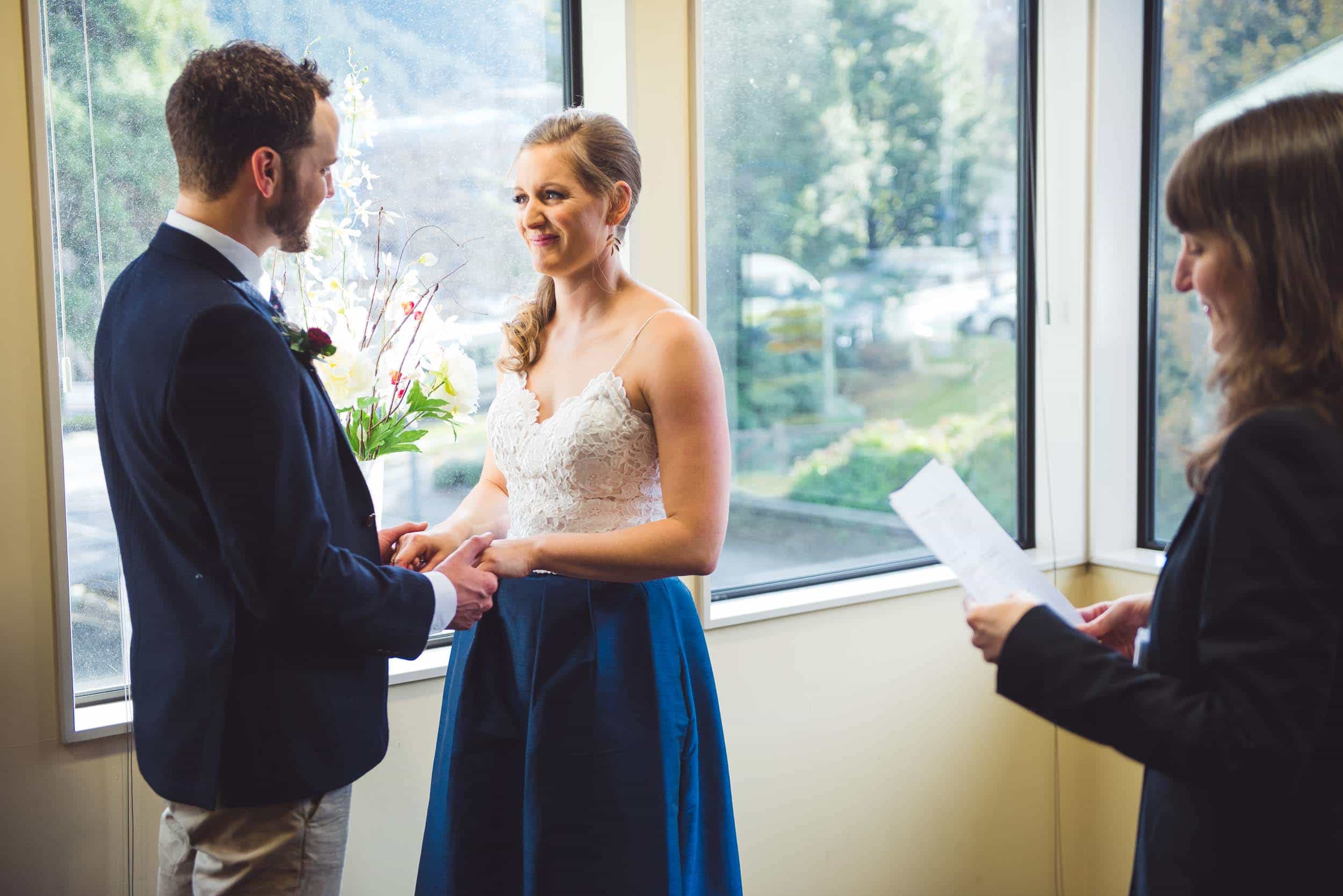 VANGUARD PEAK HELI WEDDING SNOW PHOTOS
Then Louise, Tom and their bridal party (which consisted of Louise's brother and Tom's two sisters) and I whipped out to the Glacier Southern Lakes Helicopters heliport out at Frankton. We jumped into a helicopter and zipped off to Vanguard Peak (a stunning mountain just behind Coronet Peak Ski Area).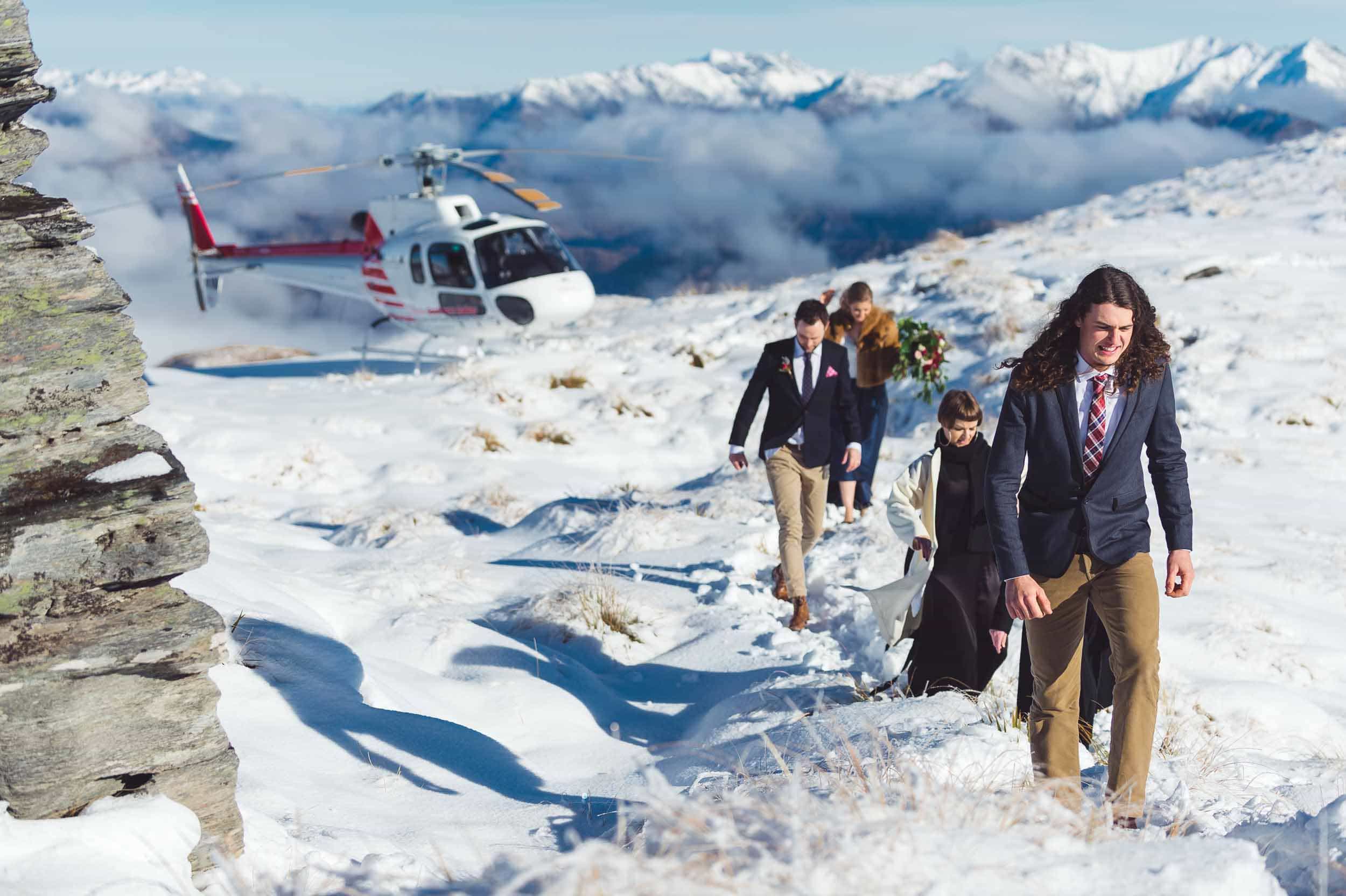 Rock Spires, Epic Light & Ankle-Deep Snow
I had never shot at Vanguard Peak and it was absolutely stunning. The weather was literally perfect, not a breath of wind, blue skies with a hint of cloud and drama. We found a cool spot with some amazing rock spires and a stunning view as a backdrop. The snow was well over ankle deep and blanketed the entire scene in perfect white.  The photos we captured together that day are easily some of my best Queenstown Winter Wedding Photos ever.  Even now when I look at them, I can't help but smile.  Not only because the photos are beautiful (even if I do say so myself!).  But also because Tom and Louise and their friends and family are such lovely people.  And it was such an awesome, relaxed, fun day.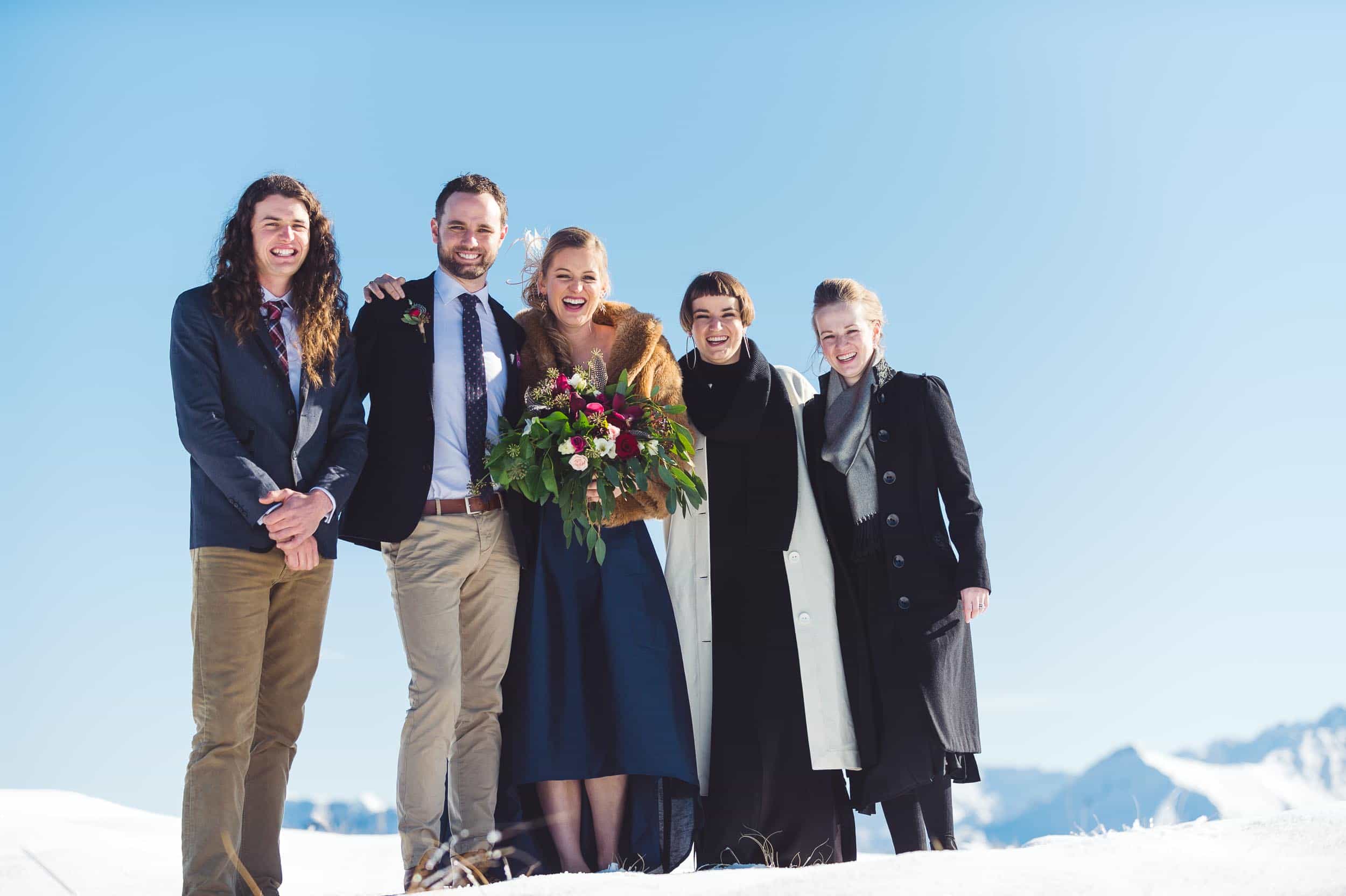 Stupid AND Awesome
The Bridal Party photos were hilarious, Louise & Tom couldn't help themselves and every now and again would bust out the most hilarious poses (that you knew were totally "them", not them trying to be anything). They apologised for their poses but I loved them and feel they really showed their happy, funny personalities.
THURLBY DOMAIN QUEENSTOWN WINTER WEDDING CEREMONY
After the heli, we drove out to Thurlby Domain.  Here 50 or so of their friends and family waited in the beautiful old stone Stables.  The Stables at Thurlby Domain is a stunning long rectangular building with stone walls and a tin roof. The floor is cobbled stone and the walls are dotted with ancient wooden stable doors and candle sconces.  Skylights dot the roof for 3/4 of the buildings length.  These skylights let in a lovely soft light for most of the building.  Beyond where the Bride & Groom normally stand for their vows there are no skylights.  This makes for an incredibly moody dark background that focuses attention on the Bride & Groom.
Vicki, a good friend, acted as an unofficial celebrant for the re-enactment of Tom & Louise's wedding vows.  Tom and Louise walked down the aisle together hand in hand and I don't think there was a dry eye in the house at that point.  Their Wedding Ceremony was short and sweet and beautiful.  I think the fact that Tom & Louise were officially married already by this point made this ceremony reenactment feel super relaxed and natural for them.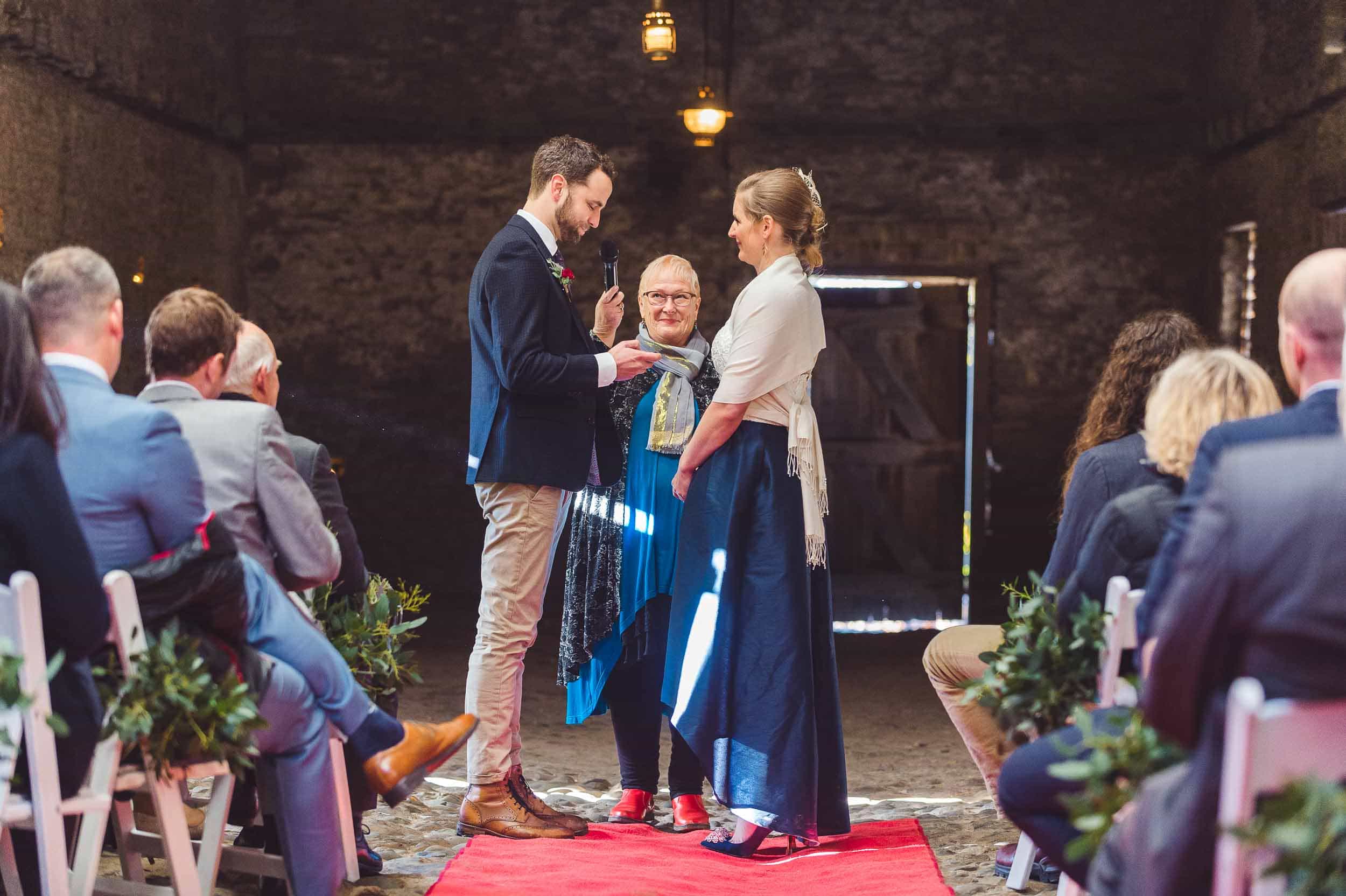 WINEHOUSE QUEENSTOWN WINTER WEDDING RECEPTION
After the ceremony everybody moved over to the old red wool-shed for canapes and champagne and a general catch-up. After much laughter and a respectable amount of champagne the guests all hopped into a bus and made their way out to The Winehouse in Gibbston Valley for the Reception.  And this was where the party really got started with amazing food and wine, and live acoustic music from local duo Freefall.
A RELAXED QUEENSTOWN WINTER WEDDING IS ALL ABOUT ATTITUDE
It's funny.  Thinking about it before the wedding day, it felt like Tom & Louise's Day could potentially be quite busy-feeling (ie the opposite of relaxed).  After all, their day packed in a courthouse wedding, a heli flight, a ceremony re-enactment and a reception.  Ie a total of 4 key parts to the day in 4 completely different locations.  And one of them was only accessible by helicopter! But in the end Tom & Louise's Queenstown Winter Wedding didn't feel rushed or busy at all – quite the opposite. The way the day worked out felt so relaxed and fun and natural and so perfect for not only Tom & Louise but their friends and family too. Now you'll have to excuse me, I need to go and Google "How to clone humans"… In the meantime, enjoy a few more pictures from Louise and Tom's amazing wedding day!
Last but not least, I'd like to say a huge thank you to Hair To Wed, Eve Makeup Artistry, Helitours, Winehouse and Blue Peaks Lodge Queenstown.  You guys all played a big pat in making Louise & Tom's day so awesome!
More Thurlby Domain Blog Posts and Resources
Do you like the idea of a Thurlby Domain Elopement or Wedding?  If so, you can check out more weddings I have shot at Thurlby in the following blog posts;
Nick & Nina's Unconventional Thurlby Domain Elopement
Stunning Thurlby Domain Wedding + Peregrine Winery Reception | Andrea + Pat
Louise + Tom's Breathtakingly Beautiful Queenstown Winter Wedding
Cat & Cass's pretty damn awesome Thurlby Domain Winter Wedding
An Unconventional Queenstown Wedding | Donald + Giverny
Gorgeous Thurlby Domain Autumn Wedding | Ashley + Guy
Queenstown Wedding Planning Posts and Articles
If you are currently in the midst of planning your Queenstown Wedding, you might also enjoy the following Blog Posts and Real Weddings helpful and inspirational;
The Ultimate Queenstown Wedding Photography Guide
7 Easy Steps To Finding Your Dream Queenstown Wedding Photographer
How Your Queenstown Wedding Formals Can Make Or Break Your Wedding Day
T7 Tips to Help You Pull Off Awesome Queenstown Wedding Snow Photos
7 Queenstown Winter Wedding Tips for an Amazing Wedding
The Queenstown Wedding Blog (A searchable Queenstown Wedding Venue & Vendor Directory that also contains a bunch of awesome how to articles and blog posts.  FYI I am the author).
Other Epic Queenstown Winter Weddings you might want to check out;
You might also want to check out a couple more of my all-time favourite Queenstown Winter Weddings with Awesome Queenstown Wedding Snow Photos here;
EPIC Queenstown Snowboard Wedding!! At Coronet Peak…on snowboards…in a snow storm!!