Bad luck, good luck.
Ana & Nick's Incredible Fiordland Post-Wedding Heli Shoot all came about through luck. At the time, to the casual viewer it might have seemed like bad luck. But looking back, it was one long string of incredible good luck that was all prompted by an unforseen event…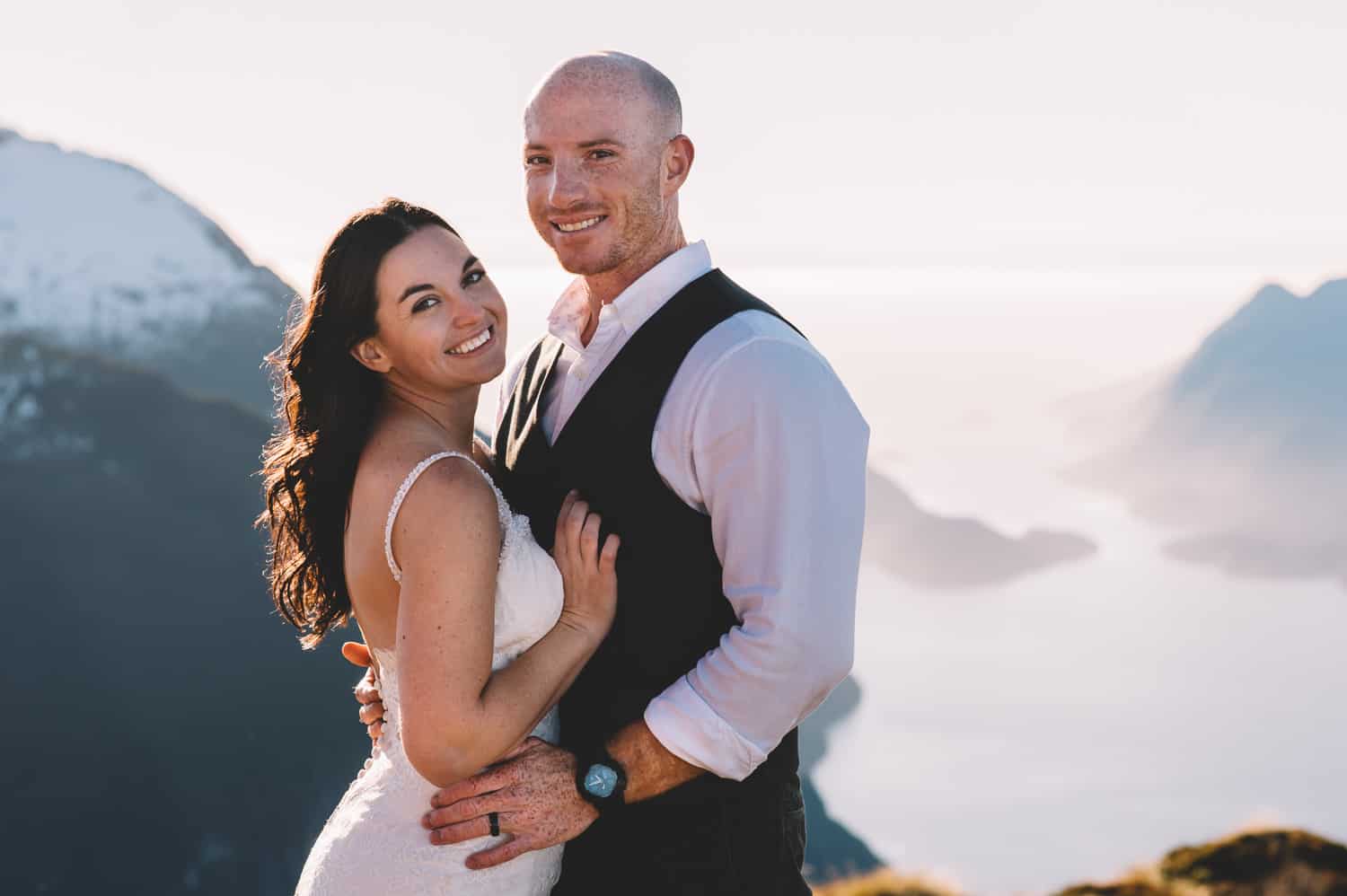 It all started with an email…
I received an email from a couple called Ana & Nick explaining that they were coming to NZ from America the next week and the Photographer they had booked for their Queenstown Post-Wedding Shoot had cancelled on them at the last minute. As soon as I read Ana & Nick's email I decided a couple of things;
Their first email to me was so lovely, I decided right then and there that I liked them. (I tend to trust my instincts when it comes to people).
I wanted to help this lovely couple if I could. Especially as it was their first visit to NZ. Not only that, but they'd been let down by somebody before they even arrived in the country!
So I fired off a quick reply to Ana's email straight away letting them know (a) I was available on their date, (b) I'd have Packages and info to them in the next half hour and (c) not to panic as they had at least one available photographer as an option for their shoot. Ana replied almost instantly despite the time difference with a delighted and relieved email. I sent some Packages and info on Queenstown Post-Wedding Shoots through to them straight away and I think within an hour or so we had chatted on the phone and they had booked me in for a 4 Hour Queenstown Post-Wedding Shoot including a Cecil Peak Heli Flight.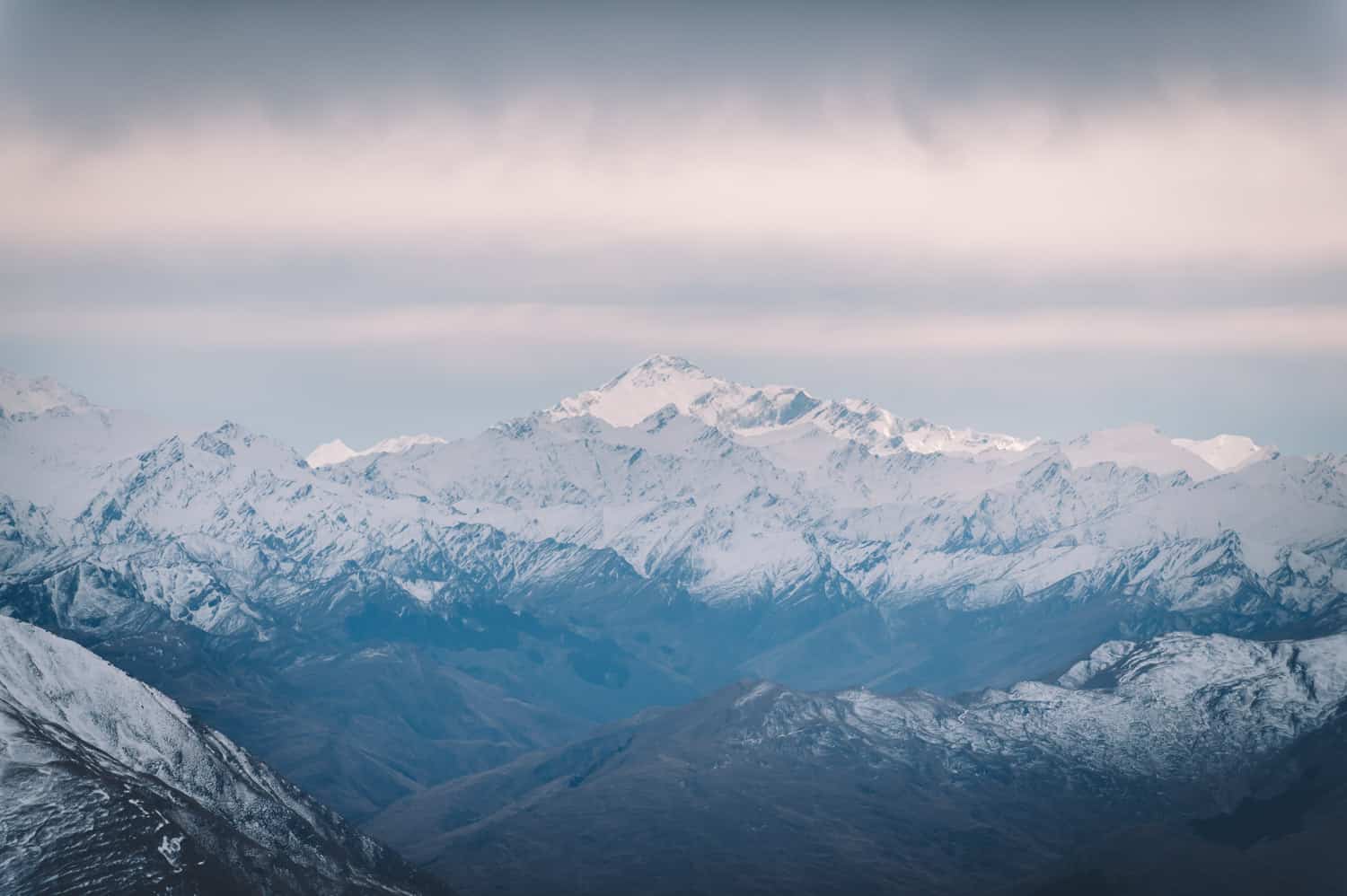 Plan A
We had booked in a heli flight to Cecil Peak with Heliworks in their awesome EC120b helicopter. (If you want to do a heli flight in Queenstown with 4 passengers or less excluding the pilot, it's pretty much impossible to get a better deal than Heliworks. Their EC120b is a smaller machine than the popular Squirrel and is therefore much cheaper to fly in).
Ana & Nick were in and around Queenstown for around a week and were totally flexible with shoot dates. So they had about as good a chance as anyone ever does of not only actually being able to fly, but flying on a good weather day that is good for photos. However, the forecast was pretty average that whole week. The forecast for the first date they could do was a bit iffy – fine the day before but increasing high cloud on the day itself. Followed by day after day of cloud and rain. Not horrible weather but the kind of weather that makes even a dramatic mountain-top look drab and dreary.
A last-minute curve-ball (the good kind)…
Just before they hopped on their international flight to NZ, Ana sent me another email that was a bit of a curve-ball but was also the main reason for all our subsequent good luck and the amazing end results of our shoot together…
As couples often do, she had found a bunch of sample location photos (some mine, some random ones found in her Googling) that she loved and sent to me as inspiration. She also asked me questions about locations like Lake Erskine, Lake Quill etc. These locations, and many of the photos she loved, were all in Fiordland National Park. Now I will admit that initially, I was not keen on the idea of shooting in Fiordland for several reasons;
Fiordland is the highest rain-fall area in New Zealand. It gets something like 400 days of rain a year. Kidding. But it does rain there a lot – so it's a risky location to shoot in weather-wise.
The weather forecast for Fiordland was bad or average that whole week but amazing on the last Saturday that Ana & Nick could do the shoot. Now, for obvious reasons I normally try to avoid planning heli shoots on the last day a couple is in town. If the weather is bad you either have to shoot without the heli – in crap weather – or can the shoot altogether. And the location being Fiordland made this scenario even more risky.
Milford Sound (where we would be driving to in Fiordland for this shoot) was 6 hours return drive so it would add to the expense.
Last but not least, if we cancelled our Heliworks booking the day before we were due to fly we would have to pay a cancellation fee.
I replied to Ana's email listing all the above reasons and while I didn't totally discourage the idea of doing the shoot in Fiordland instead of Queenstown I wasn't encouraging either. It did seem really risky to me. And then I had an idea.
A plan so cunning you could pin a tail on it and call it a weasel…
(You will have to be a Black Adder fan for the above title to make any sense to you).
My brilliant idea was this;
We don't cancel the Heliworks flight on the first day. If we cancelled we'd have to pay a cancellation fee anyway and because the forecast was decent it gave us a good shot at getting some awesome heli shots in the bag right at the beginning of Ana & Nick's NZ visit.
I would down-grade Ana & Nick's 4 Hour Queenstown Post-Wedding Package to 1 hour so we could put the rest of the hours and dollars towards a Fiordland trip.
I'd book in a heli flight with Fiordland Helicopters on the last Saturday of Ana & Nick's trip. I recommended we book in for the morning so that we had the chance to reschedule the flight to the afternoon if the weather was no good in the am.
We'd drive down from Queenstown to Te Anau and fly with Fiordland Helicopters. After our flight we would drive in to Milford and finish the shoot with a few hours of shooting on the ground in and around Milford Sound.
Ana & Nick loved the idea so I booked in the Fiordland Helicopter flight and we went for it in Queenstown too with Heliworks that first Wednesday.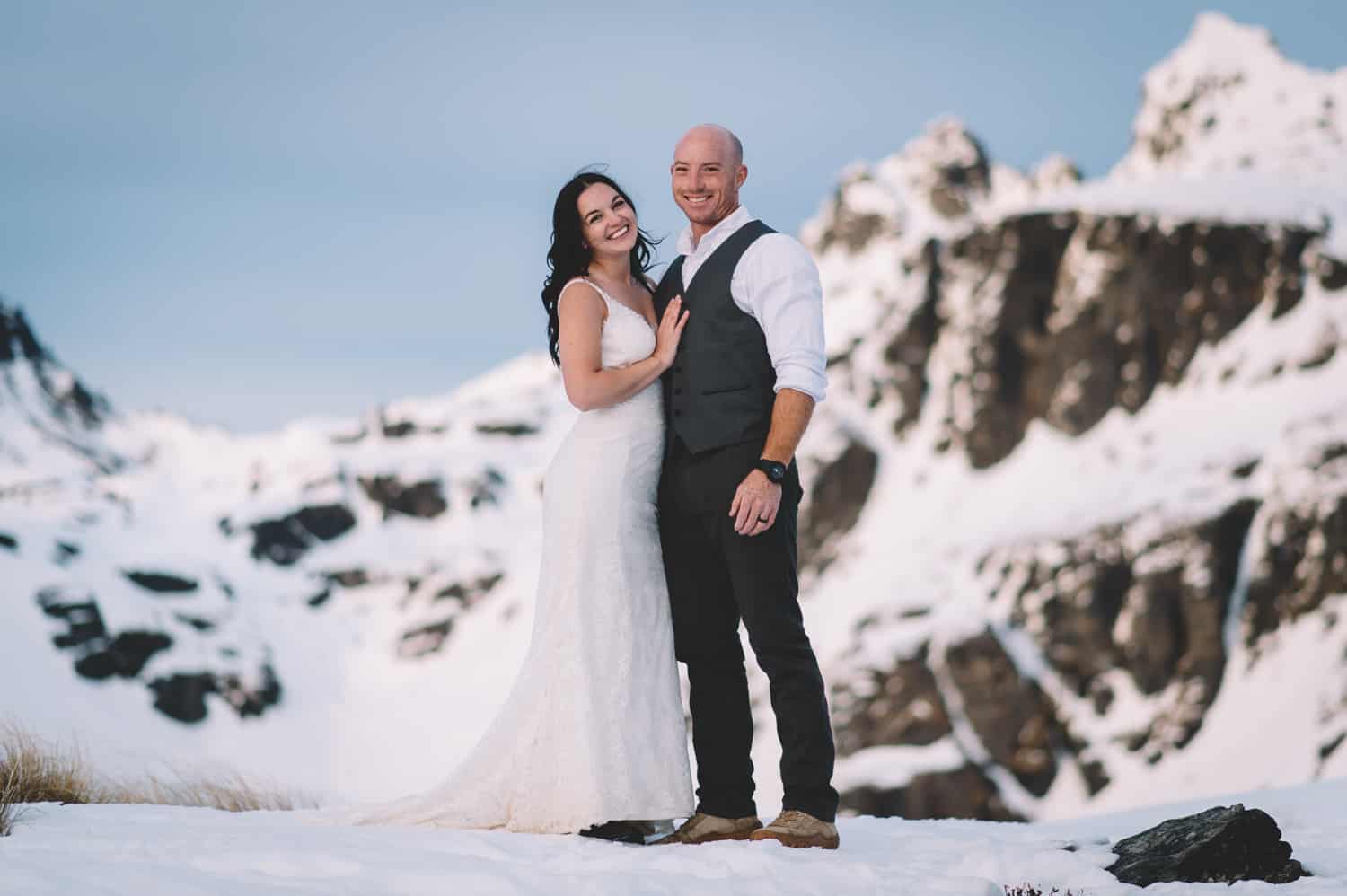 Part I – Ana & Nick's Queenstown Post-Wedding Heli Shoot
The weather and light was gorgeous for Ana & Nick's Queenstown Post Wedding Heli Shoot. The weather had been total bluebird the day before. So, despite an average forecast, I was optimistic the morning at least of the shoot day would be nice. For that reason, I had booked our flight for the earliest time we could legally fly. (Helicopters fly by sight rather than radar. For this reason, they can't fly until there is enough light to see clearly). By the time we got to Heliworks the sky had already changed from a clear starry sky to increasing high cloud.
But I could see looking East that there were a few breaks in the cloud so I was confident we'd get some gorgeous early morning sun breaking through the clouds while we were up there.
We had originally planned to land at The Ledge on Cecil Peak but as we got closer I asked the pilot to land us on Cecil Peak Ridge instead as I felt the light and clouds would be better there on this particular day.
It was so beautiful up there that morning and Ana & Nick were totally speechless. The views are incredible from Cecil Peak with sweeping panoramas from Glenorchy to the West right round to Queenstown and the Remarkables Range to the East. And the light was incredible first thing that morning – warm and golden but super soft thanks to the high cloud. The world looked like it had been painted in water colours. And Ana & Nick's happiness and personality was palpable in the photos. We all flew back to Queenstown that morning high on life and over the moon with how beautiful the photos looked.
Part 2 – Ana & Nick's Fiordland Post-Wedding Heli Shoot
Over the next few days the weather forecast for Milford Sound and Fiordland improved even more. The forecast was now for perfect weather Friday, Saturday, Sunday. So it looked like we had a really good shot at getting great weather and awesome photos if we did the shoot in Fiordland on the last Saturday Ana & Nick were in NZ. After some discussion we decided to fly with Fiordland Helicopters as late that day as we could. We would drive into Milford Sound and shoot for a few hours in and around Milford. After that, we would retrace our steps to Te Anau and finish up the day with the heli shoot.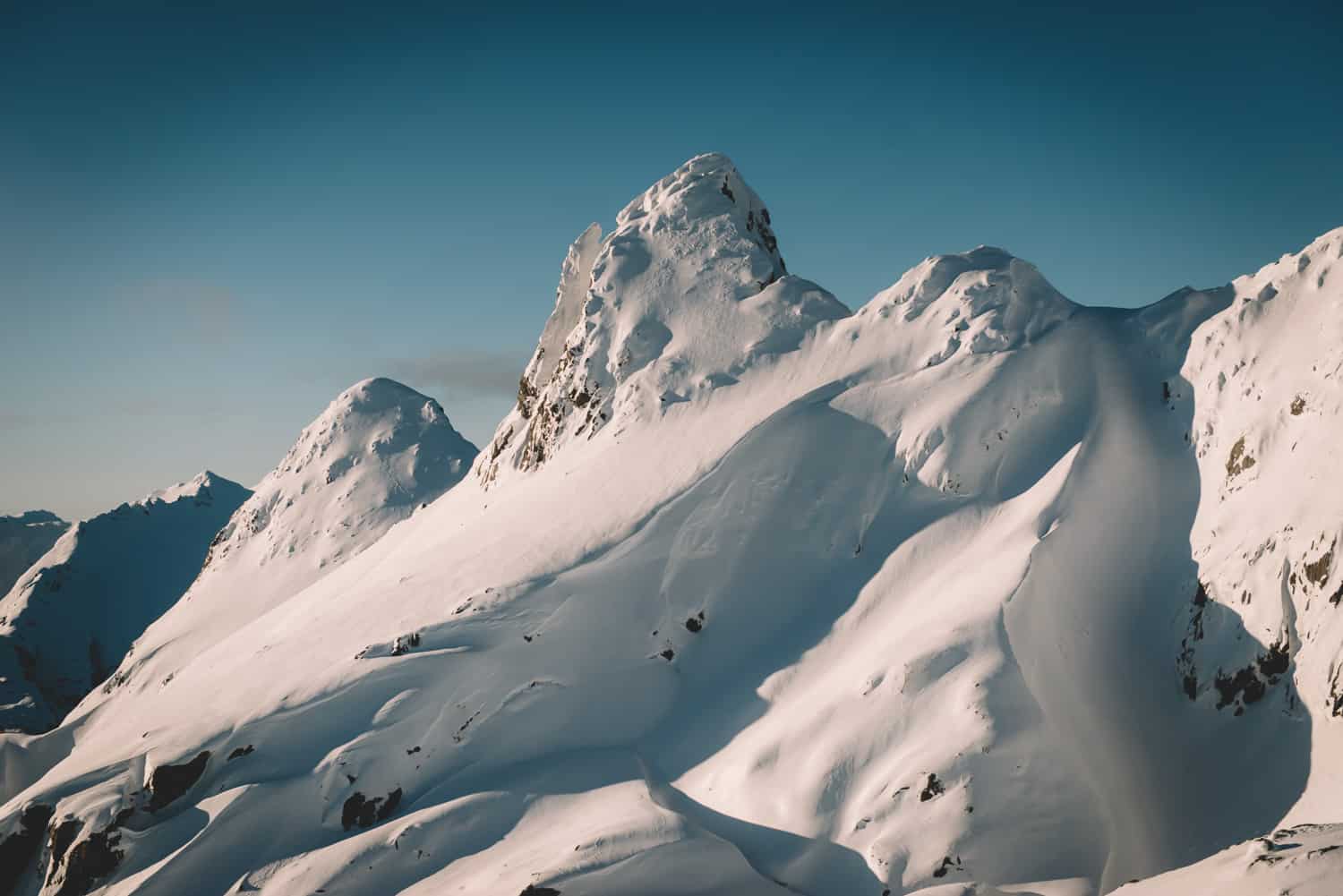 I want to swear right now right here.
That day, that heli flight, was so god-damn beautiful! Just thinking about it makes me want to swear right here right now in this blog post… I met Ana & Nick at the stunning Milford Sound Lodge where they were camping in their Pod campervan. We did some sandfly-ridden photos on the edges of the Fiord in Milford Sound. After that we raced back towards Te Anau, shooting at a few stunning locations on the way to Fiordland Helicopters. The first location we shot at by the water in Milford Sound turned out to be trickier than expected. I had to light Ana & Nick with my strobe because of the light. This meant setting up my very expensive Profoto strobe on a light stand in the middle of a small estuary. An estuary that had the most rapidly and violently changing "tides" I've ever seen. Consequently, the shots took longer than expected. By the time we departed Milford Sound we were definitely racing the clock…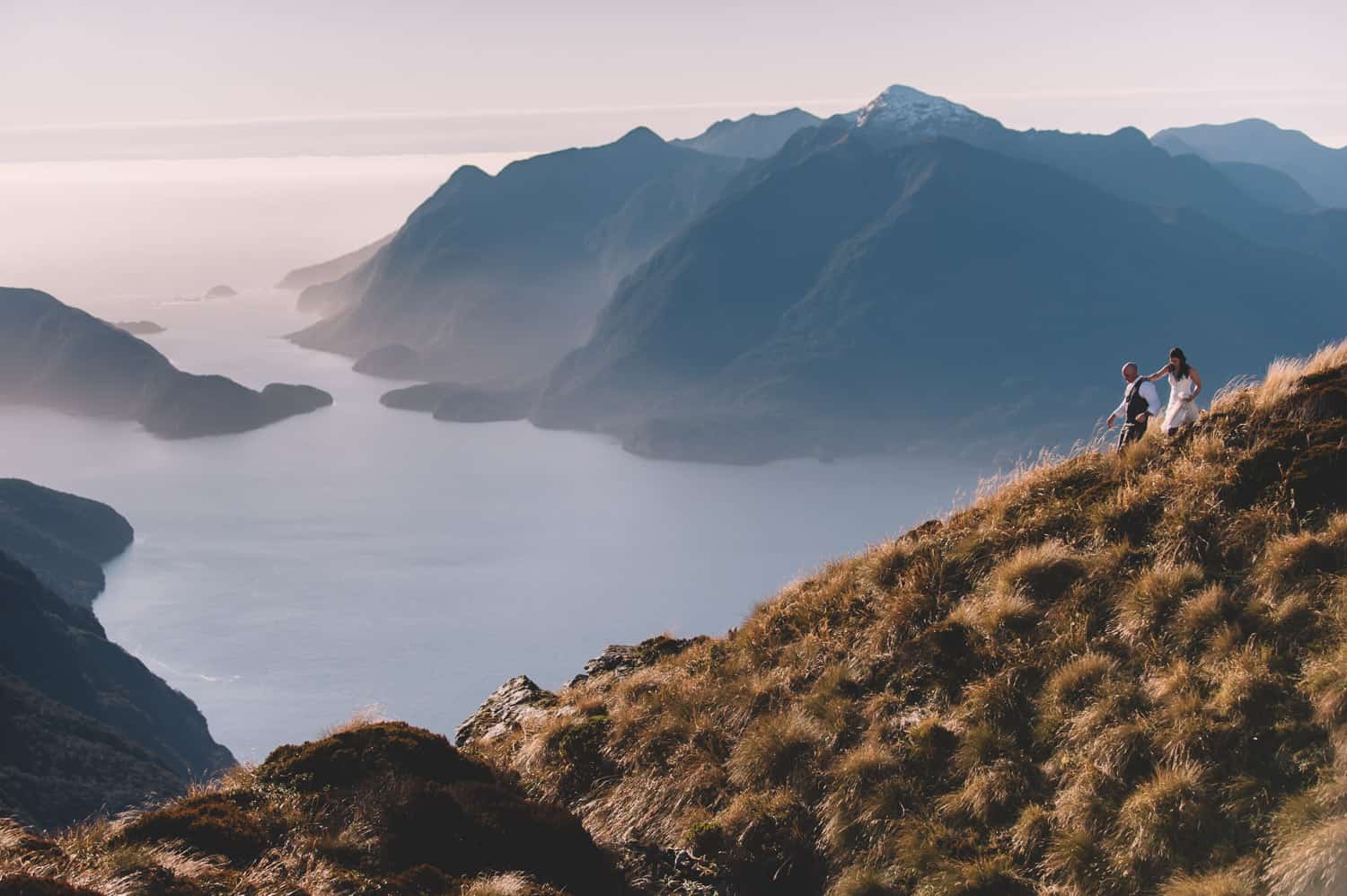 The Most Incredibly Freakin' Epic Helicopter Flight I Have Ever Experience. Ever.
Our helicopter flight with Fiordland Helicopters was so freakin' beautiful that words cannot begin to describe it! It was by far the most epic, humbling and beautiful heli flight I have ever done in my life. (And I have done quite a few). We flew over lake Te Anau and her bush clad mountains and deep into the dramatic snowy peaks of the Main Divide of the Southern Alps. We kept flying and flying until we reached the epic beech-forest clad mountains of Doubtful Sound. Kim our pilot even flew us low (I can't help but want to say "Vietnam styles") through a narrow winding river gorge way below the height of the surrounding tree-clad mountain walls.
We landed at an un-named spot overlooking Doubtful Sound and this is where words fail me. I can't do the experience or the place or the people justice with words. Hopefully the photos below tell a better story than I can…
Is there a moral to this story?
If there is a moral to this story, I guess it is this…Things won't always go the way you planned. But if you have an open-minded attitude and you plan well but also plan to roll with the punches things will almost always work out awesomely. (Yes, I know that's not really a word but I don't care). Ana & Nick, it was a total pleasure. I loved meeting you and man what adventures we had together! Thanks for the beer and chips after too – total life saver! I really do hope I get to see you two again in NZ some time. Until next time…
P.S. (Ruthless self promotion warning!) If you fancy doing a Fiordland Post-Wedding Heli Shoot with yours truly, don't be shy. Get in touch with me here.