Amazing Queenstown Heli Wedding Photos
So, you're thinking about doing some Queenstown Heli Wedding Photos, or even a Heli Photo Flight on your wedding day? And of course you want to get some Amazing Queenstown Heli Wedding Photos. But you know absolutely nothing about helicopters and how this whole Heli Wedding thing works. If I'm right, read on. If not…well, maybe go and search for cute kitten videos on Youtube or something.
Heli Wedding Package versus Heli Photo Flight – what's the difference?
FYI Most of the local Queenstown Heli Operators offer a variety of Wedding and Photography related Packages. Often they will talk about a Heli Wedding Package or a Heli Photo Flight. With the Heli Wedding Package it will usually include the helicopter, photographer and celebrant (and possibly even a bottle of bubbles if you're lucky!). With a Heli Wedding the ceremony happens on the mountain-top (weather permitting) and you typically only have 30 – 45 minutes total on the ground to get married and get all your photos done. On the other hand, a Heli Photo Flight usually includes the helicopter and photographer but doesn't include a celebrant and doesn't have to happen on your Wedding Day (although it can if you want). You don't even have to be wearing a wedding dress for the photos, it's totally up to you. You can read a Blog Post I wrote about Kestin & Chris's Heli Photo Flight (and Mid-winter Elopement) here.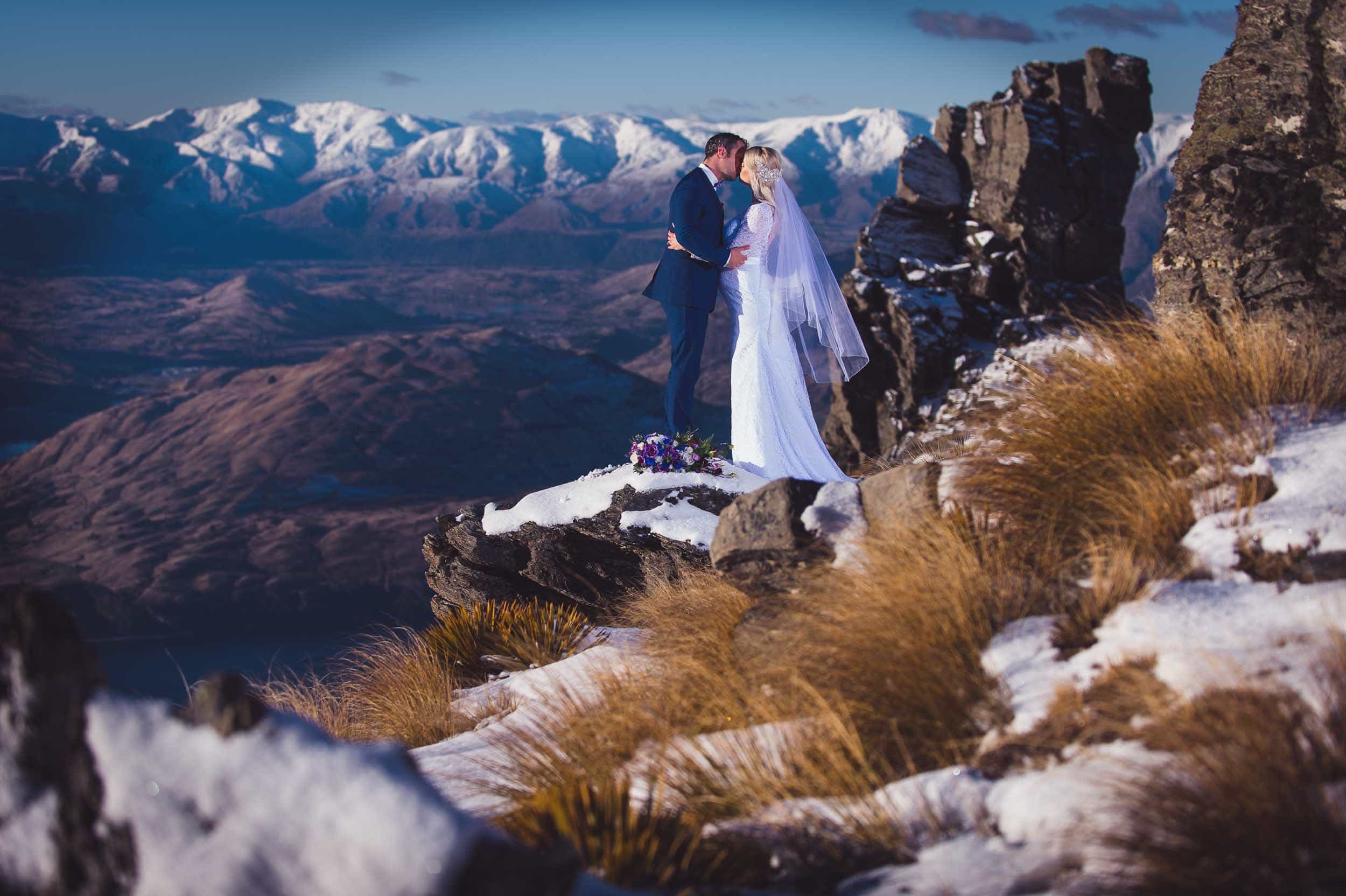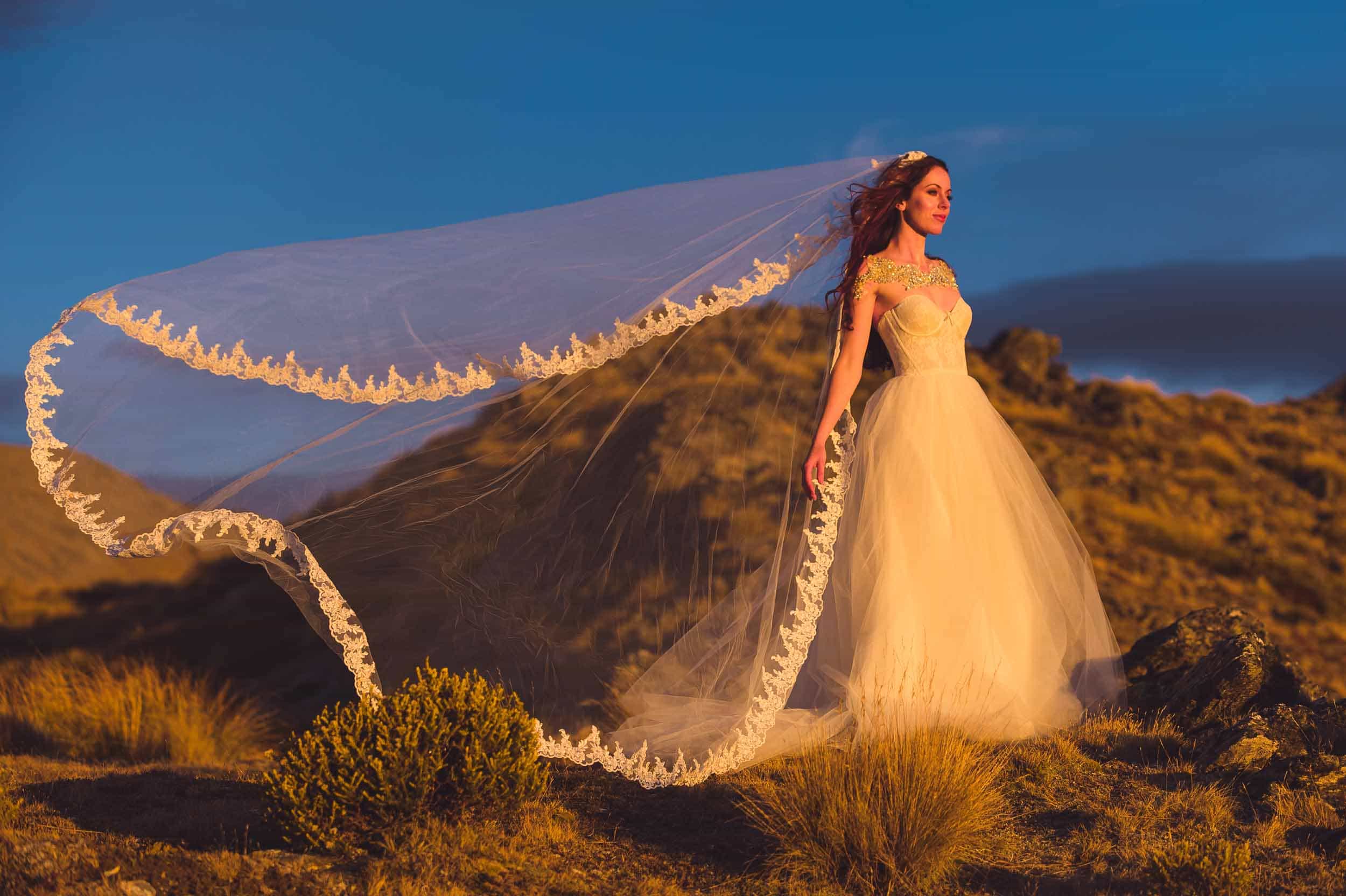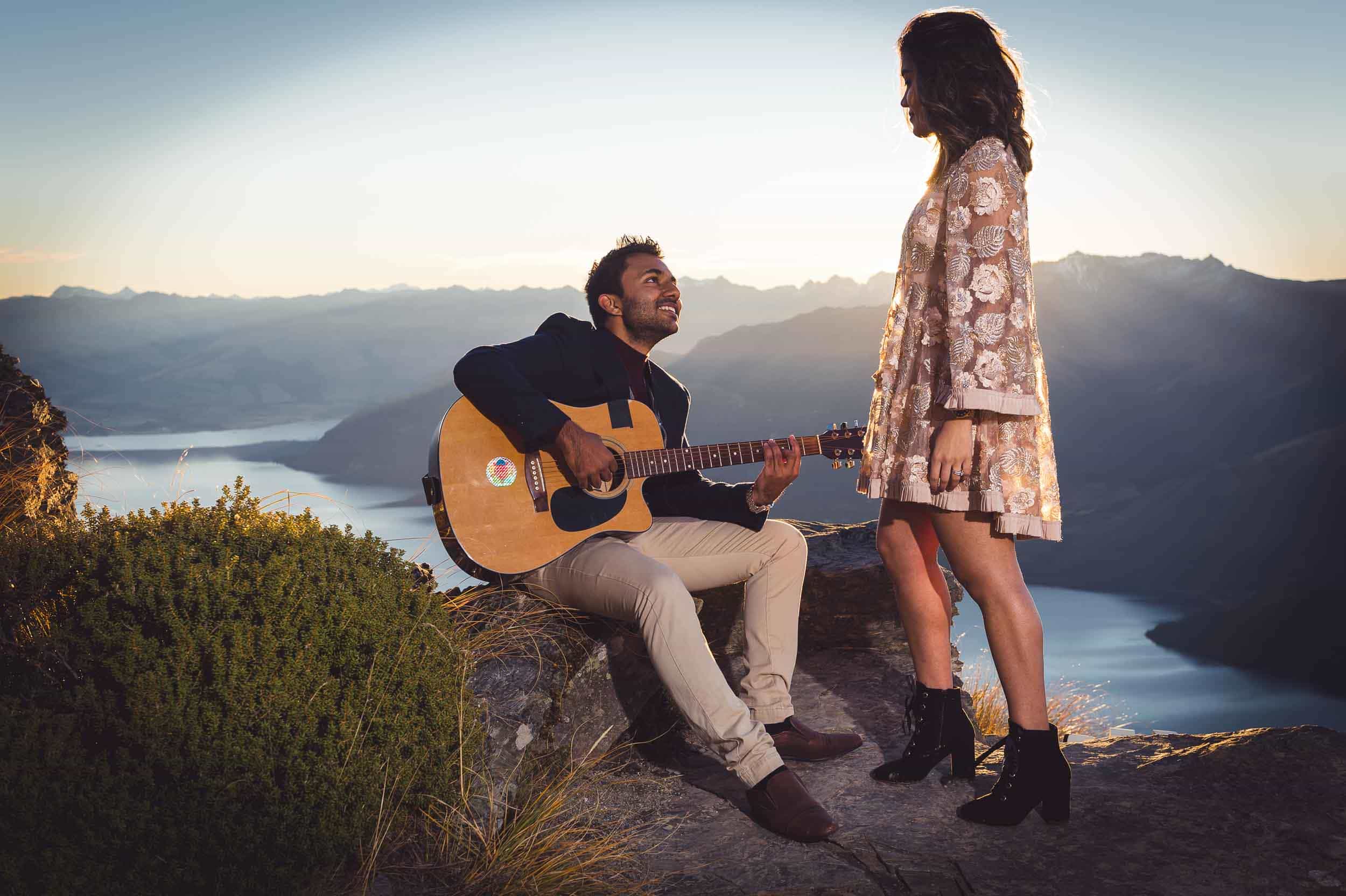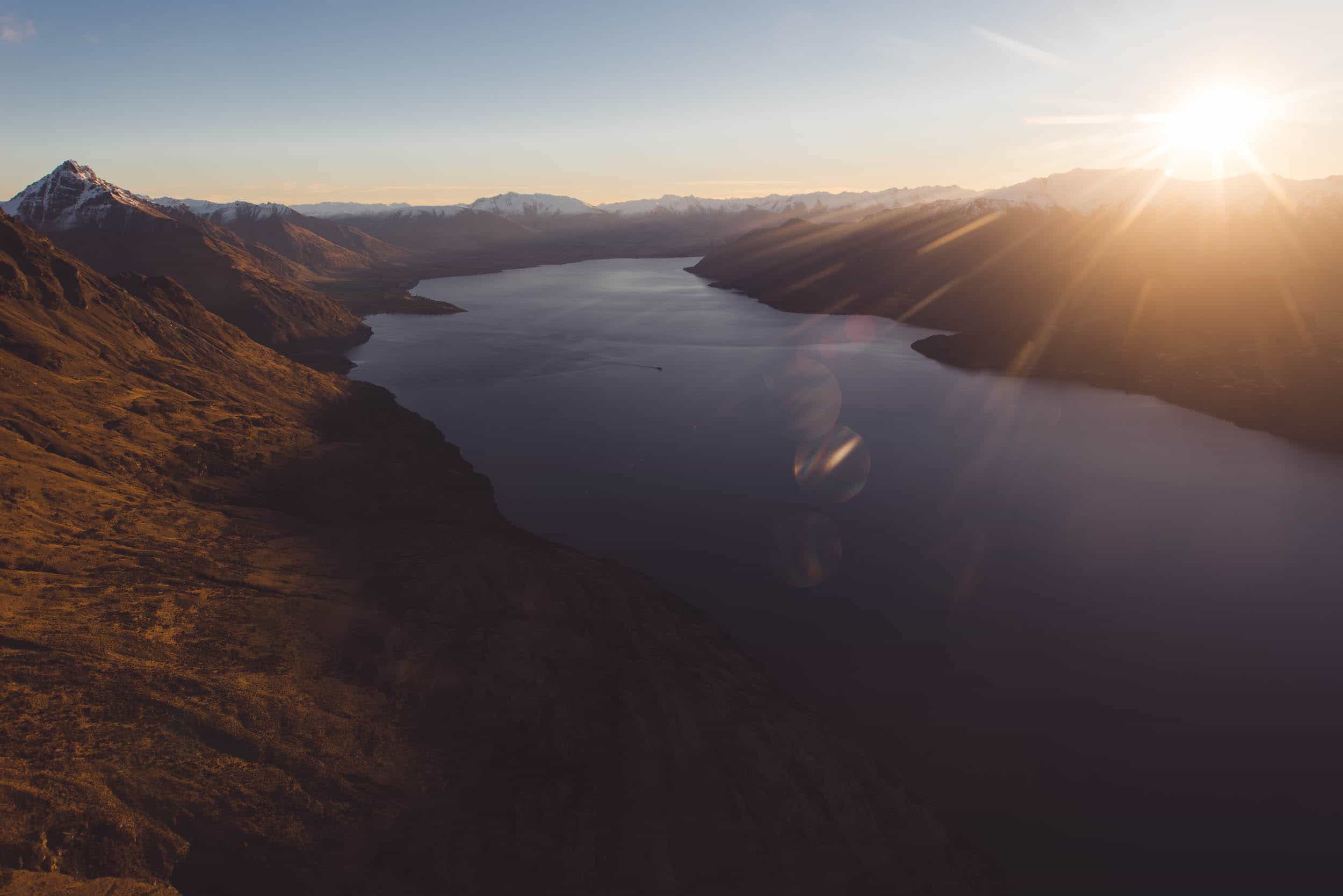 SO HOW DOES THIS WHOLE QUEENSTOWN HELICOPTER THING WORK?
Helicopters can fly in pretty bad weather but if you're after Queenstown Heli Wedding Photos and the weather is pretty rough the helicopter company will most likely recommend that you cancel or postpone/bring forward your flight.
Usually the helicopter company will take your credit card details as a deposit on your booking, however because the flight is weather dependent if you are unable to fly on your wedding day they will give you a full refund. Note: if you change your mind about the heli flight and cancel at short notice yoy may be liable to pay some/all of the heli costs.
The two most popular types of helicopters in Queenstown for Queenstown Heli Wedding Photos are Squirrels and Robinson EC120bs or similar. The Squirrels seat 6 plus pilot, the smaller machines typically seat 4 plus the pilot. The costs vary based on the size of the machine so you can save yourself some $ by booking the smaller machine if you don't need to fit a bridal party in it. Remember you need 2 witnesses if you are planning a heli wedding. But the photographer and pilot can act as witnesses if you have no guests.
The two most popular locations for wedding ceremonies in Queenstown are Remarkable's Ridge and The Ledge on Cecil Peak. They are the most popular because they offer stunning views and they are both also a very short flight time from Queenstown airport (where all the helicopter companies are based). The Ledge in particular is hugely popular so if you want photos that are unique consider asking your pilot to land on a different part of Cecil Peak or fly to a completely different location. In winter the Remarkables Ridge is more likely to have snow on it than The Ledge, but there is no guarantee of a snow landing at either. To 100% guarantee a snow landing most heli companies will recommend landing on a glacier. Which means a longer flight time which means higher helicopter expenses.
The major helicopter companies here in Queenstown are Glacier Southern Lakes, Heliworks Queenstown, Over The Top & The Helicopter Line. (Heli 'Tours recently went bust).
WHAT CAN YOU DO TO MAXIMISE YOUR CHANCES OF AWESOME HELI PHOTOS?
Increase your chances of flying at all by being able and willing to fly before/after your wedding day. That way, you've got the best of both worlds. If the weather is good on your wedding day job done. If not, you can fly on a different day when the weather is perfect (or at least better). Also, this allows you to fly closer to sunrise/sunset. Which means you should be able to get some epic "magic hour" morning or afternoon light. Note: because helicopter pilots typically fly by sight, CAA rules prevent them from flying before civil dawn/after civil twilight. Talk to your friendly helicopter company to learn more about when and where you can/can't fly.
If you can only fly on your wedding day, you can still increase your chances by being flexible with time. Eg if you can be ready to fly well before the ceremony, let your heli company know. That way, if there is good weather before your booked flight time you might be able to seize the day. This of course will depend upon the helicopter company's availability of machines and pilots.
Do what you can to make it easier to fit the Heli Flight into your busy Wedding Timeline. (Allow time for travel to/from the Heli Pickup Location and also the Safety Briefing). If your Timeline is tight, ask the helicopter company if they can suggest any other landing spots that might save time. (Each Heli Company will have access to different landing spots) . In my experience, with helicopter flights lack of time is as big an obstacle as budget. You need enough time to drive to the heliport, pay, check in, do a safety briefing, fly/shoot/fly then drive to your reception location. If you are driving through Frankton around 5pm traffic can also slow you down quite a bit. Even if the travel time to the new heli landing spot is the same, you will still save time. This is because the "check in" and safety briefing take no time at all. It's bascially just the pilot walking over to you and saying "Keep your head down and follow me".
Don't worry too much about which of the many heli locations to choose. (The way I see it, if we get to hop in a helicopter at all, we're winning!) . Trust your photographer and your pilot to pick a heli location that (a) looks amazing and (b) is safe. Which heli location will work best for photos will depend upon wind and light. Eg perhaps The Ledge on Cecil Peak is too windy. But maybe somewhere around the corner but still on Cecil Peak – like Garden Spur – is a lot more sheltered. In my opinion the secret to finding awesome heli locations is pretty simple. Don't worry so much about which mountain you land on, but rather which part of the mountain you land on. For me having features/structure in the landscape right where we are landing/shooting is key. Thinks like cliffs or rock spires always give your photographer more options photographically.
Pay attention to how much "time on the ground" each helicopter company gives you with their quote. The more time on the ground you have generally speaking the better your Queenstown Heli Wedding Photos will be. Not to mention the more relaxed and enjoyable your heli experience will be. And sometimes it's worth paying a bit more for that. It's like flying to the UK. You're paying all that money, you may as well spend a bit more time/money and see more while you're there! On the other hand, you may not have enough time in your day to stay on the mountain longer. In fact, it's not unheard of for couples to fly back to base earlier than they need to. This might be so as to arrive on time for the reception or because the bride & groom are frozen and want to defrost! On that note…
For both the girls and the boys take a warm jacket. It is almost always windier up high than it is in the valley. Girls, it's also a good idea to take some flat shoes (or at least heel stoppers). For the bride in particular, leave flat soled shoes on as long as possible for both safety and comfort. If the wedding dress hides your feet and you're not worried about the height difference, just wear flats.
Think carefully about having your hair down/wearing a veil. A little bit of wind flicking your hair and veil about can be awesome for photos. However, too much can be a nightmare, especially if you are planning a Heli Wedding.
Right, that's about all I can think of for now. If have any more brain-waves about Queenstown Heli Wedding Photos, I will add them later.
P.S. If you enjoyed this Blog Post, you might also enjoy Kaia & Blake – The Ledge, Cecil Peak, Perfect Queenstown Autumn Heli Wedding.
This Blog Post was written by yours truly – Patrick Fallon, Queenstown Wedding Photographer & Author of The Queenstown Wedding Blog.