APRIL & NICK'S DIY THURLBY DOMAIN WEDDING
April & Nick's Big Day
April & Nick tied the knot on the 21st of April surrounded by their closest friends and family in a very DIY Thurlby Domain Wedding.  The weather was perfect for a Queenstown Autumn Wedding.  There was not a breath of wind and the skies were a brilliant clear blue.  It was cool but not cold and most of the guests wore jackets.  Everywhere you looked the trees and fields were cloaked in the red and gold of autumn.  But more than any of this, it was April & Nick's happiness and visible love for each other that shone through and warmed the hearts of all there.  (April & Nick are good friends of mine and so, although I was there as their Wedding Photographer I also saw the ceremony through a friend's eyes).

Discovering a unique below-the-radar Wedding Venue – Thurlby Domain
Although April & Nick live in Arrowtown, only about 10 minutes drive from Thurlby Domain, they discovered this amazing venue the way most couples do – by word of mouth.  Some mutual friends recommended it to them as a wedding venue and I gave them all the info and put them in touch with the owners.  And the rest, as they say, is history!

DIY All the way!
A lot of April & Nick's wedding was DIY, stuff made by them or by friends and family.  All these personal touches not only saved them a lot of money, it also made their wedding more unique and more "them" I feel.  April & Nick's DIY Thurlby Domain Wedding is proof that you don't have to spend a fortune to have an amazing Queenstown Wedding.  I hope you find the photos and words in this blog post informative, inspirational and beautiful!
GETTING READY – AKA THE FINAL COUNTDOWN
Whisky & Rainbows
Nick and the boys were getting ready at their place in Arrowtown. As is normally the case, the boys were pretty relaxed when I showed up.  (There may or may not have been some whisky present, I can neither confirm nor deny…).  The boys scrubbed up pretty well in their suits.  I have to admit, I love the old suits and sneakers combo – very stylish and very Nick!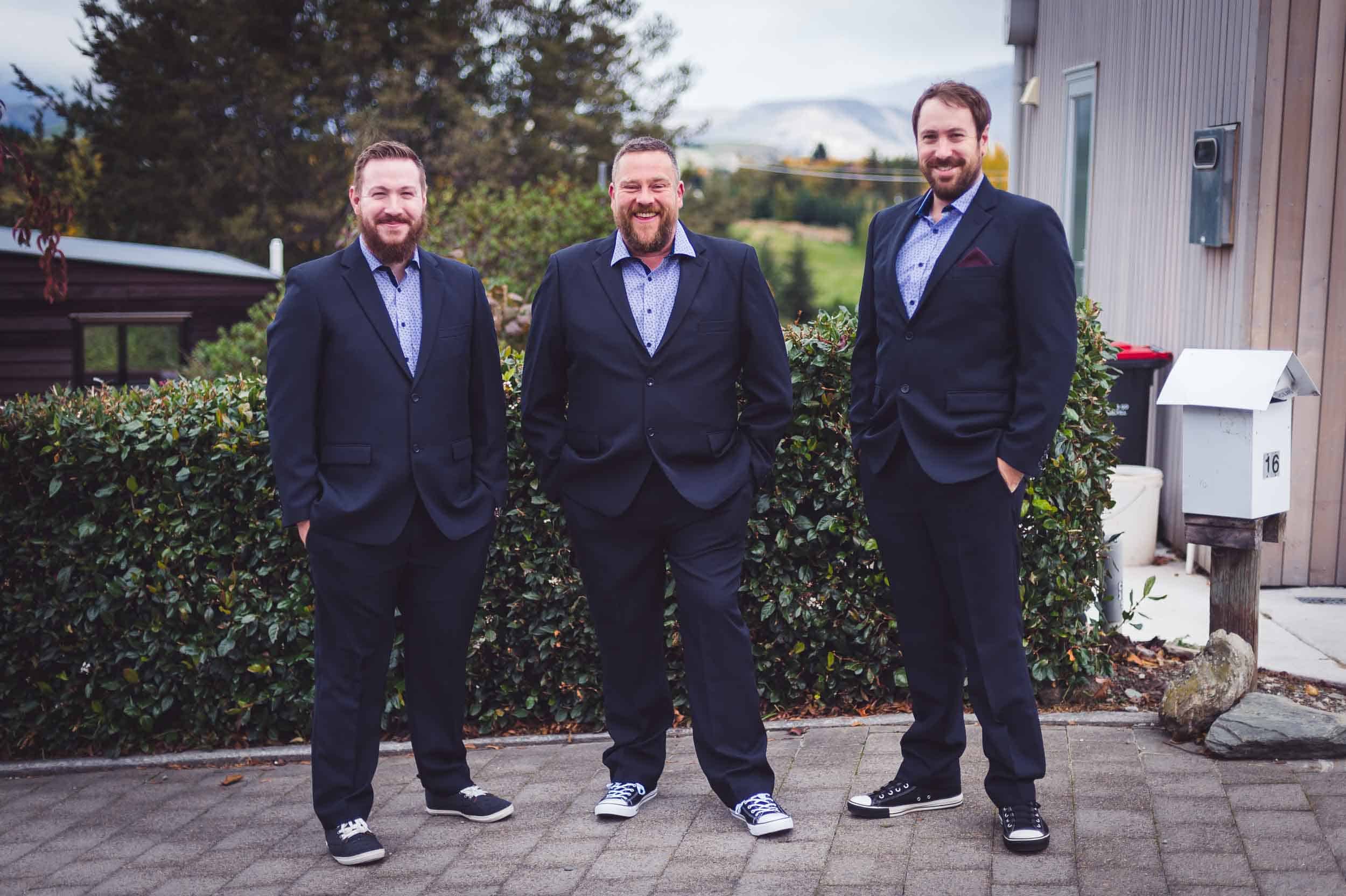 There was a pretty special moment while I was shooting the boys getting ready.  Nick pointed out a rainbow and asked if I could get a photo of it.  He seemed pretty serious about it so I got the shot.  After I had taken the photo, Nick explained that the rainbow was really special and important for him and his family.  The reason being, Nick's brother passed away several years ago and whenever Nick and his mum saw a rainbow they believed it was a sign that Nick's brother was with them.  Nick told me that whenever there was a special family occasion there was always a rainbow there.  And so it should have come as no surprise to see that rainbow on what was such a special and important day for Nick and his family.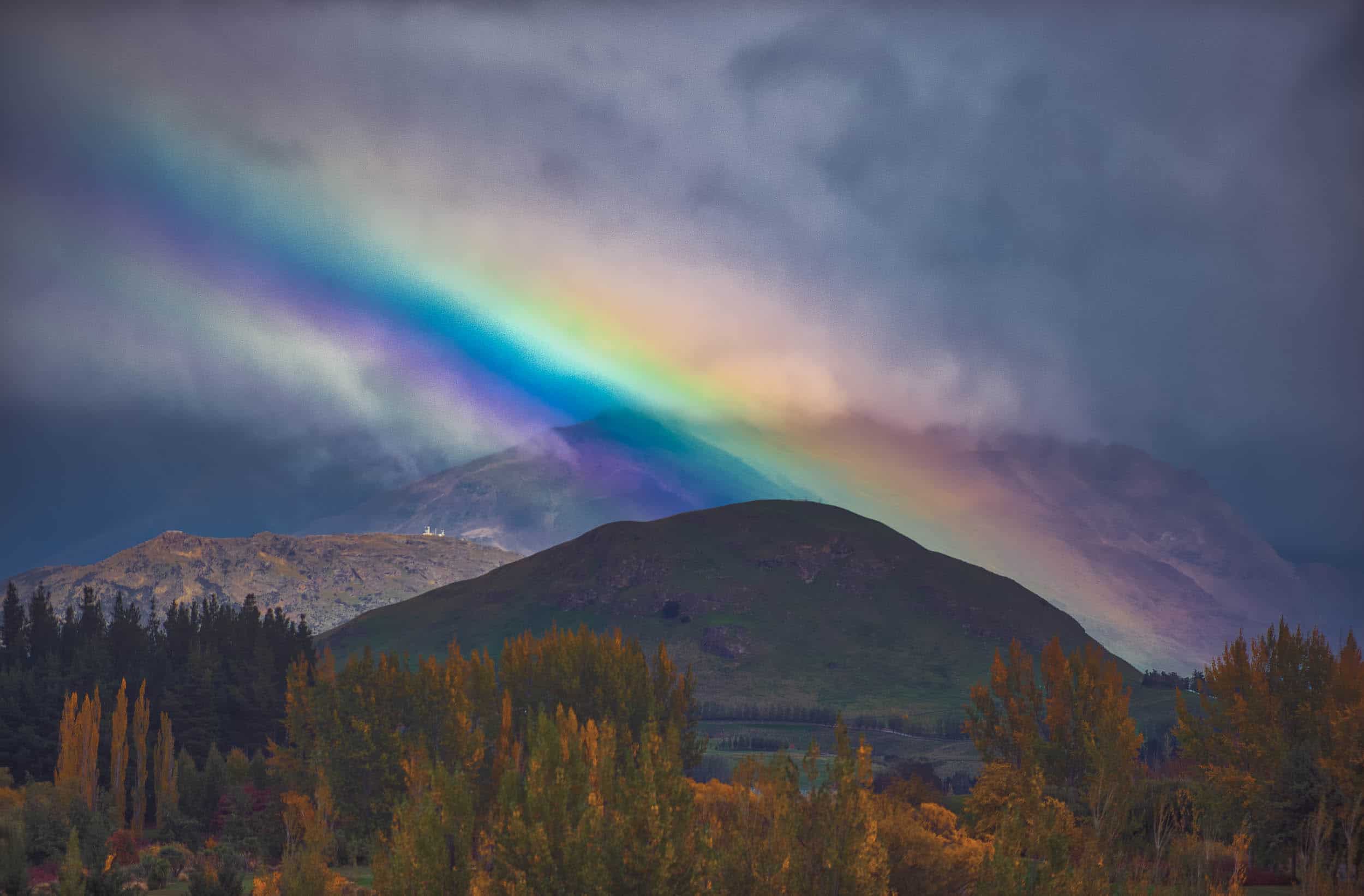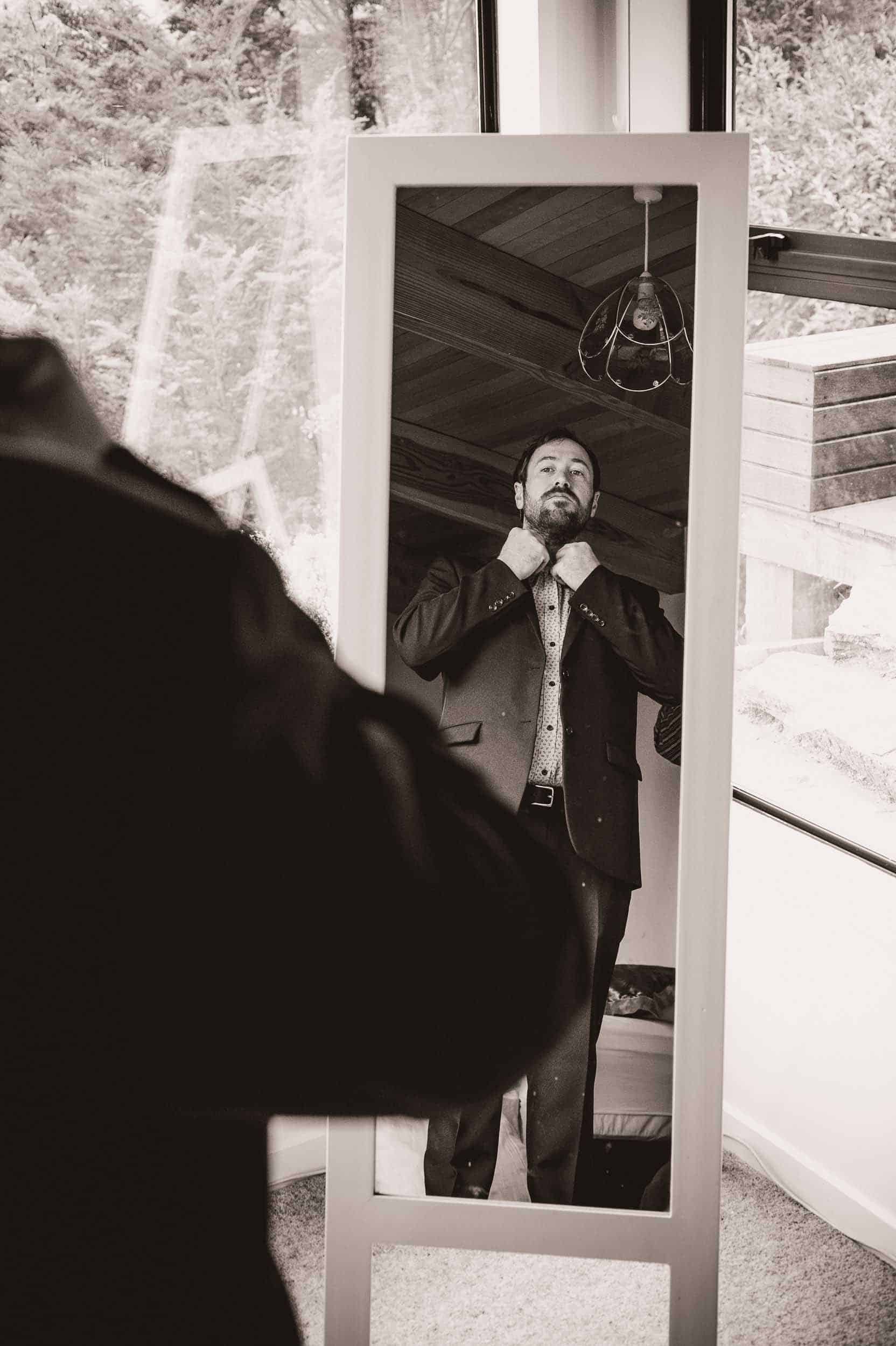 50s Chic, Lace & Champagne
Meanwhile, over where the girls were getting ready…
When I turned up April was doing makeup for one of her bridesmaids and all the girls seemed remarkably calm.  But it turned out that April had already had 3 Rescue Remedies, so I guess you could say there was a fair bit of emotions and nerves going on under the surface!  Kellie Mclean did the honours as hair stylist, Wedding Makeup was handled beautifully by Shjatyla Dos-Santos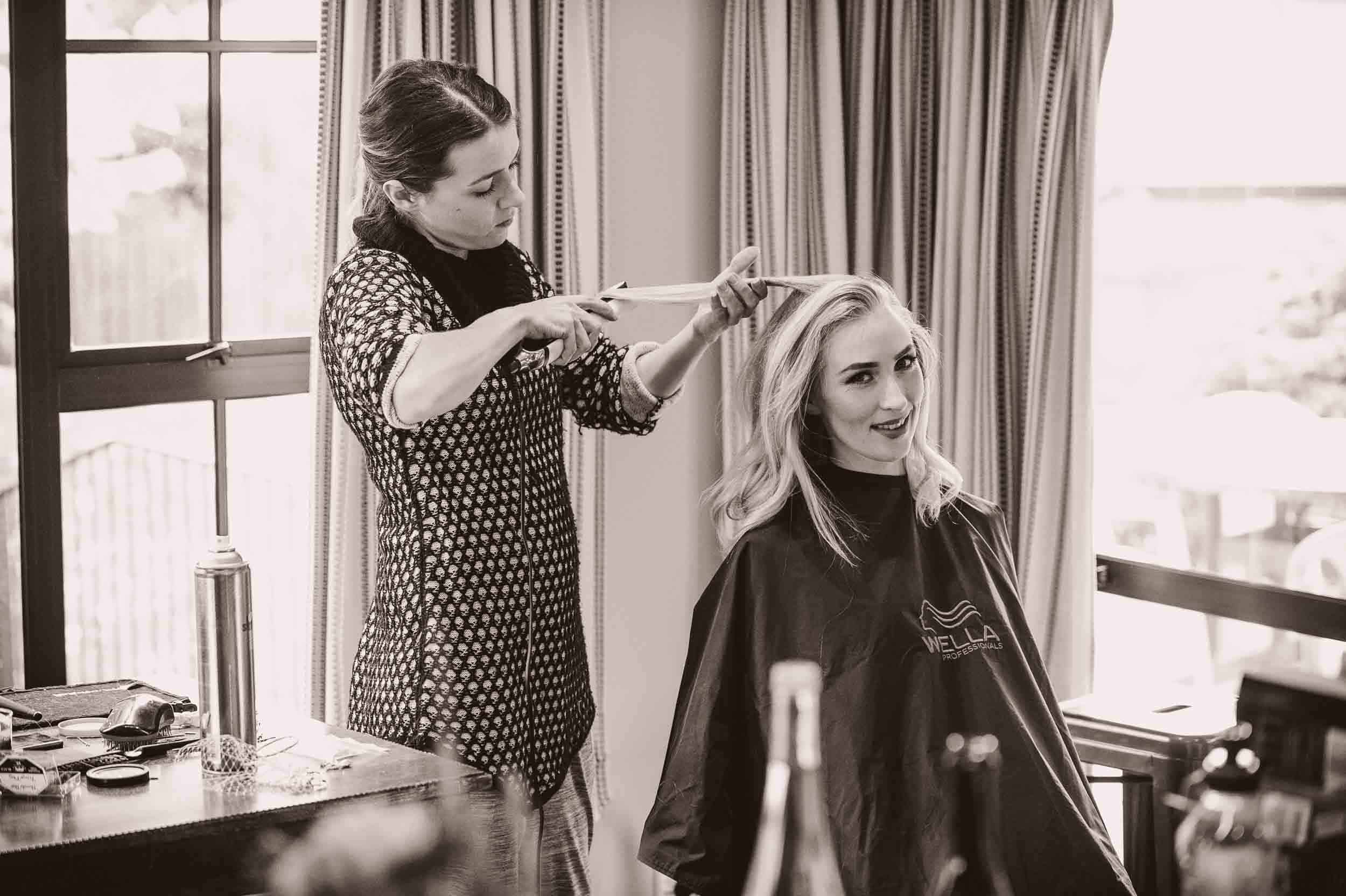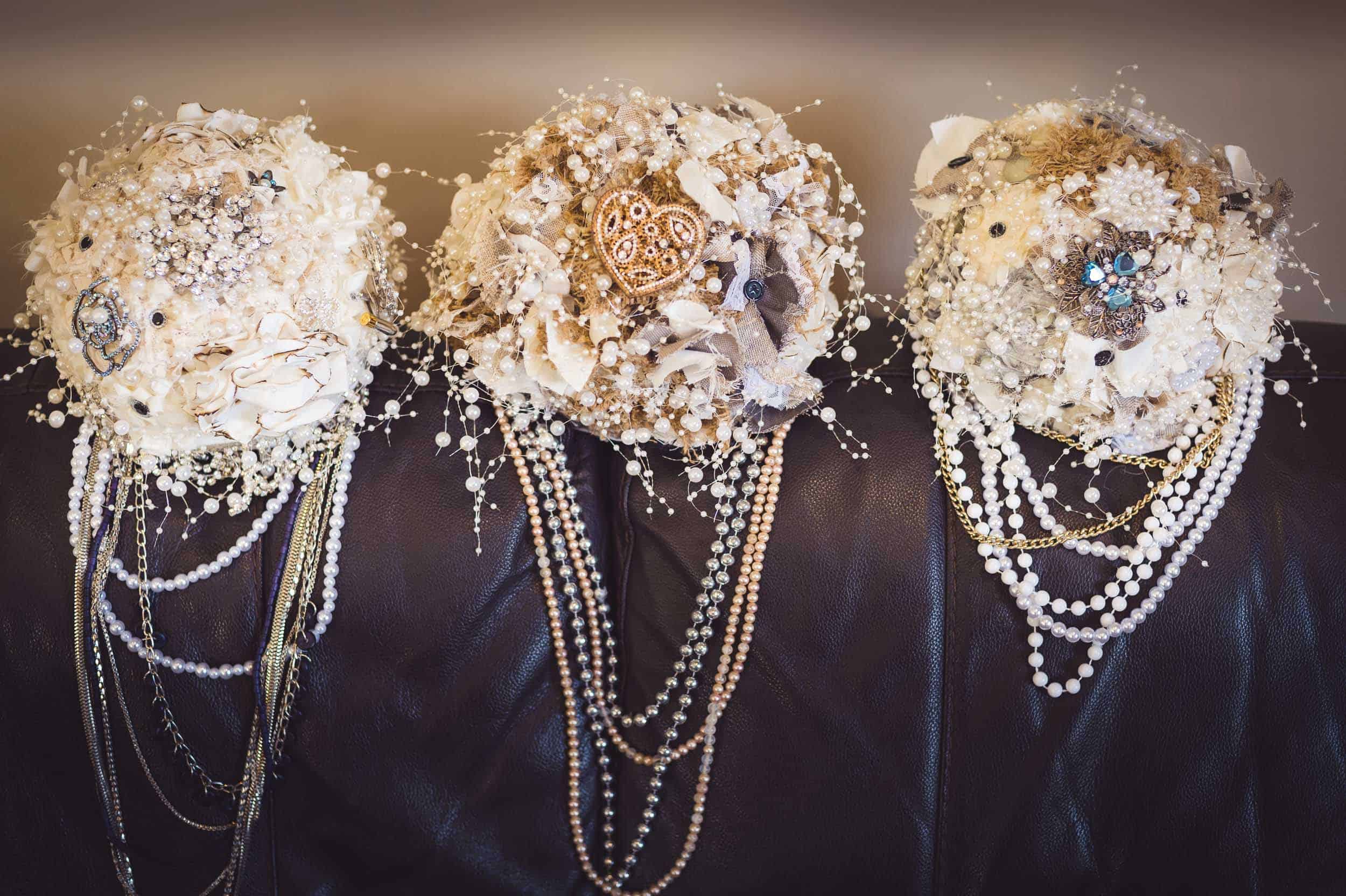 April's dress came from Brides by Donna Rae in Invercargil and she looked absolutely stunning in it!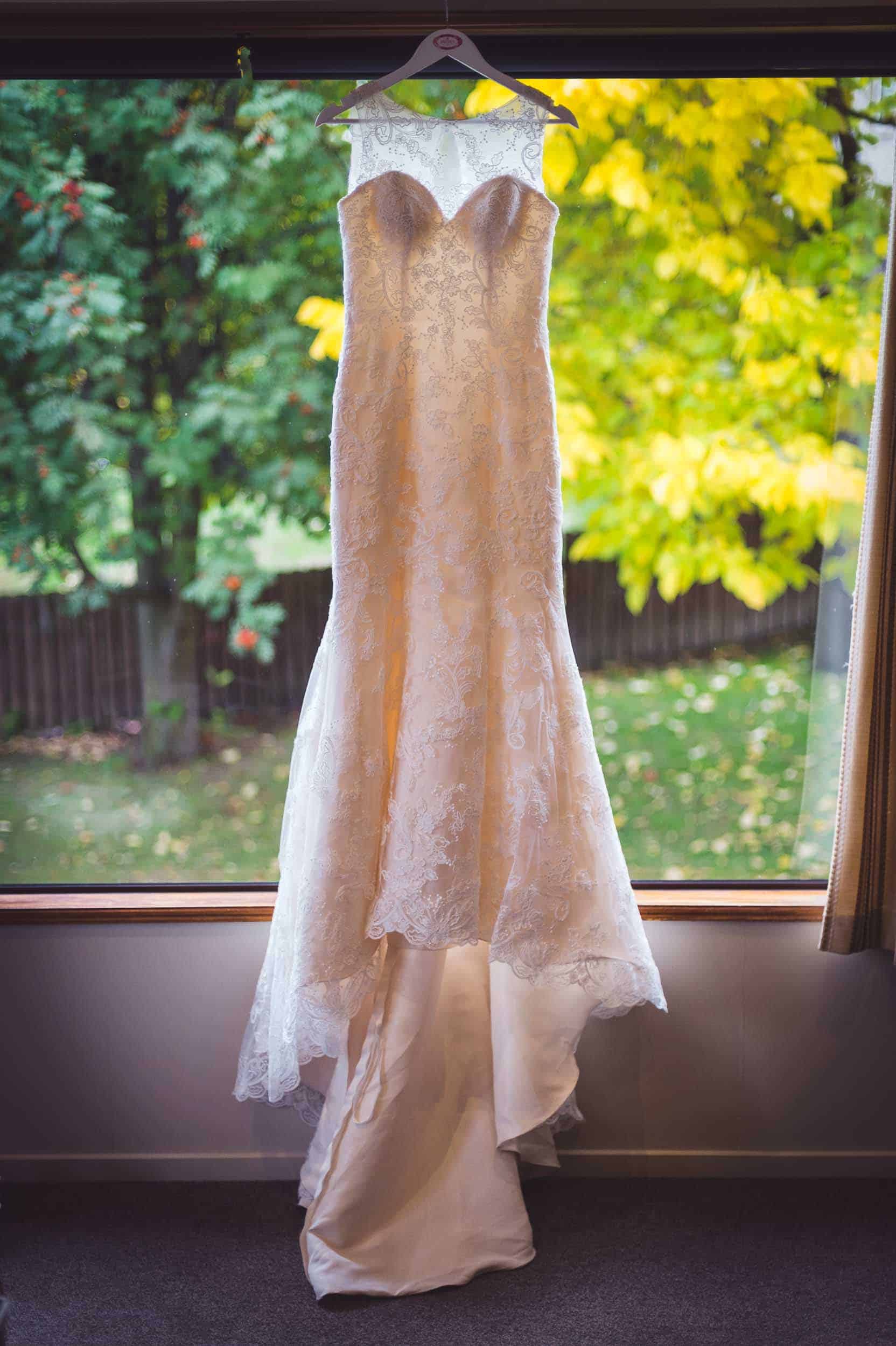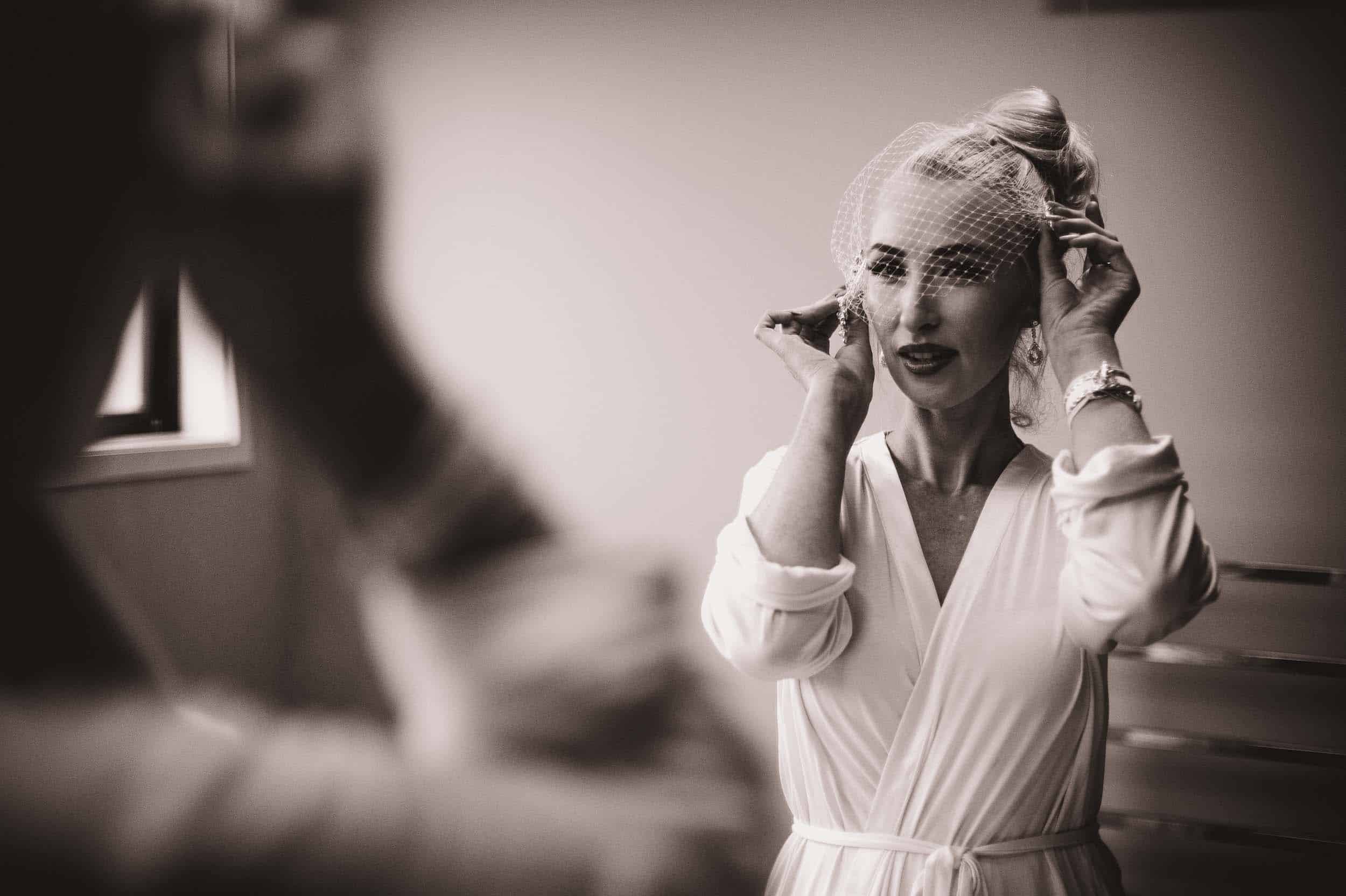 April: "My inspo for my head piece came from trying one on with my wedding dress the day I said yes to buying it at the bridal shop. I made it myself and believe it's Victorian themed. It's called a "Bird Cage Veil". Our wedding themes were "Rustic/Vintage/Boho, simply due to my creative and indecisive side haha".
I loved the Fascinator that April wore instead of a veil.  It had a real 50s Chic feel and totally suited her dress, jewellery, the venue and the whole vibe of her wedding day.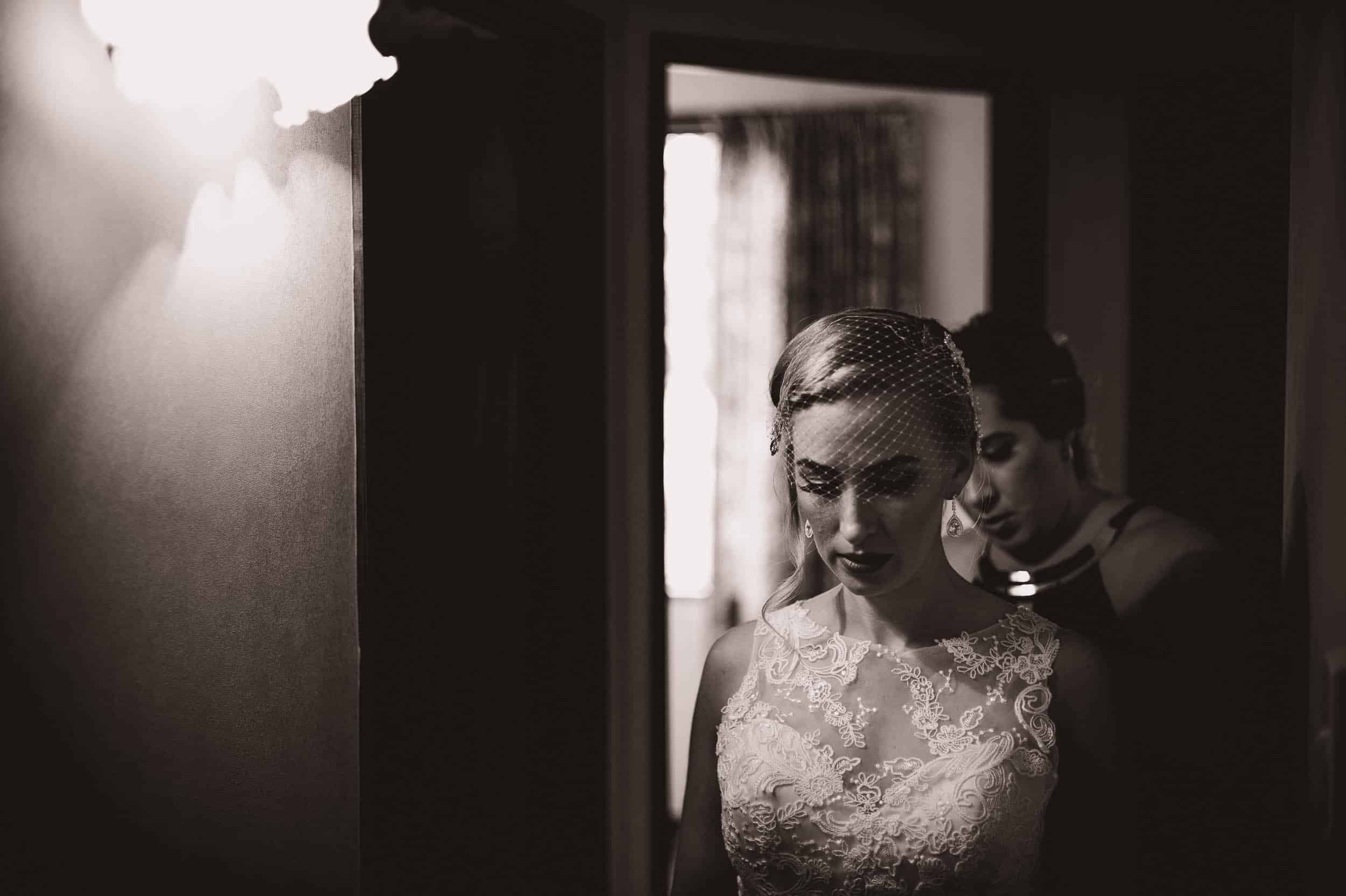 April: "The bracelets came from Wish.com haha. Just for fun. Didn't wear them for the day tho, just the morning of.".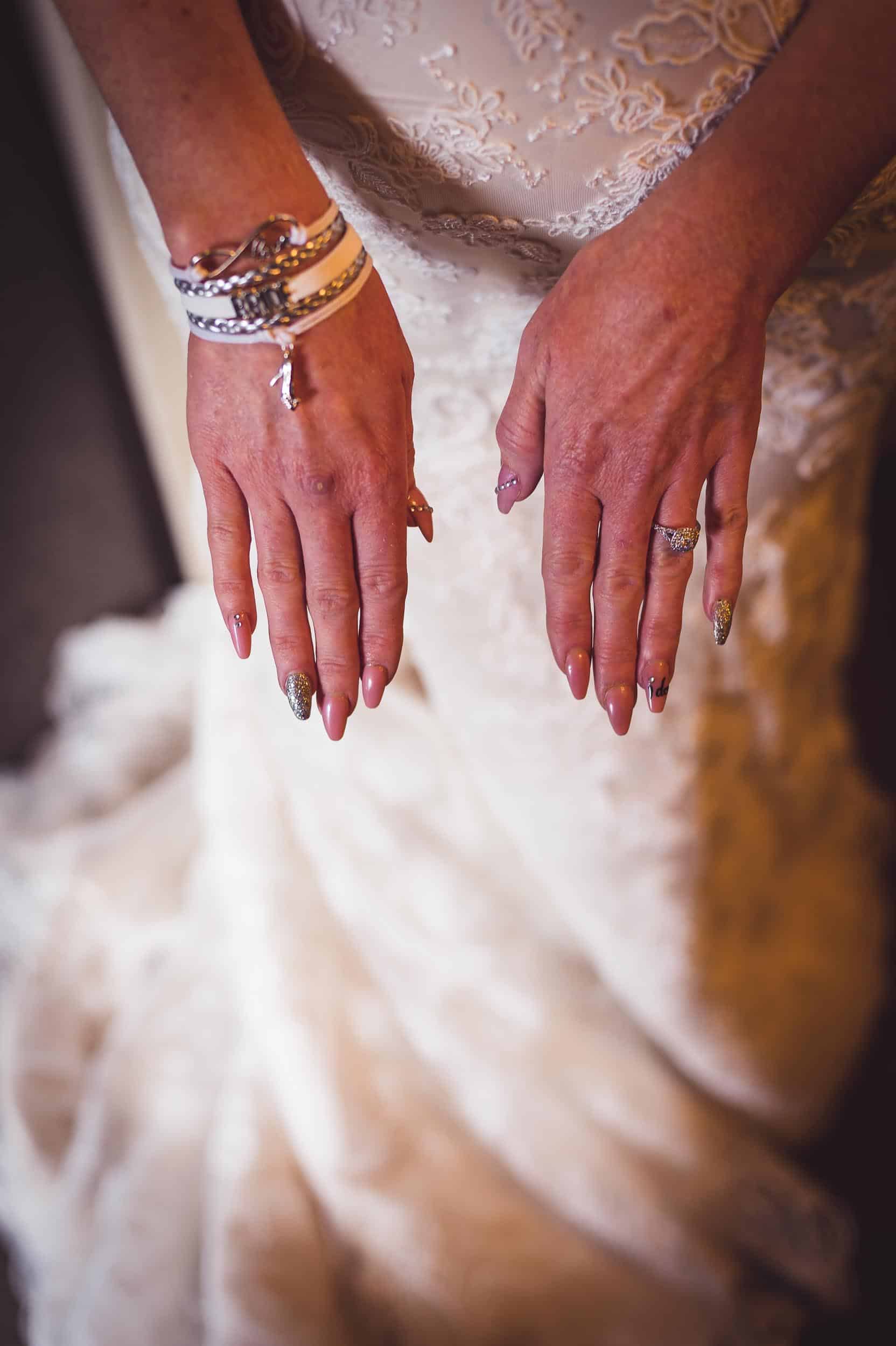 DIY THURLBY DOMAIN WEDDING CEREMONY
Thurlby Domain
April & Nick's Wedding Ceremony was held at the stunning Thurlby Domain.  For those that don't know Thurlby Domain, it is a stunning and totally off the wedding radar venue located halfway between Queenstown and Arrowtown.  It features old stone ruins, beautiful old historic buildings and rambling grounds with lots of trees.  The best I can describe the feel of Thurlby Domain is this; it is like the grounds of a long lost English manor from a time when magic still existed.
DIY + Love = More Personal
April was told about Thurlby Domain by a friend and chose it for their wedding ceremony because it was not only one of Queenstown's most affordable ceremony venues it is also one of the most stunning.  In addition to this, the fact that Thurlby Domain is totally off the wedding radar means it is a unique and totally authentic spot to get married.  (Thurlby Domain has no website or Facebook Page and do not advertise or promote in any way).  It really is one of the most affordable venues in Queenstown, so a DIY Thurlby Domain Wedding is one of the most affordable ways to get married in Queenstown.
More Thurlby Domain Blog Posts and Resources
Do you like the idea of a Thurlby Domain Elopement or Wedding?  If so, you can check out more weddings I have shot at Thurlby in the following blog posts;
Nick & Nina's Unconventional Thurlby Domain Elopement
Louise + Tom's Breathtakingly Beautiful Queenstown Winter Wedding
Cat & Cass's pretty damn awesome Thurlby Domain Winter Wedding
An Unconventional Queenstown Wedding | Donald + Giverny
Andrea + Pat | A Stunning Thurlby Domain Wedding
EPIC Queenstown Snowboard Wedding!! At Coronet Peak…on snowboards…in a snow storm!!
Queenstown Wedding Planning Posts and Articles
If you are currently in the midst of planning your Queenstown Wedding, you might also enjoy the following Blog Posts and Real Weddings helpful and inspirational;
The Ultimate Queenstown Wedding Photography Guide
7 Easy Steps To Finding Your Dream Queenstown Wedding Photographer
How Your Queenstown Wedding Formals Can Make Or Break Your Wedding Day
April: "Willows one was a back up dress as the Wish.com one was way too big for her so we had parts of it added to her new dress to look very similar by her clever nana (my new mother in law).  Willow's fur coat was loaned from a Mum off Queenstown Kids Stuff Facebook Page.
Katie's dress was also from Wish.com.  Her fur coat was made by April's mum!
All the bouquets (including April's dusty pink and white bridal bouquet), the floral arch display and the floral sign at the venue entrance were made by April herself through her business Unique Bouquets.
April & Nick chose the lovely Philippa Thomas to be their Wedding Celebrant.   Philippa is totally natural and down-to-earth, friendly, a little bit quirky and totally awesome.  One of the things I love about Philippa is that she is totally genuine and authentic and who she is as a person in her day-to-day is who she is as a celebrant.  So as soon as you meet her, if you love her (why wouldn't you?), you will love having her as your celebrant.  Anyway, enough silver-tongued flattery from me.  Philippa, as always, did a lovely job of April & Nick's Ceremony.  It was relaxed, heart-felt, funny, beautiful, tear-inducing, romantic and very "April and Nick"-ish all rolled into one!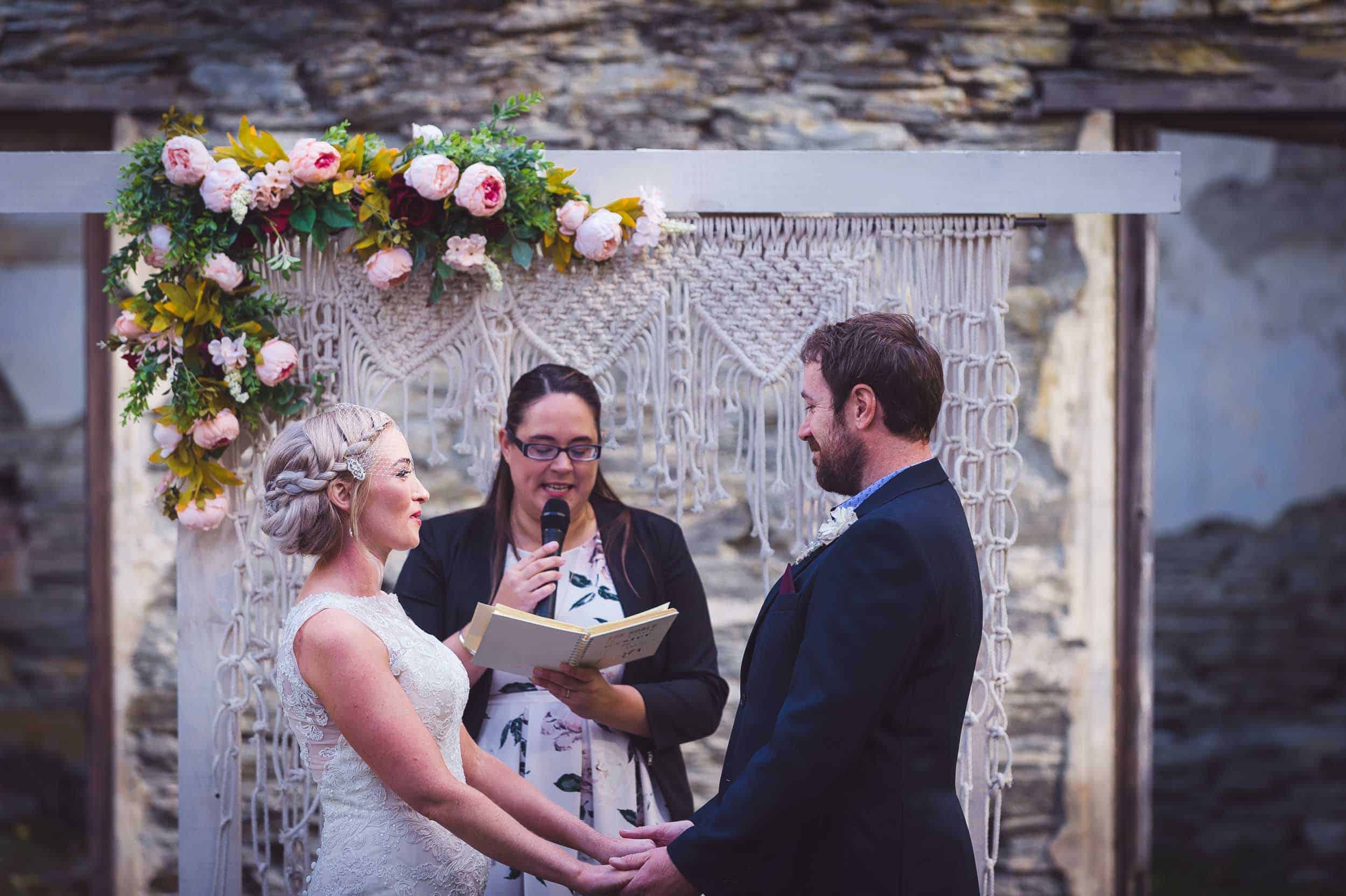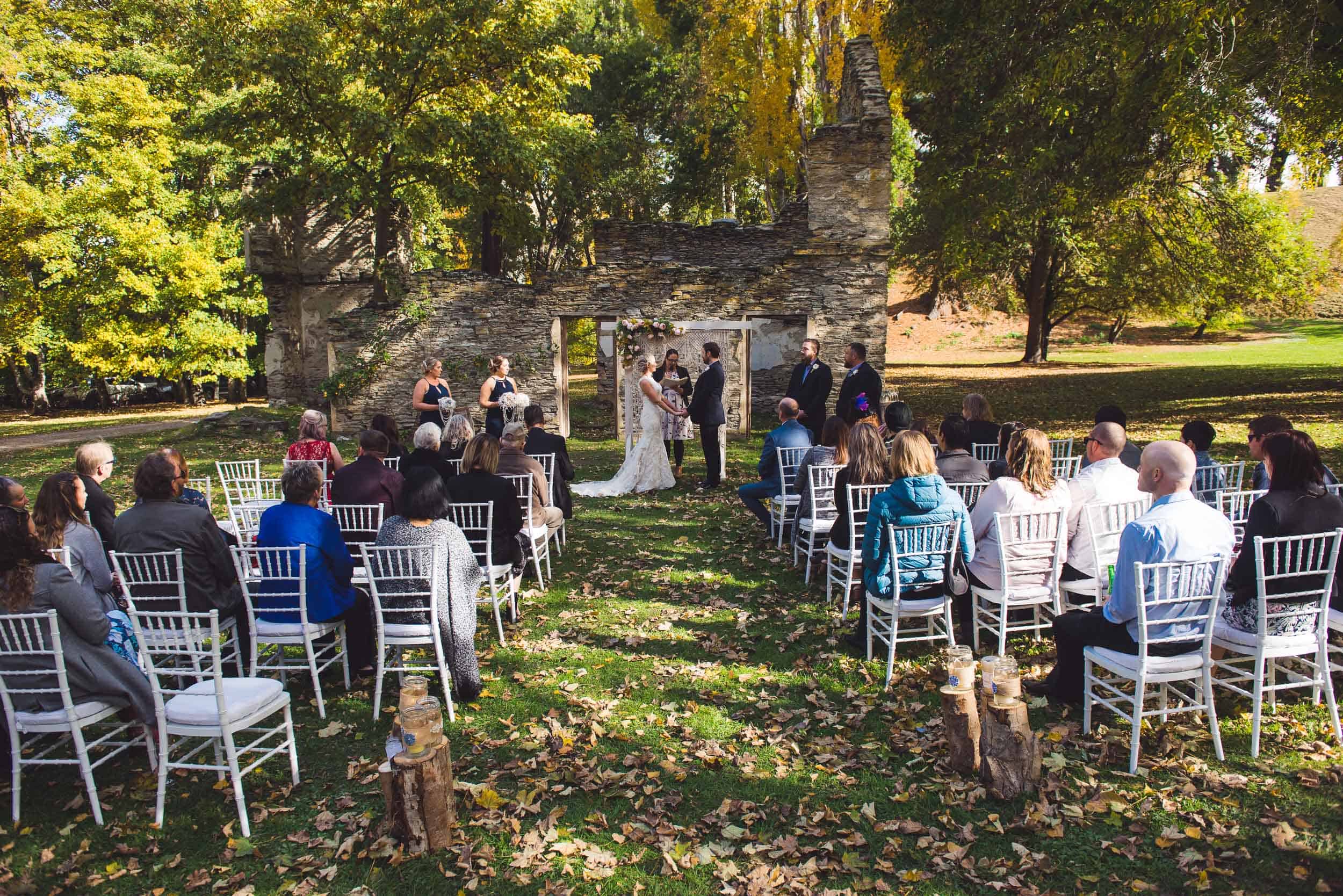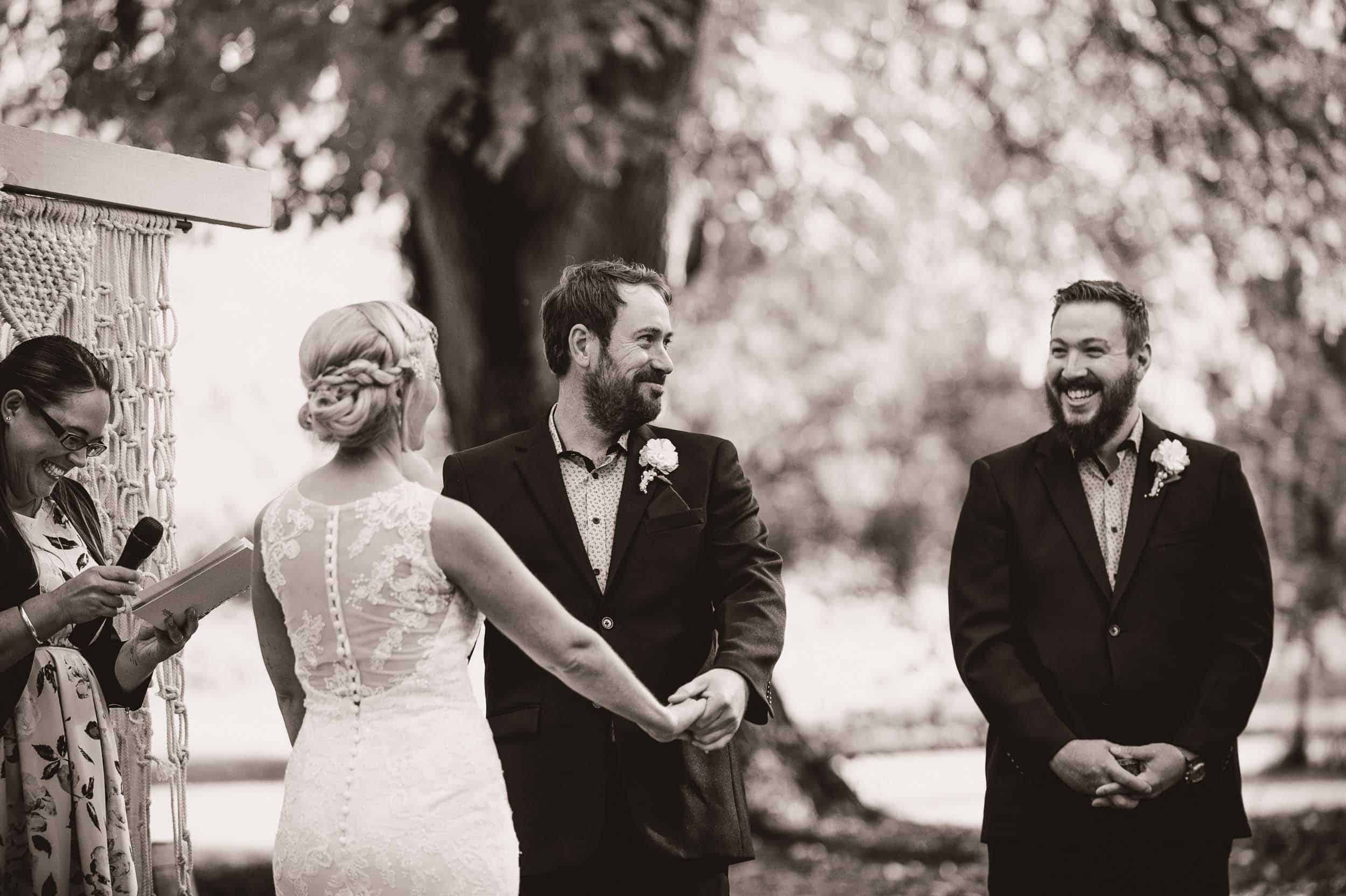 Just before the vows, April's daughter Katie spoke some very moving words about how much she loved her Step-Dad Nick.  This was one moment in particular when I don't think there was a dry eye in the house – me included!  In April's own words: "My daughter giving her speech to her new "official" step dad before we read our vows, made nearly everyone shed a tear.  It was so special and made us proud &  warm and happy on the inside".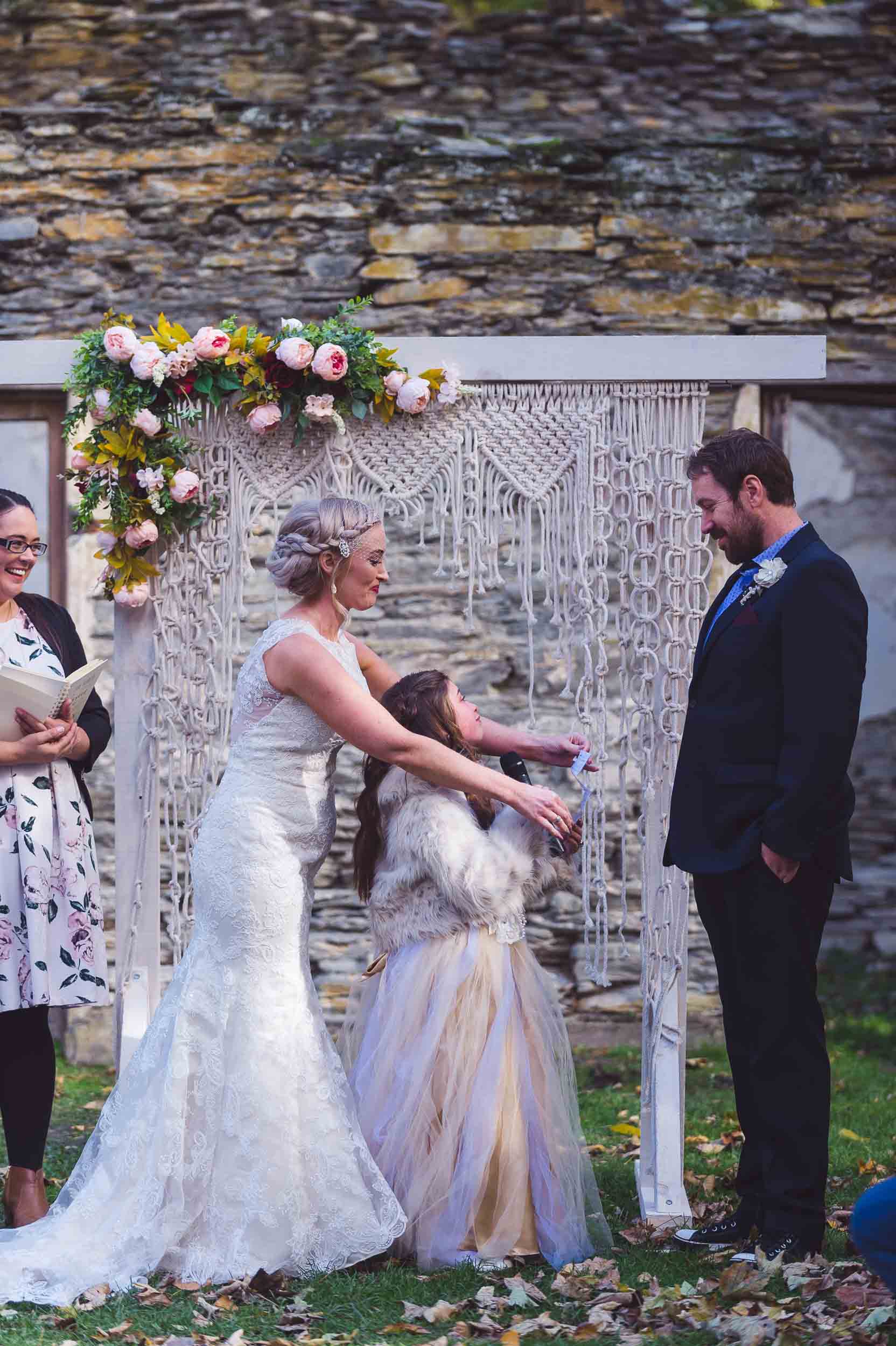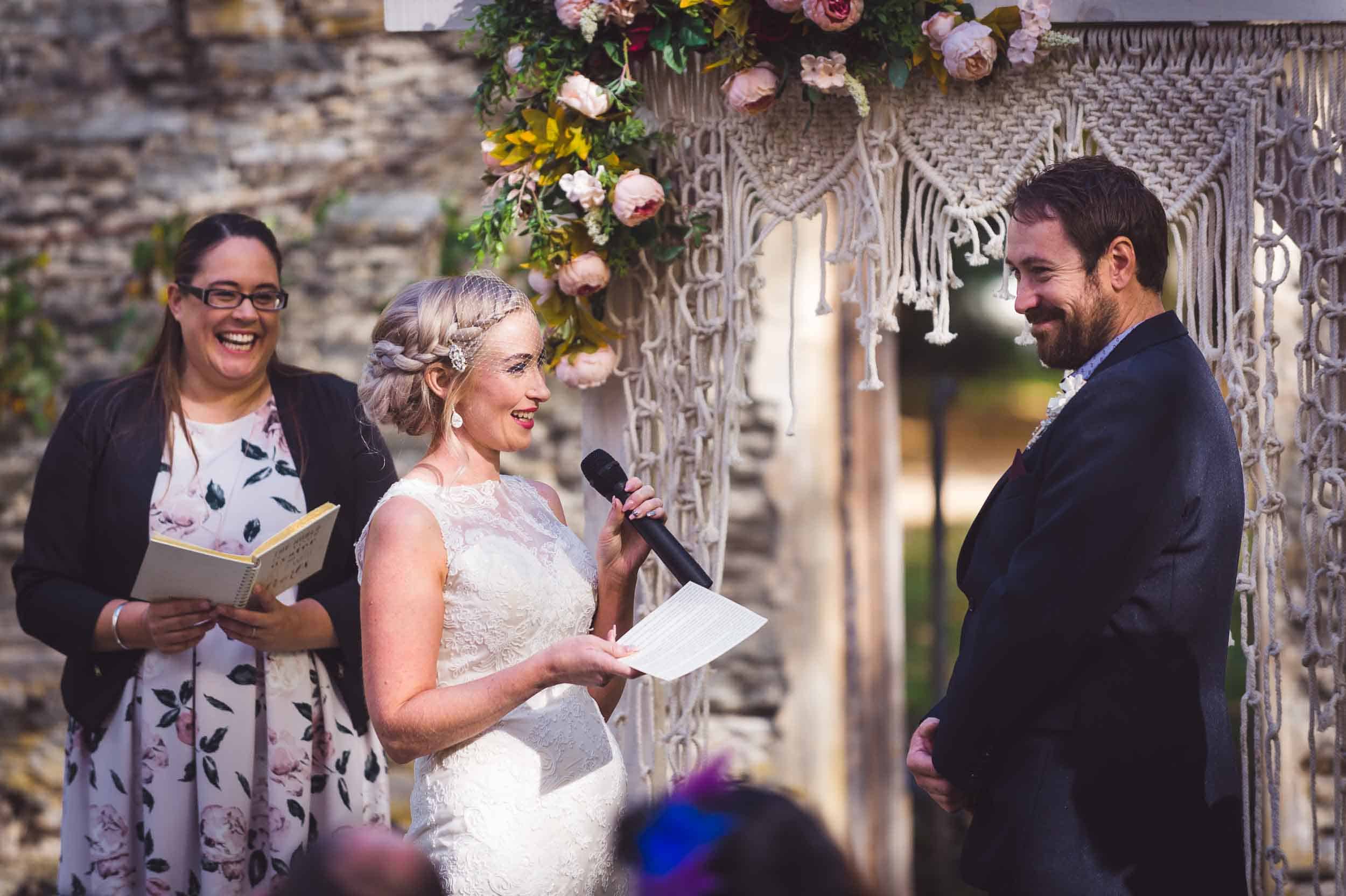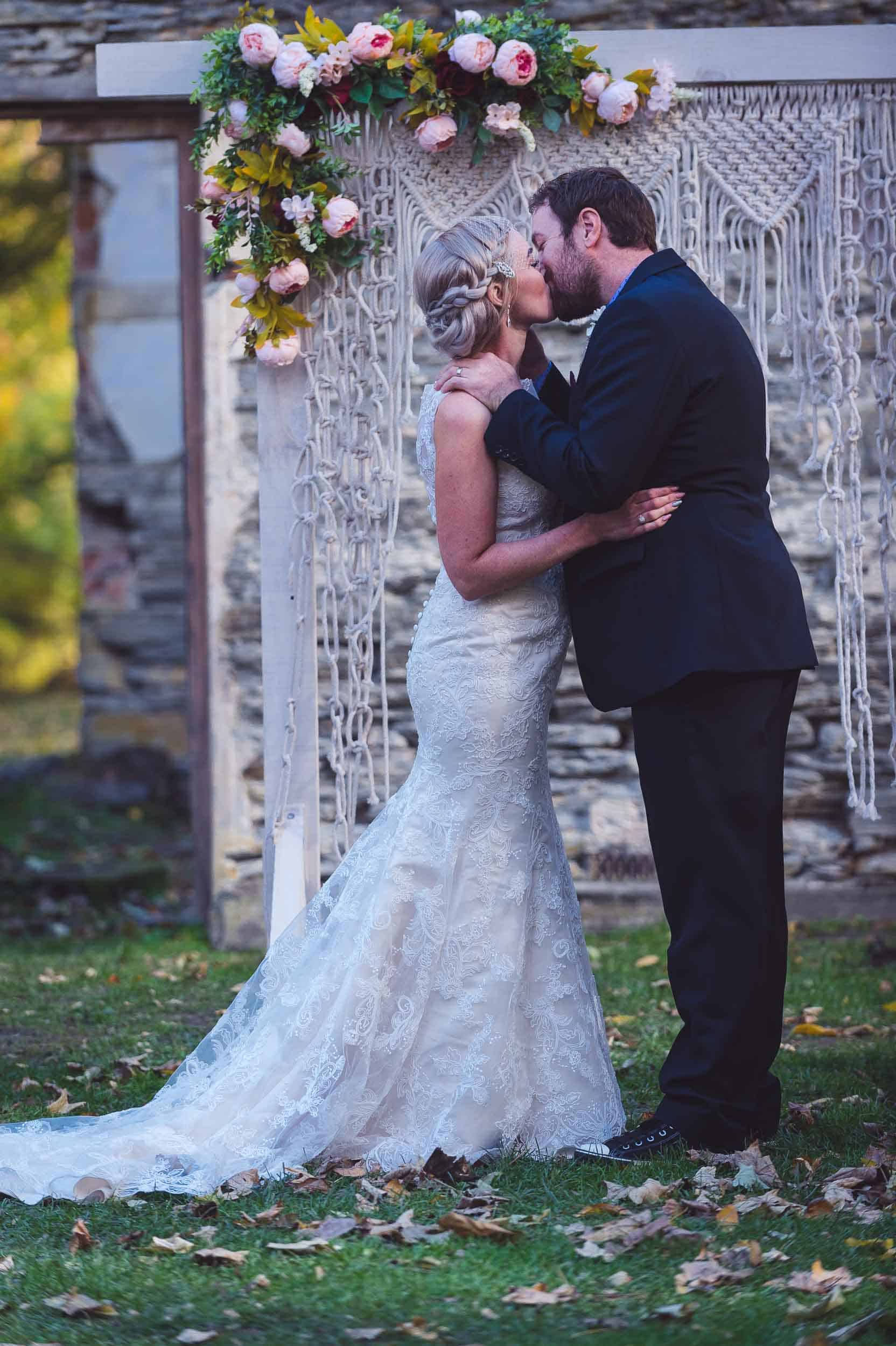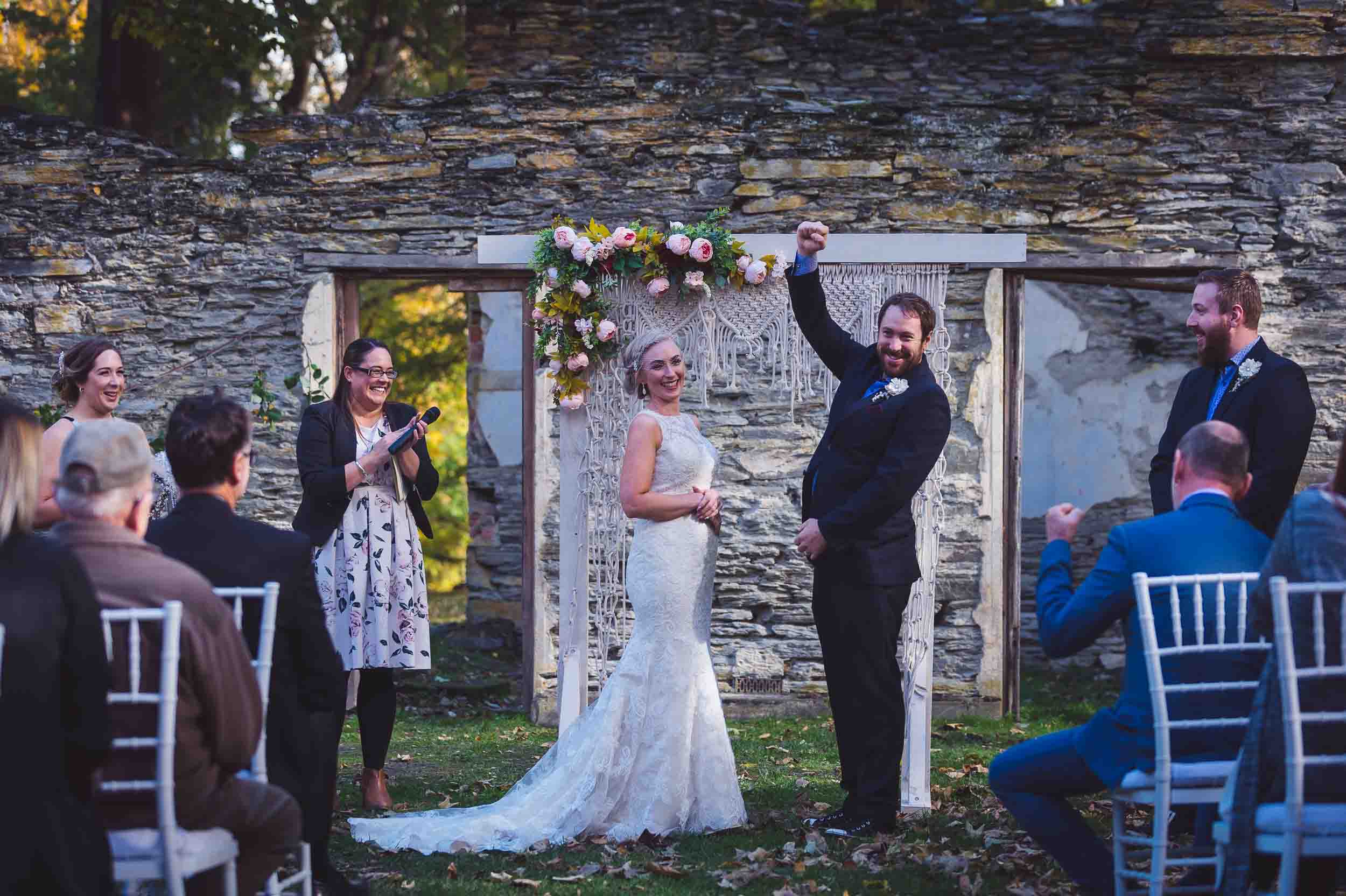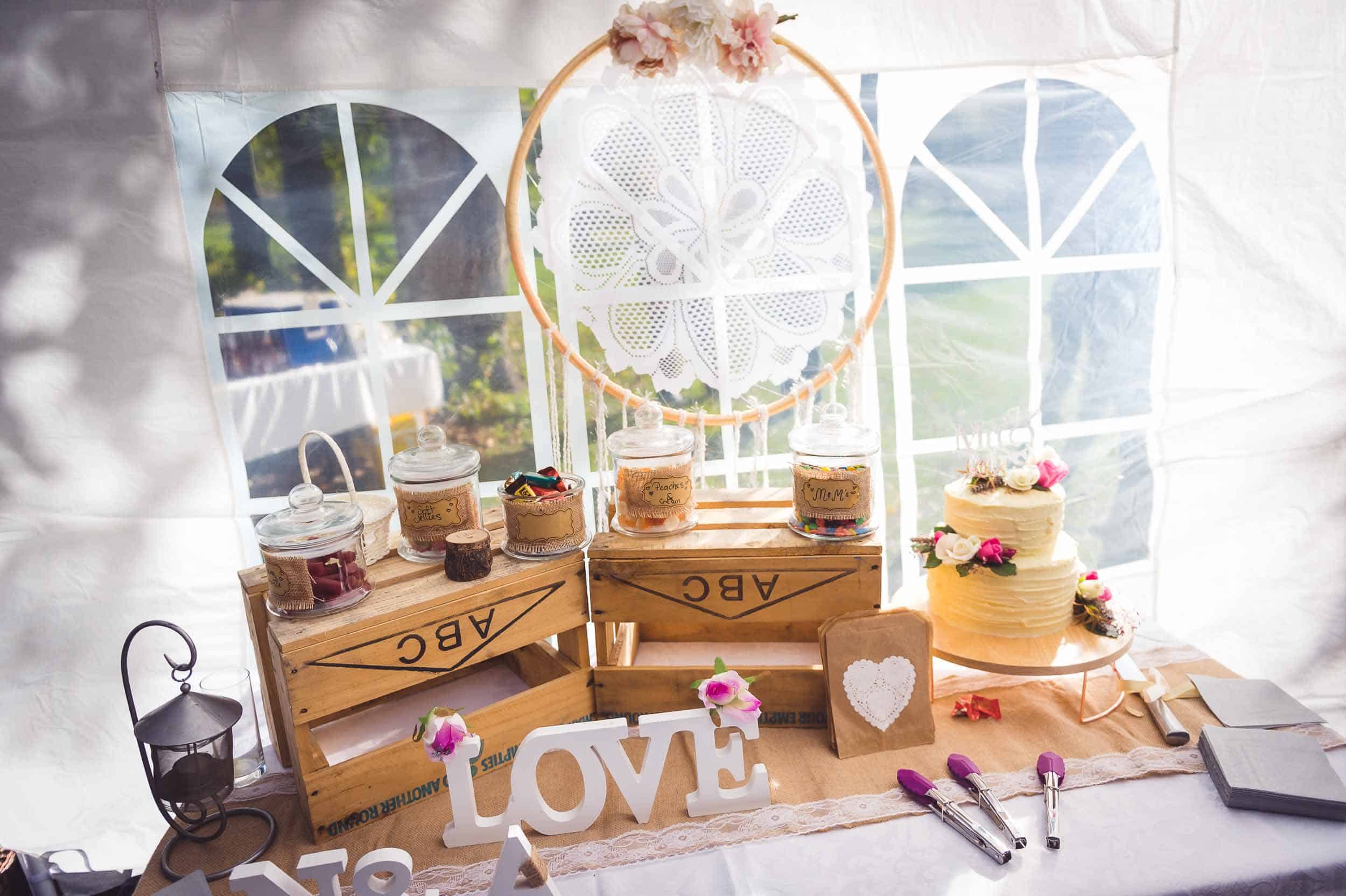 April & Nick's Wedding Cake was mede by Tutu Hill Cakes & Gifts. and was a carrot cake with cream cheese icing  The roses came from April's Aunty's garden. The cake topper came from "Wish". The small white marquee came from The Warehouse.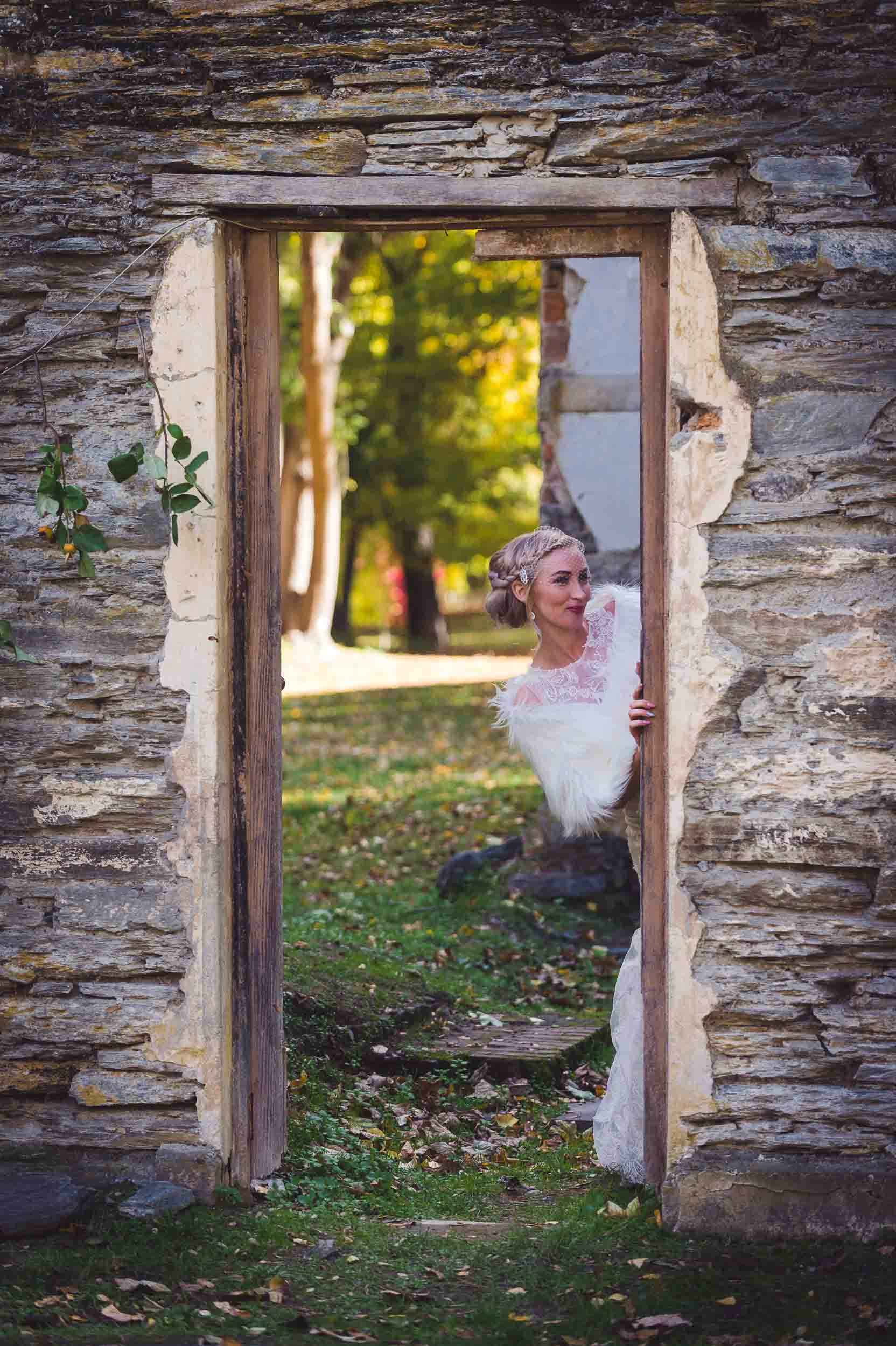 April's two best friends were her bridesmaids and their dark blue dresses came from Dotti.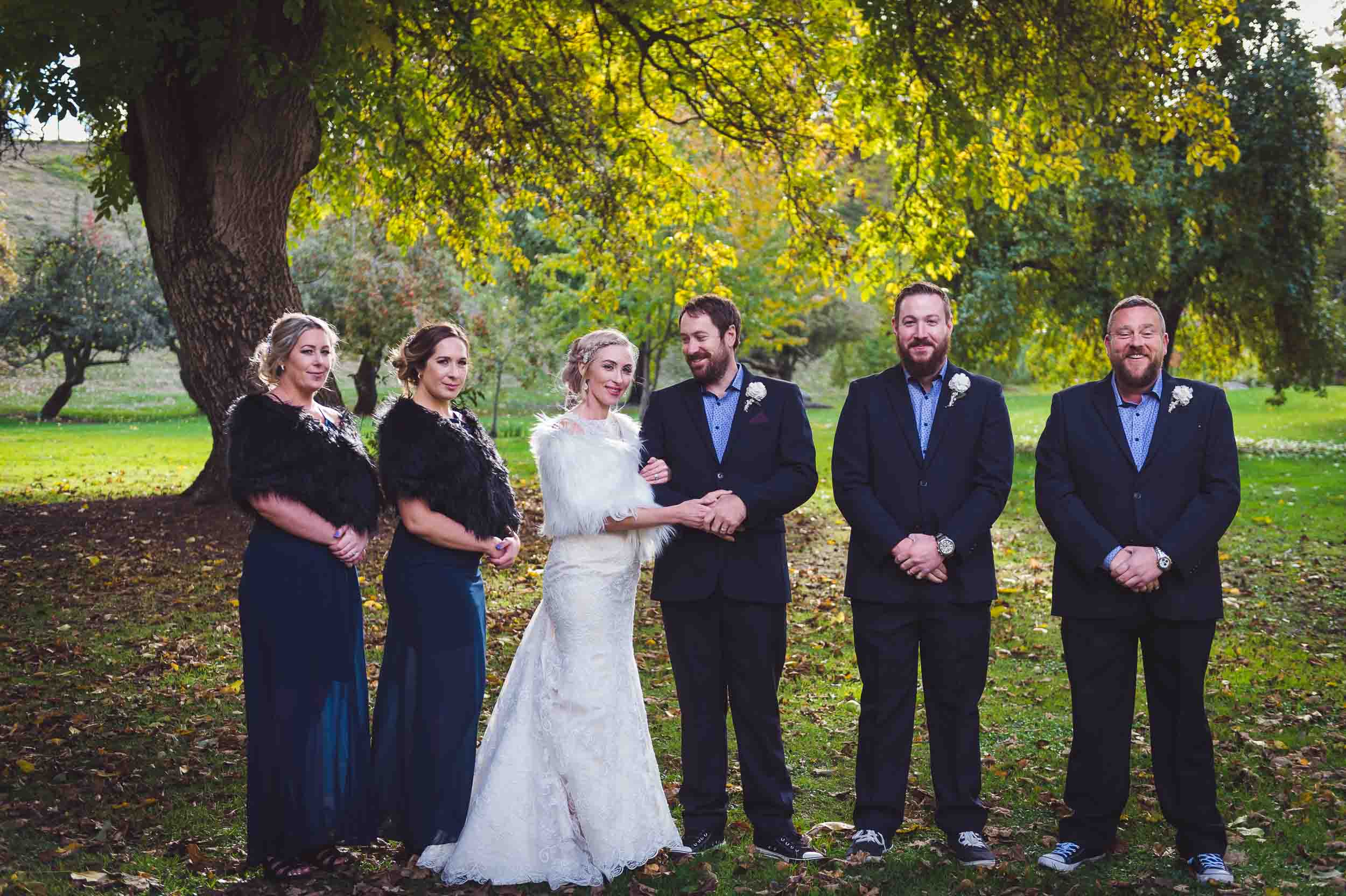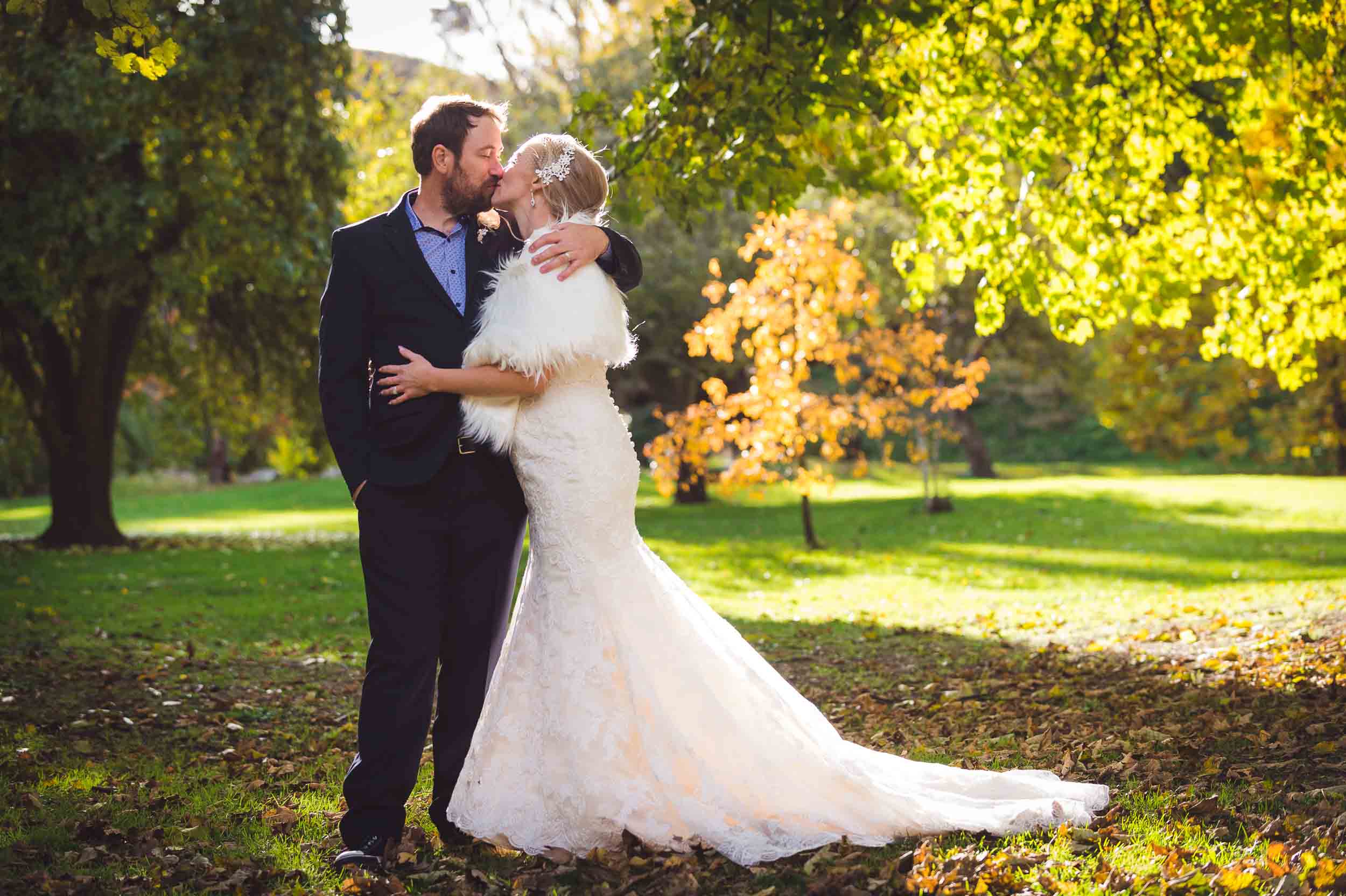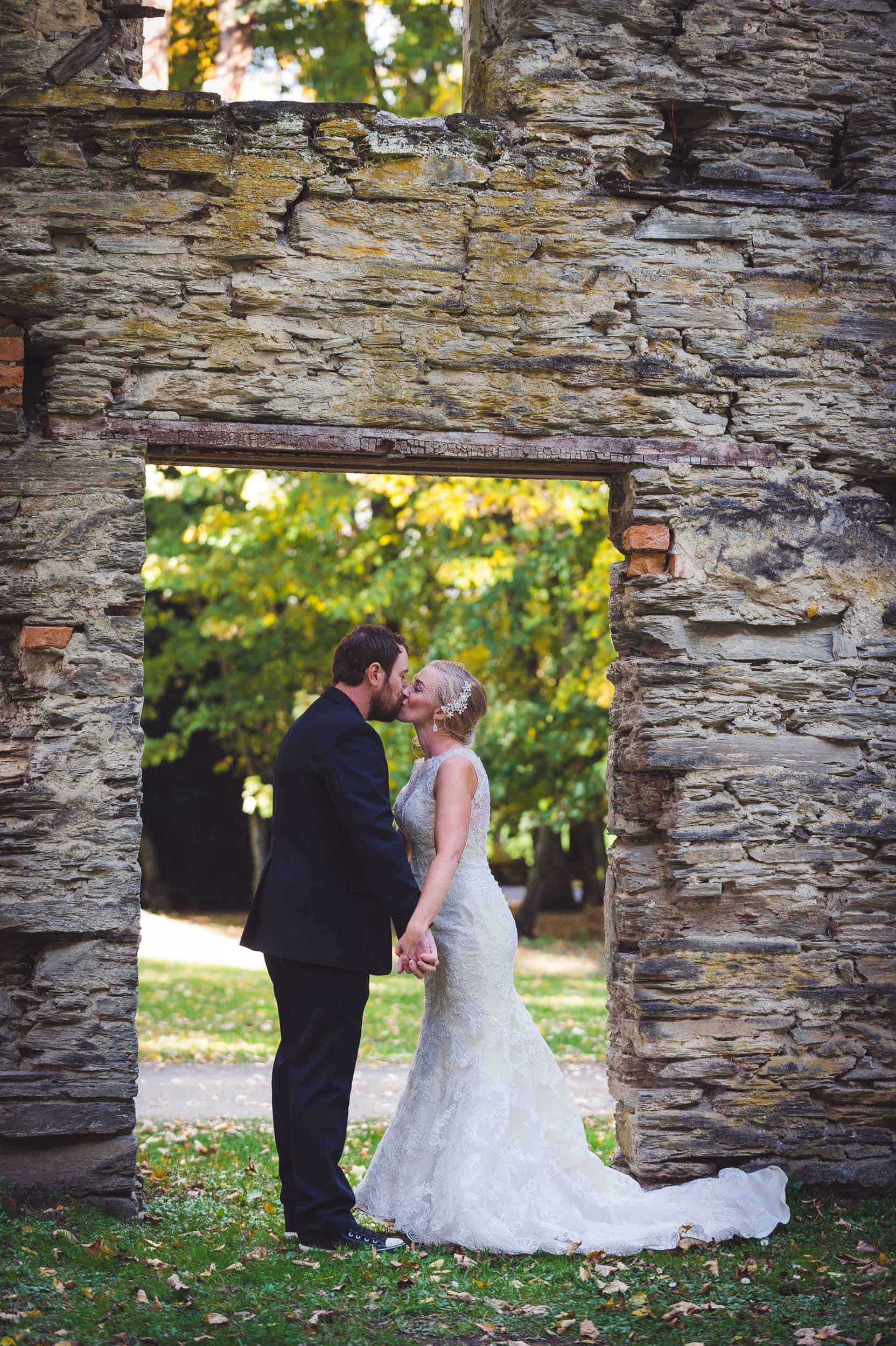 Oh, I forgot one of the most important details!  Check out the bridal baby bump in the next pic!  Yep, April and Nick are expecting and they recently announced they will be having a boy!  Congratulations you two, I mean three….er soon to be four!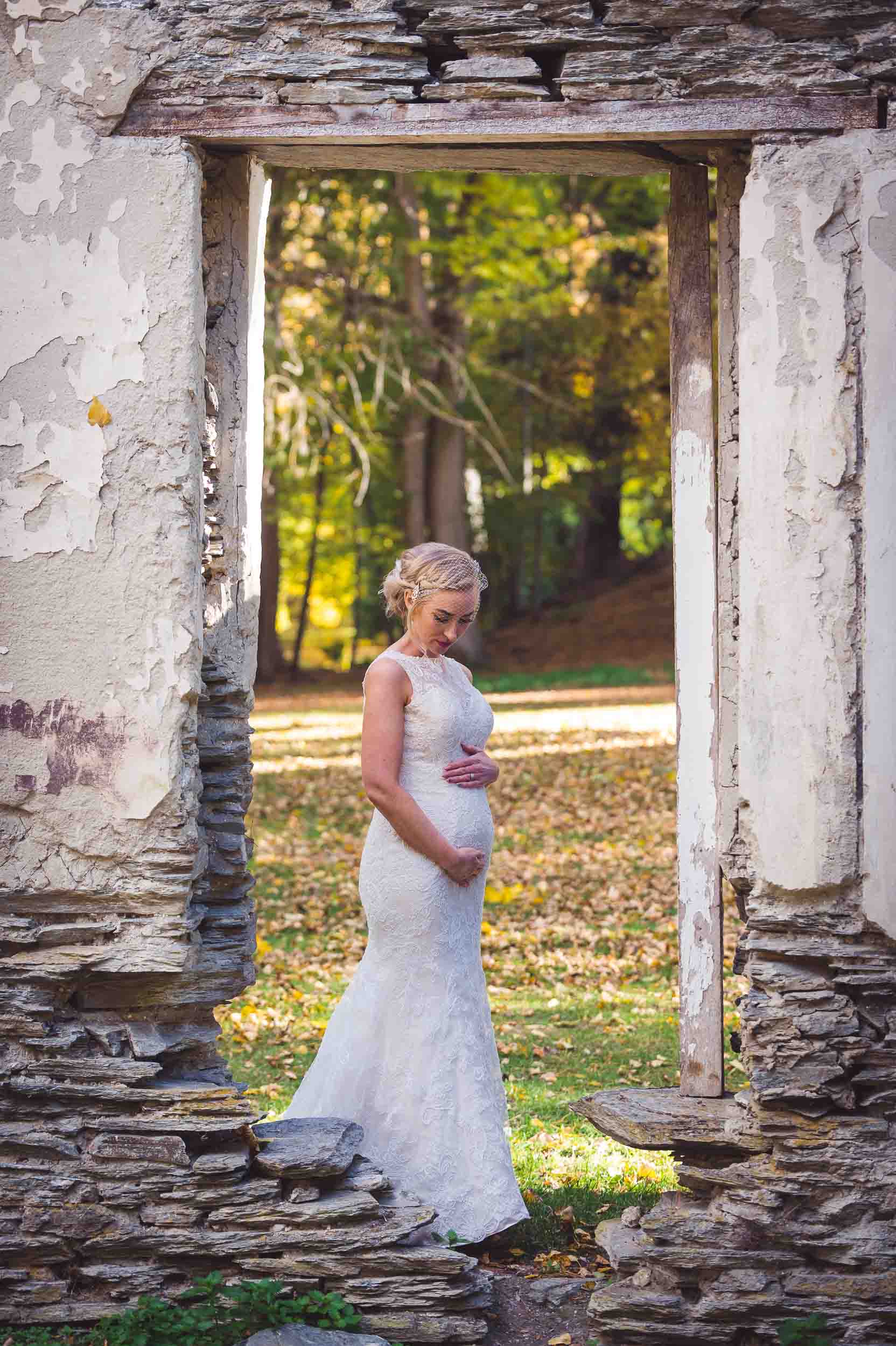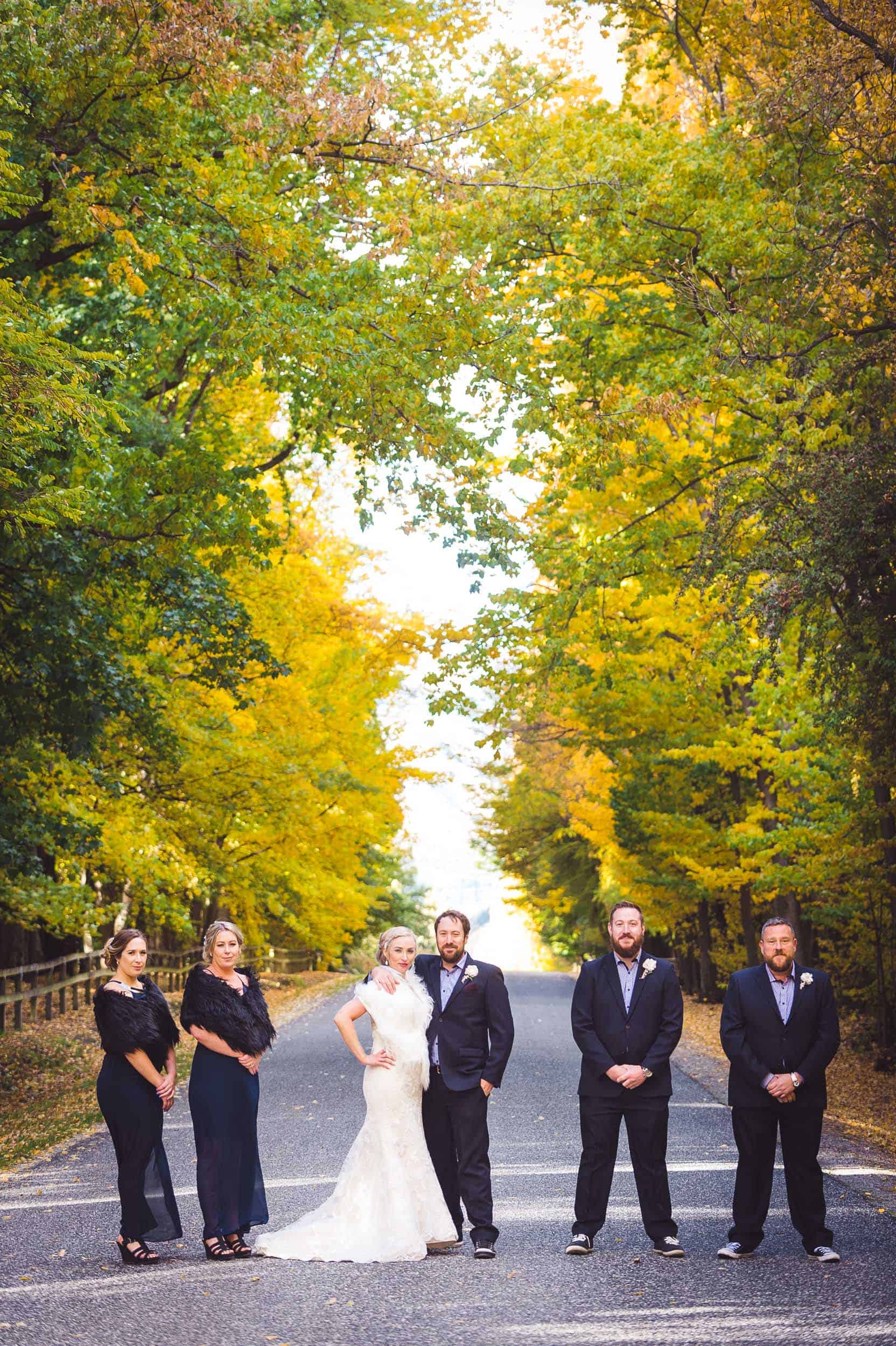 BACK YARD BBQ WEDDING RECEPTION
After the Ceremony it was back to April & Nick's place in Arrowtown for a Back-yard BBQ Wedding Reception.  In April's own words: "We had a low key bbq back at our place, easier and comfortable and everyone brought a salad of some sort. "  (Apologies, I don't have any photos of April & Nick's BBQ Reception to post as I was there as a guest and was very much off duty!).
If you want to see more photos from April & Nick's DIY Thurlby Domain Wedding, you can view all the photos from their Mini Wedding Website here.
WEDDING VENDORS CHOSEN BY APRIL & NICK
Celebrant Philippa Thomas
Photographer yours truly, Patrick Fallon of Fallon Photography,.
April's wedding dress by Brides By Donna Rae in Invercargil
Rings from Michael Hill Jewellers
Bride & Bridesmaid fur wraps off Aliexpress.com
Flower girl dresses from Wish.com
Small marquee from The Warehouse
Wedding Cake by Tutu Hill Cakes & Gifts.
Cake topper from Wish.com
Groomsmen's suits from Bowker Menswear.
"Bride" and "Bridesmaid" bracelets from Wish.com
Bouquets by Unique Bouquets, April's own business.
Portaloos from S.J.Allen Holdings Ltd
SOME WORDS AND INSPIRATION FROM THE BRIDE – MRS APRIL ROBINSON!
Why did you choose your Ceremony Venue? And how did you find out about it?

Cheapest and most stunning venue. Told about it from a friend

Why did you choose your Reception Venue? And how did you find out about it?

We had a low key bbq back at our place, easier and comfortable and everyone brought a salad of some sort,

What were some of the greatest sources of information and inspiration when planning your wedding?

FB's Wedding Discussion page, Pintrist and google

How did you feel in your dress?

Never felt so beautiful in my life!!!

How did you feel just before you walked down the aisle? What about as you were walking down the aisle?

I felt very nervous and trying so hard to hold the tears back, Happy and excited all rolled into one haha.

What was the most stressful moment/part of your wedding planning? What was the most stressful part of your wedding day itself?

Making decisions and sticking to them. My wedding day wasnt stressful at all, as I took rescue remedy to keep me calm haha.

How many bridesmaids did you have? Where did you get your bridesmaid dresses from?

Two best friends were my Bridesmaids and their dresses came from Dotti

Where did the boys get their suits from?

Some gentleman's suit shop in dunedin

What was your wedding colour scheme or theme?

Dark blue for bridal party's outfits and dusty pink and white flowers

What was the best moment of your wedding day? And what were some of the other highlights for you?

All of it, I couldn't fault how everything fell into place and was put together

What was the funniest thing that happened on your wedding day?

The photo bombs from my MC haha only seen them last night when we got the photos back

What 3 words would you use to describe your wedding day?

Were there any special details at your wedding day that were unique and particularly special for you two?

My daughter giving her speech to her new "official" step dad before we read our vows, made nearly everyone shed a tear. It was so special and made us proud &  warm and happy on the inside

Any tips or advice for other brides planning their wedding that you'd like to share?

Don't listen to what anyone else but you and your h2b want. You can mix together as many themes as you want. It's about the two of you so do what makes you both happy. Communicate and compromise so that you're both happy.

Did you discover any amazing Vendors or Suppliers you'd like other brides to know about?

Kelly From Tutu Hill Cakes and Gifts went the extra mile for us (mostly due to the fact she one of my best friends). Patrick Fallon is hands down most fun and energetic photographer I know who also too goes the extra mile to ensure awesome photos and bride and groom are happy ? Philippa Thomas-Celebrant so easy to deal with and happy to do whatever we ask and make changes where needed she was also fun and always smiling ?

Looking back, is there anything you'd change? Is there anything you wish you knew before you started planning your wedding?

I do wish I put my girls in Burgandy red dresses haha, never mind.  And I wish I knew how to not stress the entire wedding planning and just relax knowing however big or small it was going to be it'll be perfect.
THAT'S IT, THAT'S ALL.
I hope you find the images and info on April & Nick's DIY Thurlby Domain Wedding helpful.  Hopefully if nothing else they give you a bit of inspiration, particularly if you are planning a DIY Thurlby Domain Wedding.  If you need any Queenstown Wedding Info or Advice, please feel free to email me at patrick@fallon.co.nz.  Or, you can do it the old fashioned way and give me a bell on +6421737356.
P.S. You can check out other Thurlby Domain Blog Posts by clicking here.