Edu & Paulo's Queenstown Elopement is living proof…
All you really need for a beautiful Queenstown Wedding is the person you love most in the world, a celebrant and two witnesses!
Brazilian couple Edu & Paulo, with a tonne of planning help from the super-lovely Eva Hooper Celebrant, planned to get married on a mountain-top somewhere in Queenstown. However, they ended up getting married in a super-intimate Azur Luxury Lodge Queenstown Elopement with no helicopters involved. Here is how it all came about…
Edu & Paulo chose to get married in Queenstown because of its natural beauty and pure energy. The plan was for Eva to marry Edu & Paulo in a Queenstown Heli-Wedding with Glacier Southern Lakes Helicopters. Yours Truly (Patrick from Fallon Photography) was the photographer, and the lads from Shotover Wedding Films were making the movie magic happen. However, on the wedding day itself, the weather gods threw us a rather large curve-ball and everything changed…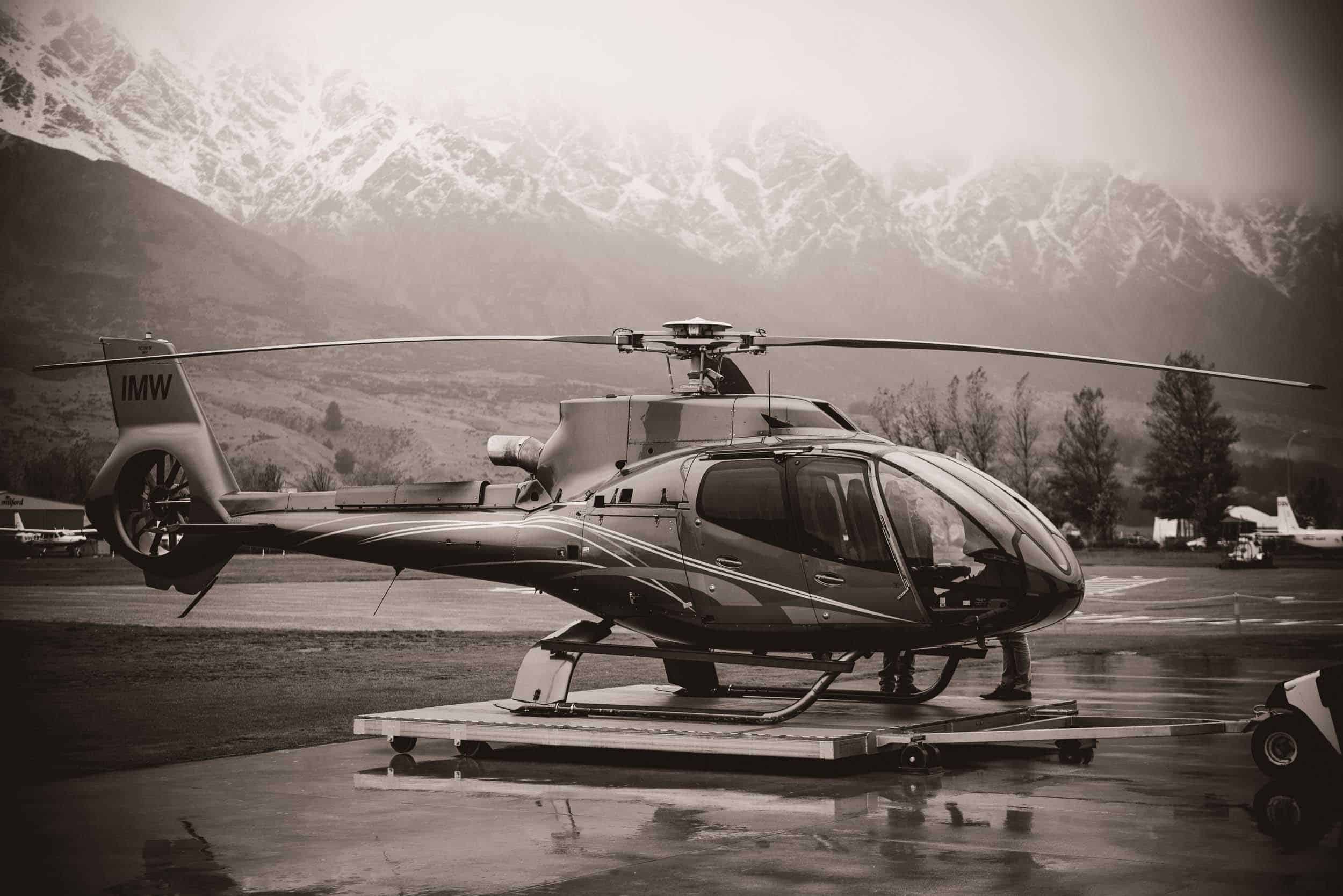 Fortunately, Edu & Paulo were extremely flexible. They let themselves be guided by the heart. The only thing that really mattered to them was being legally married on a date that was very special for them – the 28th of April 2018. (Eduardo is an astrologer and Paulo is an architect. They picked the 28th of April 2018 because it is an important astrological date. So it was super important to them that their wedding be on this date). It was this combination of flexibility and focus on what was really important to them on their wedding day that allowed Edu & Paulo to be guided by their hearts. And being guided by their hearts enabled Edu & Paulo to pull off an Epic & Intimate Queenstown Elopement even when the weather was "bad"…
THE WEDDING DAY & THE WEATHER GODS…
On the morning of Edu & Paulo's wedding, the weather was cold, grey and rainy. I was already fairly certain at this point that we wouldn't be flying. (Not because the weather was so bad that the helicopter couldn't fly – these machines can fly in pretty atrocious weather! More often than not, when a Heli Wedding cancels due to weather, it is simply because it would be horrible to be stuck on a mountain-top in such weather. Usually in such a situation, the helicopter company will advise the couple that while they can fly, they would recommend re-scheduling or cancelling the booking). Despite the weather, Edu & Paulo were still keen and did travel out to Glacier Southern Lakes Helicopters and even started the check-in process. However, after the team at Glacier Southern Lakes Helicopters told them what the weather would likely be like up there they opted for Plan B. And a pretty damn good Plan B it was too!
ONE HELL OF A "PLAN B"!
Fortunately, Edu & Paulo were staying in one of the beautiful Villas at the absolutely stunning Azur Luxury Lodge Queenstown . Edu & Paulo's Villa had it's own balcony, stunning views of Lake Wakatipu and the surrounding mountains, privacy and plenty of space. (Well, it did have plenty of space once we shifted the bed!). So, when the weather gods meant a heli flight was out, they decided to tie the knot in a super-intimate Azur Luxury Lodge Queenstown Elopement.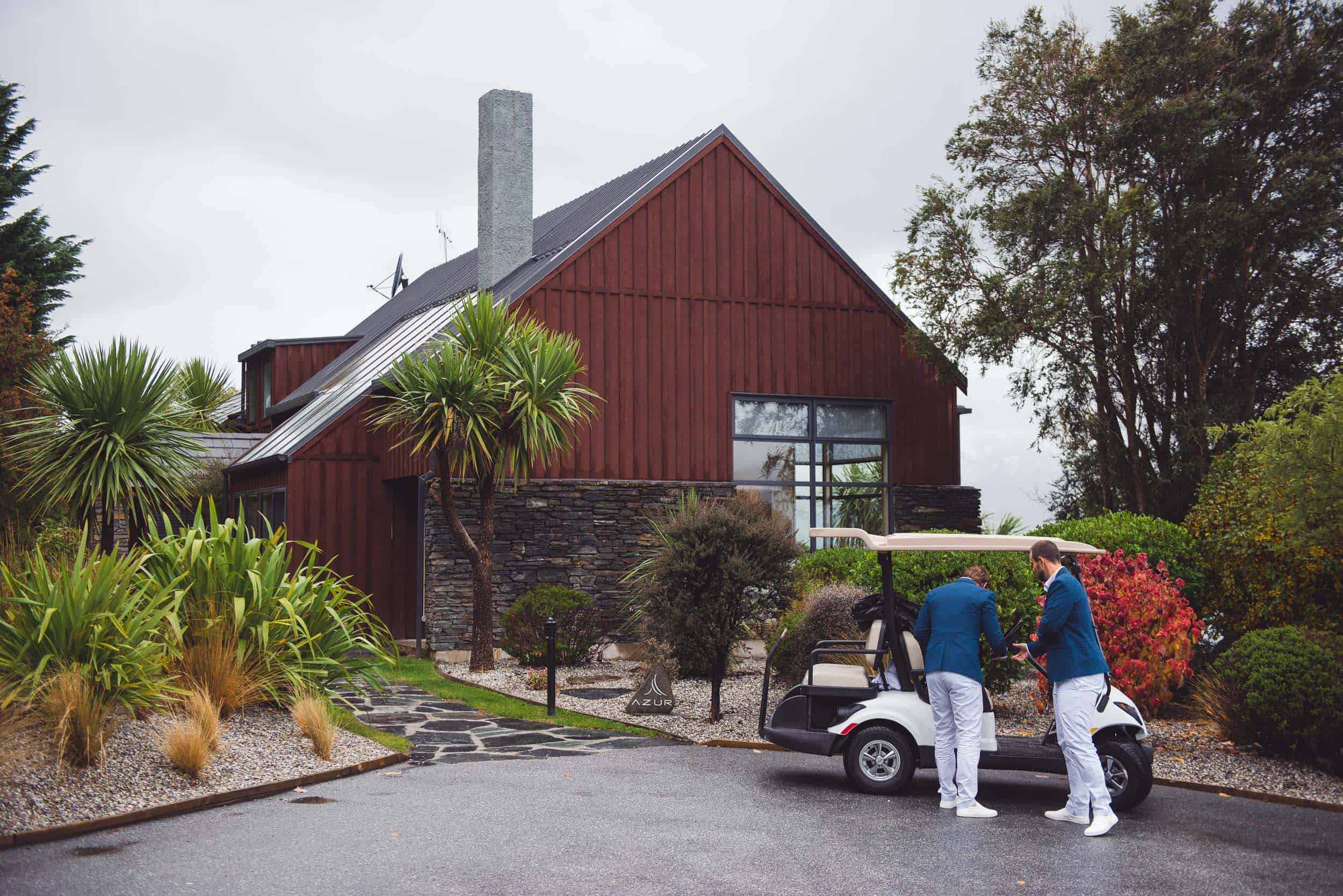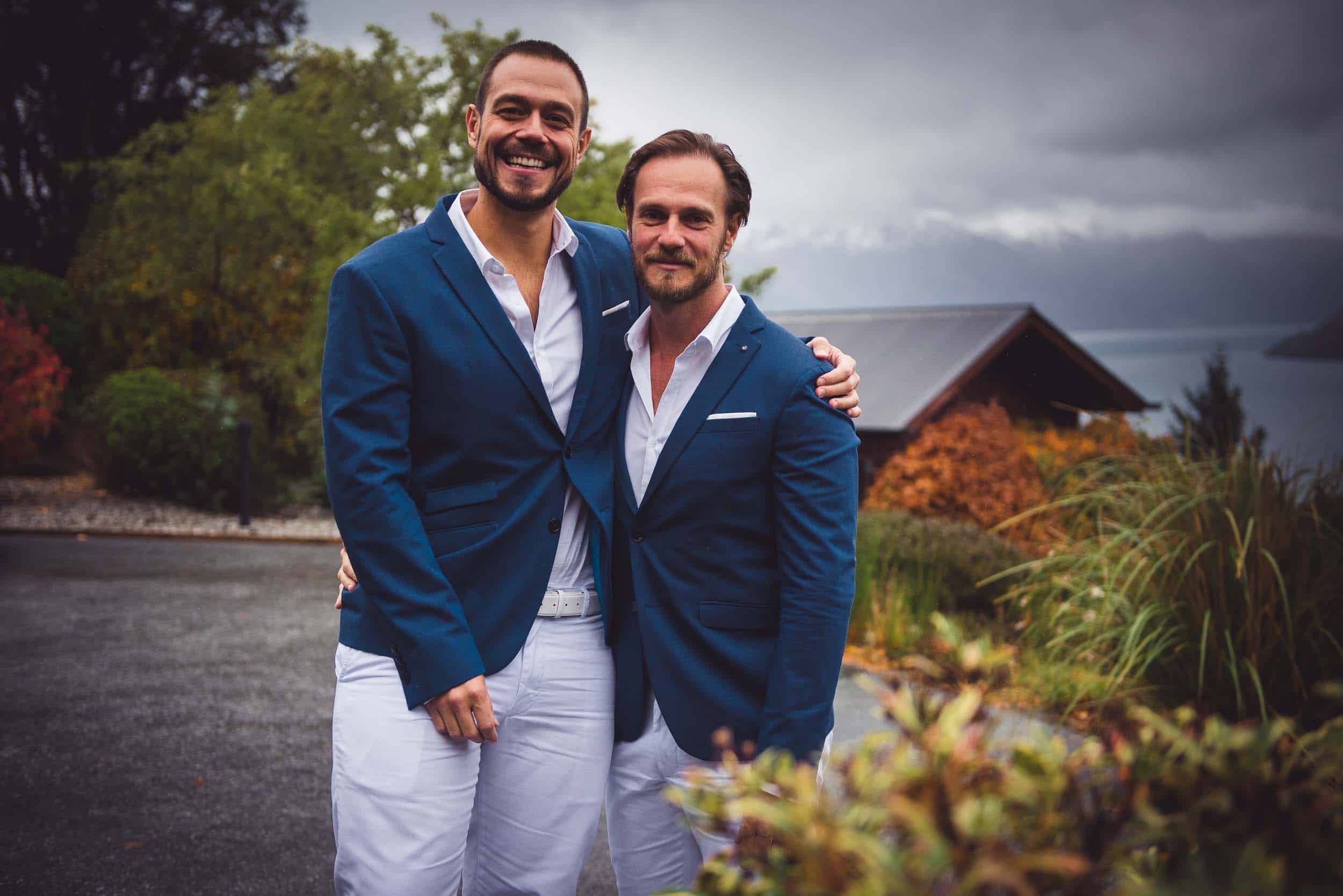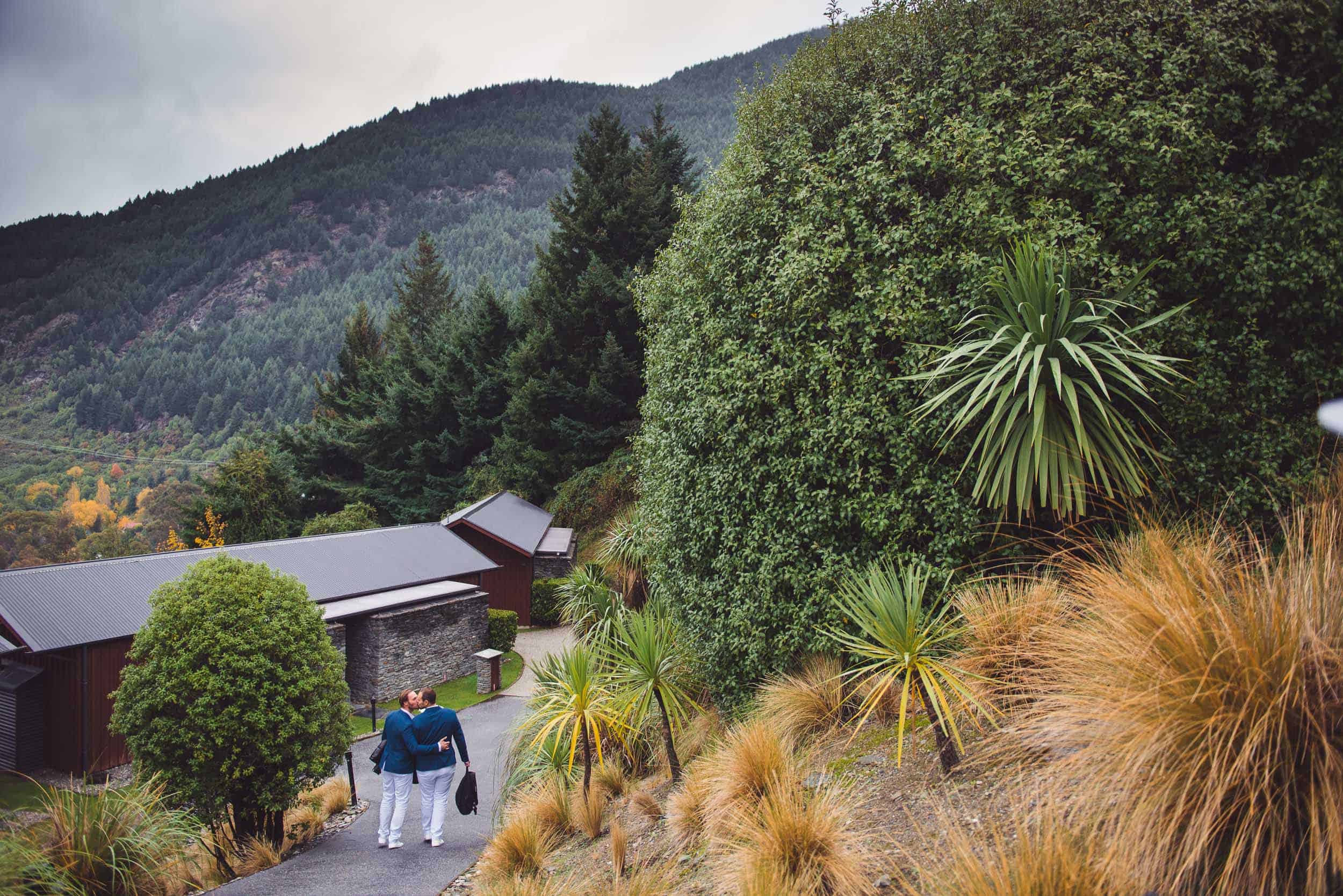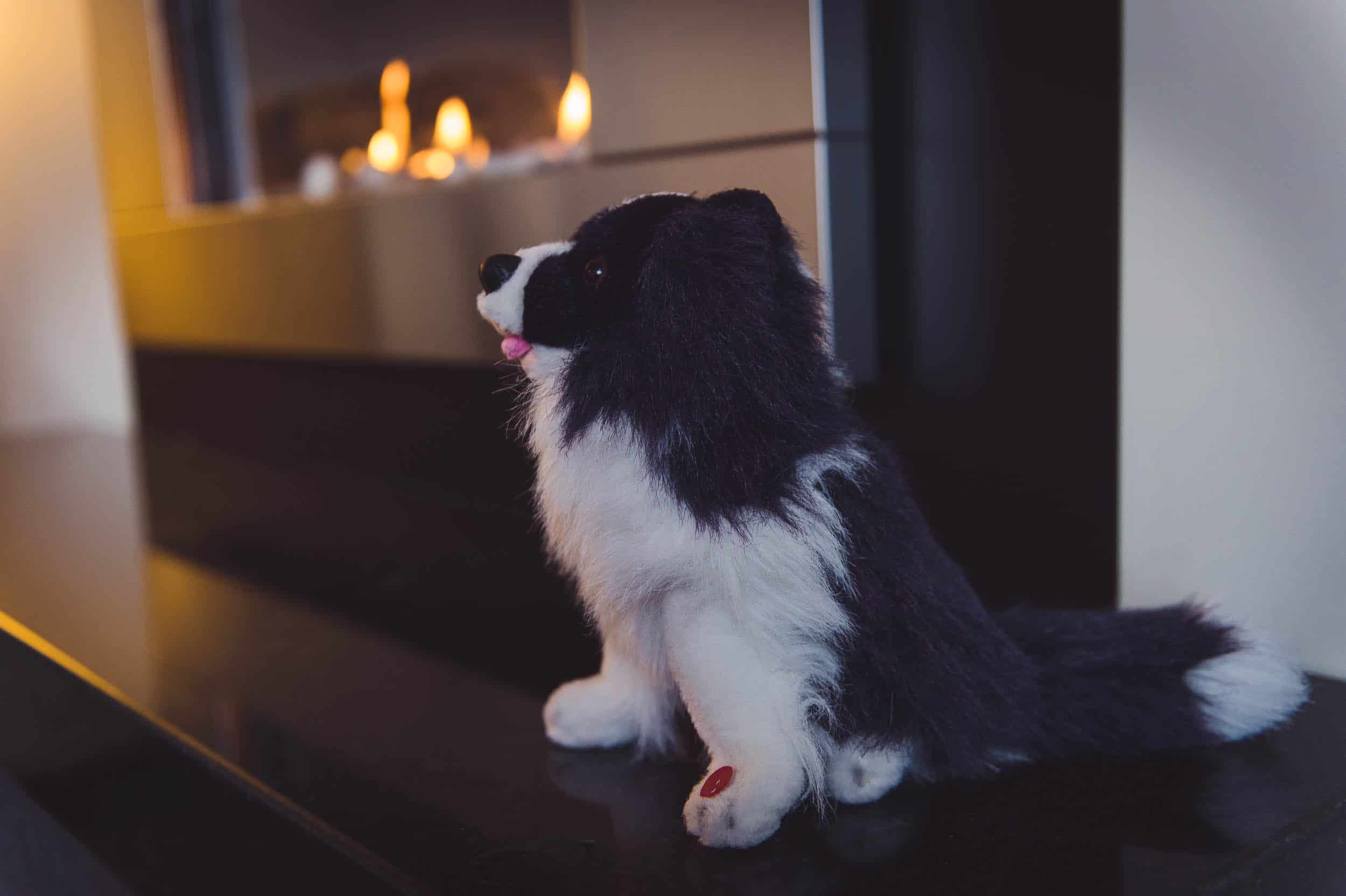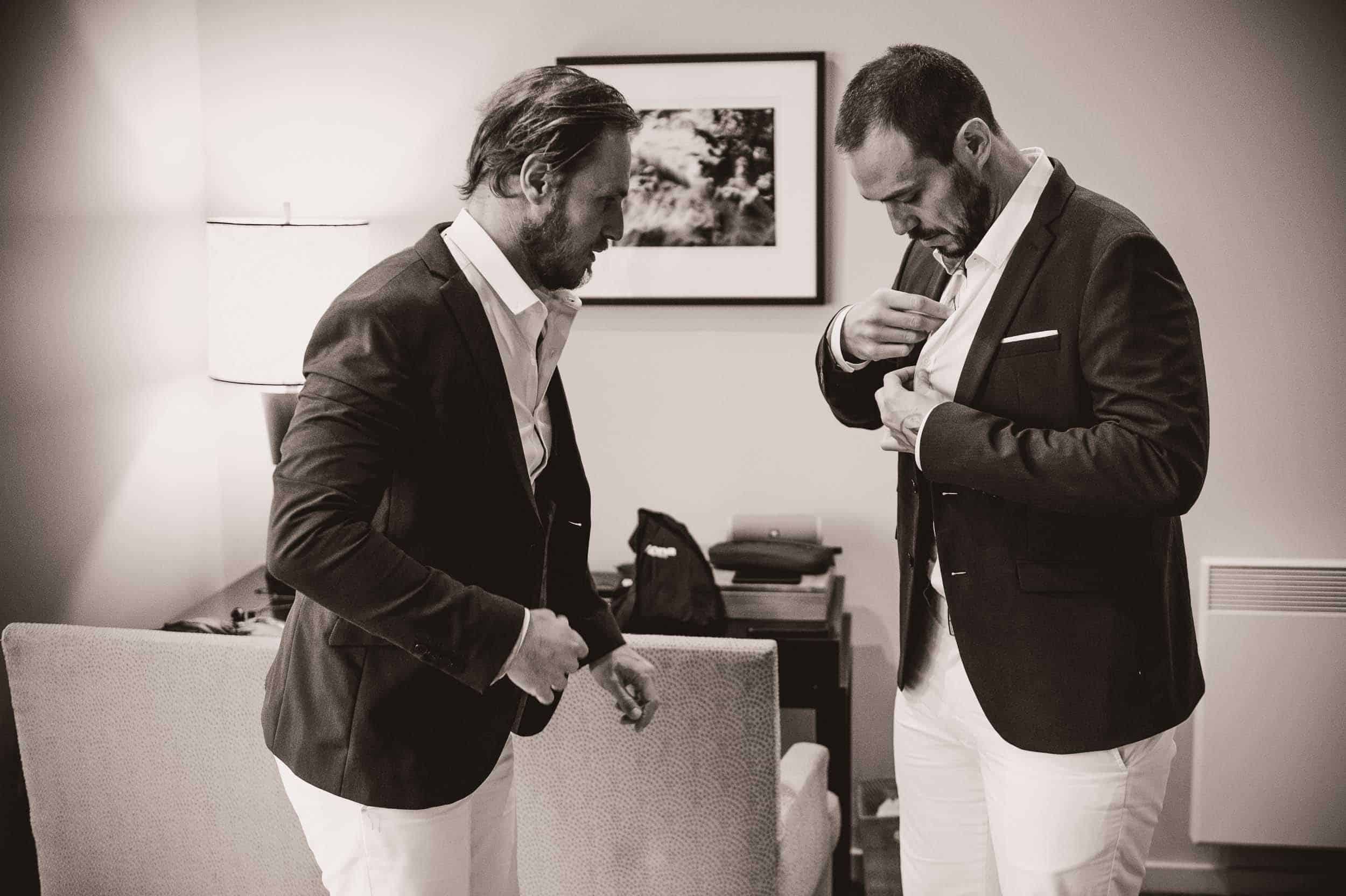 Eva Hooper did a wonderful job and the ceremony really was a testament to who Edu & Paulo are as people and their for each other. There were many special moments that Edu & Paulo had obviously put a great deal of thought into. These included;.
A ritual at the start of the ceremony that included applying special oils to each other's hands

An exchange of pendants in the form of triangles that when laid on top of each other form a star of six points and 12 constellations. They symbolise, in a beautiful way, their two wonderful souls blending together so their strengths blossom into something even greater.

Creating a mandala of crystals and roses oriented to the East on Azur's beautifully manicured lawn.
Edu & Paulo's Azur Luxury Lodge Queenstown Elopement was intimate, relaxed & beautiful. More importantly, it reflected their personalities and focused on what was really important to them at the end of the day. And I'd like to say a HUGE thank you on behalf of Edu, Paulo, myself and the lads at Shotover Wedding Films to Eva Hooper for helping Edu & Paulo pull off their dream Queenstown Elopement. And a hefty thank you to Azur Queenstown Luxury Lodge for allowing us to hold Edu & Paulo's Wedding Ceremony in their Villa and just generally being super amazing!

IF WE CAN LEARN ONE THING FROM EDU & PAULO'S AZUR LUXURY LODGE QUEENSTOWN ELOPEMENT IT IS THIS…
I'm so glad Edu and Paulo trusted their hearts and focused on what really mattered to them on their wedding day. In my opinion their Elopement couldn't have been any more beautiful or more "them". It just felt right – and not despite the "bad" weather, but because of it!. Part of the reason I love photographing Queenstown Elopements like Edu & Paulo's is because Elopements really boil a wedding down to what is important and distill out all the bits that aren't meaningful to you as a couple. So, if you are planning a Queenstown Elopement yourself, trust your hearts and focus on only what is really important to you. And for the rest? Don't sweat the small stuff because it really doesn't matter.
Patrick
P.S. To see the complete Sneak Peek Gallery from Edu & Paulo's wedding see the bottom of this post.
P.P.S. If you want to check out some Blog Posts on other Queenstown Elopements I have shot just click here.
Patrick (P): How did Edu & Paulo first contact you? How did they find you, was their first contact a phone call, a text, an email? And what did they ask you and tell you in that first contact? What did you know about them and their wedding at that point?
Eva (E): Paulo and Eduardo first contacted me via WhatsApp. They told me that they wanted to come over from Brazil to get married in Queenstown and that they were interested in a Heli Wedding. I suggested we have a chat on WhatsApp to discuss it further and it all started from there.
P: It was obvious to me that by the time of the wedding you and Edu & Paulo were friends, you seemed really close. As a celebrant, do you think it's important to build a really good connection with your couples and how do you do that?
E: It was a pleasure to work with Eduardo and Paulo because they are such loving and caring human beings. Very thoughtful and kind. It was such an honour to tie their lives together forever.
In order to draft meaningful ceremonies it is imperative that I get to known my couples as best as I can to provide the best possible experience for them on their wedding day. This includes the planning stage. Because every couple and their love is different. I always try to meet with them in person or via video conference at least 1-3 times before the big day. Couples share personal details and intimate feelings with me so meeting them helps establish this trust and bond in order to allow that. They need to know that their information is in good hands.
P: With most weddings, even the small ones, the planning process is reasonably long and things evolve and change over time. When did Edu & Paulo first contact you and in what way did their plans (incl. vows etc) change and evolve between that time and the wedding day?
E: This "Thinking Stage", or as I call it or "brainstorming stage", is almost the best part of the whole process because this is where the magic happens. There is nothing more rewarding than finding out the little details that matter to my couples and to find creative ways to include them in the ceremony. Things that are close to their heart, that make them and their love individual. Paulo and Eduardo for example had lots of little symbols and rituals they wanted to include, as well as special songs (the songs we ended up not playing in the ceremony but beforehand). It was so much fun to put this together. We also decided that parts of their vows would be in Portuguese as in that way they were able to express themselves better.
I see this as my role to provide guidance, experience and inspiration to my couples but at the same time predominantly listen to their needs and ideas.
P: Were there many things/vendors you recommended to Edu & Paulo that they booked or did they suss everything out themselves?
E: As Edu & Paulo were from overseas, I gave them lots of recommendations re vendors and things to sort. They appreciated my local knowledge as a few things were hard to manage from Brazil.
P: Tell us about Edu & Paulo, what you know of them as people. Ie where they live, what they do for jobs, their passions, the kind of people they are etc
E: Eduardo and Paulo make a wonderful couple. Eduardo is an astrologer and Paulo is an architect. They both live in Brazil and they have two dogs they adore.
Edu & Paulo chose Queenstown because of its natural beauty and pure energy. They let themselves be guided by the heart they told me. Edu & Paulo thoughtfully picked their wedding day as it is an important astronomical date. Even we couldn't fly with the helicopter on the day they wanted to get married on this day.
P: What were Edu & Paulo looking for in their Queenstown Wedding? If you had to describe their wedding day or what they wanted their wedding day to be in 3 words what would those words be?
E: Hard to say maybe a ceremony that expressed their
Love
Respect
Unwavering support
P: What other Queenstown Wedding Vendors other than yourself and myself were a part of Edu & Paulo's wedding day?
E: Shotover Wedding Films
Lara Laverdure – Cellist
Azur – Location
Glacier Southern Lakes Helicopters – well kind of 
P: Can you describe how Edu & Paulo's wedding unfolded on the day? How did it feel to you?
E: The bad weather and rain did not dampen their spirit at all. We could not fly with the Heli so we did the ceremony at Azur. Regardless, it was visible that they enjoyed every second of their big day. They were able to go with the flow and relax. They made it very easy for me and it was such an honour to pronounce them husbands for lives! It was such fun to plan and officiate the wedding. It is always hard to say goodbye at the end. I miss all of my overseas couples and I try to stay in touch 
P: What was one of your favourite moments from Edu & Paulo's wedding day?
E: There were many moments. Their heartfelt vows in Portuguese. The exchange of their necklaces. The flower and stone mandala after.
P: What one piece of advice would you offer to other couples planning a Queenstown Elopement like Edu & Paulo?
E: Be yourself. Don't ask what the do's and don'ts are or what your family and friends may think. Ask yourself how you want your elopement to be.
P: What was Edu & Paulo's connection to Queenstown? Why did they choose to get married here in a destination wedding/elopement rather than at home?
E: answered before
P: I think it's really important for couples to choose a wedding celebrant they can really like & connect with. This is because the celebrant and their personality have such a big impact on the ceremony and therefore the wedding day. And each and every celebrant is unique obviously. Tell us a little bit about yourself and what makes you different to other celebrants in Queenstown. Who are your ideal couples? Do you have an ideal type of wedding?
E: I am…
Not the best at self promotion 😉
Open to (almost) everything.
Passionate about the wedding ceremony and the space it provides.
All about personal and not about templates.
Here to listen to your needs.
A huge fan of incorporating each couple's different backgrounds, cultures and traditions,
Fluent in English and German and happy to offer bilingual ceremonies.
A firm believer that this day should be all about you.