On the 19th of September Jade & Lucas tied the knot in front of 33 of their closest friends & family in a stunning Moke Lake Wedding in Queenstown.  (Moke Lake is a dramatic alpine lake set high in the mountains but just 15 minutes drive from Queenstown.  It is surrounded on all sides by spectacular mountain backdrops, the occasional mob of sheep and plenty of wide-open spaces).
THE WEDDING "PWOFESSIONALS"
The lovely Philippa Thomas was the celebrant, transport for the girls was provided by the always entertaining and helpful Neville and his beautiful 1937 convertible Chevrolet bus from Remarkable Experience  Claire Topliffe at Collective Hair & Makeup Professionals made the girls look even more beautiful on Jade's big day.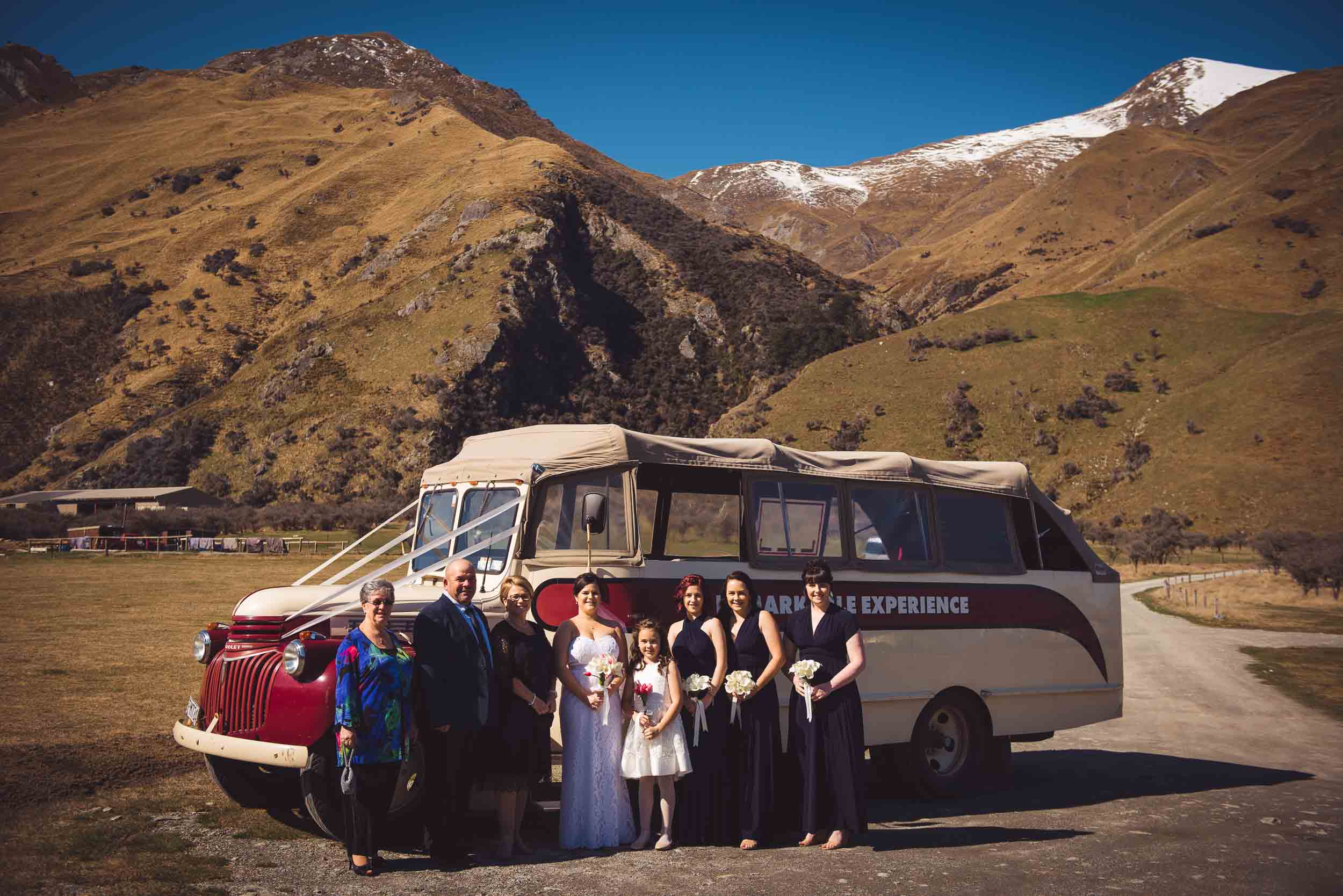 THE BIG DAY
On the day of Jade & Lucas's Moke Lake Wedding the weather was stunning, deep blue skies with not a cloud in sight and not a breath of wind.  (This meant not just great conditions up high in the mountains for our location photos.  It also meant calm waters and mirror-like reflections for their Moke Lake Wedding).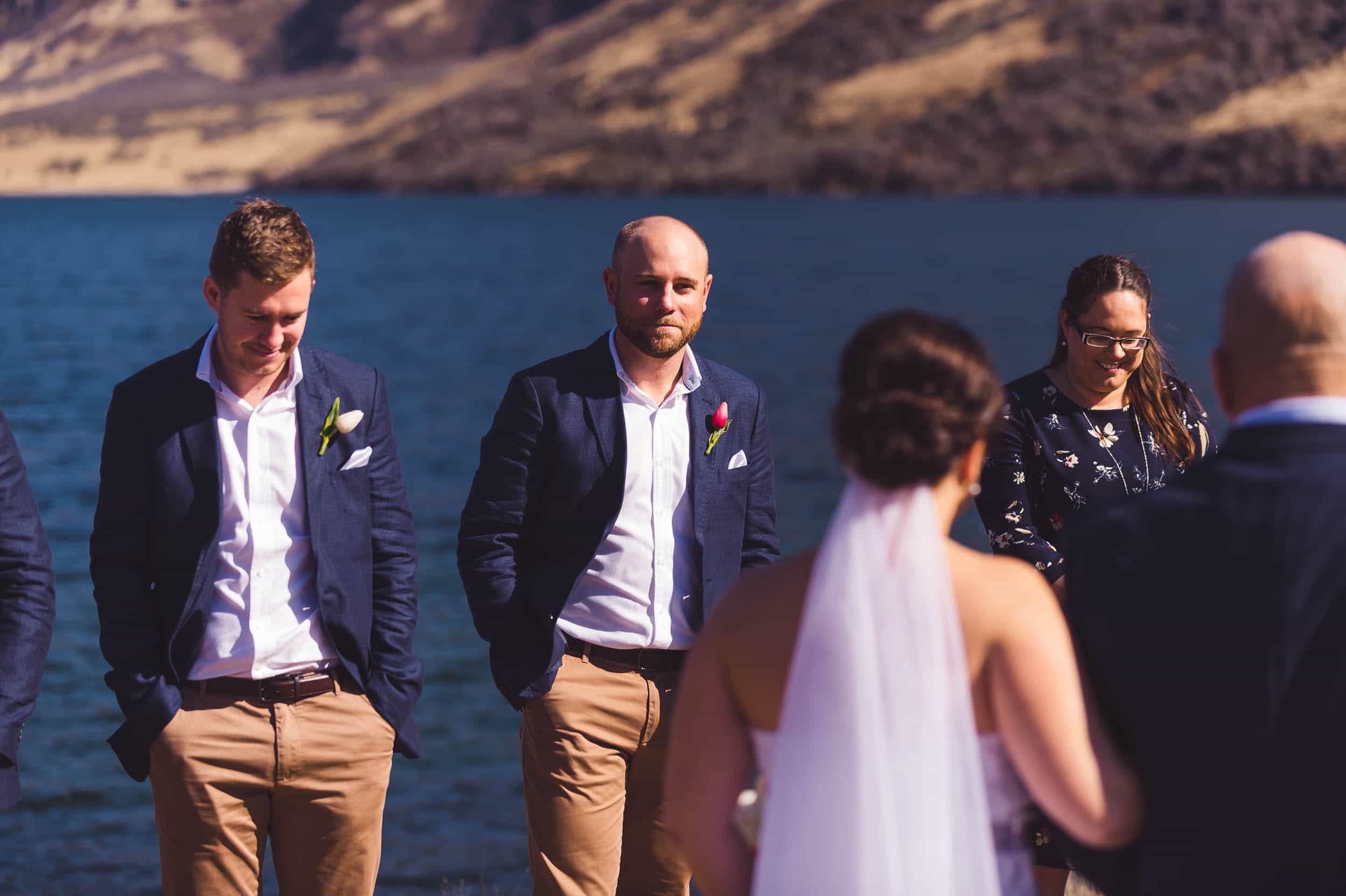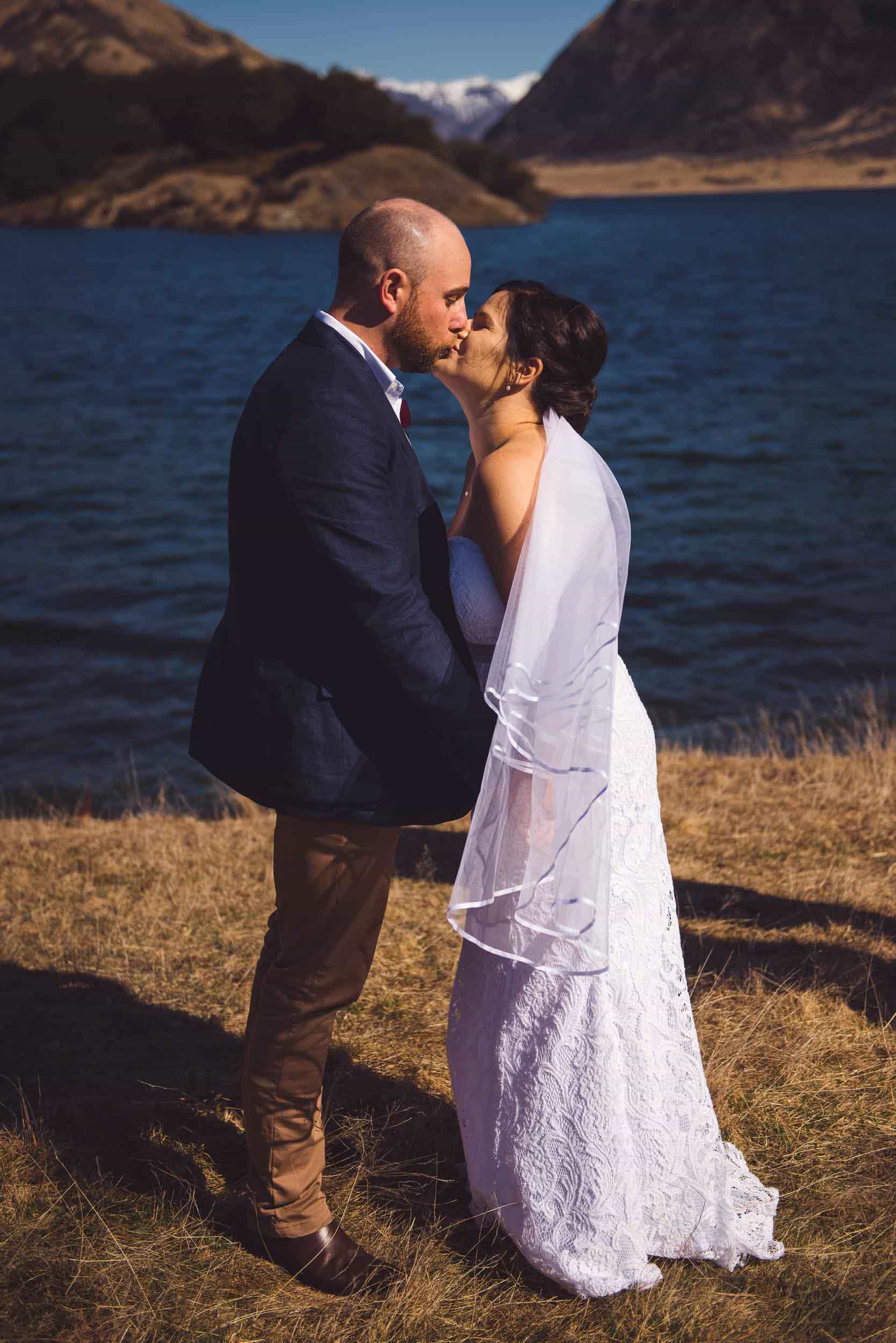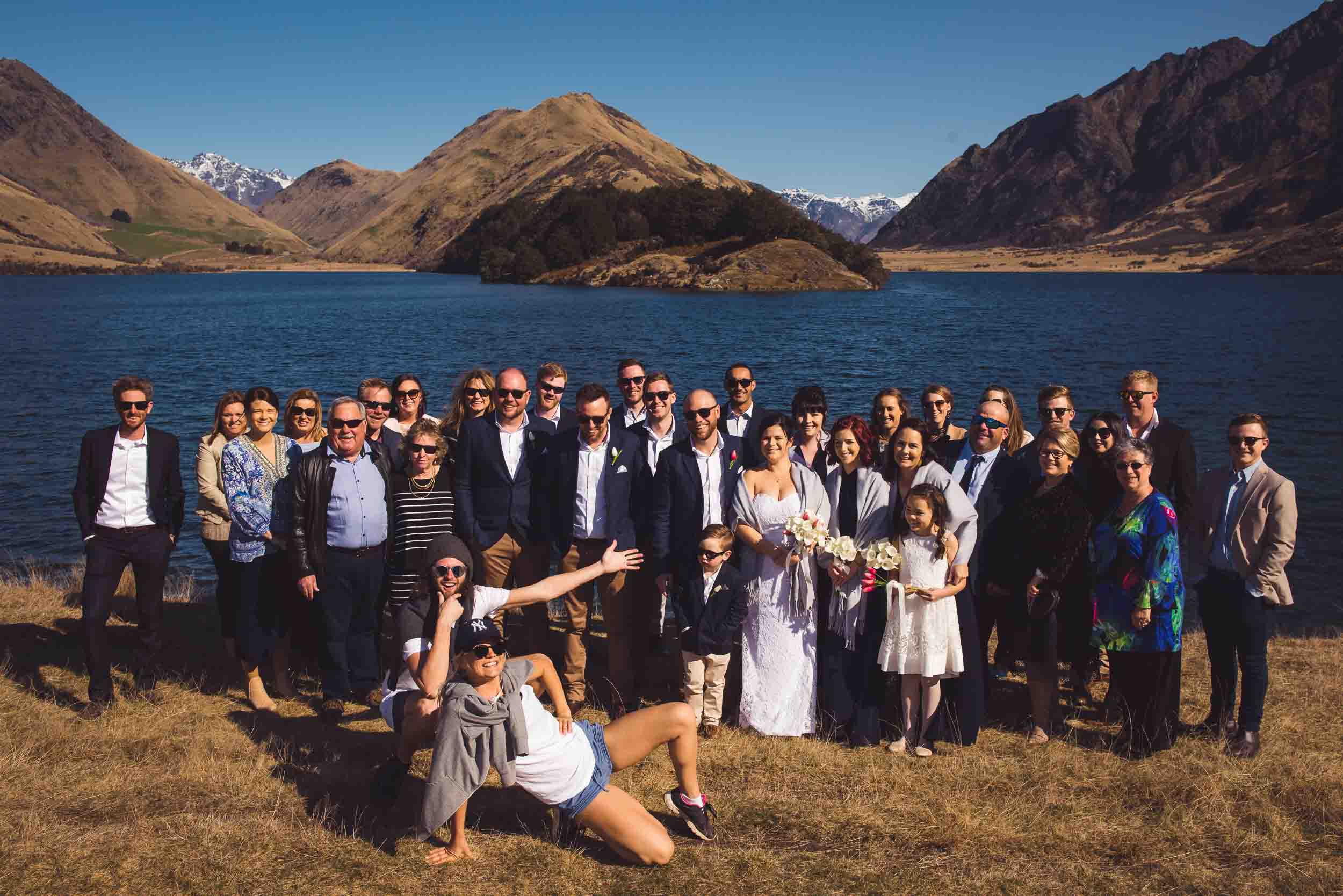 The 2pm ceremony went flawlessly.  There was plenty of laughter and the whole ceremony, thanks to Philippa, was natural and super relaxed.  After Jade & Lucas had signed the marriage licenses and been declared husband and wife in front of all their friends and family, we quickly worked our way through the group and family photos.  (The highlight of which was when two young American hikers jumped into our group photo of the whole wedding party!  I love it when spontaneous, natural moments like this happen.  Everybody in the entire wedding party was cracking up at this point).
After the family and group photos the guests departed in their bus for the reception at Prime Restaurant.
We did a few bridal party and Bride & Groom photos right there on the lake edge near the ceremony location (including a shot of the lads' custom printed socks with a photo of Jade & Lucas on them!).  After that, we made our way back to the campground where their Remarkable Experience bus and Neville were patiently waiting.  I knew I wanted to get some bridal party and bride & groom shots on the footbridge because the reflections were amazing.  In fact I knew the reflections/shots would be even more amazing than usual today.  This was because (a) there was no wind and (b) the water was so high it was touching the footbridge.
THINGS GET A LITTLE…"INTERESTING"
When we got to the bridge I knew straight away.  To get the best shots I would have to wade up to my waist into the creek.
I had never done this at ANY wedding before but I made a quick judgement call, decided that Jade & Lucas and their bridal party were pretty easy going and wouldn't mind so I stripped down to my tartan boxers and boots (to protect from fish-hooks as Moke Lake is popular with fishermen) and jumped in.
All the while saying "You guys are going to think I'm crazy and are probably going to fire me but this shot is going to be awesome so I reckon it's worth it.  Sorry in advance ladies…"  I love all the shots we got on this bridge so I think it was totally worth it!
After that, the bridal party hopped into Neville's old Chevrolet bus and I jumped in my wagon.  We then high-tailed it to the bottom of the Coronet Peak Ski Area Road.  (It took me most of this 20 minute journey to regain feeling in the lower half of my body!).
SKIPPER'S SADDLE SHENANIGANS
From the bottom of the Coronet Peak Road we had to do a couple of shuttle runs in my wagon.  This was because Neville's old Chevrolet wouldn't make it up the big steep hill to Skipper's Saddle.
We got up there just in time before we lost the sun.  The weather and light were epic and we finished the day with some photos with stunning mountain and lake backdrops.  The bridal party at this point was totally into it.  The lads were rock climbing and running all over the hills (beers firmly in hand of course).  The girls were being just as adventurous.  They did not let the cool spring temperatures, the sand flies or hiking up mountains in high heels put them off!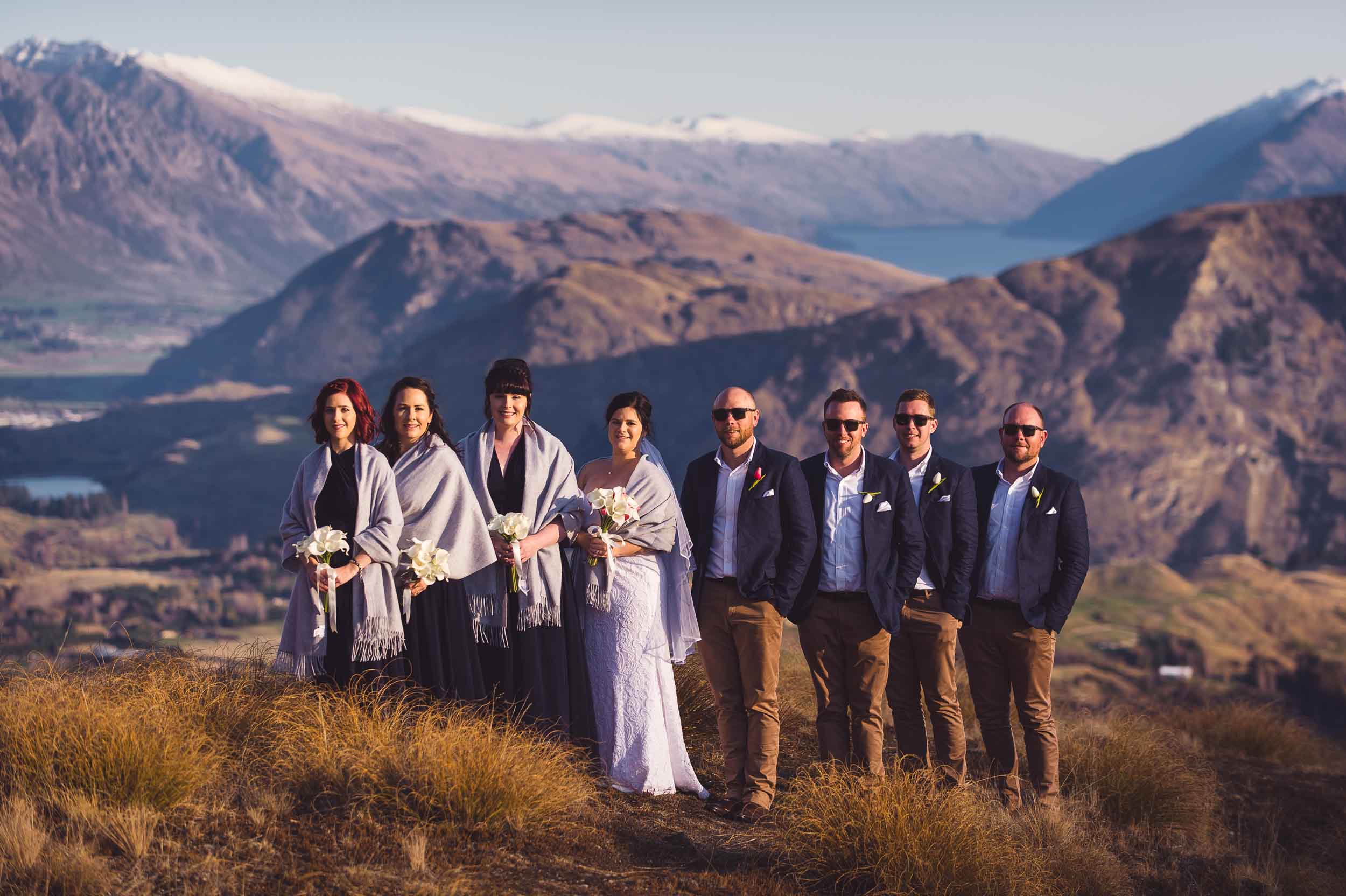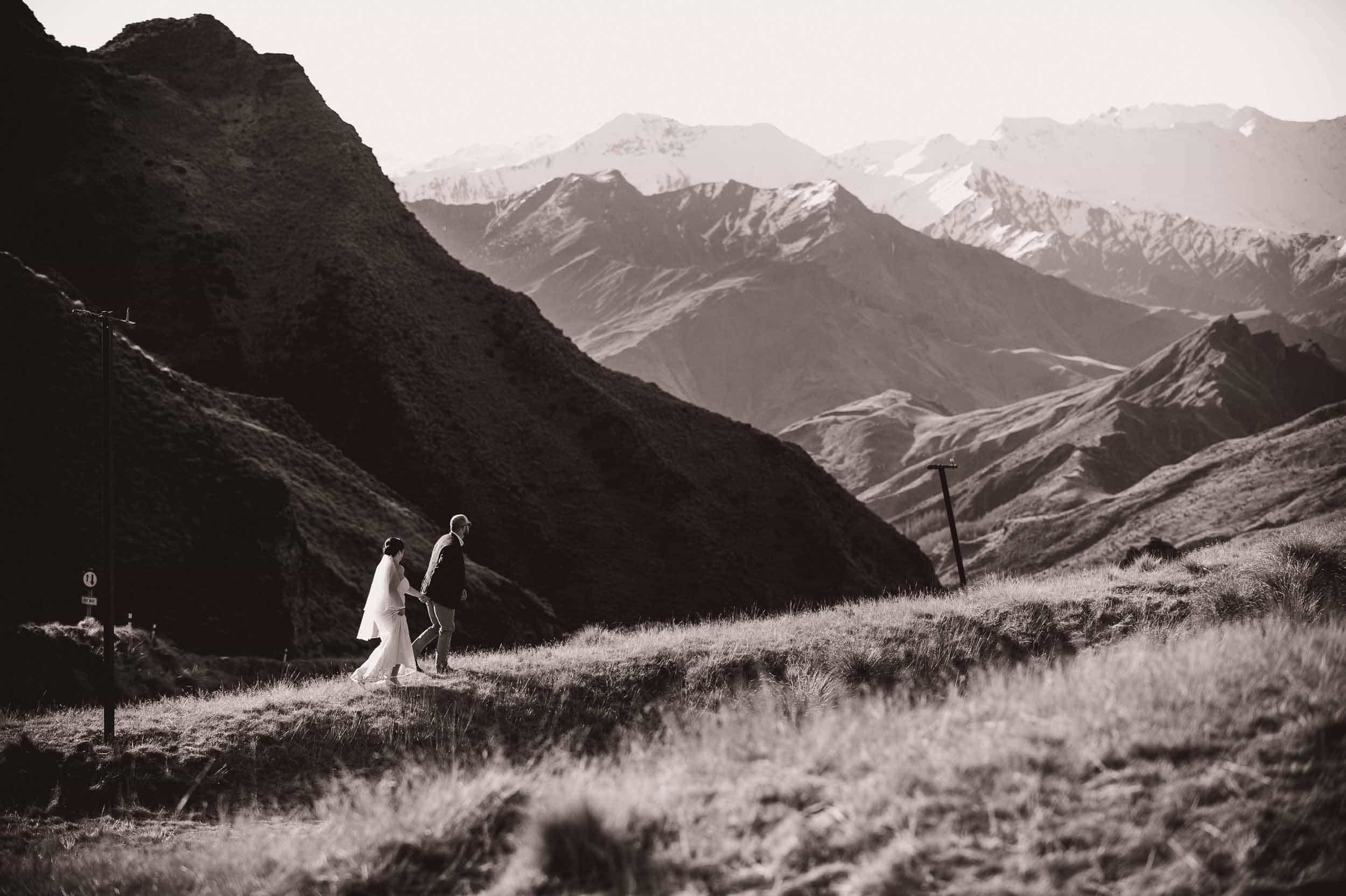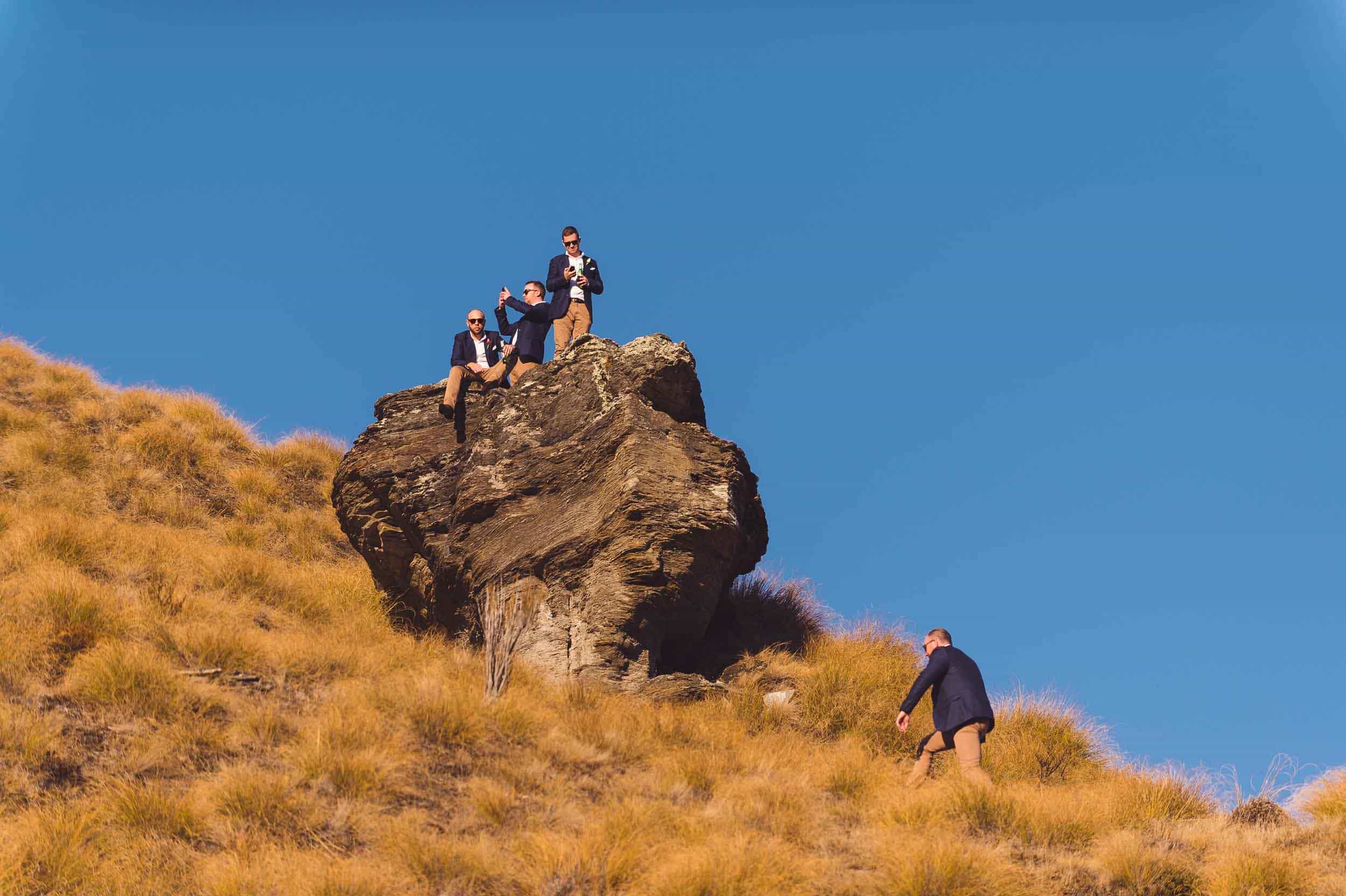 All in all it was an amazing day with an amazing bunch of people.  Thanks Jade & Lucas for letting me be a part of your big day.  You and your crew are awesome people, I had a ball!
If you would like to know more about my Wedding Photography Packages or planning a Moke Lake Wedding you can get in touch via my Contact Page or just email me at patrick@fallon.co.nz.  Or you can do it the old fashioned way and give me a bell on +64(0)21737356.
P.S. If you found this Blog Post helpful, make sure you check out this article The Ultimate Queenstown Wedding Photography Guide" (AKA How to find your Dream Queenstown Wedding Photographer).