Jade & Teeps (aka Steven) tied the knot in front of their 5 kids in what was a totally awesome but also sub-arctic and super snowy Cecil Peak Winter Heli Wedding. Despite being up to their ankles in snow and buffeted by strong winds this crazy/beautiful family was all smiles and laughter (and slightly frozen fingers). Here's how the day went down…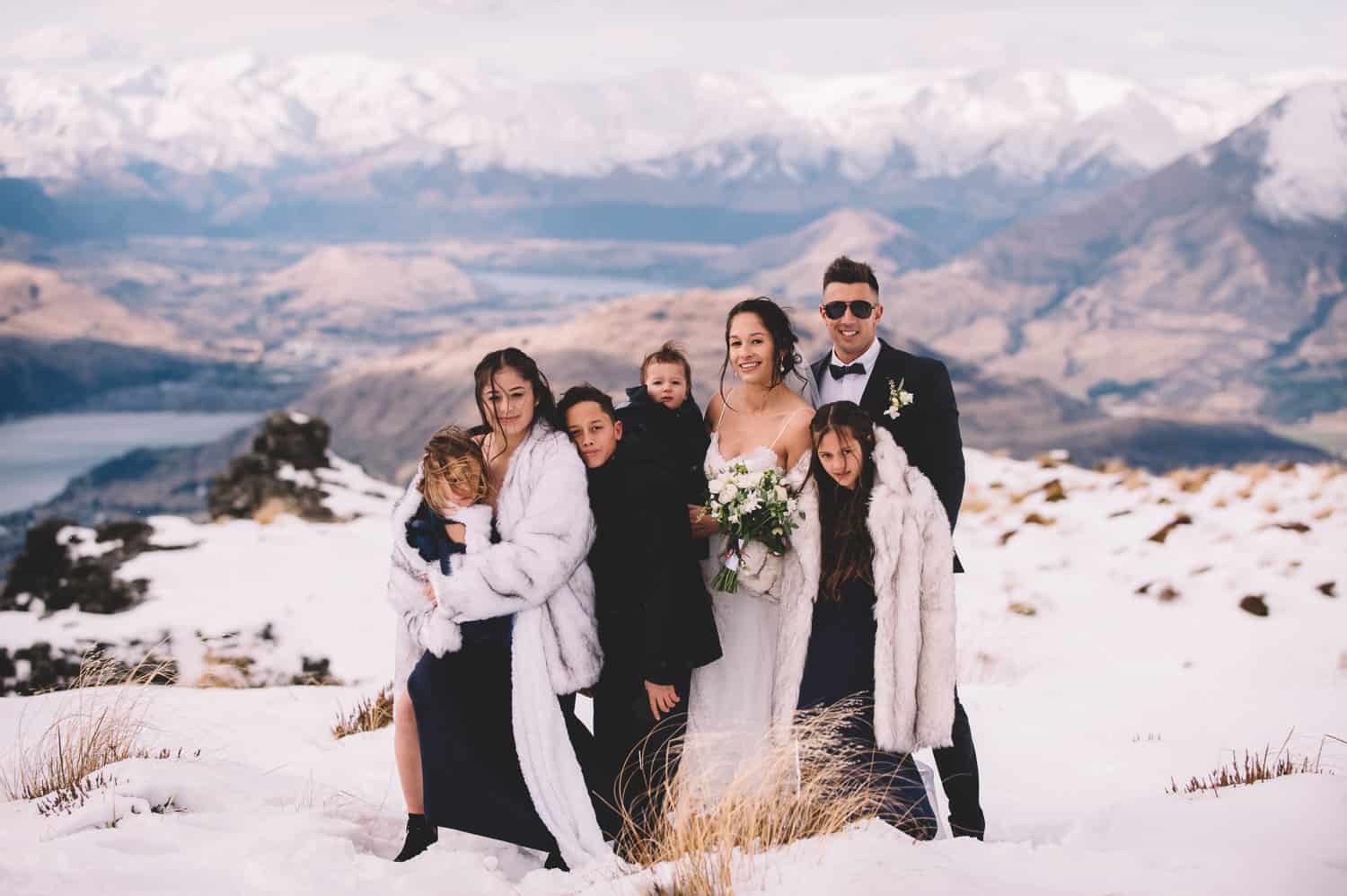 The weather was pretty windy & wild on the morning of Jade & Teeps' wedding day so when I rang Heliworks for the usual pre-flight weather check an hour before the wedding, I wasn't sure if we would be flying at all. But Heliworks thought they could make it happen so off to Heliworks I drove (all the while running over our Plan B aka Bad Weather Backup Plan in my head).
By the time Jade and Teeps and their family and I had all arrived separately at Heliworks, it was pretty windy even down low in the valley and there was a lot of cloud about. (Usually, if you see the trees and tussock moving quite a lot in the wind down at valley level it often means a howling gale when you get up high into the mountains).
Because there was quite a few of us, we were going to be flying in 2 helicopters. Kurt was the pilot of the larger Squirrel helicopter that was taking the girls and Craig was the pilot for the smaller EC-120b helicopter taking the boys and me. Craig told us that the winds had been gusting 35 kilometres per hour at The Ledge when he flew up that way earlier. He suggested we might need to land lower down if The Ledge was too windy. Luckily Jade and Teeps were totally happy to leave it up to us, the professionals, to make the call on where to land. So, I said to Craig to land wherever he thought we would have sun and be as sheltered as possible from the strong winds.
I asked Craig if we could fly a couple of minutes ahead of the girls' helicopter. This would allow me (hopefully) enough time to get a shot of the other helicopter in the air. Normally with most Heli Weddings there is only one helicopter and I am in it. So I don't normally get a chance to get a shot of the chopper in the air for the couple. So when we have two machines, I always try to get a shot of the other helicopter in flight.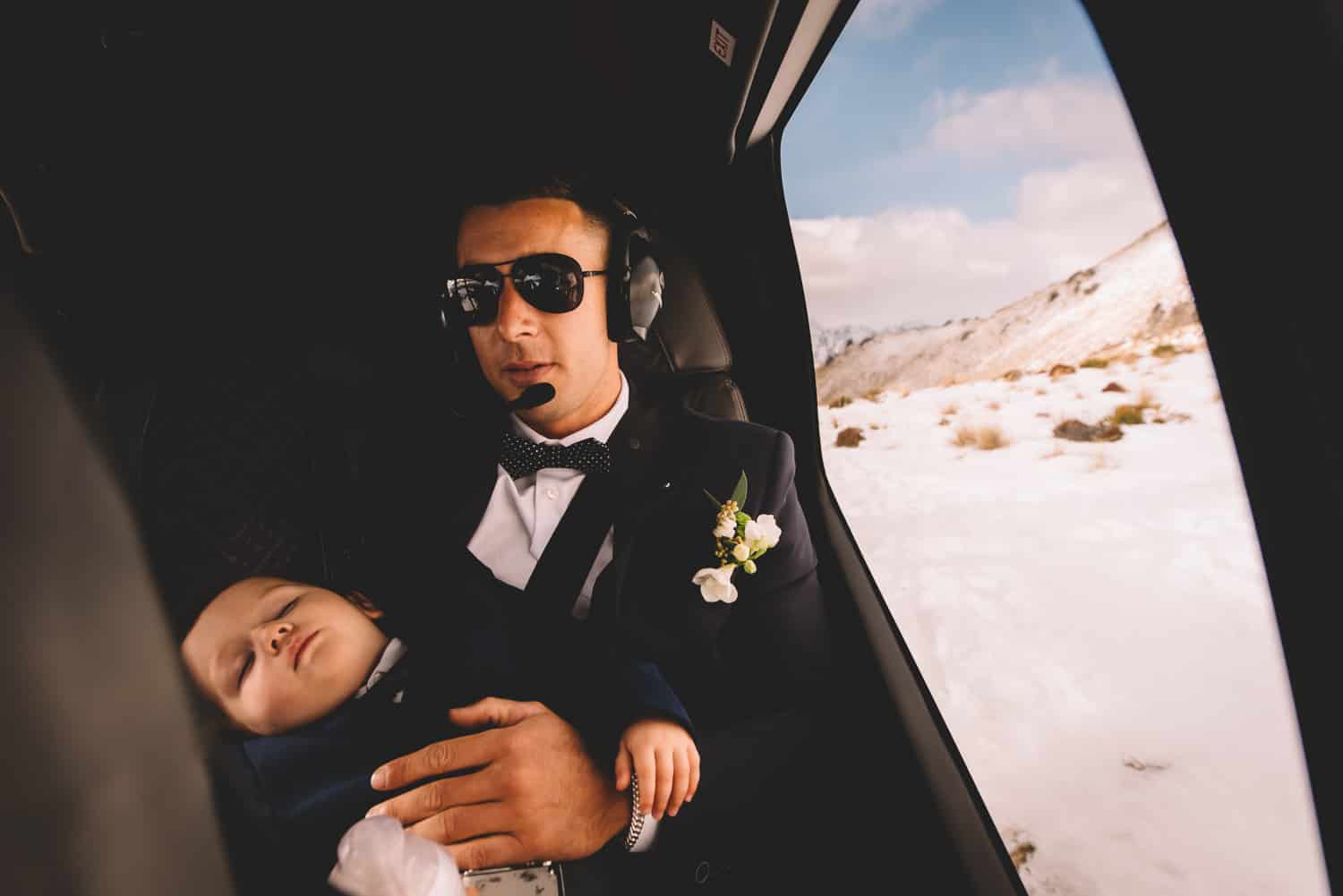 The flight up was pretty smooth with only a couple of bumps. We did discuss a couple of other heli locations en route as alternatives to The Ledge. However, the options we discussed were either all in shade or even windier than the Ledge was likely to be. So we flew up to the Ledge to take a peek. Craig had a look and decided The Ledge was doable. But when I hopped out of the helicopter, even I was surprised at how cold and windy it was. I have to admit, at this point I was worried how the kids were going to handle the cold. Hell, I was worried how any of us were going to handle it!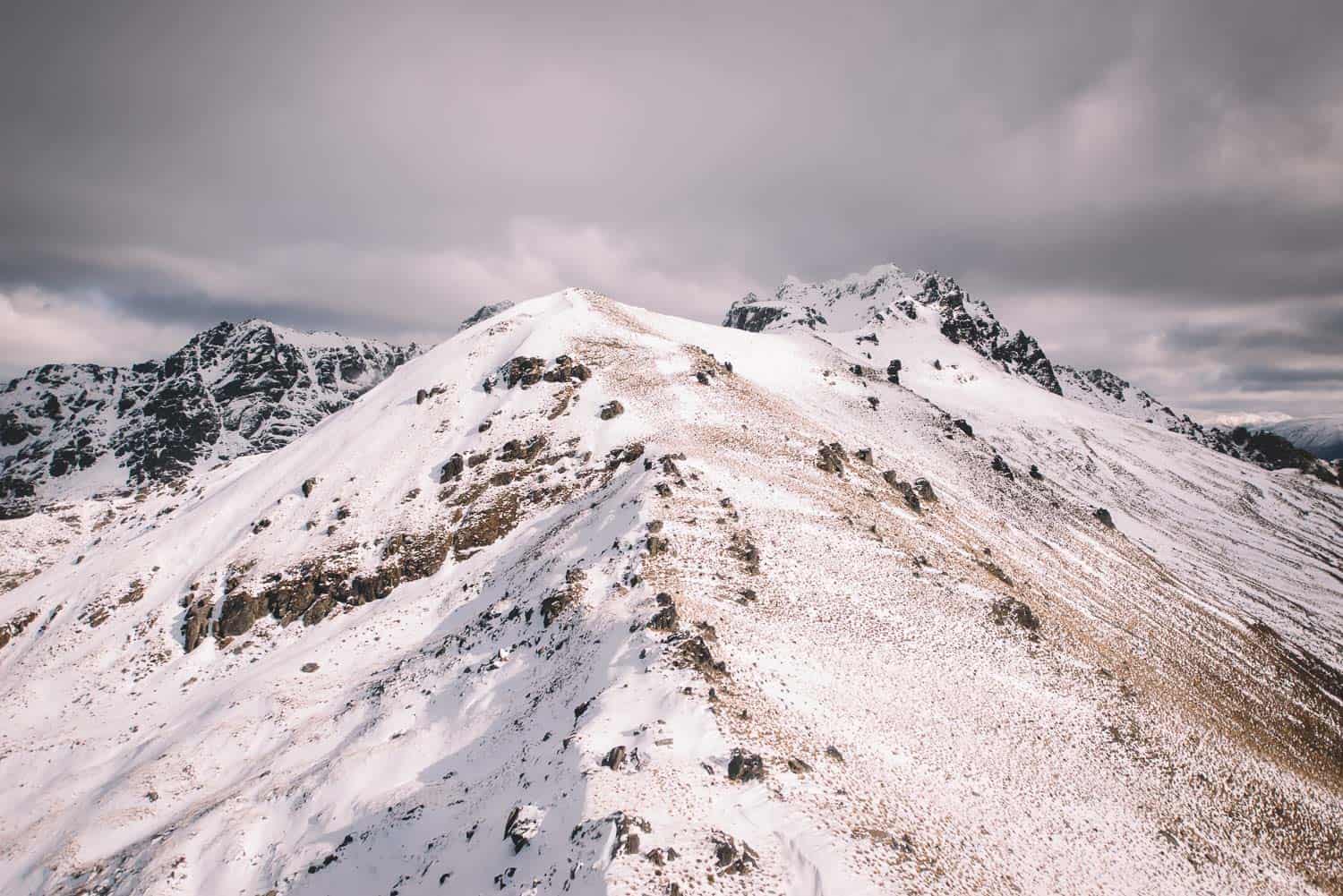 I have learned over the years that you can often find some shelter from the wind even in open country. So, once the second helicopter landed I bundled everyone into the one helicopter together. I told them to stay put and stay warm while I sussed out a semi-sheltered spot for the ceremony.
I suggested it wasn't a good idea to have the ceremony near the cliff edge on The Ledge proper. It was too risky for the kids (and us!). Jade and Teeps were totally happy to defer to my judgement. I soon found one spot that was a little lower than the rest. It was very slightly sheltered behind a shallow ridge but still had good views. I decided that was our best (and warmest) option. Now it was go time!
Teeps and I walked through the ankle deep snow and spiky Speargrass to get in position first. Then Jade approached with her girls, with a beaming smile on her face. She looked radiant and beautiful and not cold at all in her simple shoulder-less dress.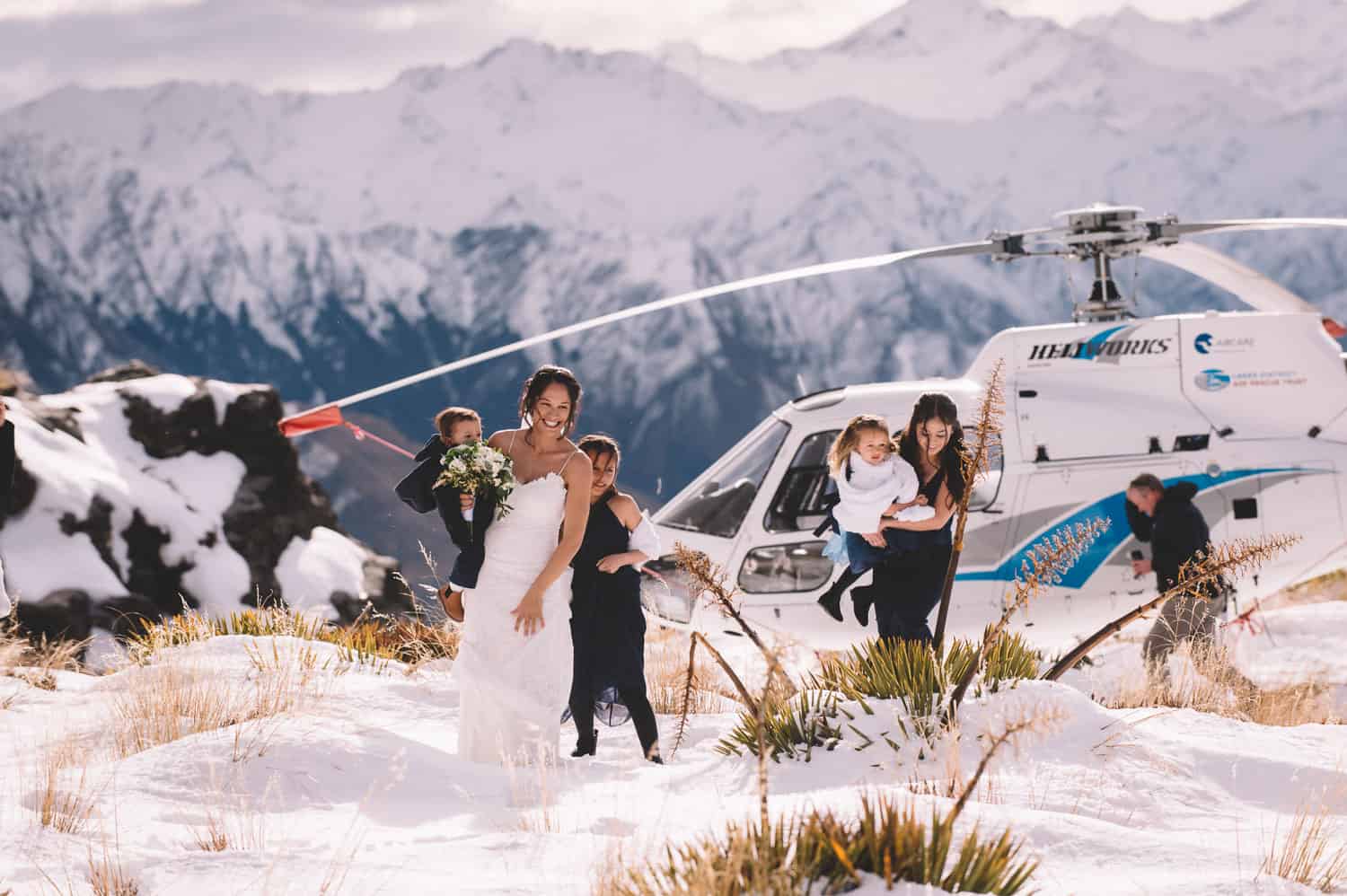 The ceremony seemed to go by so quickly but was simple, beautiful and full of love and family. (It's probably good the ceremony did go by quickly otherwise we would have all turned into human popsicles!). As usual Philippa Thomas did a great job of the ceremony in slightly trying weather conditions!
By the time the ceremony was over wee Teon was freezing and letting everybody know with a loud wail. The rest of the kids were pretty cold too but Jade somehow seemed impervious to the cold on this one day. So, pretty much as soon as the ceremony was over I whisked everyone over and into the big chopper to defrost. After they had warmed up for 5 minutes I whipped them out again and did a family photo of everybody right in front of the chopper. Then it was straight back into the warm heli for the kids.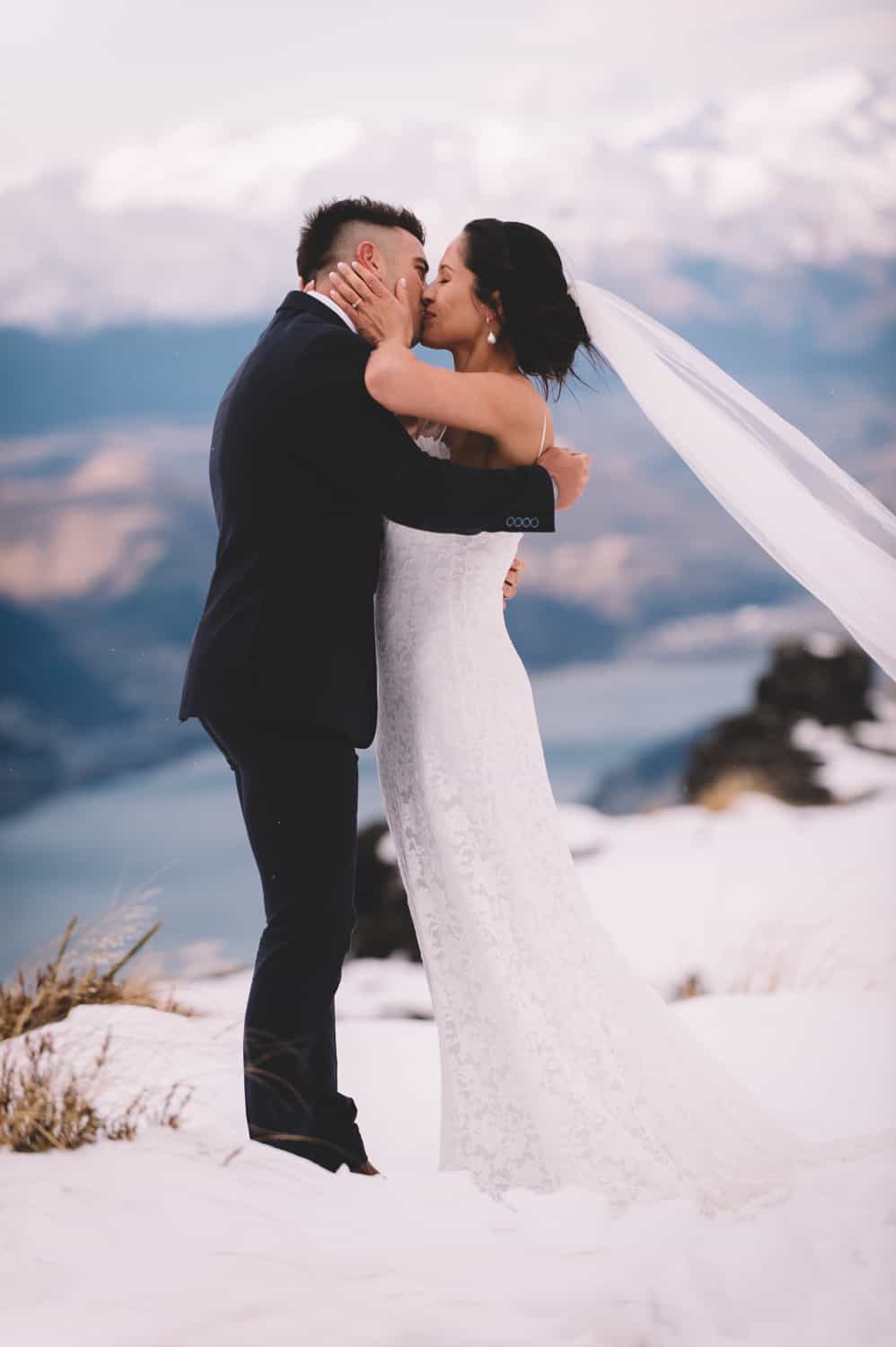 After the kids were safe and warm we quickly did some shots of just Jade & Teeps. We actually tried to walk out to The Ledge proper, where the dramatic cliffs are. However, it was so icy and the wind became ferocious as we approached The Ledge. So I made the call to give up on that idea for safety reasons. It was just too dangerous with the ice and strong winds and certain-death-cliffs! But we got some beautiful shots and then quickly bundled back into the warm (thank goodness!) choppers and flew back to Queenstown.
When we landed back at the Heliworks base in Frankton it felt so warm! It was almost surreal to not be surrounded by snow and blasted by ice-cold wind!
We made the most of the last of the limited winter daylight and drove out to the nearby Kelvin Heights Peninsula. This allowed us to get some family pix in slightly less freezing conditions. And boy am I glad we did! Although the skies and mountains were stormy and the lake was wild the light was amazing! We captured some awesome shots of Jade and Teeps and their family. I think the personalities of each adult and child really shines through in these images. I think after the coldness of Cecil Peak everybody was just stoked to be (almost) warm! Noone was worried about a thing at this point.
All in all it was an awesome day with an awesome family. I'd do it again in a heartbeat. (But I'd take a pair of gloves and a hot water bottle next time!). Click here to check out all the pix from Jade & Teeps' Super Snowy Cecil Peak Heli Wedding.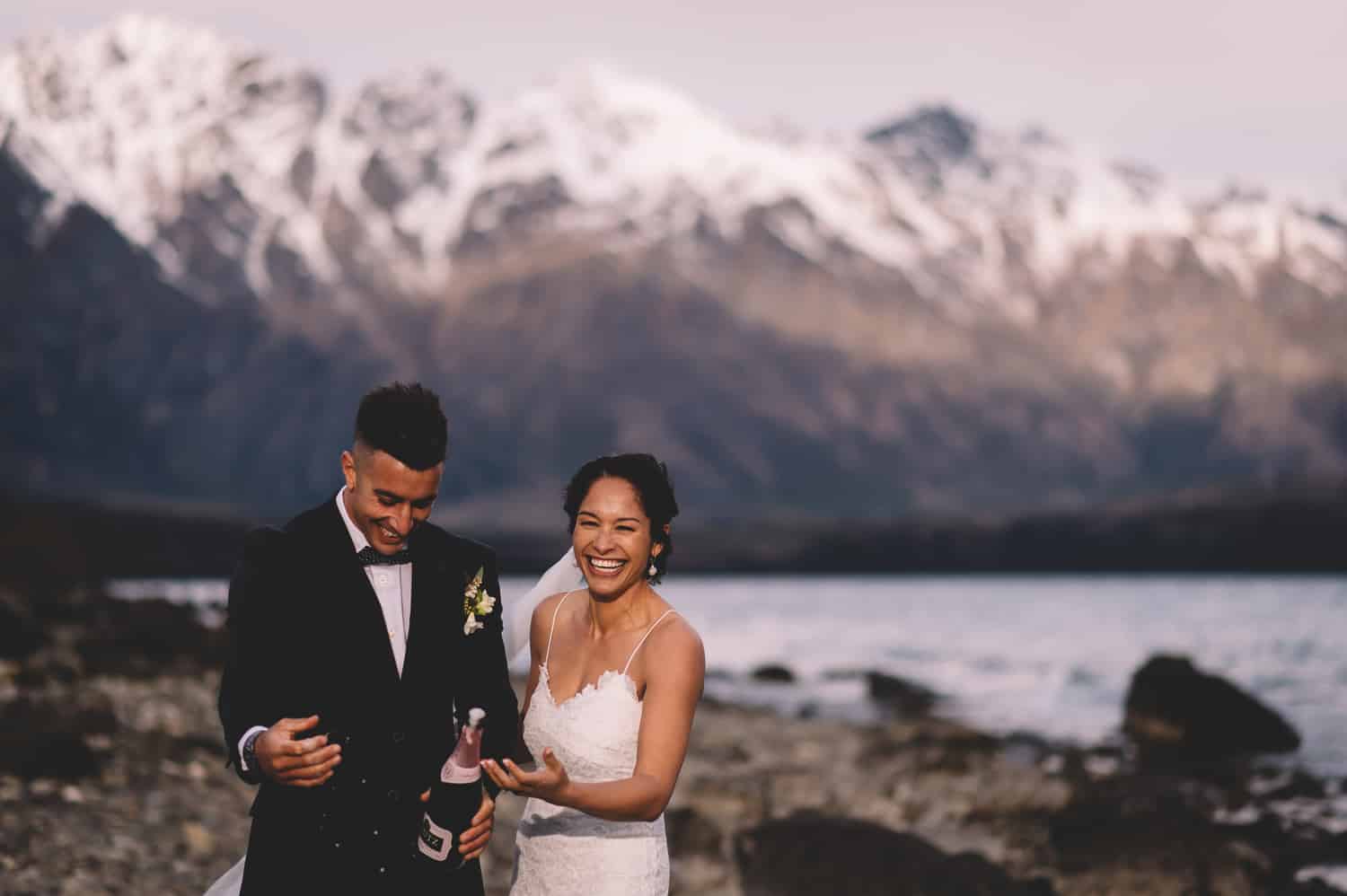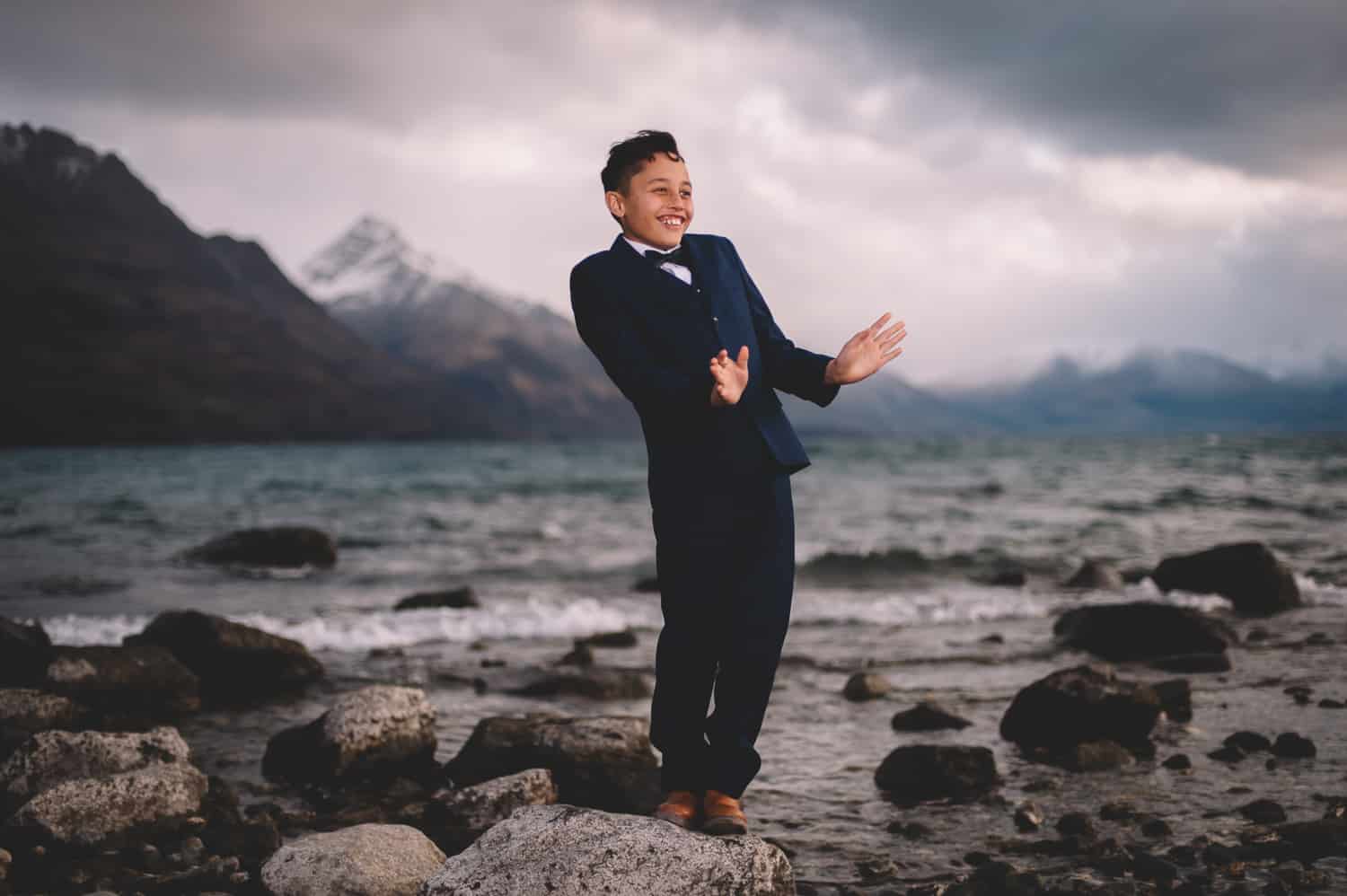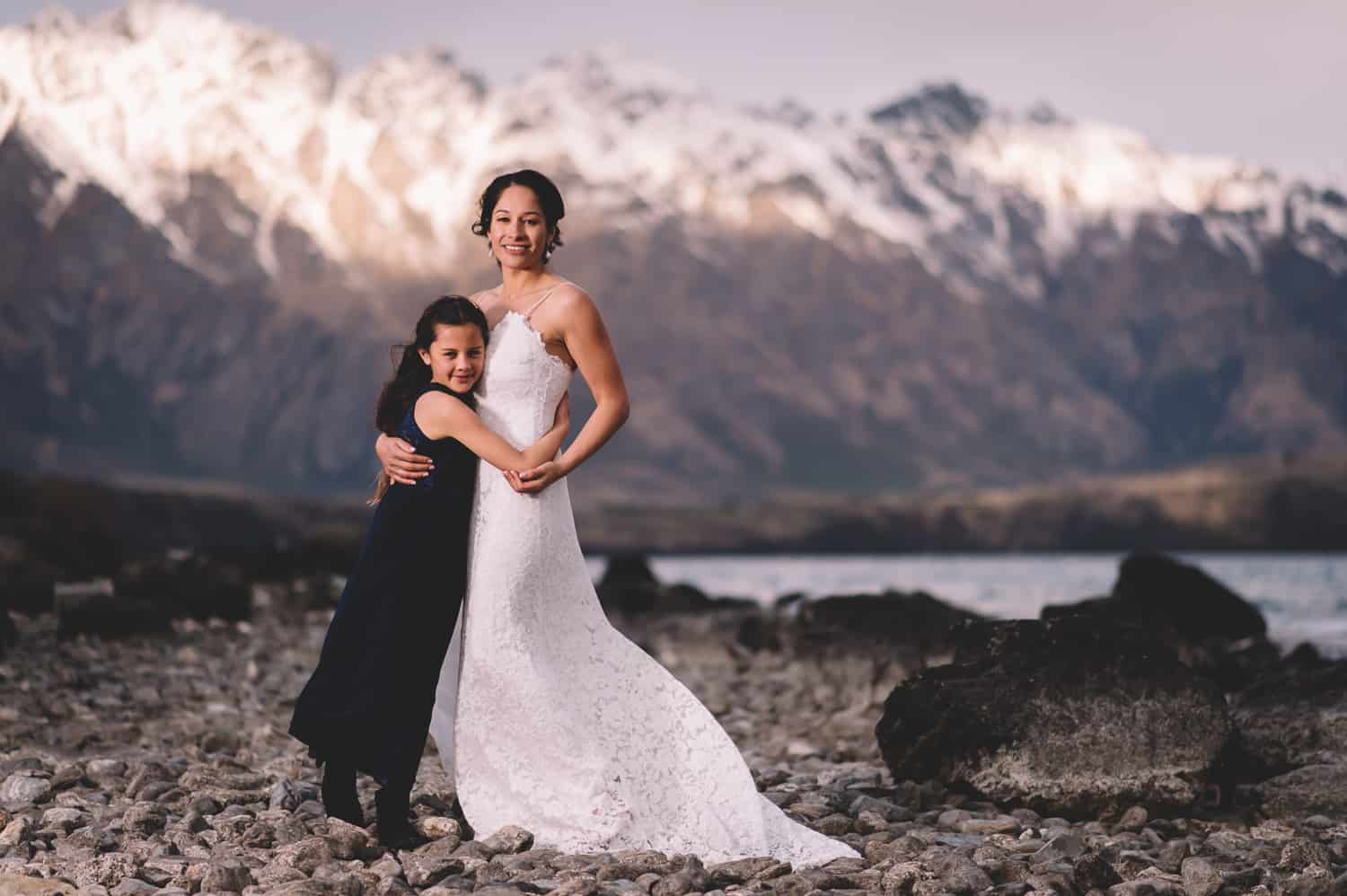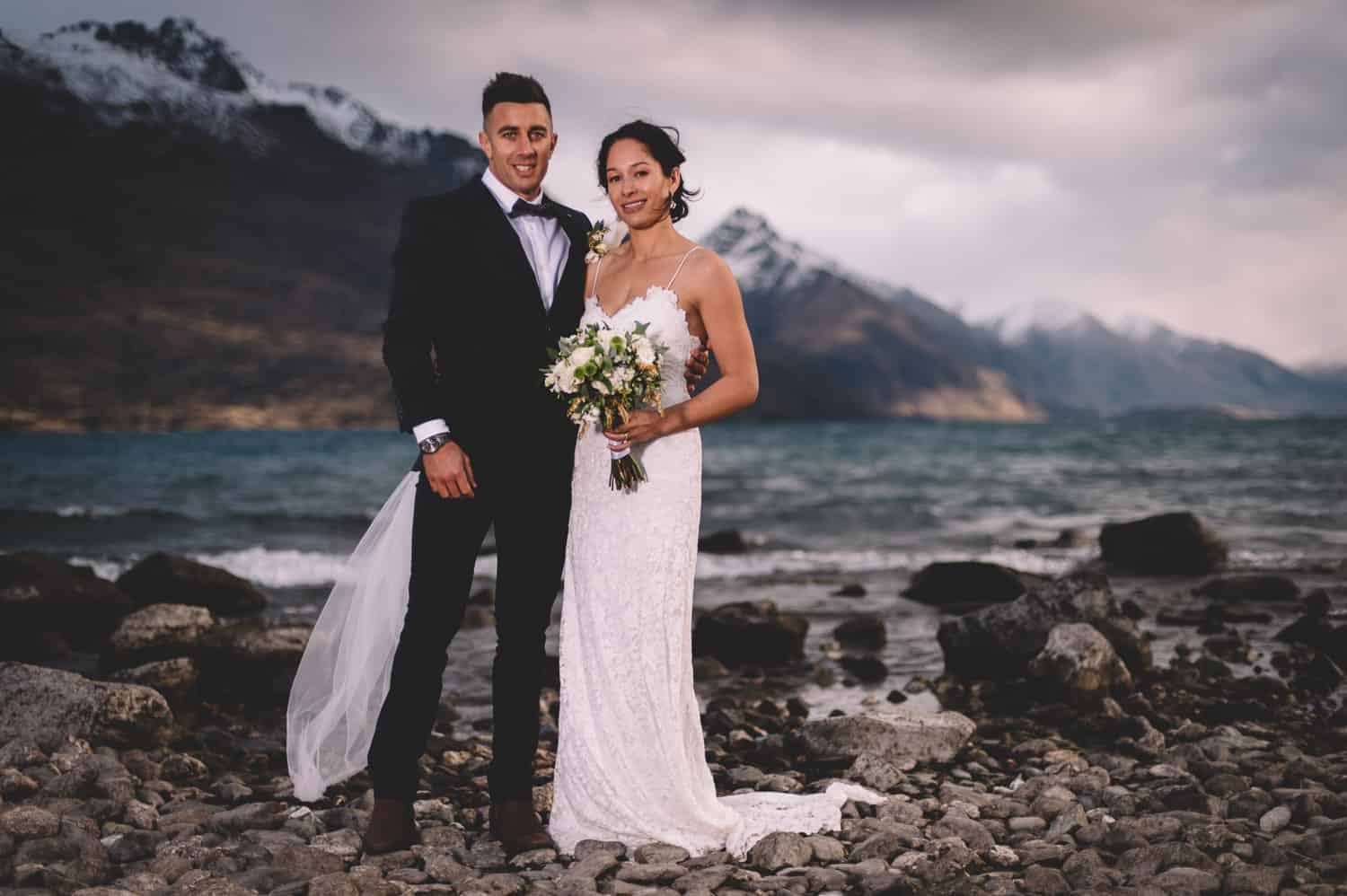 Here's what Jade had to say about her Snowy Cecil Peak Heli Wedding…
How long did you have to plan your wedding? Was it enough time?3-4 months – plenty of time
Where did you get your dress? Why this dress? Grace Loves Lace – Australia. Its a minimalist dress, comfortable and I loved it. I also thought I would be able to walk on mountains in this dress
Why did you choose your Ceremony Venue? And how did you find out about it? (Ceremony Location was The Ledge on Cecil Peak. This is the most popular heli location in Queenstown because it has dramatic cliffs and amazing lake and mountain views. The other reason it is popular is because it is a really short 5 – 7 minute flight time from Queenstown. And this keeps the helicopter costs down). Because we love views and we love Queenstown so getting married on a mountain in Queenstown ticked the boxes
What were some of the greatest sources of information and inspiration when planning your wedding? Google / blogs, Instagram, pinterest and asking recently married friends
How did you feel in your dress? Fantastic, a little cold but great
How did you feel just before you walked down the aisle? What about as you were walking down the aisle? In love, like I'm the luckiest girl and a little bit cold
What was the most stressful moment/part of your wedding planning? What was the most stressful part of your wedding day itself? Trying to keep family happy well okay with the idea were elopingKeeping the kids warm and happy
How many bridesmaids did you have? Where did you get your bridesmaid dresses from? 0
Where did the boys get their suits from? Online
What was your wedding colour scheme or theme? Navy and white, not real theme really just clean
What was the best moment of your wedding day? And what were some of the other highlights for you? From Jade – Teeps Vows. From Teeps – getting to kiss my wife. The kids being so excited and how gorgeous they all looked. How real the day was. Eg: Naia was cold so 0 smiles given. Teon just sleeping through the heli ride even with epic views to be seen…The whole thing was a highlight.
What was the funniest thing that happened on your wedding day? Forgetting the rings and having to send Kade back to the Heli to get them. Underestimating how cold it was on the mountain.
What 3 words would you use to describe your wedding day? Love, Perfect, Extreme
Were there any special details at your wedding day that were unique and particularly special for you two? One Love – Trey Songz (our song)
Any tips or advice for other brides planning their wedding that you'd like to share? Enjoy the ride, life's good, dont stress
Did you discover any amazing Vendors or Suppliers you'd like other brides to know about? Yes!! Patrick, Philippa, Heliworks, Forme Spa, In The Pink and Vudu Cafe & Larder… wouldn't change any of them! (Yours truly for photos, Fallon Photography, Phillipa Thomas Celebrant, Heliworks Queenstown for the heli flight, Forme Spa Queenstown for beauty, In The Pink for flowers, Vudu Cafe & Larder for food).
Looking back, is there anything you'd change? Is there anything you wish you knew before you started planning your wedding? Nope not a thing!