ARE YOU PLANNING A QUEENSTOWN ELOPEMENT?
Are you feeling completely bamboozled by the large number of Epic Elopement Locations Queenstown has to offer?  There are so many jaw-droppingly beautiful Ceremony and Photo loctions here, it can be hard to choose.  But there some simple things you can to to make the decision-making process much easier and ensure you pick the location right for your Elopement.
Here are some tips to help you find the perfect Elopement Ceremony Location.  At the bottom of this post, you will also find and example of a #RealWedding Queenstown Elopement with details of Kestin & Chris's Queenstown Lakeside Winter Elopement.  (Including how we found their Elopement Ceremony Location as well as how their Elopement unfolded on the day).
5 TIPS TO HELP YOU FIND THE PERFECT LOCATION
Ask your celebrant for recommendations.
Ask your photographer/videographer for recommendations.
If you have time scout the location (and alternative/nearby locations for other options – you might find something even better!). Scout at the time you are planning to be there.  Drive from the location you will be leaving from on the day.  Eg drive from your hotel and make note of the travel time and traffic.
Check the sunpath.  Ie check whether or not there will be sun on the exact spot at the time you will be there. Because of the shadow cast by the nearby mountains we often lose the sun a LOT earlier in Queenstown. The time varies hugely depending upon how close you are to the south side of any mountains.  That is why it's often a good reason to do some locations high up in the mountains.  Not only do you get great views that way, the mountain tops will keep the sun longer.  (Use the SunSeeker phone app if you can't scout a location at the right time of day).
Have a Plan B in case the weather turns to custard. Note your Bad Weather Backup option doesn't have to be inside/a building. Often just being in a forest will give you shelter from much of the wind/rain.  It will also give you a beautiful green background for your photos.  (Note: avoid pine forest as it has no undergrowth and is brown and desolate low down.  Go for beech/native forest if possible).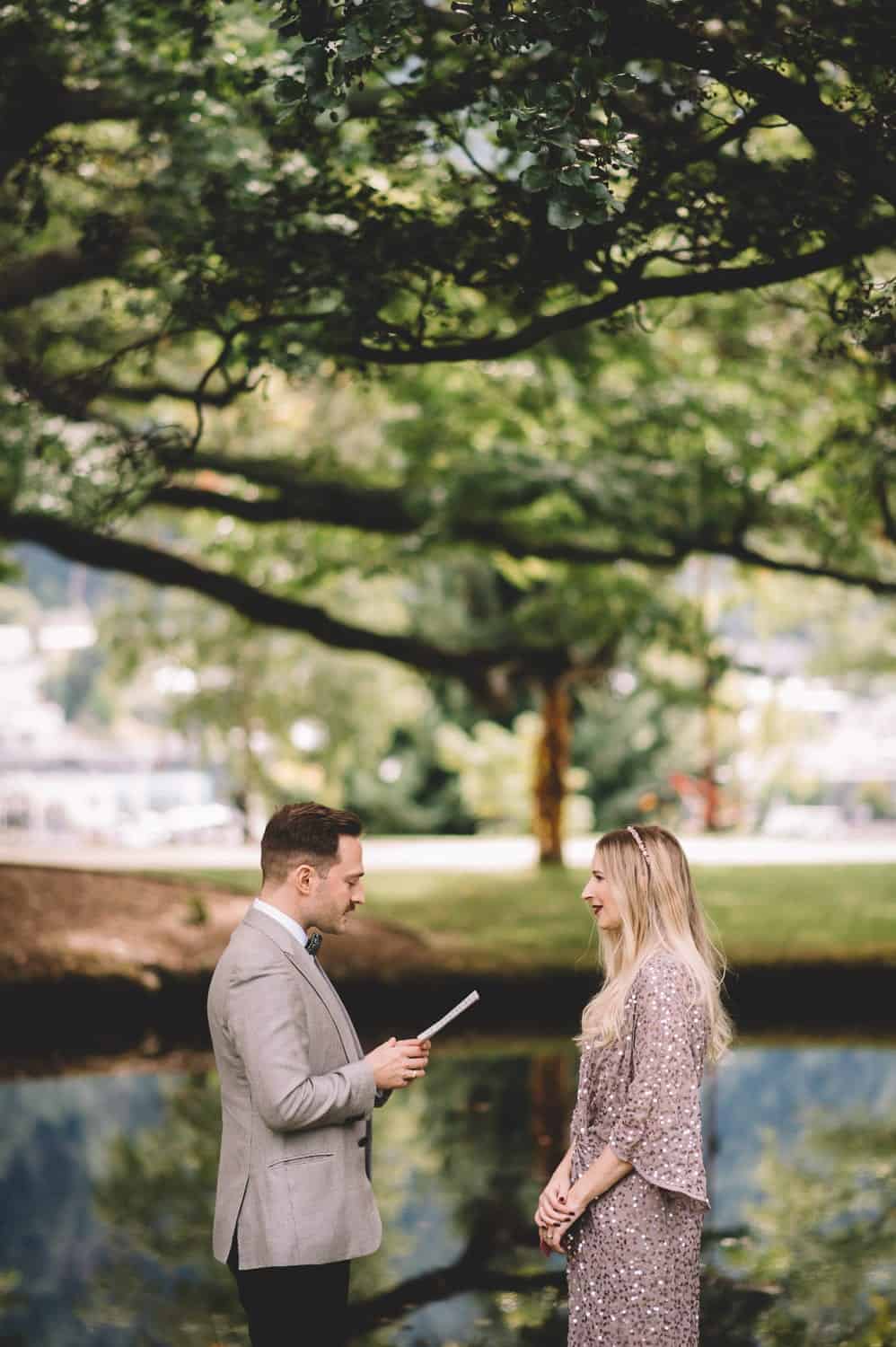 my guide to the best queenstown photo locations
If you would like to check out some stunning Queenstown Photo Locations that might also be epic for your Elopement, check out this blog post.
real wedding example – kestin & chris's queenstown elopement
Before Kestin & Chris arrived in Queenstown they had planned to have their Elopement on the shores of Moke Lake, which is a stunning lake surrounded by mountains about 15 minutes drive from Queenstown.  This location was chosen by Kestin & Chris from a few that both I (as their Wedding Photographer) and their celebrant Philippa Thomas had suggested.
Once Kestin & Chris arrived in Queenstown they did a recce of the various locations Philippa and I had told them about and in the end decided that Moke Lake would be just too muddy and Kestin's dress would get wrecked.
Kestin quite liked one of the other spots we had told her about, Sunshine Bay.  But they weren't head over heels in love with it and I felt we could do better.  I hadn't been able to join them on their recce as I'd been shooting a wedding that day.  So I met up with Kestin the following day and took her out to another spot I thought she might like.  Luckily she fell in love with it.
This particular location was in Bob's Cove.  Set right on the pebbled shores of Lake Wakatipu it had stunning lake and mountain views in front and beautiful native forest behind.  The only challenge was that this spot had no direct sun on it at all at this time of year (mid winter).  I explained this to Kestin but told her that I could light them and their 2 guests and the foreground with a flash.  I also warned her the lack of sunlight would make her ceremony colder than it might otherwise be.
In the end Kestin & Chris went back together and found a spot they preferred more.  It was just a hundred metres or so further along the lake edge.  The end result?  The weather was perfect and Kestin & Chris's ceremony looked dramatic and beautiful.  But I'll let the photos be the judge of that.
Note: On the day of Kestin & Chris's Queenstown Elopement the ceremony location was in shade and the background scenery was bright and sunlit.  Which meant I had to use powerful off-camera lighting (my Profoto B1 500 TTL Air battery powered strobe) to light both them and foreground.  Without it, I would not have been able to get photos that showed both them and the landscape beautifully.
If you are planning on having your ceremony/photos in the shade/super high contrast, make sure they are ok with it .  If not it might be worth considering changing locations.  (It's either that or changing your photographer!).
Hopefully you find these tips and the real life example of Kestin & Chris's Elopement Elopement helpful.
If you enjoyed this article, you might also find the following blog post helpful;
queenstown elopement photography packages – the insider's guide.