helicopter wedding nz – everything you need to know
So, you are planning to make your big day extra special by jumping in a helicopter and getting married on top of a dramatic mountain peak.  (Good choice – it's an awesome way to get married!).  But you have no idea how the whole helicopter thing works.  Hell, you might not eve& have any idea how the whole wedding thing works yet either!  Because let's face it, most people who do a Heli Wedding have never been married OR been in a helicopter before, so it's all new to them.
So, it's totally natural if you have no idea…
What a helicopter flight costs
How many people can fit in a helicopter
How to book it
Which heli locations are the best
How a heli flight works when it comes to photography
Whether you want to have your ceremony on the mountain top or just photos
In short, you may have absolutely no idea where to start planning your heli wedding or who to ask for help!
Does the above sound like you?  If so, this Blog Post is for you!  I am going to walk you through all the ins and outs of the whole heli wedding thing.
And the good news is that heli weddings actually aren't that complicated.  In fact, in many ways planning a helicopter wedding nz styles actually makes the whole wedding planning process a lot simpler and easier.  Mostly because the cost and size of helicopters naturally tends to keep your guests numbers low.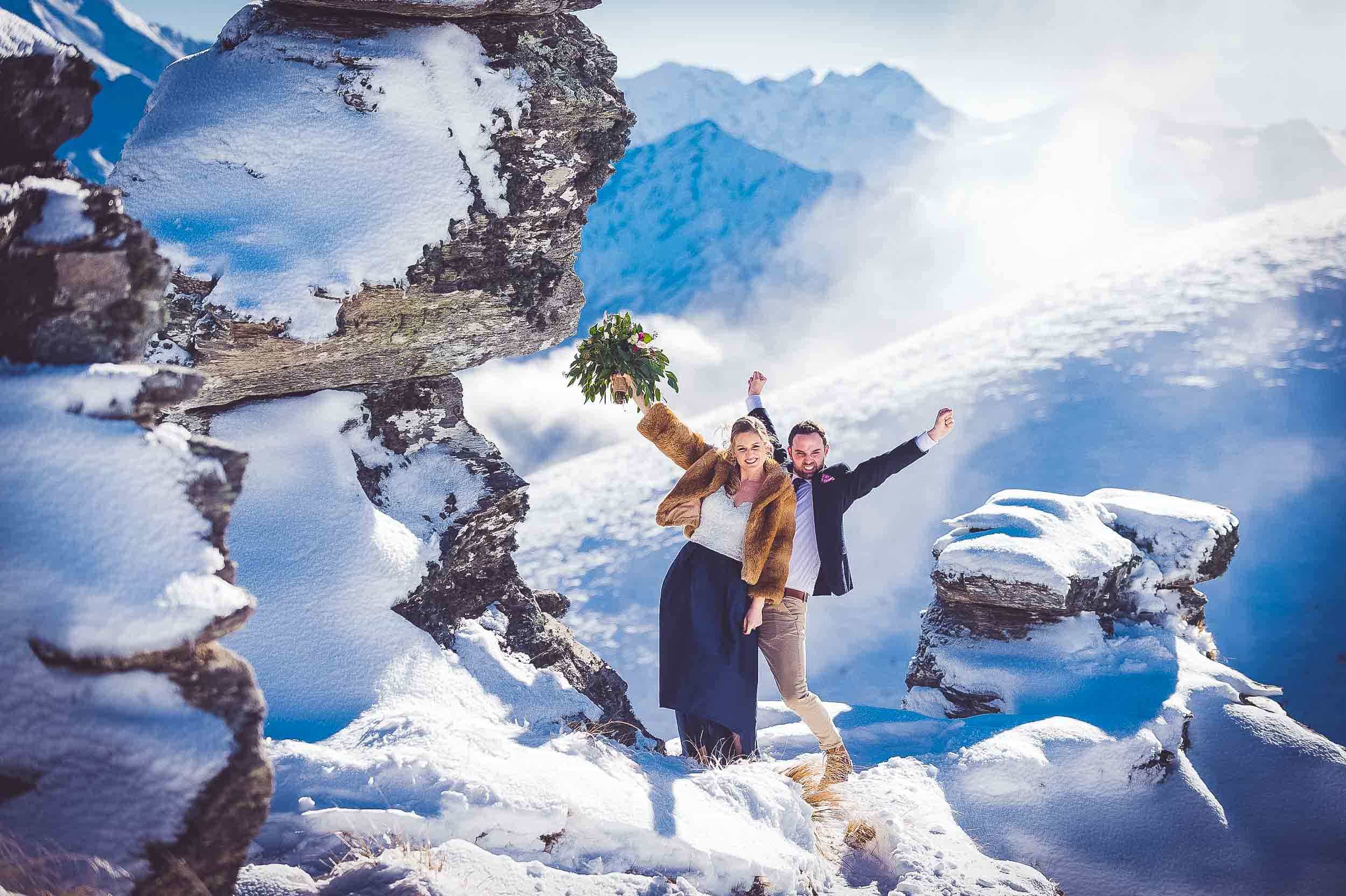 Heli Wedding Photography vs Wedding Photo Flights – what's the difference?
Good question.
Heli Wedding Photography
A Heli Wedding is where the ceremony itself is on the mountain-top/heli location and is accessed via helicopter.  The various Queenstown heli operators will offer between 30 and 60 minutes "on the ground" for heli weddings.  Eg let's say you book a heli wedding and your helicopter company's package includes 45 minutes on the ground.  If so, then you have to fit your wedding ceremony plus all your photos/video into 45 minutes.  Most of the local helicopter companies will offer Heli Wedding Packages that include helicopter, celebrant and photographer.  Often these Packages are very competitive price-wise but you can only choose from the vendors that the given helicopter company uses.
Wedding Photo Flights
A Heli Photo Flight is a heli flight with a bride and groom and their photographer (and possibly videographer and bridal party).  With a heli photo flight, the ceremony is not at the heli location.  The flight is for photos (and possibly video) only.  Typically time on the ground is similar to a Heli Wedding.  However, because there is no ceremony to cram in it will definitely feel like you have much more time on the mountain-top than with a Heli Wedding
What are the best Heli Wedding Photography locations?
Unfortunately, as much as I would love to tell you that I am constantly helicoptering all over NZ and know all the best helicopters wedding nz locations, it wouldn't be true!
The vast majority of my flying happens in and around Queenstown with the occasional flight in Glenorchy or Wanaka.  But, Queenstown has some stunning heli wedding locations that are a short and affordable flight from Frankton where all the helicopter companies have their bases.
The 2 most popular heli locations in Queenstown are (in order) The Ledge on Cecil Peak and Remarkables Ridge.  They are the most popular because they are stunning but they are also a very short flight time from the airport/heli-base and therefore 2 of the most affordable heli locations.
There are dozens of other heli locations you can fly to and they often vary from operator to operator.  (Sometimes the owners of the heli locations have an exclusive agreement with just one helicopter operator).  You can even fly to a glacier and land on snow in the middle of summer if you want.  But flight times and therefore prices vary hugely from location to location.

The Ledge, Cecil Peak
There is one spot in particular on Cecil Peak that is the most popular landing spot for Queenstown Heli Weddings and Photo Flights.  This Spot is known as "The Ledge".  The Ledge is a very dramatic cliff area on Cecil Peak with amazing views overlooking Lake Wakatipu and Queenstown.  Some photographers don't like shooting there just because it is so damn popular, but it is popular for a reason – it is a short flight time which makes it more affordable, and it's dramatic cliffs help to give your photos a real "mountain-top" feel.  In my opinion, The Ledge is one of the best helicopter wedding nz locations.

Remarkables Ridge
Remarkables Ridge is a spot on the stunning Remarkable's Range (which is the iconic mountain range you see from Queenstown when you look East).
The above 2 locations are both stunning, but the other reason they are the most popular heli locations is that they are both a very short flight time from Queenstown Airport and this helps to keep helicopter costs down.   There are a host of other heli locations to consider but (a) they are all more expensive than The Ledge and Remarkable's Ridge and (b) not every helicopter company is able to fly to the same location.  So contact your preferred helicopter company and ask them what options they can recommend.
The other important thing to consider is the fact that whether or not you can fly on your wedding day and which locations you are able to fly to are both totally subject to weather.  Helicopters can fly in pretty wild conditions but if it's too rugged your helicopter company will likely suggest you cancel or reschedule.  This is because it might be pretty unpleasant standing on a mountain top in 50kmph winds!  (If it is even mildly breezy in the valley it will often be blowing a gale up on the mountain-tops).
By all means make plans for your dream heli flight but keep in mind (a) you might not be able to fly at all, and (b) you might be able to fly but to a different location and not the one you chose.  At the end of the day, if you get to fly anywhere on your wedding day you are winning – don't sweat the details!
What sort of/size helicopter do we need?
The most popular larger helicopter used here in Queenstown is called a Squirrel and it seats 6 plus the pilot.  So, in addition to the pilot it can carry bride & groom, photographer and up to 3 other passengers.  A popular smaller helicopter used in Queenstown is the EC120b, which can hold 4 plus the pilot.  Ie Bride & Groom, Photographer, 1 other passenger plus the pilot.  Some companies only offer the larger Squirrels, some offer multiple sizes.  The smaller machines cost less for the same amount of flight time so can either save you money over a Squirrel or allow you to get to a more remote and beautiful location for the same price.

Can the helicopter pick us up and drop us off right at our Wedding Venue?
Short answer, it depends.  It depends as much as anything on which helicopter company you ask.  Some venues & locations (eg Skyline Restaurant & Gondola, Earnslaw Burn) have exclusive landing arrangements with a particular helicopter company.  This means that that helicopter company is the only outfit allowed to land there.  Many years ago in Queenstown when I first started shooting weddings, the helicopter would always land right there at your wedding venue.  However, these days the air space over Queenstown is a lot busier and many areas are also noise sensitive so helicopters may or may not be permitted to land there.
Real Life Example – Heli Pick-ups / Drop-offs at Trelawn Place
Recently I made inquiries with all 5 Queenstown helicopter companies re getting one of my couples picked up by heli from Trelawn Place.  All but 2 helicopter companies said they couldn't land there.  One of the 2 who said they could sought permission from the council and later told me they weren't allowed to land there.  The last company said basically "No problem, we can land there".
Even if your heli can't pick you up right from your ceremony venue, in my opinion it is totally worth looking into nearby private landing spots near the venue where the helicopter company can pick up/drop off – even if it increases your heli costs slightly.  This is because it will save you a lot of time over driving to the heliport at the airport.  The main reason it will save you time is not because of less traffic or a shorter drive, it's because the whole loading/safety briefing process is typically the pilot walking over to us in the middle of a paddock and saying "Keep your head down and follow me".
However, using a private landing strip may change your flight time/heli costs and may also incur a fee to use the private landing strip.

What can we do to increase our chances of flying/getting epic Queenstown Heli Wedding Photos?
Being flexible with when you fly is the only thing you can really do that will increase your chances of
(a) being able to fly, and
(b) getting good weather during your flight.
So I suggest you book your Heli Wedding Photography for the first date and earliest time you can fly.  That way, if the weather doesn't cooperate, hopefully you can reschedule to a later day/time.
OTHER QUEENSTOWN HELIcopter WEDDING PHOTOGRAPHY RELATED PAGES, POSTS & REAL WEDDING GALLERIES YOU MIGHT ALSO ENJOY
If you found this helicopter wedding nz article helpful, you might also find the following pages/posts helpful;
7 Easy Steps To Find Your Dream Queenstown Wedding Photographer
The Ultimate Queenstown Wedding Photography Guide.
7 Tips to Help You Pull Off Awesome Queenstown Wedding Snow Photos
7 Queenstown Winter Wedding Tips for an Amazing Wedding
The Queenstown Wedding Blog (A searchable Queenstown Wedding Venue & Vendor Directory that also contains a bunch of awesome how to articles and blog posts.  FYI I am the author).
You might also want to check out some of my all-time favourite Queenstown Winter Weddings here;
EPIC Queenstown Snowboard Wedding!! At Coronet Peak…on snowboards…in a snow storm!!