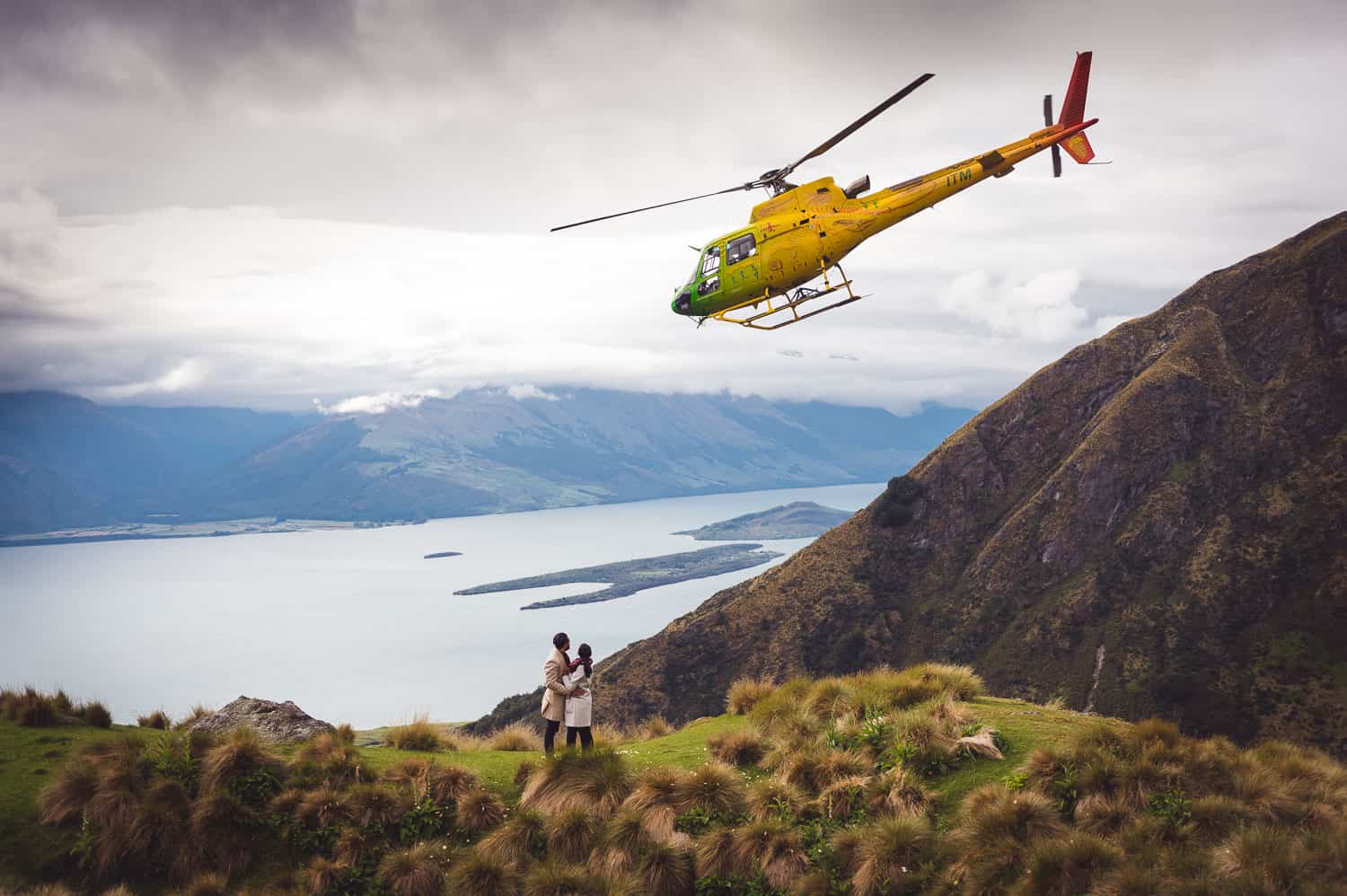 As I get a fair-few inquiries from guys planning a romantic Queenstown Surprise Proposal, I thought I would put answer a lot of the most frequent questions in this blog post. Hopefully you find it useful.
I will start with the most common questions I get and add more info as and when I have time.
How do I keep the whole Queenstown Surprise Heli Proposal thing a secret and not give the game away?
The approach that I find works best is this;
Don't tell your significant other about the helicopter thing, although you might want to tell her that you have a surprise planned for that day. Also, it might not be a bad idea to give her some clothing hints – ie maybe don't wear high heels and a skimpy top with no jacket for the mountain top! (Safe shoes and something to keep the wind off are always a good idea!).
This way, if she suspects you're up to something and somehow figures out the helicopter thing, she will think that she has discovered your secret and won't (hopefully dig any deeper). By the time you pull up in front of the helicopter company she will know you're going to fly in a helicopter obviously. At this point, you explain to her that you got a super-good deal on a scenic flight-seeing helicopter flight. This implies 2 things;
You didn't spend that much on the flight and you're admitting it, so it's not super romantic and hopefully doesn't raise her suspicions.
The word "flight-seeing" tells her that the flight is public and there may be random members of the public there. So, she won't be so surprised to see me (another random passenger) in the waiting area at the helicopter company's heli base.
How do I know when and where to propose once we get out of the helicopter at our heli location? How will I know you're ready?
I will talk to the pilot for our flight before you guys get to the heli base. I will ask the pilot to guide us to a good viewing point of my choosing when we get out of the helicopter and tell us about the area for 5 minutes. While he is talking, I will drift back to the helicopter to get my bigger camera and lens. (I will have loaded my camera backpack into the machine before you got to the heli base). I will then come back to within 20 metres or so of you two and by the time the pilot finishes his spiel I will be still taking landscape photos but ready for the proposal.
So, you can drop down to one knee at any point after the pilot finishes his spiel and I will be ready for the big moment. In terms of where to propose, I will have pre-selected the spot the pilot has guided you to for the best scenery in the background and a good view of you two. If possible, it helps if you can make sure you are side on to the camera (ie the camera is either on your right side or left side, you aren't facing directly towards/away from. the camera). That way I should hopefully be able to see both faces at the key moment.
One last thing I would say is this; stay down on one knee for what seems like a long time. Not for the photos – this moment only happens once and it is super special, so why not make it last a little longer?
When is the best time to fly for epic Queenstown Surprise Heli Proposal photos?
If the weather is good, the best time to shoot outside is as close to sunrise or as close to sunset as possible. There are some logistical considerations like how early or late the heli can legally fly, but generally-speaking early morning or late afternoon are the best time for Surprise Heli Proposal photos.
Right, that's enough for now. I will continue to add more info to this blog post as I think of it. If you have any questions, feel free to get in touch with me by email at patrick@fallon.co.nz.