Sample location photos and info for Queenstown's Best Photo Locations
I am always sending sample Queenstown location photos to my couples and talking them through the ins and outs and pros and cons of each in emails or messages. And today I was writing another email to a client. As per usual, part of my pre-production process included sending them an email with a link to view/download my sample Queenstown location photos and some words explaining the pros and cons of each. As I was typing this email, suddenly a light bulb went off in my head. "Why not create a page on my blog that includes sample photos of each location but also some words talking people through the pros and cons of each from a photography point of view?". Sheer genius! (At least I think so). So, without further ado, here is a breakdown and sample photos of some of Queenstown's most popular photo locations.
Note: I have just realised while adding the photos to this page that many of these photos are quite old now and not necessarily the best location photos I have of these spots. I am in the middle of a huge image library tidy up at the moment and will add and update images as soon as I get a chance.
ARROWTOWN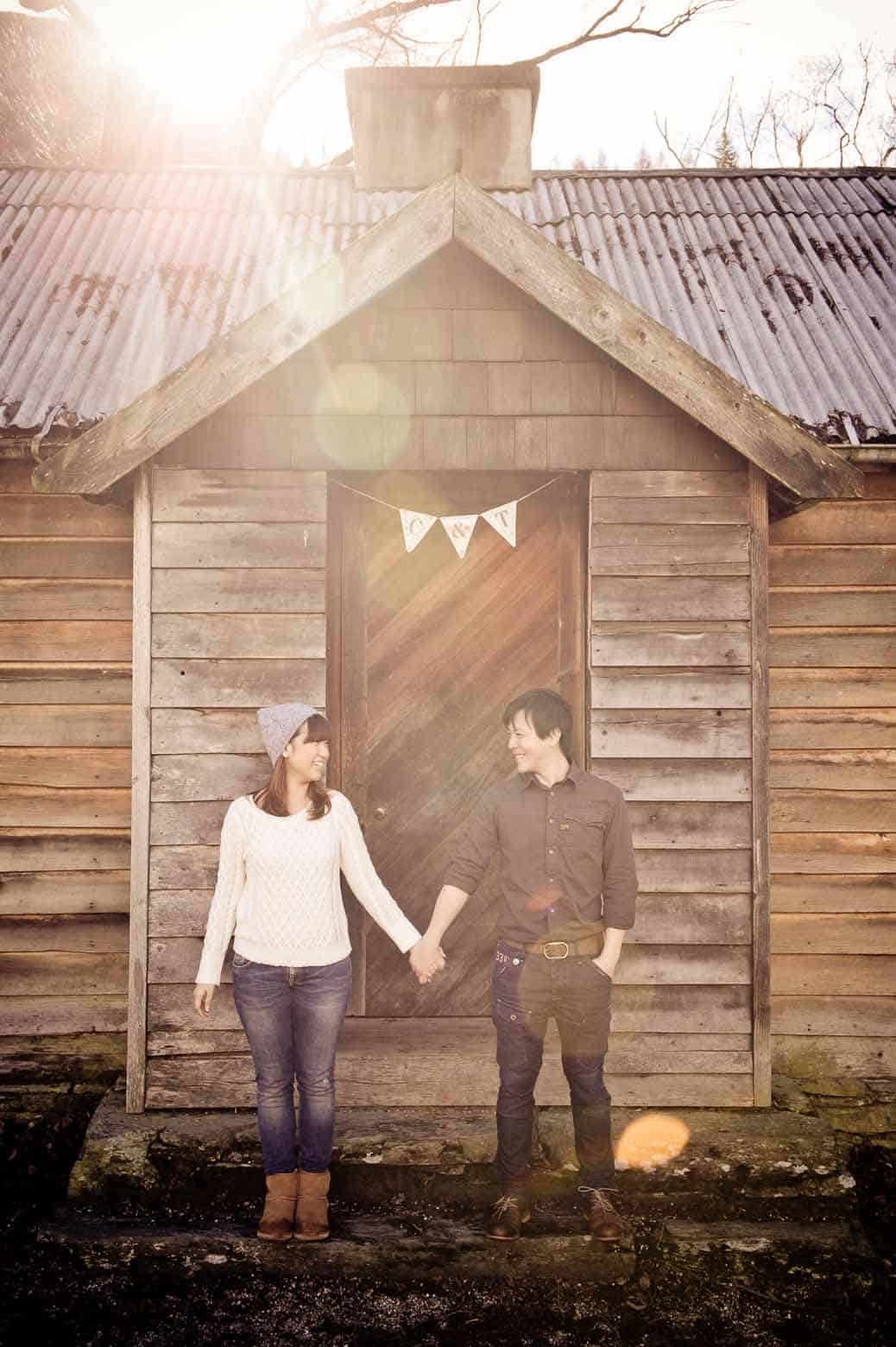 Arrowtown is a quaint little historic gold mining town located about 20 minute's drive from Queenstown. It's main feature from a photography perspective is it's historic buildings and tree-lined avenues. It is particularly stunning in autumn when all the trees are gold and red. There are a couple of other spots for photos in Arrowtown (eg the Arrow River area and the forest around the Arrow River Track). But if you aren't fussed about historic buildings or tree-lined avenues you might be better off choosing another location. Note: Arrowtown gets the sun quite late and loses it early in winter due to the shadows cast by the mountains. Definitely a good idea to talk with your photographer about the sun path and best time to shoot there if you're keen on the idea.
CORONET PEAK / SKIPPER'S LOOKOUT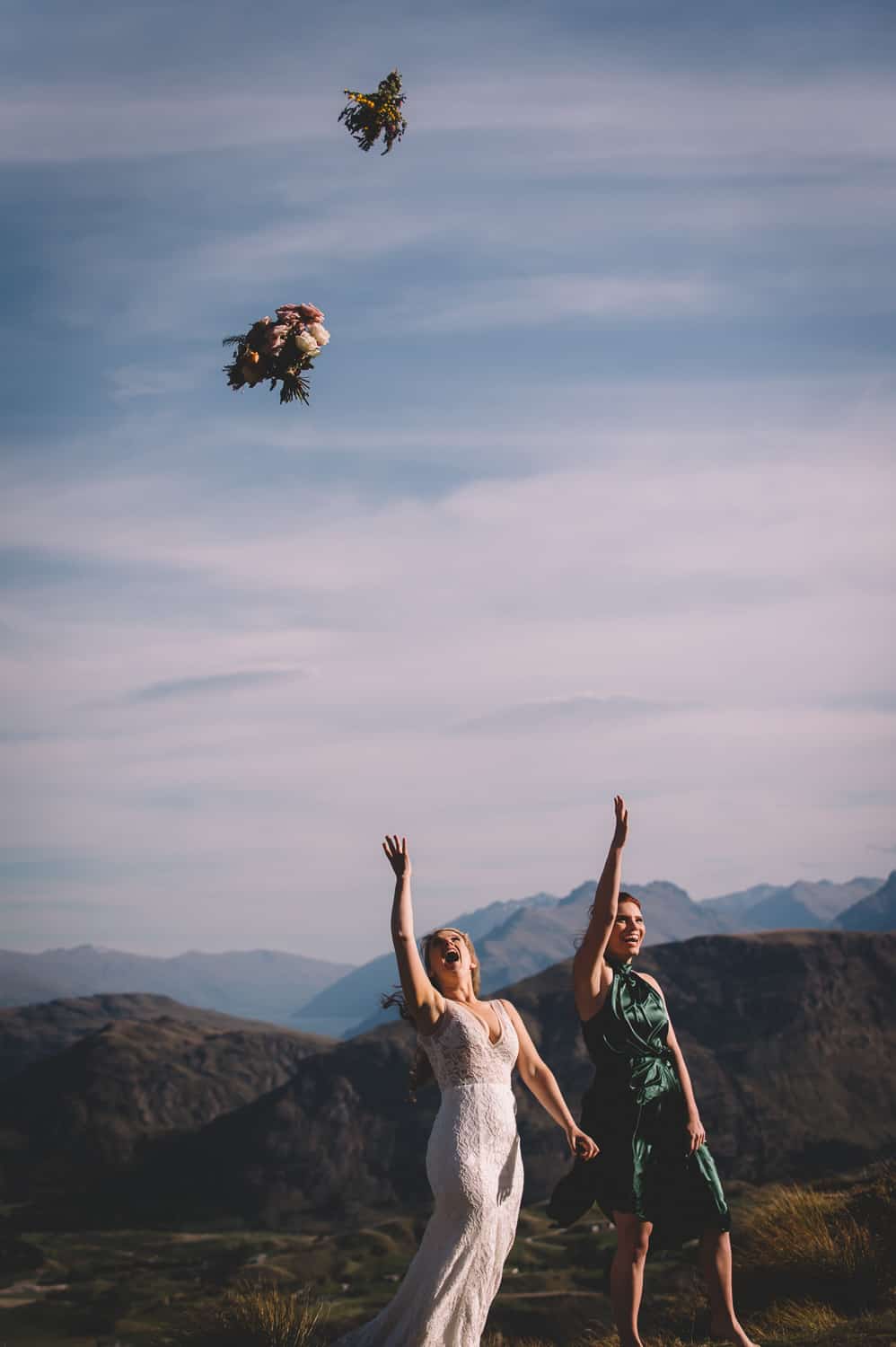 Coronet Peak is one of Queenstown's two local ski areas. It offers a bunch of options for beautiful mountain locations that can be easily accessed by car thanks to the Coronet Peak Ski Area Road. (For mountain locations, unless you have access to a helicopter, Queenstown's Coronet Peak and Remarkables mountain ranges are your best option. The only other mountain location you can drive to would be the Crown Range between Queenstown and Wanaka but it doesn't offer the variety or drama of Coronet and "Remarks" (as locals call it).
The most popular area at Coronet Peak for photos is called Skipper's Lookout. You drive halfway up the (sealed) Coronet Peak Ski Area Road and then turn off onto the unsealed Skipper's Canyon Road. You only drive about 20 metres up this road and then turn left into the Skipper's Lookout carpark. The Skipper's Lookout has rolling tussock ridges and stunning views of Queenstown, Lake Wakatipu and the surrounding mountains.
Notes:
Because you're basically facing South-ish at the Skipper's Lookout, even though you are up quite high, this location loses the sun relatively early because the sun drops behind the mountain ridges to the north. A safe bet is that you will lose sun here about 1 – 1.5 hours before true sunset in winter. You can use this website to check the sunrise and sunset times for Queenstown on any given date.
If you have a rental car, your insurance is not valid on the Skipper's Canyon Road because it is such a dangerous road.
DEER PARK HEIGHTS, KELVIN HEIGHTS PENINSULA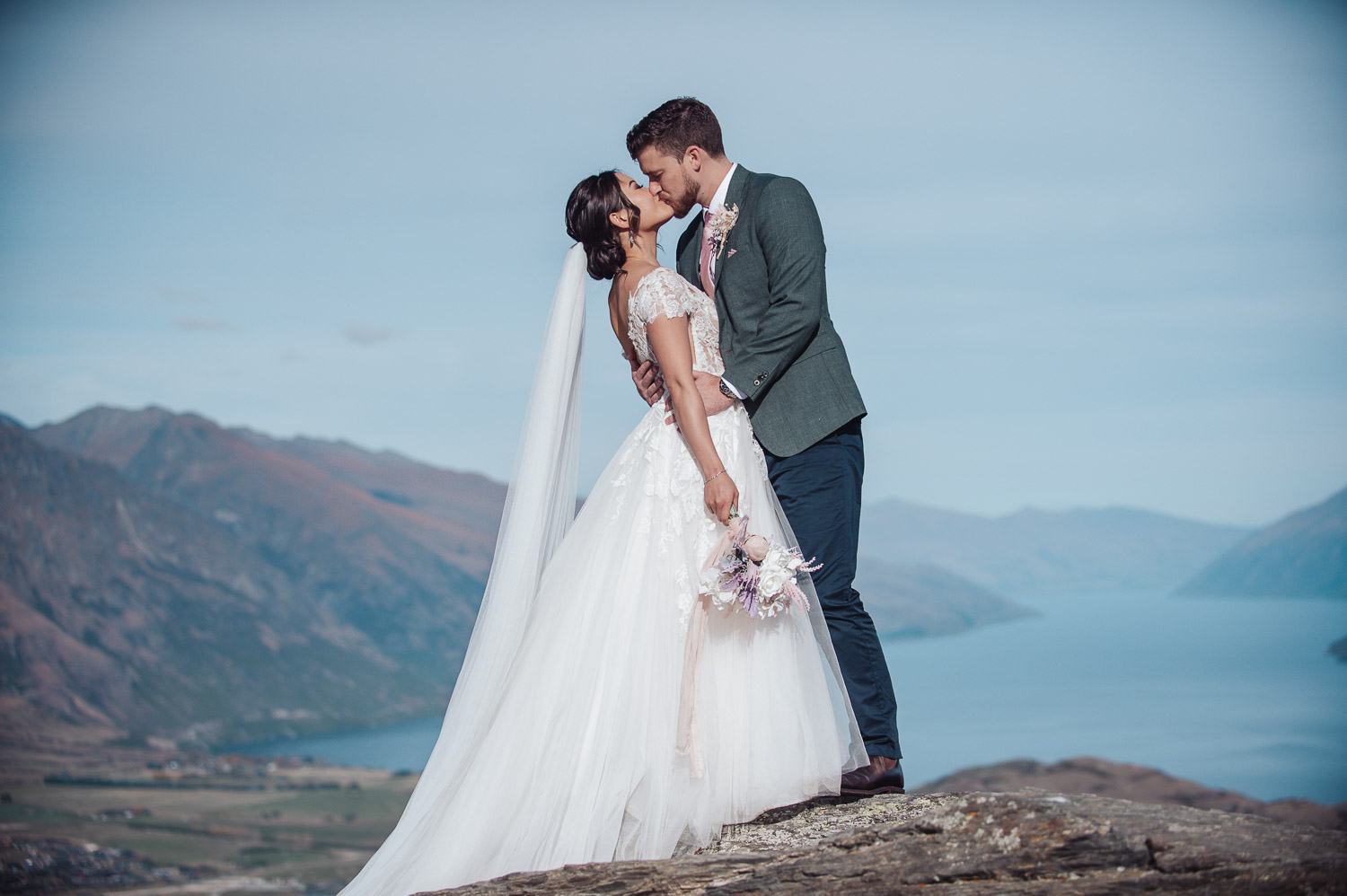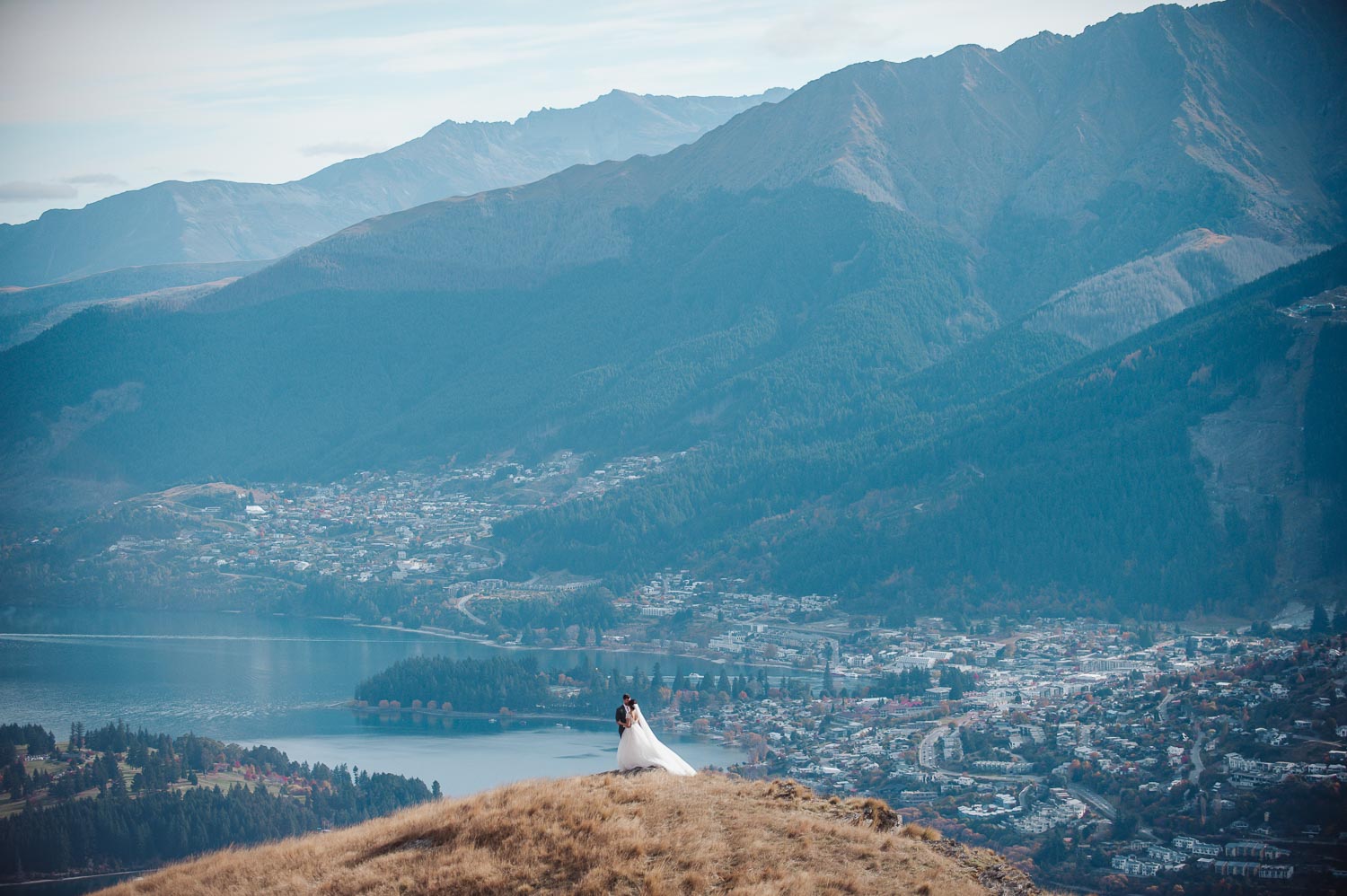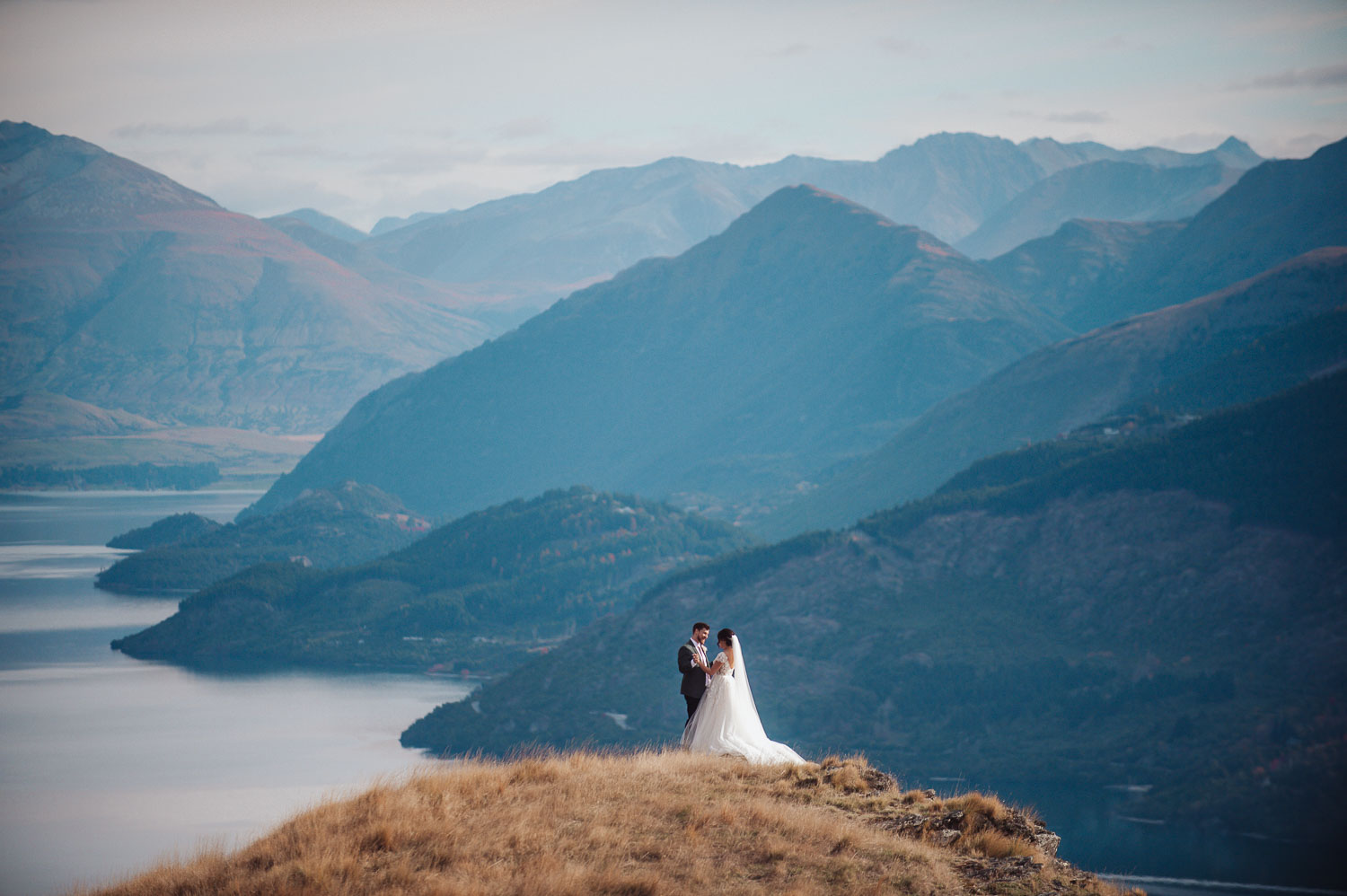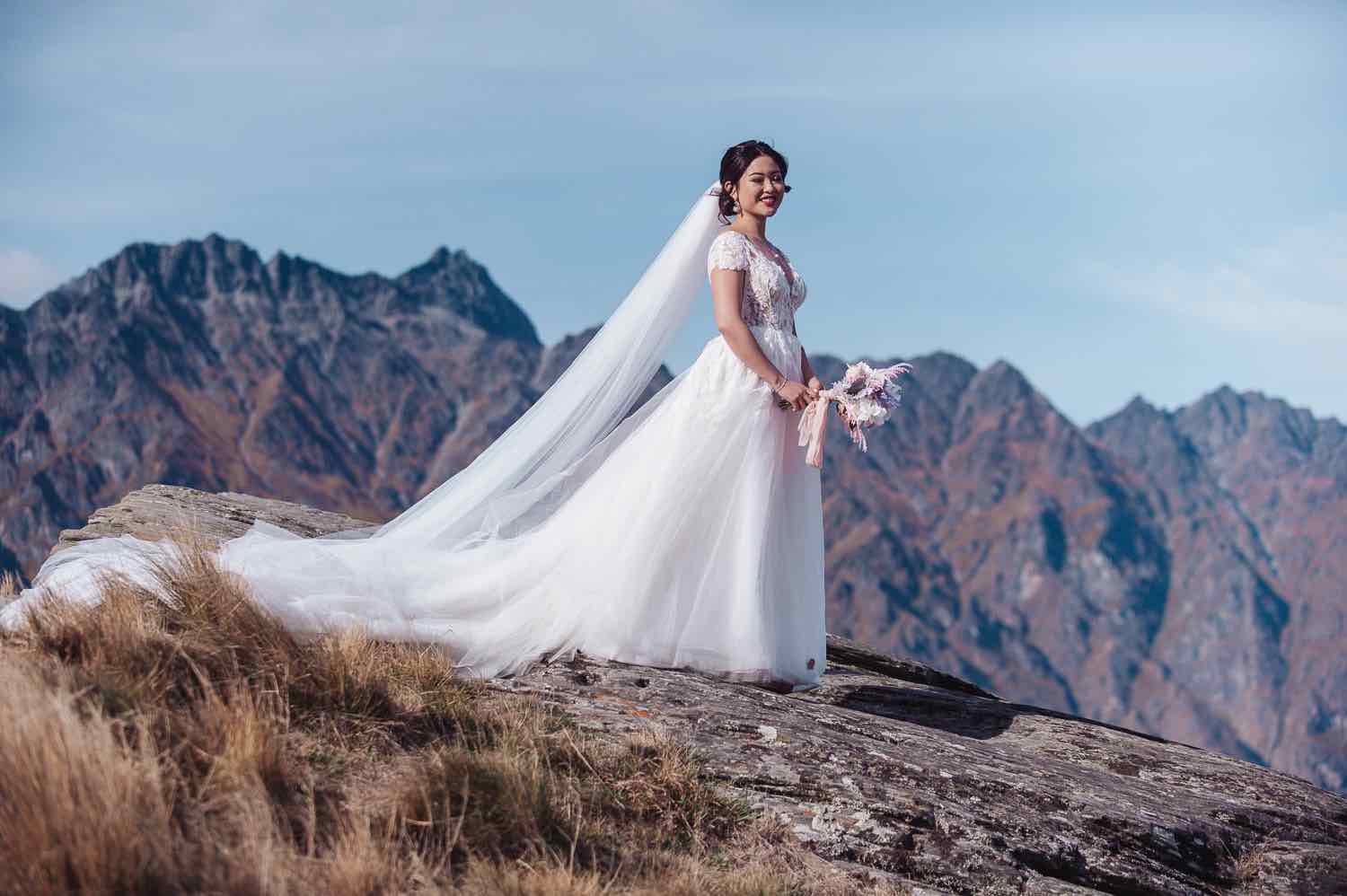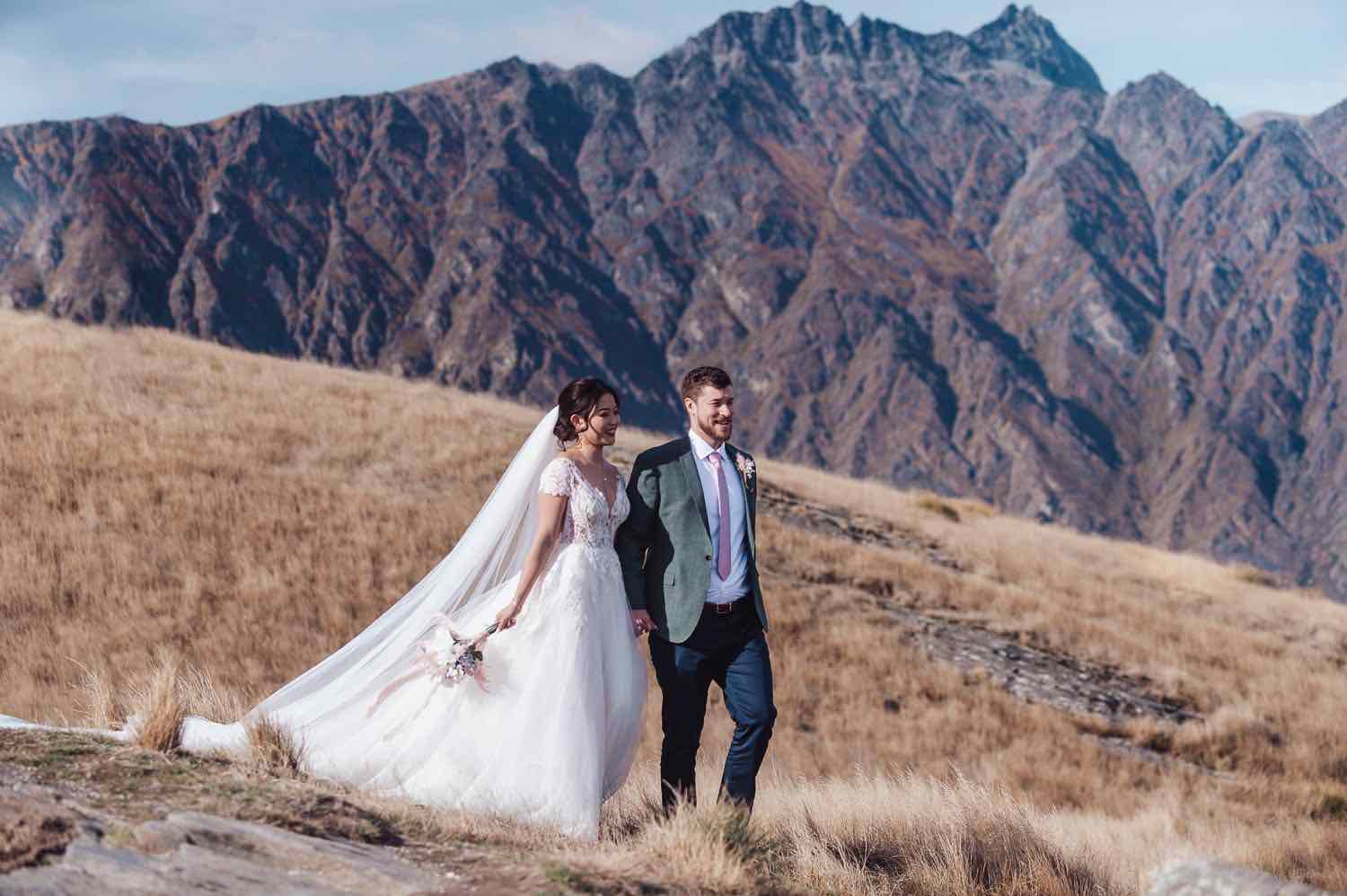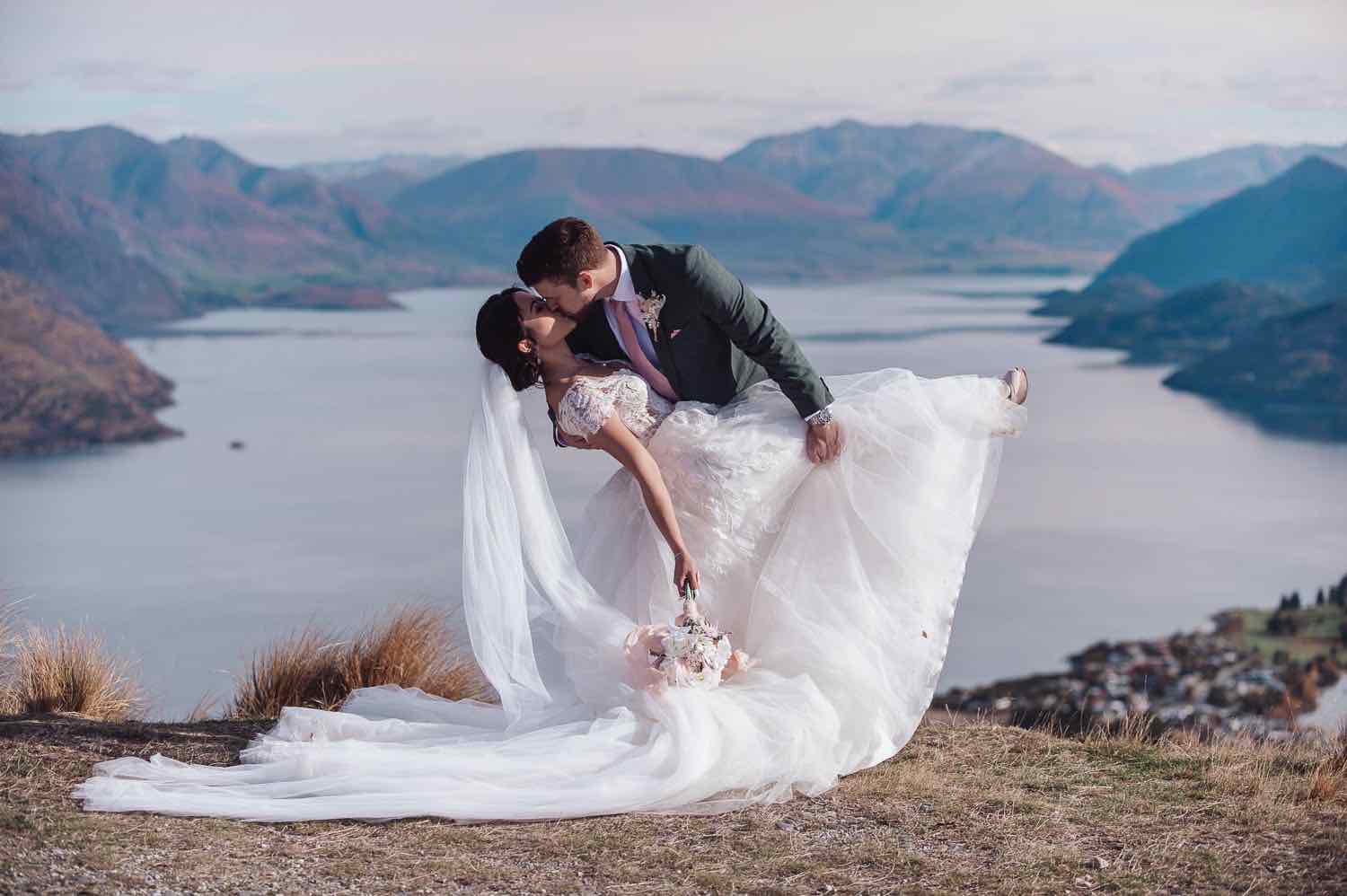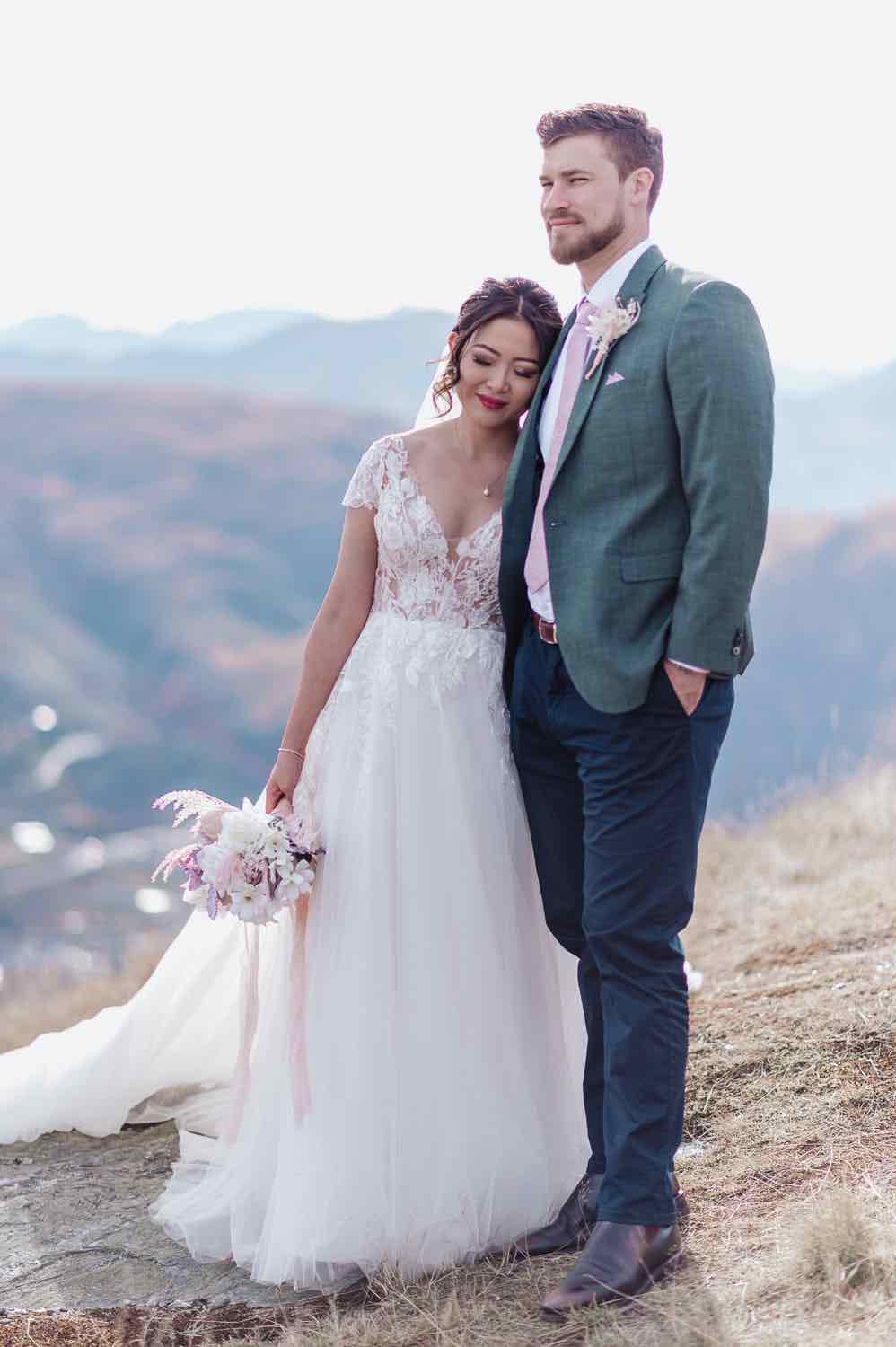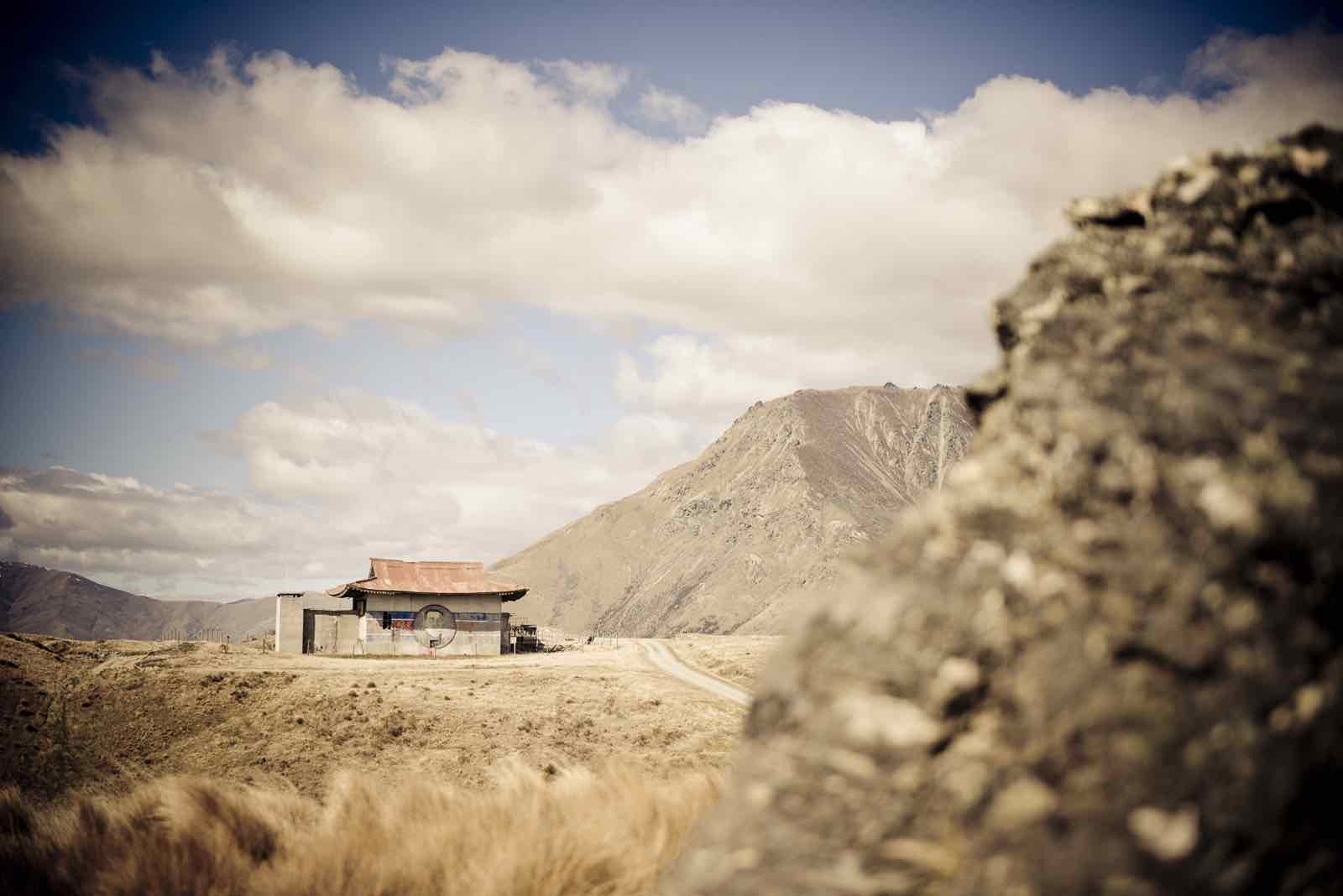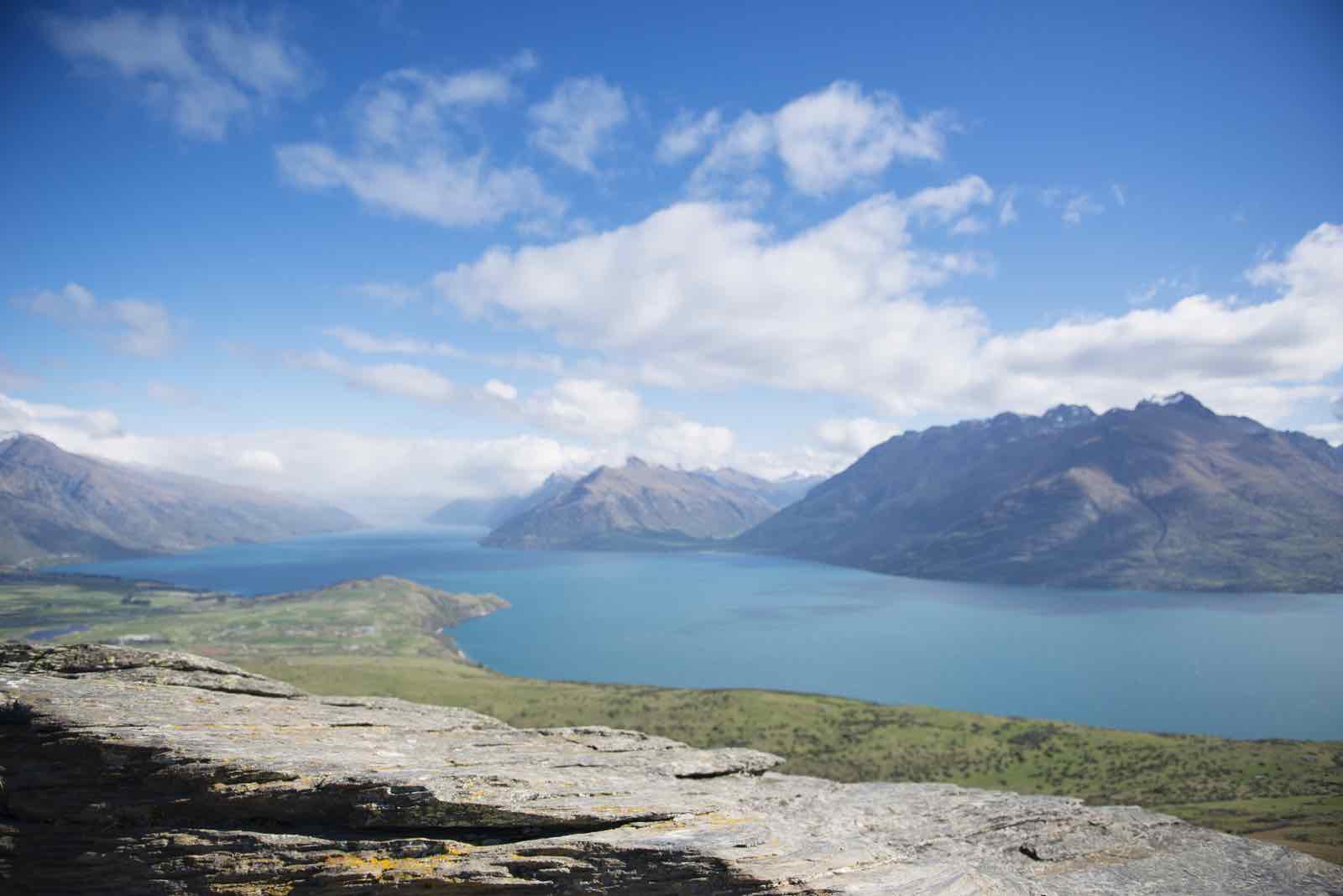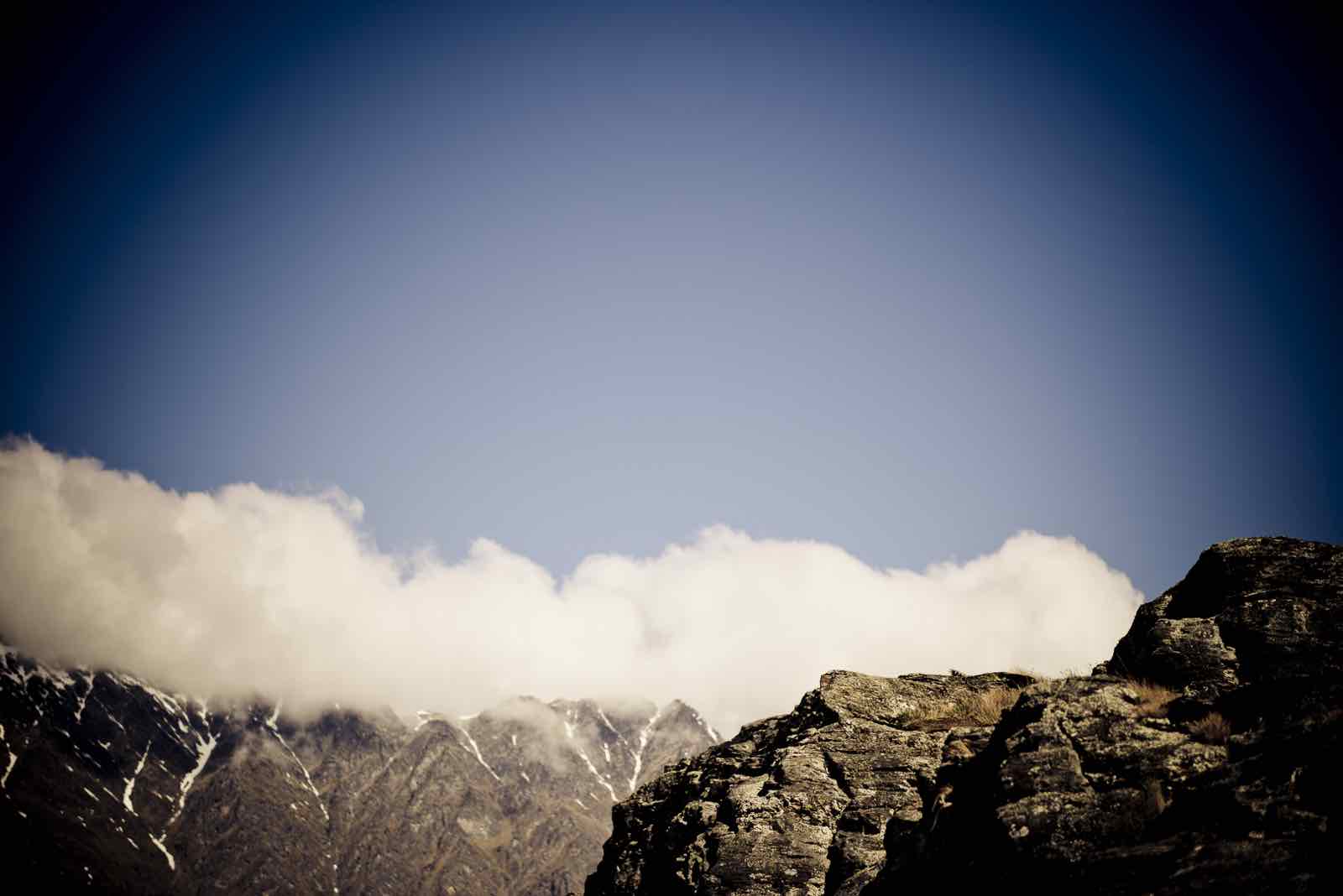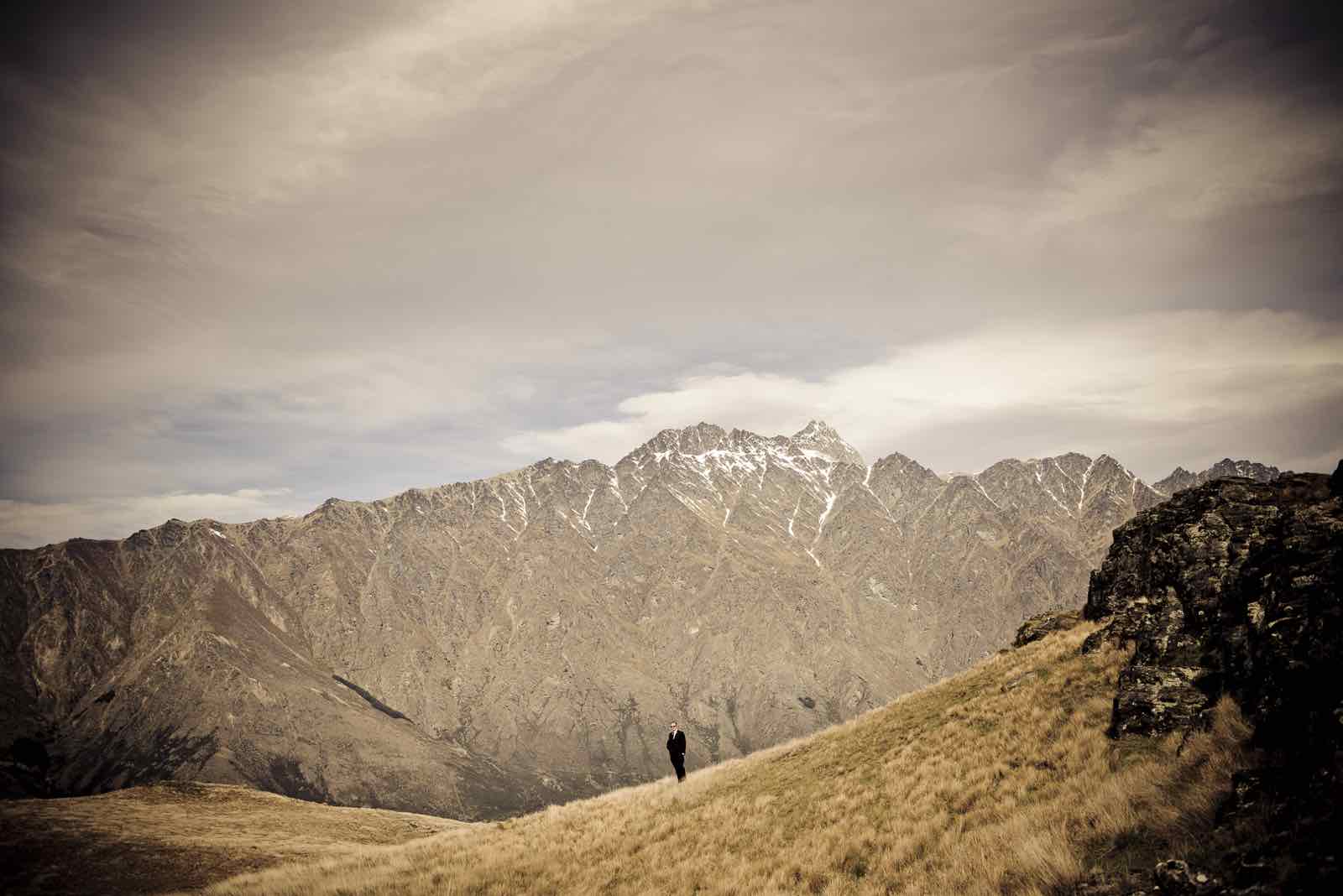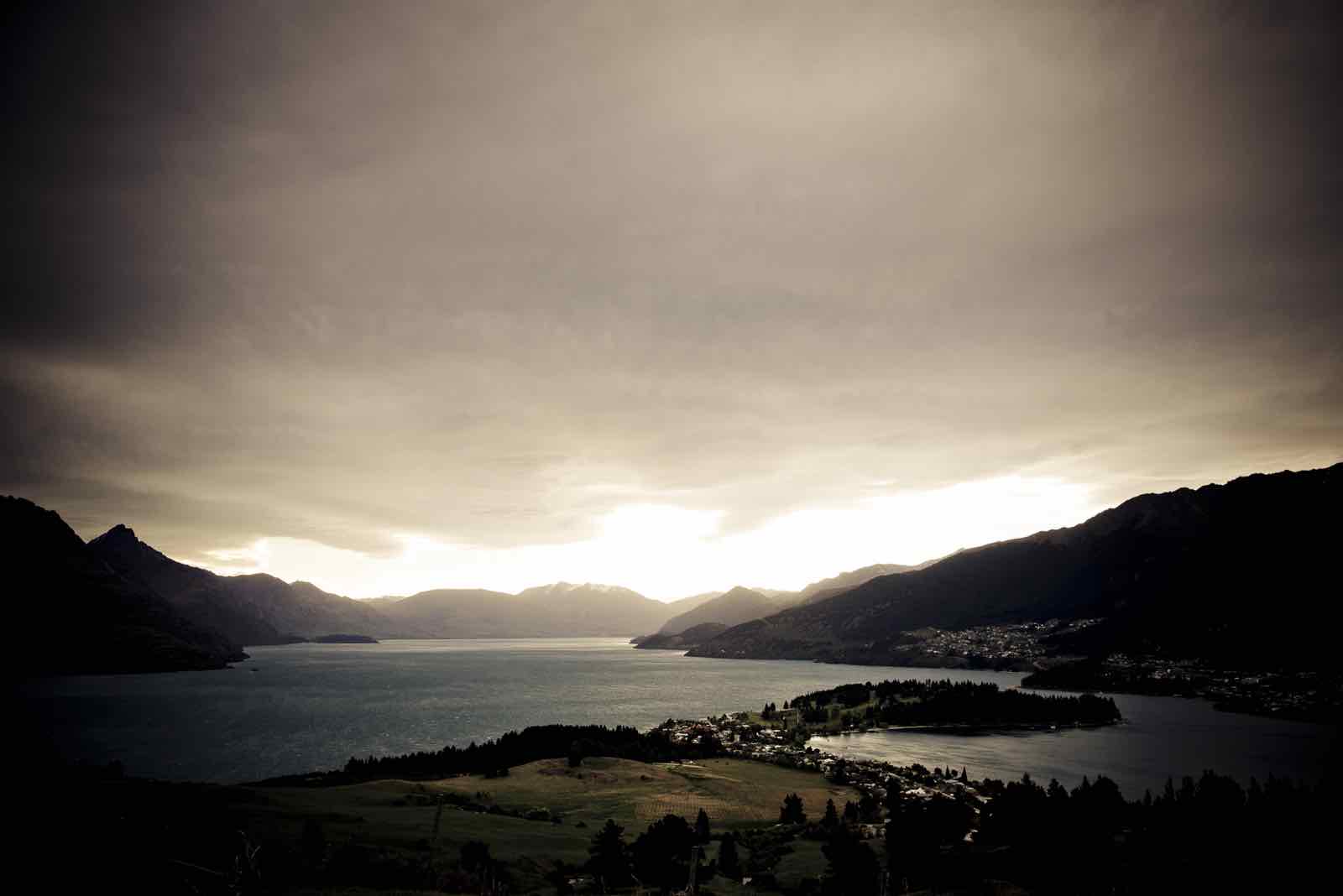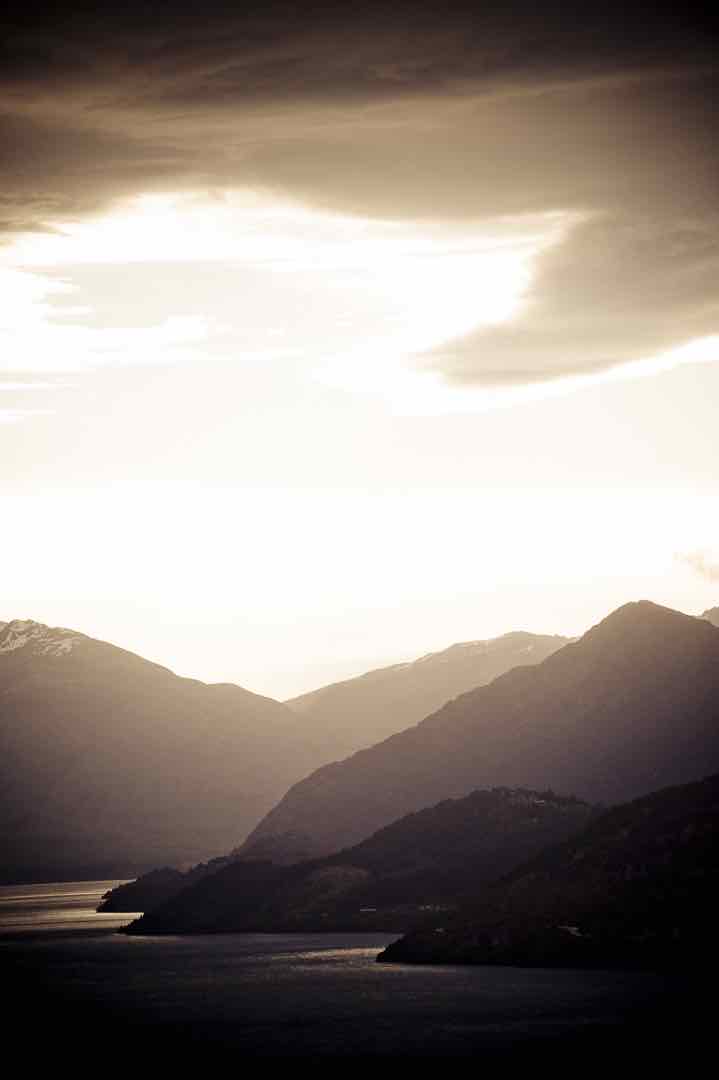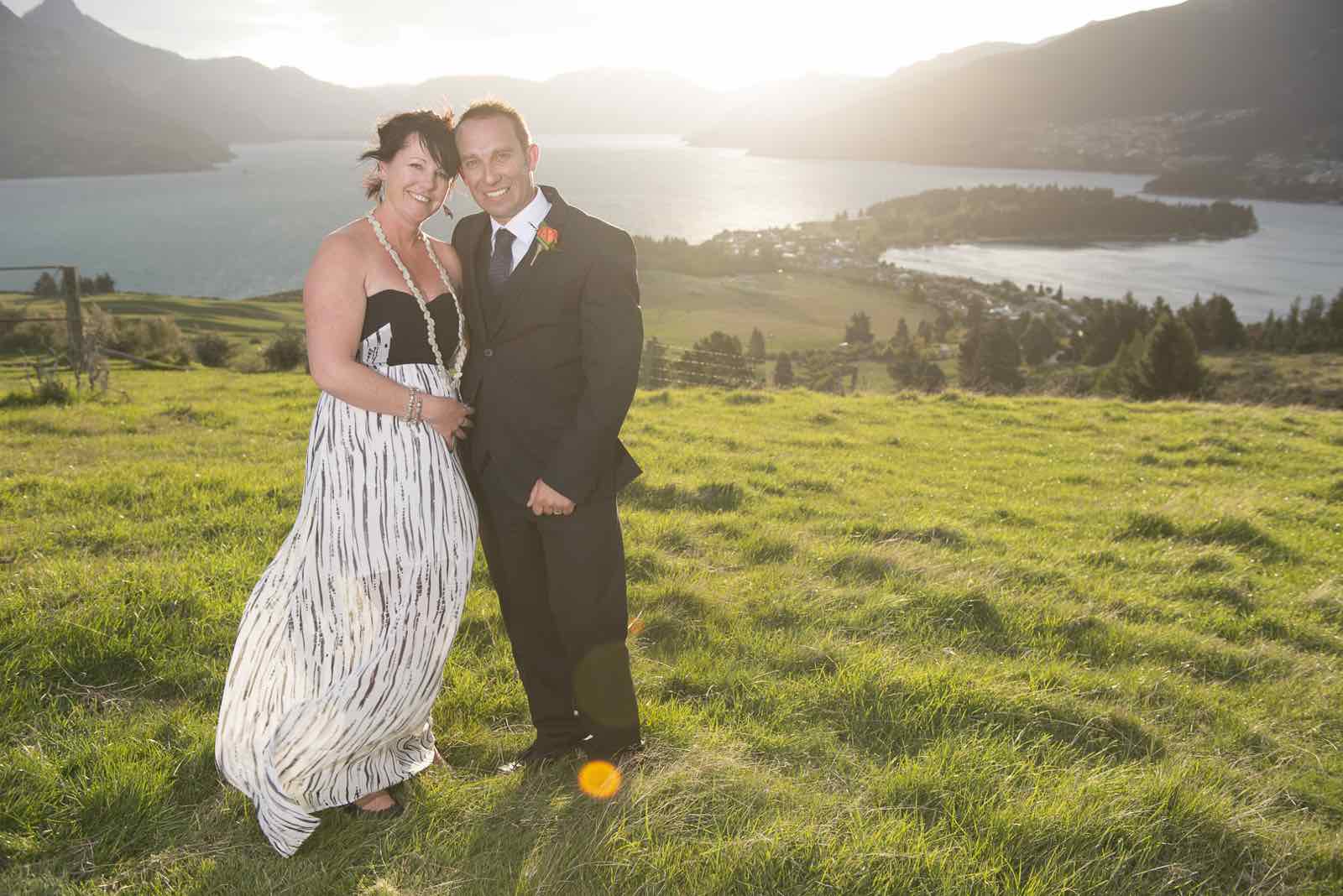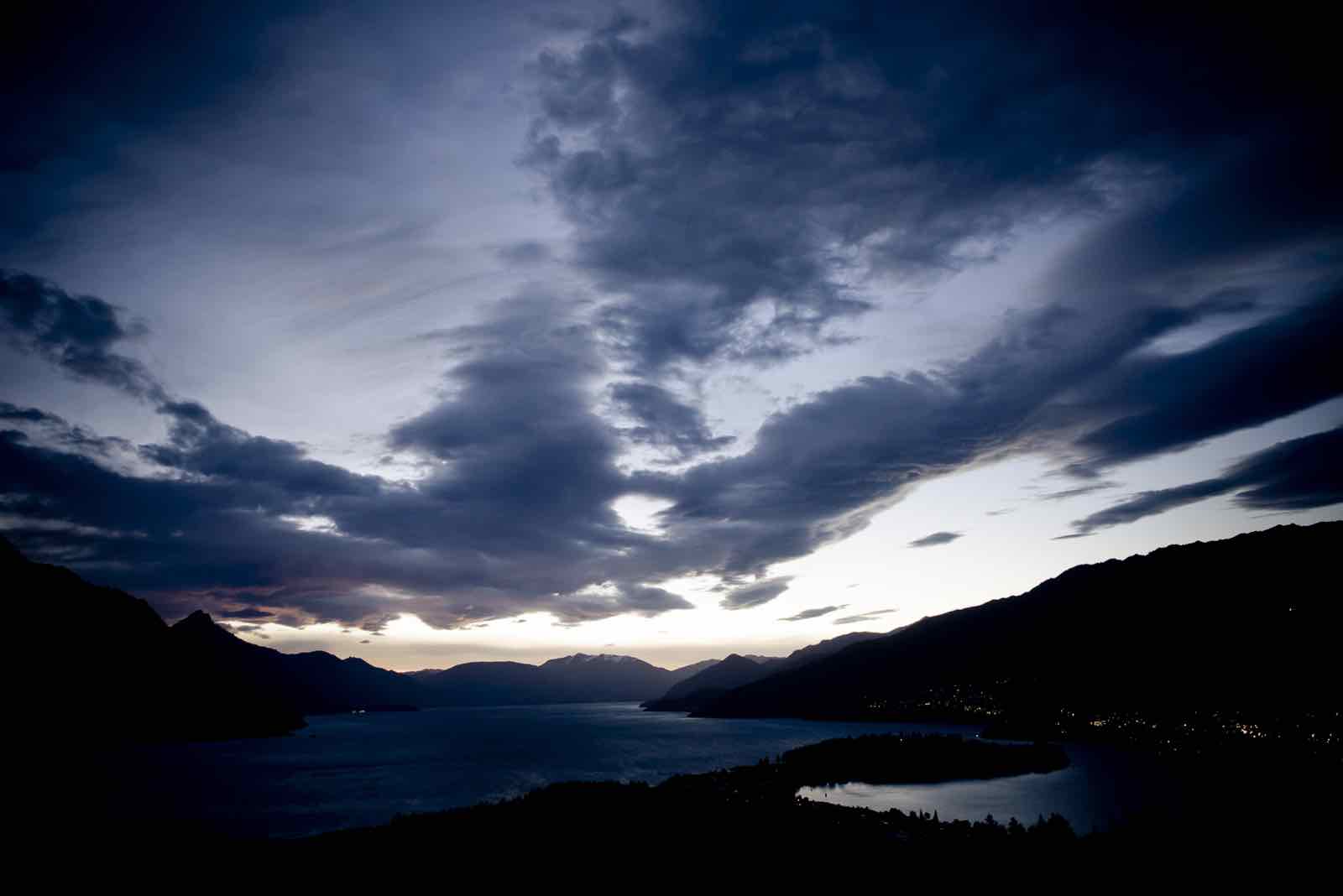 Deer Park Heights is a mountain on the Kelvin Heights Peninsula and it's approximately 30 minutes drive from Queenstown to the top.
Deer Park Heights is private property and you have to pay to access it (there is a toll gate at the bottom).  Although it is quite affordable to go there to feed the animals and see the scenery, there is a location fee to shoot there which is $345 based on access for one car only.  (This does not include weddings, which they have separate pricing for).
Deer Park Heights was used extensively as a Lord Of The Rings location and has stunning panoramic views but it is very exposed and often gets too windy to shoot there.
LAKE HAYES RESERVE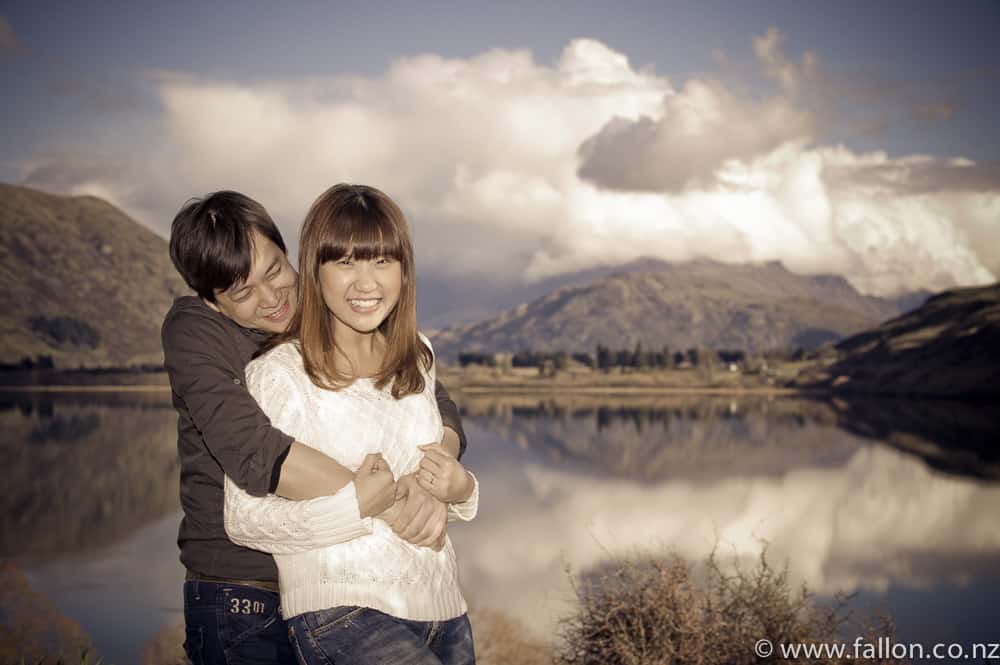 The Lake Hayes Reserve is a beautiful area featuring willow trees and stunning views of Lake Hayes and distant mountains. (Oh and lots of ducks). This location is at it's most beautiful when the wind is dead calm and Lake Hayes is like a mirror reflecting the mountains. There is a little forest at the Lake Hayes Reserve which offers some options too. In summer, Lake Hayes Reserve is very popular with tourists and locals alike – so be prepared for a lot of people everywhere!
LAKE WAKATIPU – CENTRAL QUEENSTOWN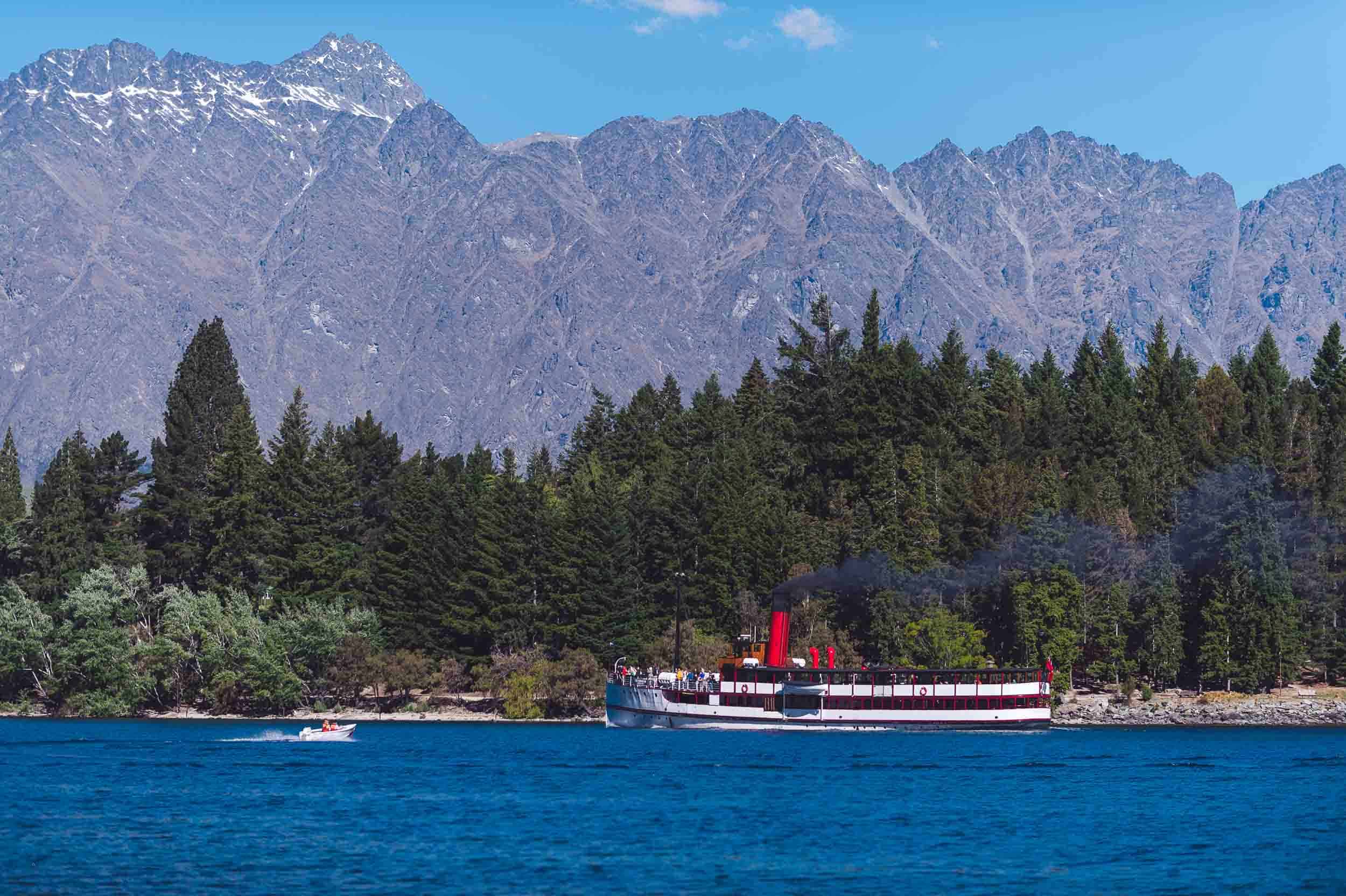 There are quite a few stunning lakeside spots in central Queenstown where you can get epic photos of Lake Wakatipu and the surrounding mountains. Just keep in mind that downtown Queenstown loses direct sun quite early in winter due to the shadows cast by the mountains.
LAKE WAKATIPU – KELVIN HEIGHTS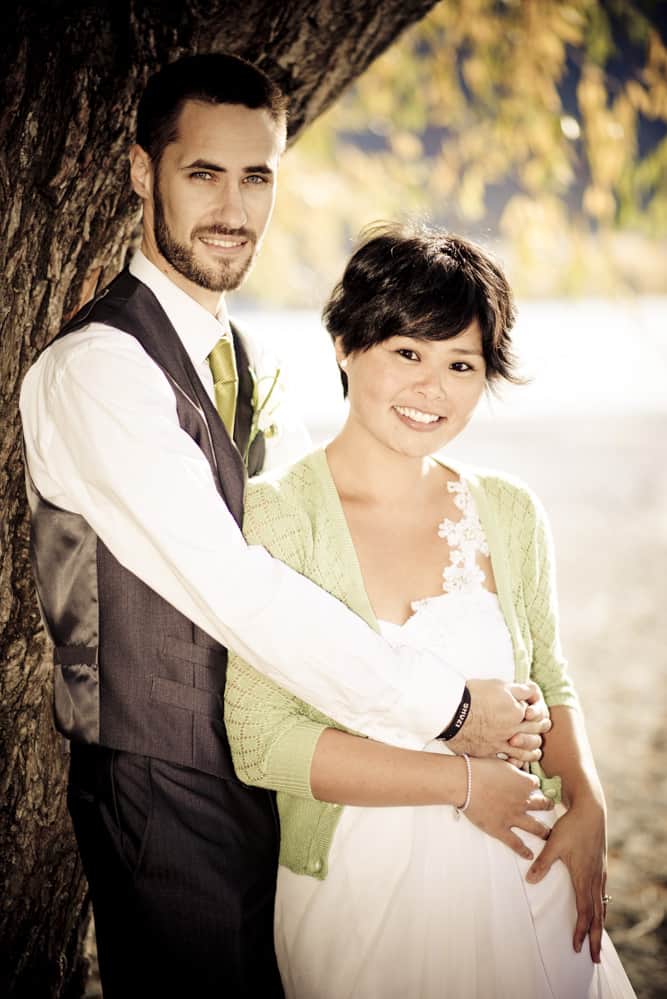 Kelvin Heights is the name of a peninsula that is about 20 minutes drive from Queenstown central (depending upon how far along the peninsula you go). One of my favourite spots at Kelvin Heights is right at the end of the Peninsula where there are beautiful rocky beaches with amazing mountain and lake views and no cars or buildings or (usually) people. The other cool thing about Kelvin Heights is that is further from the mountains than many other Queenstown locations and therefore keeps the sun a lot later than most other locations (with the exception of Remarkables Lookout). Kelvin Heights is also only about 10 – 15 minutes drive from the Remarkables Lookout, which gets even later sun. So if you are trying to do a sunset shoot or a later shoot in winter, these two locations work really well together.
MOKE LAKE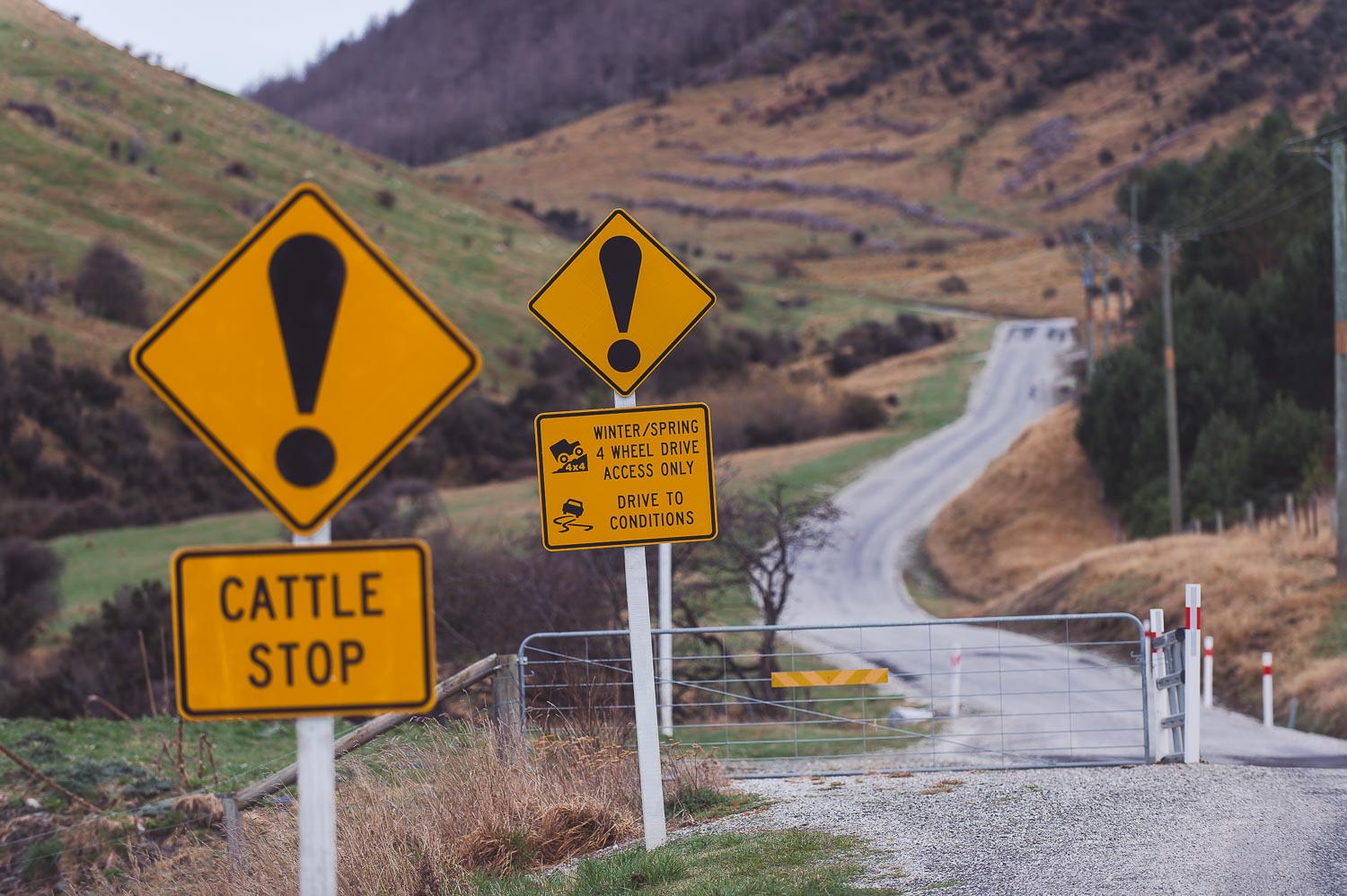 Moke Lake is a stunning lake surrounded by mountains that is about 20 – 30 minute's drive from Queenstown (some of it on unsealed farm roads). You drive right to the Moke Lake Campground and park there and from there can walk along the lake edge to get some stunning views of Moke Lake and the surrounding mountains.
Notes
Moke Lake can have bad sandflies in summer. Also, the campground and Moke Lake itself are pretty popular in summer and there may be a fair few people around. However, if you walk along the walking track that circumnavigates Moke Lake you can usually easily find a spot with stunning views and nobody around.
QUEENSTOWN GARDENS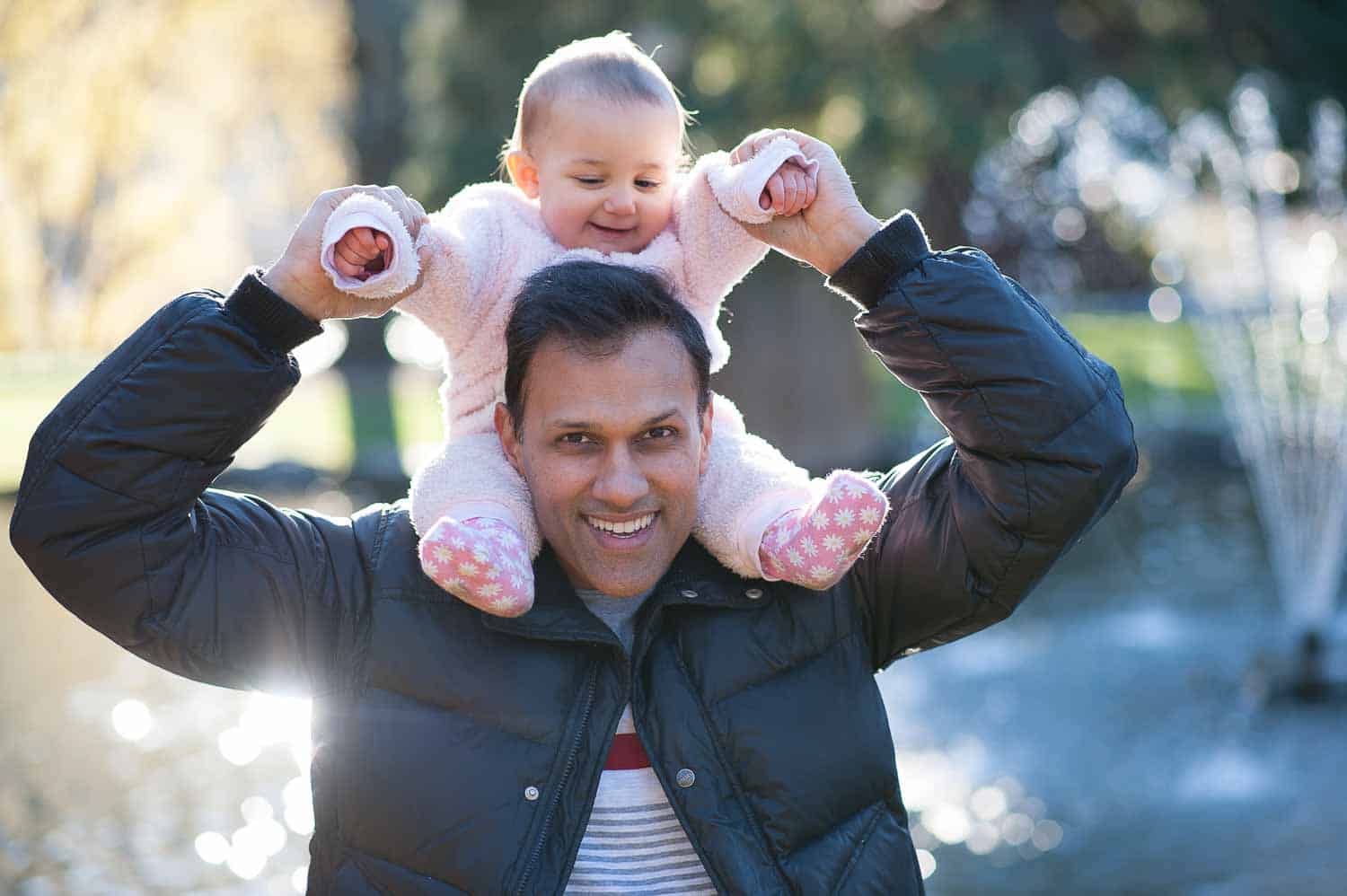 The Queenstown Gardens are stunning and are only 5 minutes walk from downtown Queenstown. There are quite a few options for photos here but the main ones are the rose gardens (in summer), the trees/park, and photos by the pond (especially on the foot bridge over the pond). Feeding the ducks here is always popular with the kids too! The Queenstown Gardens are very popular on a sunny summers day and there will be people having picnics, playing frisbee golf, walking their dog etc. But usually it's pretty easy to get shots with a clean background.
REMARKABLES LOOKOUT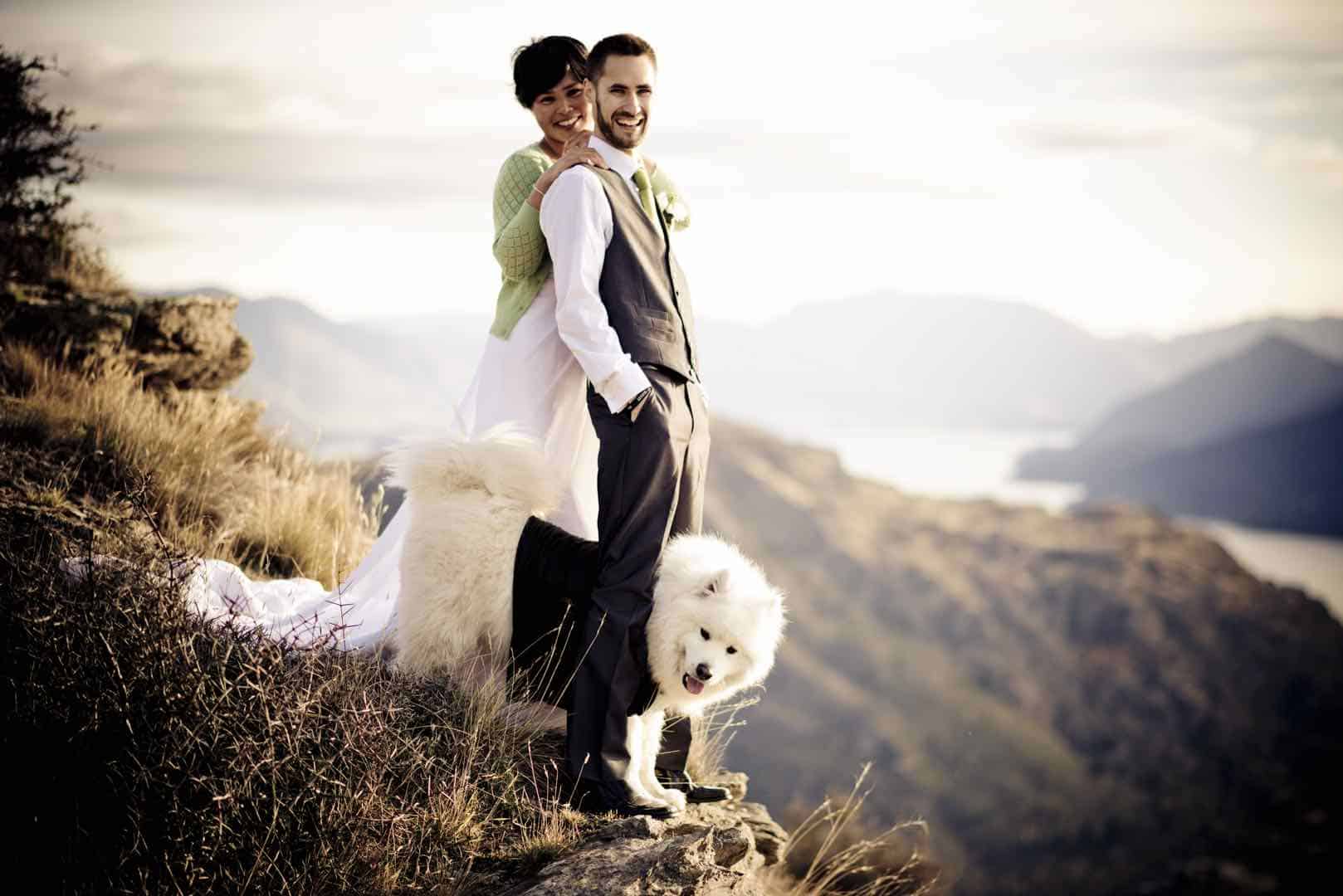 This is a lookout about halfway up the Remarkables Ski Area Road with a stunning 270 degree panoramic view of Queenstown and the surrounding mountains and lakes. Because this lookout is high up and westward facing it keeps the sun later than any other non-heli location in Queenstown and on a fine day gets epic sunset light. The challenge with this location is mainly that it is very high and exposed and so is often too windy to shoot (at least unless you like crazy hair!). It is also very steep in places so not ideal for young kids or the elderly. Finally, it features spiky Matagauri and Wild Spaniard bushes so you have to be careful about getting too close to the foliage!
In winter there can be snow on the road to this location or on the location itself, however both are unusual/unlikely.
Right, that's all for now. I will add more locations and more/newer location photos as and when I have the time.