The Family Photos on your Wedding Day can totally make or break your Wedding Photos. Now, I know this sounds like I'm being a drama queen but bare with me and in this blog post I will explain;
How and why the Family Photos can make or break your Wedding Photos, and
How to Totally Nail the Family Photos on your Wedding Day.
Ok, let's start with the how…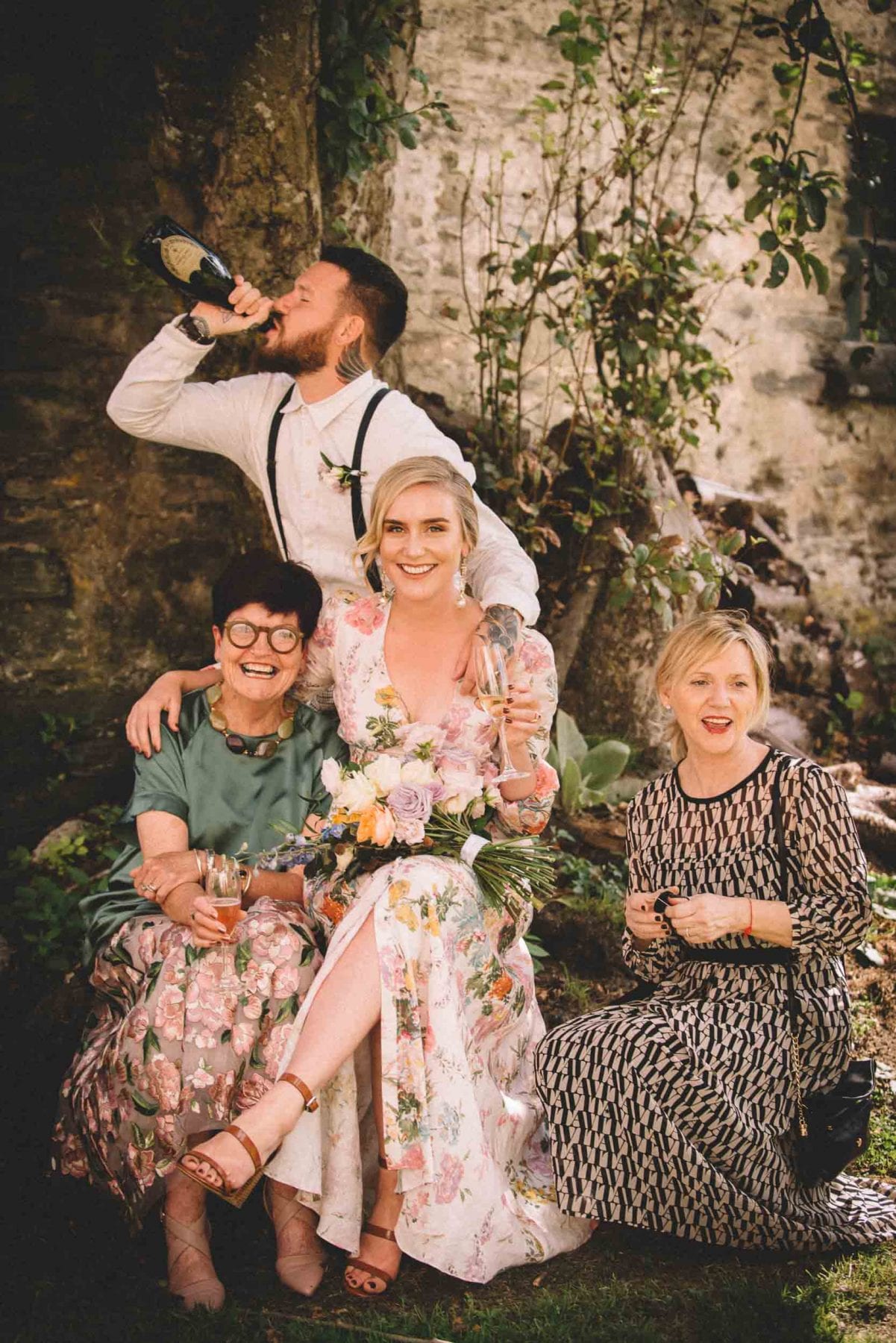 How Your Family Photos Can Make Or Break Your Wedding Photos
Let's set the scene…
Say you have booked your Wedding Photographer for all day coverage. So, they will probably start shooting from the Getting Ready several hours before the Ceremony and finish their day just after the First Dance at the Wedding Reception.
Ruthless Self Promotion Alert: Yes I am a Queenstown Wedding Photographer and yes I would love to have a chat with you about shooting your wedding for One Miiiiiiiiiiiiillion Dollars!! (Did I say that last bit aloud?). You can get hold of me here.
So, by the time the Wedding Ceremony ends and you are pronounced Man & Wife, your Photographer has already been shooting for at least 2 hours but predominantly/only with the girls while they are getting ready. This means that, when your Wedding Photographer starts shooting the Group and Family Photos after the Ceremony…
The Group & Family Photos will likely be the first direct contact that the groom and groomsmen have had with your Wedding Photographer, and
The Group & Family Photos are probably the first "posed" photos of the day for both your Wedding Party and the photographer.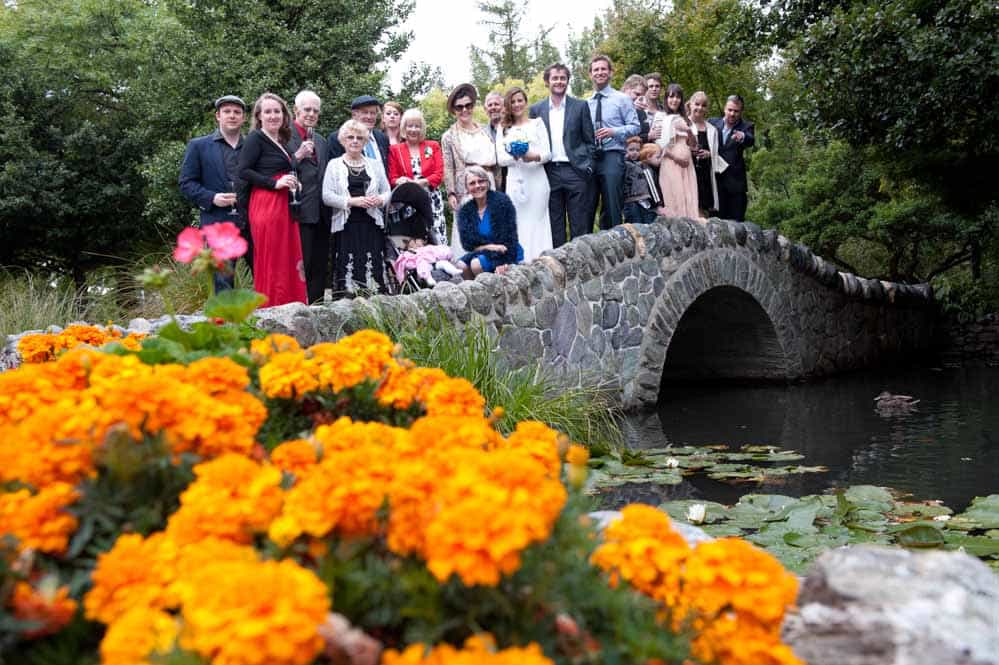 This is going to suck…
So there you are, you've just married the love of your life and are surrounded by 100 of your closest friends and family. Your Wedding Photographer starts rounding everybody up for a group photo of the entire Wedding Party. (Most Wedding Photographers will probably do this shot – if you want it – first before the Family Photos while everybody is gathered close together in one place after the ceremony. Otherwise it can take foreeeeeeeeeever). This Group Photo is probably the first time your Photographer has spoken or interacted with your Wedding Guests and may well be the first posed photo they do that day. So you and your Wedding Guests are likely going to base your expectations on how the rest of the posed photos (Family and Bridal Party Photos) are going to go on these first few Group and Family Photos.
So if your Photographer takes forever with the first few Group or Family Photos (maybe they're twiddling dials on their camera or moving you around a lot to get the "right angle") or if they are grumpy or stressed, you and your guests will likely be silently thinking "This is going to be a looooooong day…".
Phewff! This actually might be fun!
But the other side of the coin is…
If your Wedding Photographer is relaxed and makes the first few Group & Family Photos fast and fun, maybe does something unexpected (like climb a tree for the Wedding Party Photo) you and your guests might be thinking "Phew! This guy/girl really knows what he/she is doing – this is going to be easier than I thought!". This really helps to get everyone to relax and sets the tone (in a very good way) for the rest of the photos and the rest of the day.
Obviously, this second scenario is the one that everybody is hoping for. But what can you do to increase your chances of Totally Nailing The Family Photos On Your Wedding Day?
How To Totally Nail The Family Photos On Your Wedding Day
Ok, so before we get started, the first 2 items on the list below directly relate to choosing your Wedding Photographer. And I know what you're thinking! You're thinking I'm trying to sneakily brainwash you into booking me. But no. Choosing your Wedding Photographer is a highly personal thing and I am definitely not the right Photographer for every couple (just the smart, good looking ones). And the last thing I want to do is trick a couple who I'm not right for – and isn't right for me – into booking me. That way lies disaster (and bad Google Reviews).
But anyhoo, back to the list (god I love bullet points!)…
How To Totally Nail The Family Photos On Your Wedding Day in 16 Easy-Peezy Steps
Pick a Wedding Photographer who is not only relaxed, fun and friendly but also experienced and confident enough to be relaxed, fun and friendly on your Wedding Day – even if things aren't going according to plan (running late, bad weather etc). It also helps a surprising amount if you actually like them as people.
Book an experienced Wedding Photographer who is good at shooting posed photos in a way that is fast and fun as well as beautiful.
Make a list of all the Family & Group photos you and your fiance want captured on the day.
Get input from any significant players (think mums, SIPIYLs – Super Important People In Your Life – and anybody contributing financially to the wedding) on any important Group or Family Photo combinations you may have missed.
If you have a lot of photos on your list, break them down into "must haves" and "nice to haves",
Send the first draft list of Group & Family Photos to your Wedding Photographer along with any run sheet/timeline info you have. Ask your Photographer how many minutes they need per Group/Family combo and whether they think there is enough time in the Timeline/runsheet to capture all the photos on your list.
Check if your Wedding Photographer is going to do a photo of the entire Wedding Party and if so, whether they will bring a ladder with them.
If there doesn't appear to be enough time for all the Group & Family Photos on your list consider doing some/all of the "nice to haves" during any lulls in the reception (or during the Getting Ready) or ditch them/some of them altogether.
Again, if you're tight for time don't double up every photo by doing "Bride & Groom + Bride's family" AND "Bride + Bride's family". As much as possible do all your photos with Bride + Groom with no Bride Only or Groom Only versions and it will save you a bunch of time.
Do the Group & Family Photos as close to the spot where your guests are actually standing as possible. If you have a photo of the Bride & Groom and both sides' extended families with a total of 25 people, moving them even 100 metres will add significant time to your Family Photos.
Have a list of all the Group & Family Photos you want (broken down into "must haves" and "nice to haves" if necessary) and make sure your Photographer has the list and the Best Man or MC brings two printed copies with them on the day as well as a pen to mark them off as you go.
This one's kind of down to your Wedding Photographer, but having the subjects positioned for good light (eg backlit with the sun more or less behind you or in the shade) will mean people that are well lit, look good and aren't blinking or squinting into the sun. If your Photographer needs to use lighting on every Family Photo it will slow things down a fair bit and largely this comes down to how smart they are with angles and natural light.
If you have any Super Oldies or Super Youngies (think great granddads, Page Boys and Flower Girls) do them first before they fall asleep/leave/get tired and cranky.
Organise your list of Family Photos in the best order for maximum speed and efficiency.
Pro Tip: When organising Family Photo lists for weddings I'm shooting, I find it super helpful to make a note of when each player is done with Family Photos and can be "off duty" (aka hit the champagne & canapes). Eg "Bride & Groom + Groom's family – Groom's siblings off duty after this shot".
Have your Best Man or MC on duty to help your Photographer identify and wrangle people for the Family Photos on the day. If you have a very large or noisy Wedding Party or you have music playing during this part of the day you may need access to a mike (and the ability to turn the music/band down or off for a bit) to streamline things.
Last but not least, if you want to cheat, you can download my Automagically Self-Customising Family Photos List for your Wedding Day here.
Right, I think that about covers everything for now. I'm sure I will think of other things to add to this Post at a later date so stay tuned for updates. I hope you found this blog post helpful.