GET YOUR EPIC QUEENSTOWN PROPOSAL LOCATIONS GUIDE HERE!
Planning to Pop The Big Question to the love of your life while you're in Queenstown? Overwhelmed by all the Queenstown Proposal Locations options? Then this blog post is for you…
Apart from shooting surprise proposals and weddings for 17 years, I've also been a Location Scout in the Film Industry for just as long and know pretty much every location and what works best at what time of day (weather, sunlight etc.)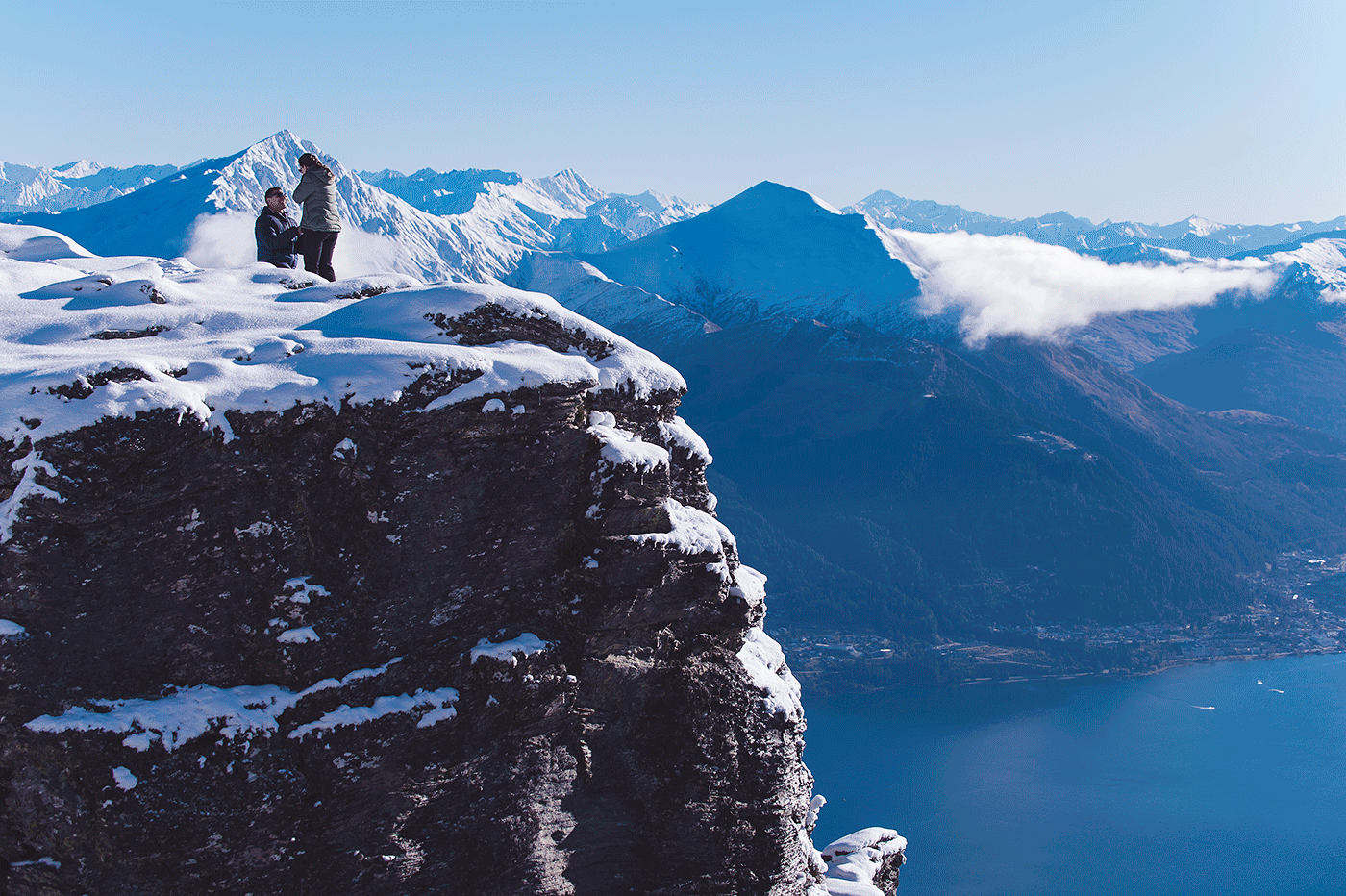 BEFORE YOU GO GETTING ALL EXCITED…
SOME THINGS TO THINK ABOUT
So you've got "The Ring". And you've got somebody to propose to. And you've got a trip planned to Queenstown. Well done you, that's a pretty good start! The next question is where to Pop The Big Question? Now, obviously Queenstown is full-to-the-brim with stunning spots and spectacular scenery. But before we start talking about locations, there are a few things you might want to think about first. (If you're impatient like me, feel free to skip this and scroll to the Locations section at the bottom of this post).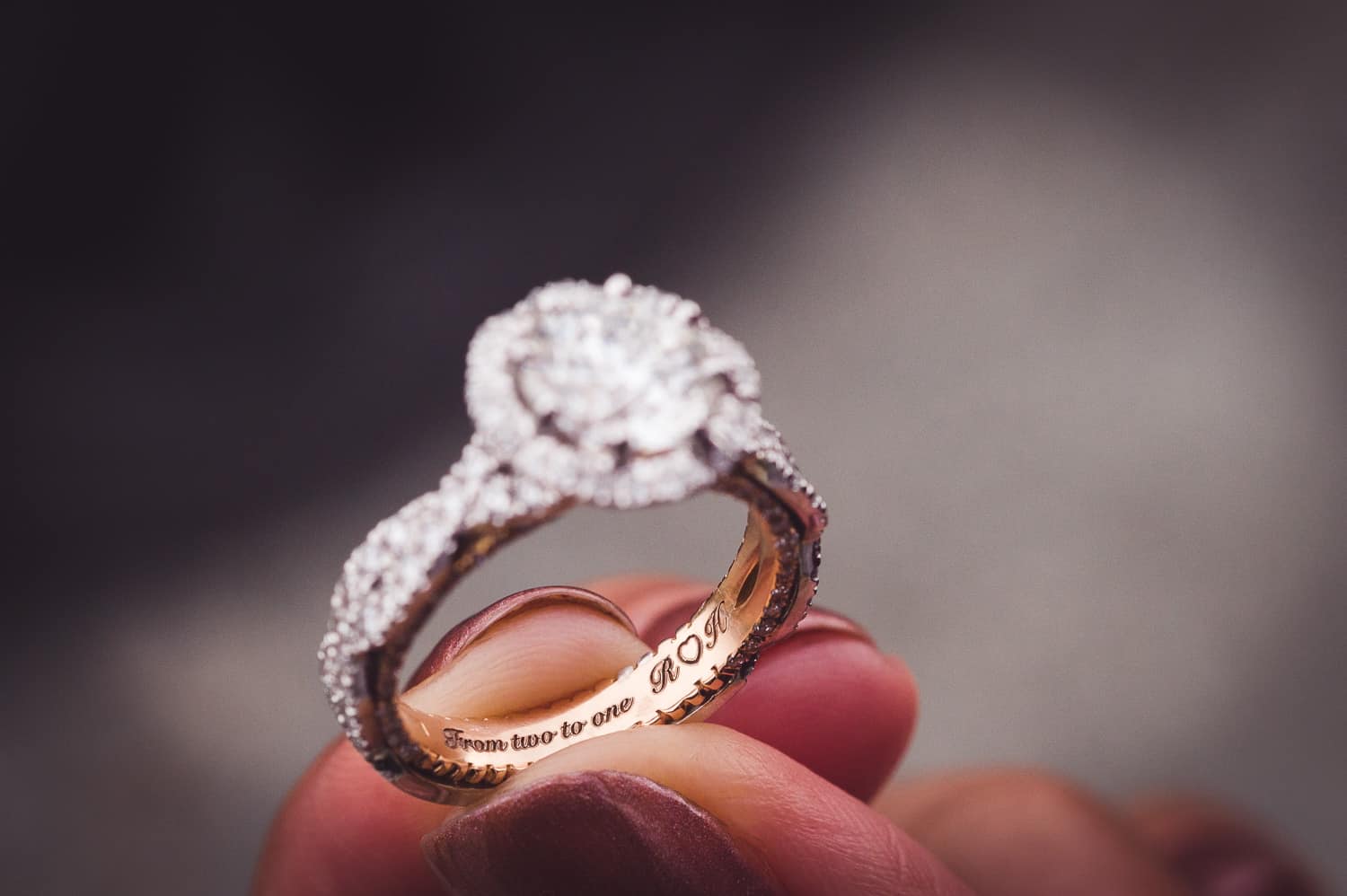 [cp_modal display="inline" id="cp_id_413d5″][/cp_modal]
CLOSED FOR A PRIVATE FUNCTION…
THINKING OF SOMEWHERE PUBLIC?
Found yourself a stunning Queenstown Proposal Location with amazing views and easy access? If so, sorry to burst your balloon but chances are you aren't the only one to have ever stumbled upon it! The best-known spots in Queenstown with amazing views and easy access do get a lot of visitors. So, when choosing a proposal location here is my 2 cents worth;
Choose a private out of the way spot, or
Embrace the very public nature of the location. (Examples of very public locations include restaurants, any popular scenic viewing spot, ski-fields, you get the idea…)
On the other hand, if you want your proposal to be totally private with not a prying eye in sight, then either;
Consider opting for a more remote, harder to access or little known location, or
just walk a bit further from the car if you're at a popular scenic spot. Most of us humans are lazy. So even if your chosen Proposal Location is crowded, if you just walk a bit further/climb a bit higher you will often be completely out of sight and of the hordes.
WHATEVER THE WEATHER
BE PREPARED
If your chosen Queenstown Proposal Location is reasonably high up on a mountain, keep in mind the wind and weather will often be much stronger up there than it is in the valley. If it's 20 kmph southerlies at the valley floor then things could be quite unpleasant once you get up to 1000 metres. Make sure you and your significant other at least have warm layers you can put on if it gets cold. And sensible/flat shoes are always a good idea when scrambling around the hills.
Also, keep in mind that if you are planning to propose on a Queenstown mountain somewhere in the middle of winter snow on the roads could be a factor and you may need to put chains on your vehicle (especially likely if it's a 2 wheel drive). Now most rental car companies supply their vehicles with chains and will show you how to fit them. However, there is a big difference between being shown how to put chains on once when it's warm and dry and actually having to put them on yourself when it's snowing and your hands are freezing!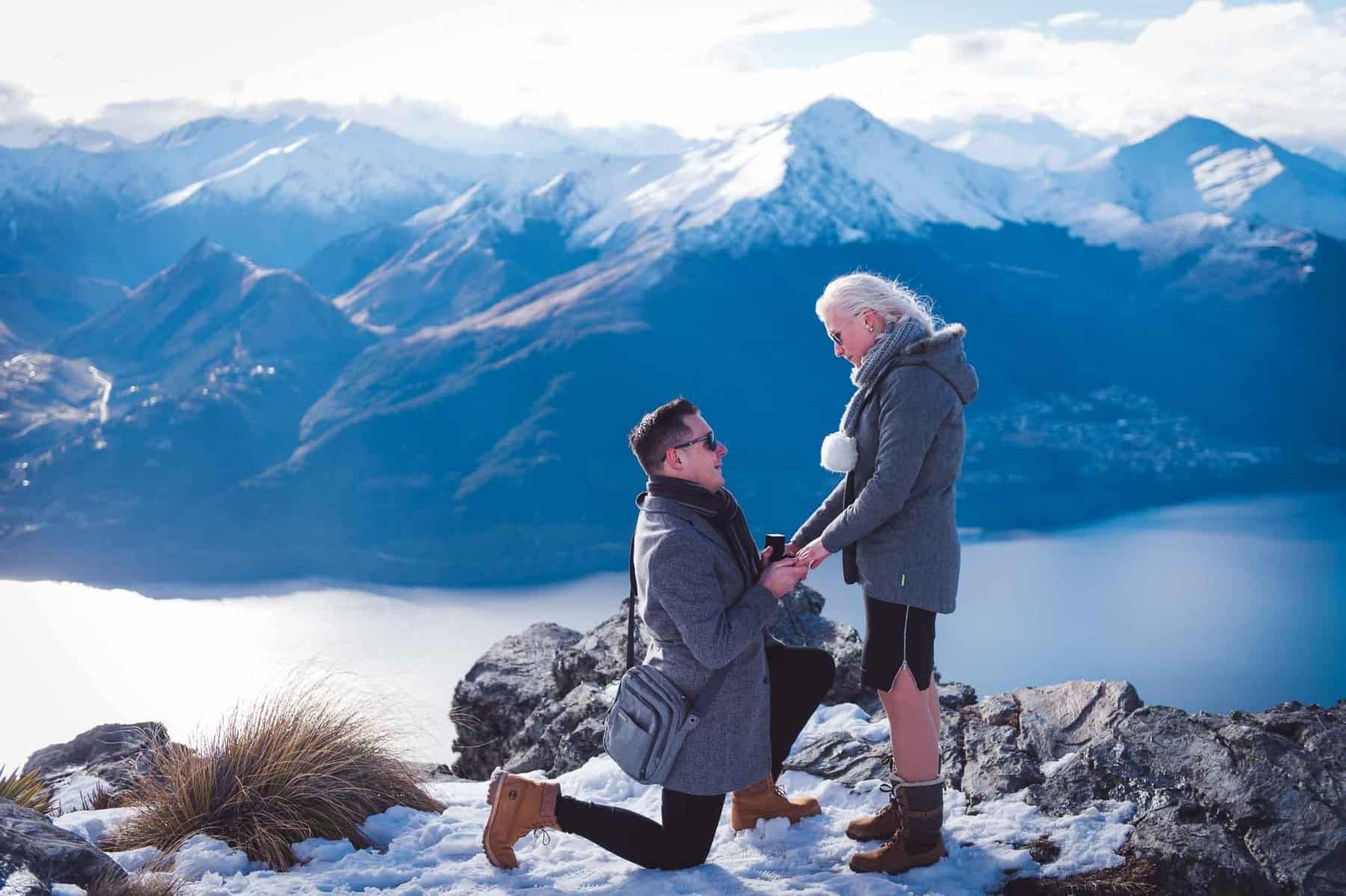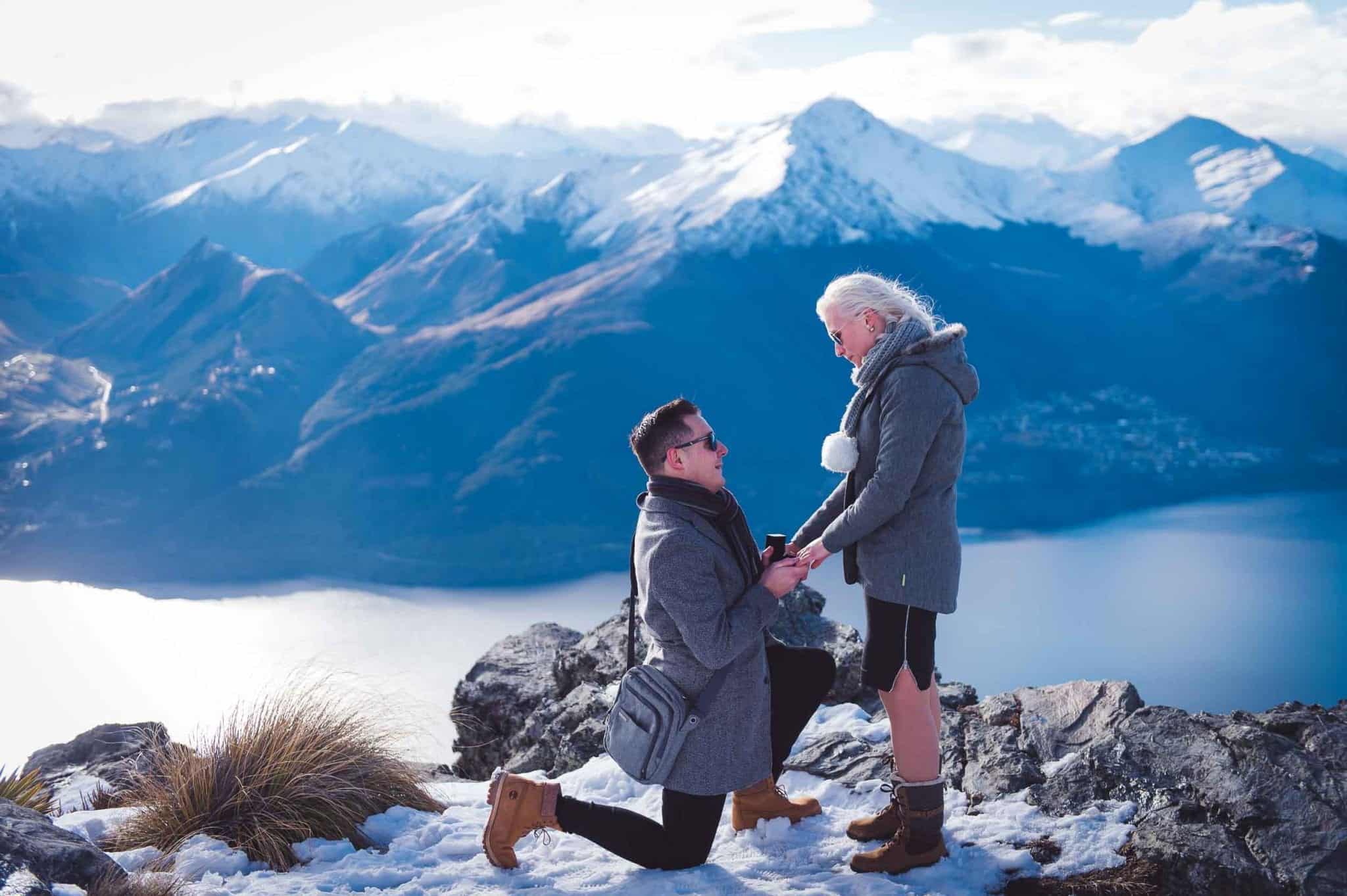 DRESS FOR SUCCESS
As you are clearly romantic enough to plan a surprise proposal, it's a safe bet that even if you're not a snappy dresser you are going to make an effort to be presentable when you drop to one knee and ask the love of your life if she/he will marry you. And likewise, you will probably want to plan things in a way that your S.O. is also dressed nicely for the occasion (at least for their own benefit), without them knowing exactly what she/he is dressed nicely for.
[cp_modal display="inline" id="cp_id_413d5″][/cp_modal]
I COULD TELL YOU BUT THEN I'D HAVE TO KILL YOU…
KEEPING A SECRET
Now I'm going to go out on a limb here and say that you're planning a surprise proposal. (Is there any other kind? Do extremely polite people sometimes ask if it's ok if they propose first before they actually pop the question?). Ok, so assuming that it's all a big surprise, it's important to think about how you can integrate the surprise proposal (and the location you're planning to pop the question at) into your Queenstown trip in a way that isn't going to make your S.O. suspicious and potentially completely give the game away.
Here's one sample scenario: you are coming to Queenstown in summer and you are both crazy about great wine and food. So you book yourselves in for lunch & wine at Akarua Wines & Kitchen by Artisan out near Arrowtown. You don't tell your S.O. where you're going, only that it's a surprise and she has to dress up nice because it's a "little bit fancy". On the way to Akarua you pop into the Lake Hayes Reserve to take a quick photo, you get her near the lake edge for a selfie and then drop down on one knee and go for gold…Obviously there are a million different potential scenarios, hopefully this blog post gets you thinking and helps you come up with some ideas that feel right for the two of you.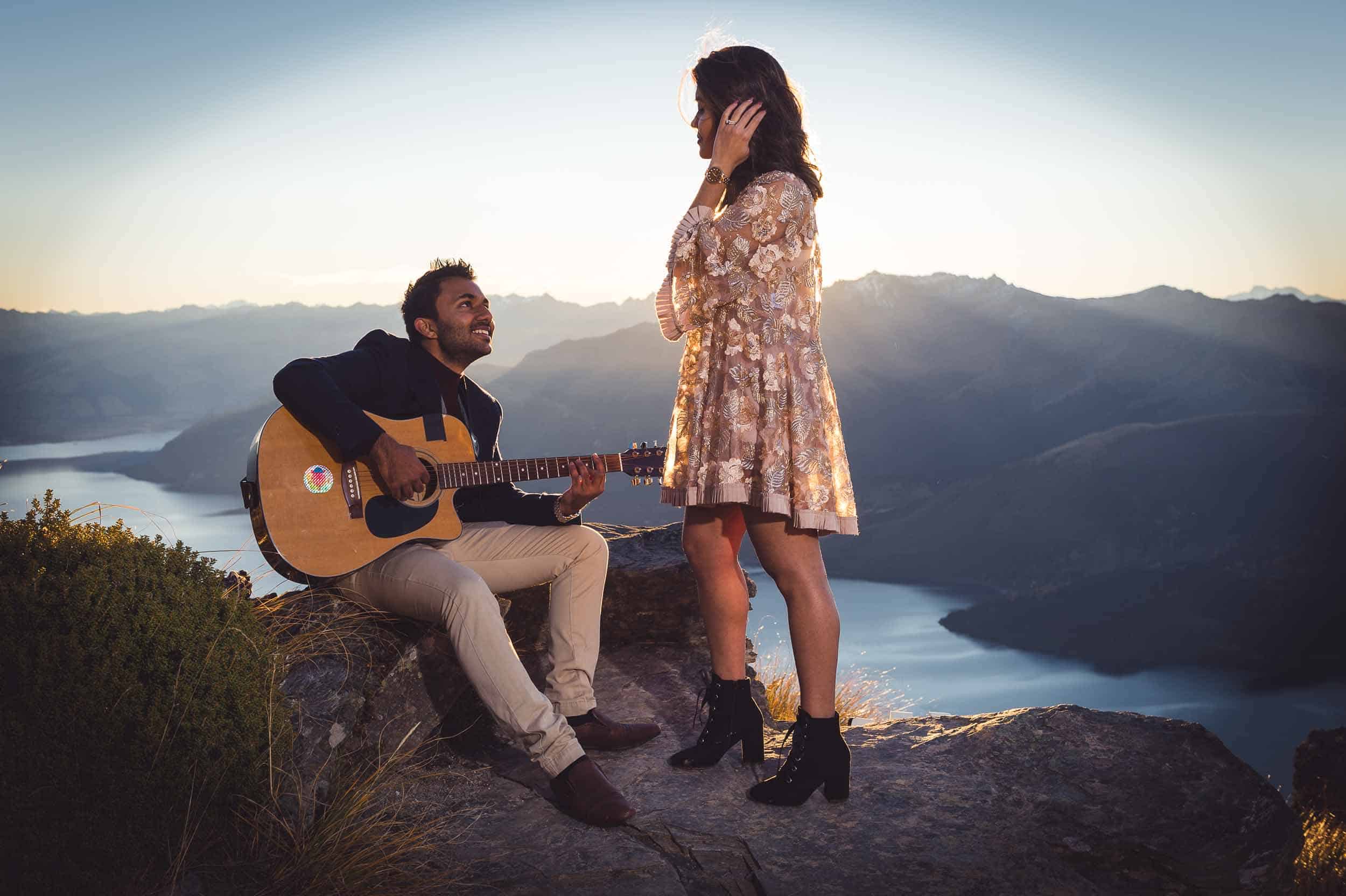 MY "FAVOURITE-EST" TOP 3 QUEENSTOWN SURPRISE PROPOSAL LOCATIONS
Let's keep it simple but add a bit of variety and focus on 3 completely different types of locations. That way hopefully there is a little something for everyone here…
"THE LEDGE" AKA CECIL PEAK
FOR THE HELI PROPOSAL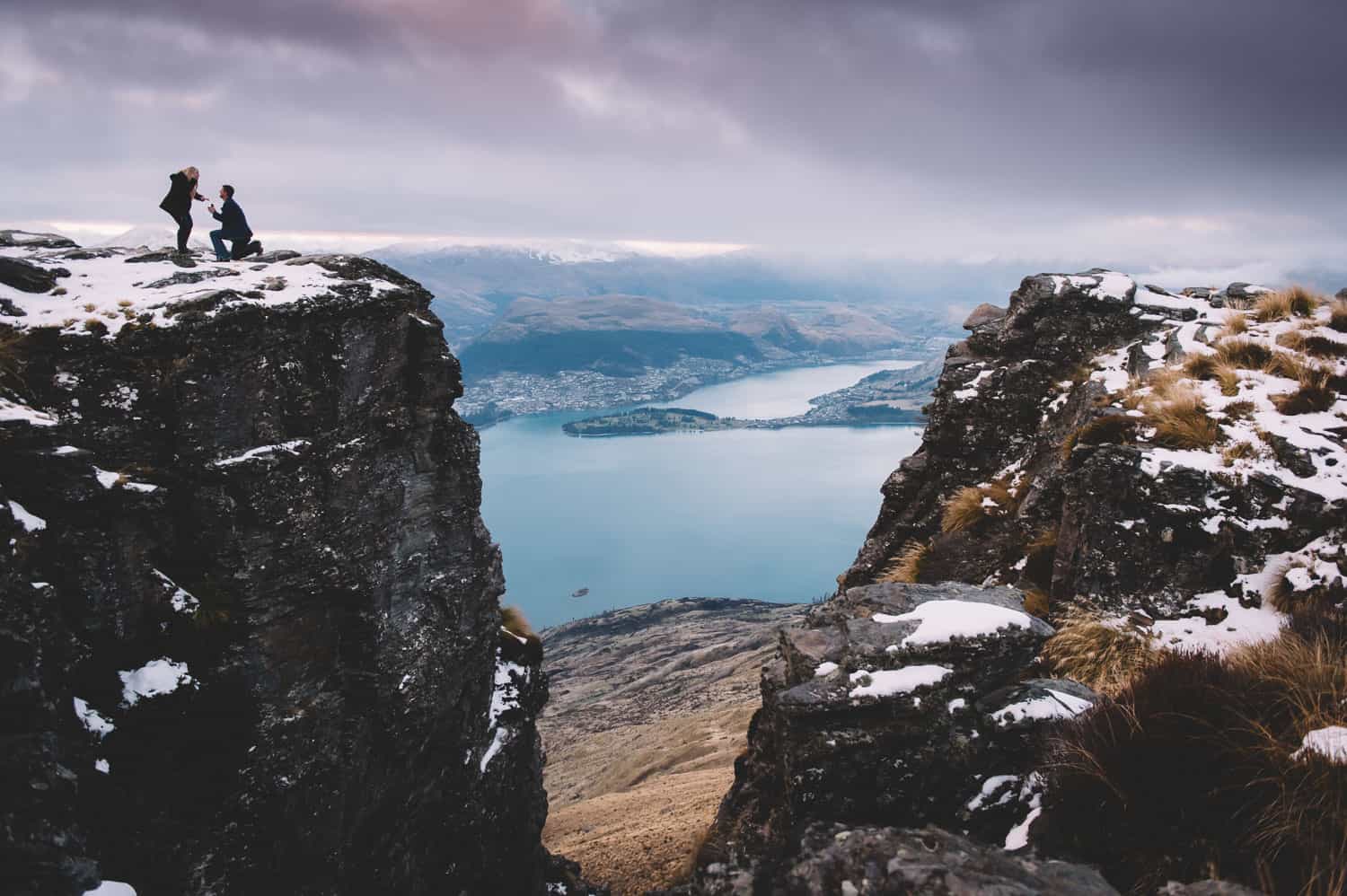 You're going to need a helicopter for this one but trust me – it's worth it! The Ledge is a dramatic cliff near the top of Cecil Peak with stunning views over Queenstown, Lake Wakatipu and the surrounding mountains. If you want to up the romance, consider a sunset flight. This location is guaranteed to take your soon-to-be-fiance's breath away!
SKIPPER'S LOOKOUT/SKIPPER'S SADDLE AREA
FOR THE NATURE LOVERS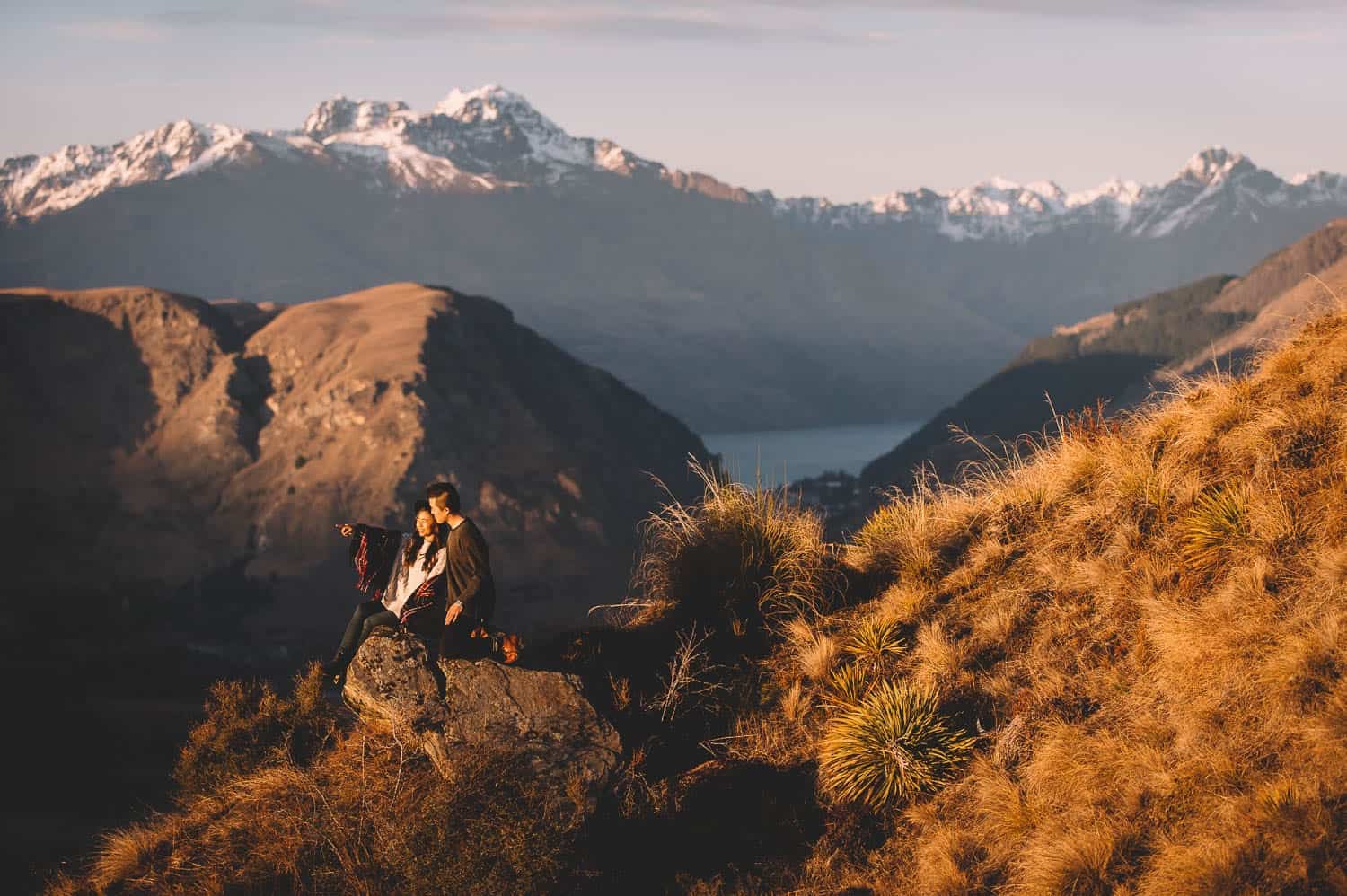 Skipper's Lookout is halfway up the Coronet Peak Ski Area and an easy drive from Queenstown. (There is a small chance you may need to fit chains in winter if there is snow on the road. This is more likely in the early morning). This spot is very popular with the local 4wd tour operators as well as your garden variety tourists (and photographers!). But it it's crowded you can easily just walk a bit further from your car. This should guarantee there is no-one near you and no photo bombers between you and "all that nature".
EARNSLAW BURN
CHASING WATERFALLS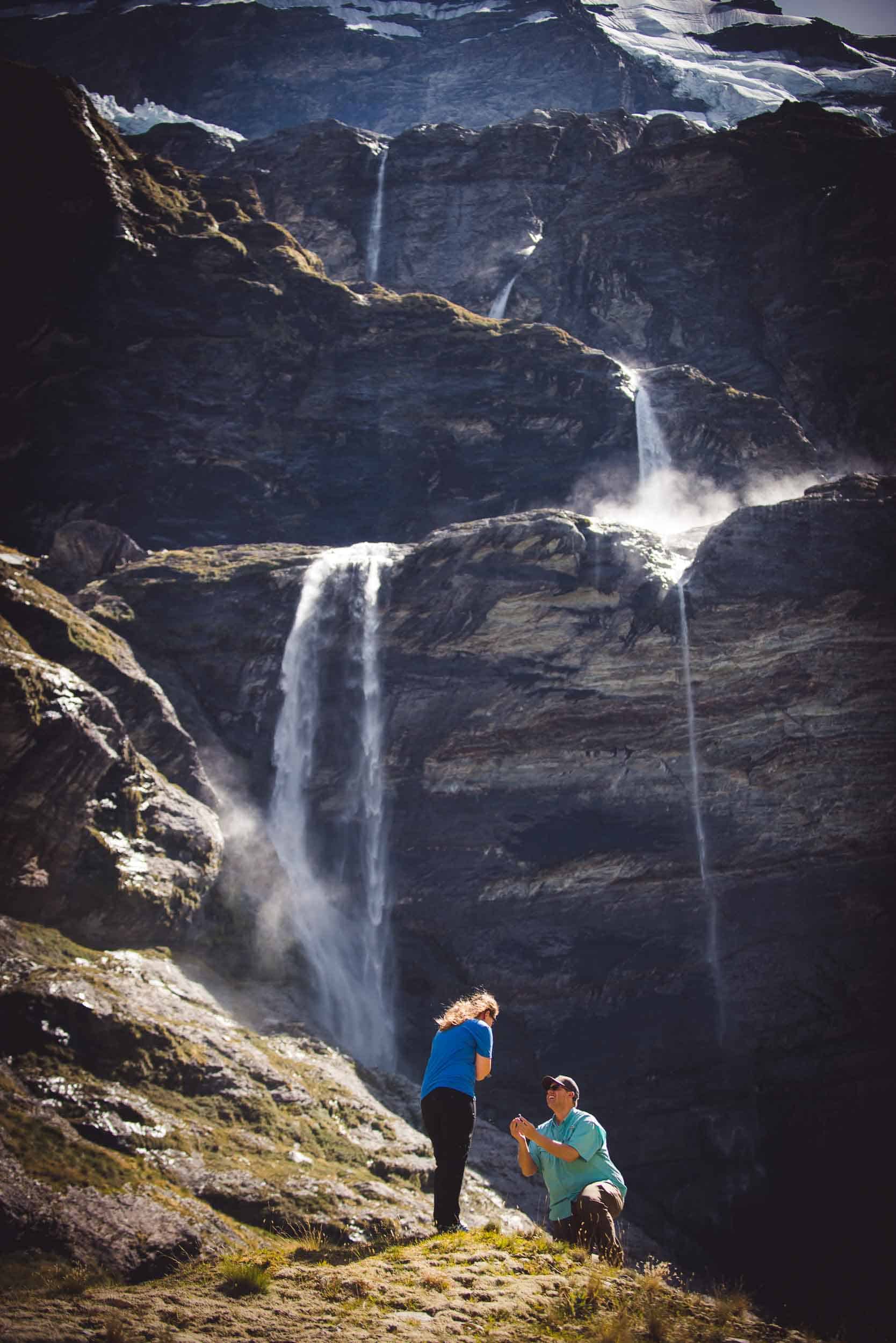 Ok so I wasn't going to include Earnslaw Burn because it's another helicopter access only location. (Unless you are prepared to drive an hour and a half and then hike 4 plus hours in). But it's stunning and with all it's waterfalls it's a unique location here in Queenstown. If you're keen on Earnslaw Burn I believe Heliworks has exclusive rights to land at this location.
For more info on these and other top Queenstown Proposal Locations…
DOWNLOAD MY COMPLETE GUIDE TO 7 OF THE BEST QUEENSTOWN'S TOP PROPOSAL LOCATIONS HERE
Plug in your details below and I will send you the free Queenstown Proposal Locations Guide right away. (No email from patrick@fallon.co.nz in your inbox? Check your junk mail folder).
[cp_modal display="inline" id="cp_id_413d5″][/cp_modal]