HOW YOUR QUEENSTOWN WEDDING FORMALS CAN MAKE OR BREAK YOUR WEDDING DAY.
As a Queenstown Wedding Photographer with 16 years experience, I firmly believe that your Queenstown Wedding Formals can literally make or break your Wedding Day. In this Blog Post, I'm going to explain exactly what the Wedding Formals are and how they can make or break your Wedding Day. I'm also going to tell you exactly what you and/or your Wedding Photographer can do to make your Queenstown Wedding Formals and your Wedding Day awesome. Right, let's jump right in…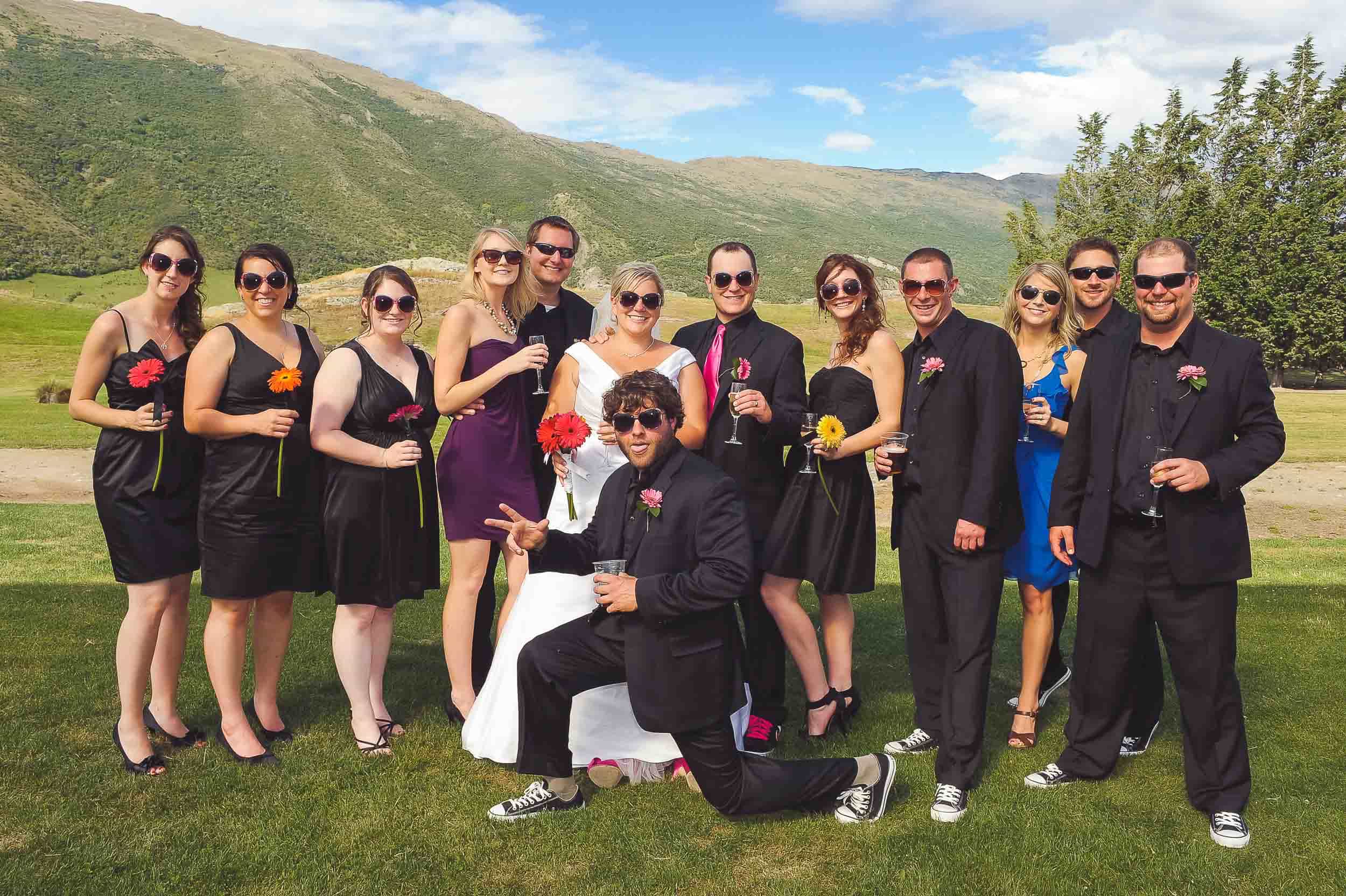 WHAT ARE WEDDING FORMALS?
Let's get this out of the way first – I hate the expression Wedding Formals. I normally refer to them as the Group and Family Photos. The term "Wedding Formals" makes them sound even more School Photo-y than they already are! And besides, I'm just not a very formal person.
But Wedding Formals is what the rest of the world calls them so we'll stick with that for the sake of keeping it simple. Wedding Formals are the group photos of your family, friends and other wedding guests that happen (normally) between the Ceremony and the Reception. Right, now that we know what they are, let's focus on making them awesome and not making them suck!
WHY CAN YOUR QUEENSTOWN WEDDING FORMALS LITERALLY MAKE OR BREAK YOUR WEDDING DAY?
TIME IS PRECIOUS ON YOUR WEDDING DAY
There is only so much time between the Ceremony and the Reception. So if your Queenstown Wedding Formals take too long it means less time for Bridal Party Photos, Location Photos and all the other Photos you might have on your wish list. Remember, there are 2 main reasons the Wedding Formals might take too long – (a) because the Photographer is inefficient, or (b) because there are simply too many Wedding Formals on your shot list.
Now, in my opinion even if it's (b), it's still the Photographer's fault. It is your Wedding Photographer's responsibility to get a list of shots you want for the Wedding Formals and a . Wedding Timeline from you before the Wedding Day. It is also their responsibility to let you know if you have too many shots in your list of Wedding Formals and it's going to take too long.
As an example, I tell couples to allow 3 minutes per Wedding Formal Combo plus usually around 15 minutes for the Group Photo of the entire Wedding Party. So, if I need to shoot a Group Photo of the entire Wedding Party and say 12 Wedding Formals I would allow 51 minutes for it. So as you can see, time quickly adds up when you have a lot of Wedding Formals on your list.
PHOTO BURNOUT – DON'T DO IT!
If your Queenstown Wedding Formals drag on for too long, you, your new Wife/Husband & your Bridal Party will likely be suffering from Photo Burnout before you even take your first Bridal Party or Bride & Groom Photo! This is especially true if either your or your Bride/Groom/Bridesmaids/Groomsmen hate having their photo taken. (Your Wedding Guests will likely be suffering Photo Burnout at this point too but they won't have to do any more posed photos all day so they will likely get over it).
YOUR QUEENSTOWN WEDDING FORMALS SET THE TONE FOR THE REST OF YOUR PHOTOS/WEDDING DAY
Your Queenstown Wedding Formals will most likely be the first posed photos your Photographer does on your Wedding Day. Up until this point, they will likely have been shooting everything candidly. The Wedding Formals are the first time you will literally have to stand and smile in front of their camera. At this point, you will discover how good they are at posing people and working to a shot list.
WHEN QUEENSTOWN WEDDING FORMALS GO BAD…
Done badly, your Queenstown Wedding Formals can stress everyone out and literally break your Wedding Day. But done right, they set the tone in a really positive way for the rest of your Wedding Photos/Wedding Day. So, if you and your guests are pleasantly surprised by how quickly the Photographer shoots the Wedding Formals and how relaxed & friendly he/she is, it sets everybody's mind at ease. At this point, everybody is likely thinking "We're in safe hands". Remember, you generally won't get to see a single photo your Photographer has taken until after the Wedding Day. What this means is, you and your guests have to rely on the Photographer's demeanour and communication skills to judge how well the photos are going.
"CANDID" ONLY GETS YOU SO FAR WITH WEDDING FORMALS
The other thing to remember is that, no matter how candidly your Wedding Photographer likes to shoot it is hard to avoid the "School Photo" vibe with the Wedding Formals. This is because they are so posed and there are so many people in them. It is possible to make Wedding Formals fun. However, your Photographer needs to have pretty good people skills, planning and communication to pull this off.
Sometimes couples insist on "candid" Wedding Formals. Now a true "candid" photo means the subject is unaware their photo is being taken. In my opinion, it's virtually impossible to shoot a Wedding Formal containing more than 2 people in a true candid fashion. But it IS possible to make posed photos more fun and natural looking. This all comes down to your Wedding Photographer's personality, people skills and communication.
THE MORE GUESTS IN YOUR WEDDING PARTY = THE MORE PEOPLE IN THE WEDDING FORMALS = THE MORE TIME THE WEDDING FORMALS WILL TAKE
Generally speaking, the more guests you have in your Wedding Party the longer the Wedding Formals will take. This is because there will likely be more combinations and more people in the combinations. The most time consuming part of Wedding Formals for me is "wrangling the rellies". Ie literally getting the attention of all the people you need in the photo and physically bringing them to the photo location. Not to mention getting them to stand in such a way that you can actually see everybody's face. (This is where a ladder becomes essential for the bigger groups). Eg if your first Wedding Formal is a group photo of the entire Wedding Party and you have 100 guests, that one photo will likely take 15 minutes at least. The photos themselves will take about 30 seconds but wrangling those 120 people into position will take much longer.
WHAT CAN YOU DO TO ENSURE THAT YOUR WEDDING FORMALS MAKE YOUR DAY RATHER THAN BREAK IT?
GIVE YOUR PHOTOGRAPHER A LIST OF YOUR WEDDING FORMALS & TIMELINE BEFORE THE WEDDING DAY
Get a list of the Queenstown Wedding Formals you want taken to your Wedding Photographer before the Wedding Day. Also make sure you get their input on how long it will take to capture all of them. Will this estimate actually work with your Wedding Timeline? (Make sure that you have also shared your Wedding Timeline with your Wedding Photographer at this point. That way, they know how much time they have all up for photos between Ceremony and Reception).
OLDIES & YOUNGIES FIRST, DO YOUR WEDDING FORMALS IN THE RIGHT ORDER
If you have any oldies or youngies at your Wedding who might fade (or go home) early, consider doing all the Wedding Formals including them first. Likewise for your Bridal Party Photos if you have a really young Flower Girl or Page Boy. Get those photos first before they get burned out or tired from all the excitement.
Other than that, put your Wedding Formals in an order that makes the most sense from an efficiency point of view. Try to keep any people in the photos there until the last photo of them is done. Don't send them away then bring them back for another photo later on. This is a waste of everybody's time and will make your Wedding Formals take longer.
ASSIGN THE BEST MAN OR SOMEBODY WHO KNOWS A LOT OF THE PEOPLE IN YOUR WEDDING FORMALS TO HELP YOUR PHOTOGRAPHER
Your Photographer may be perfectly content to "wrangle the rellies" themselves. But do ask them if it would make life easier for them if they had one or two people to help them with the relly wrangling. Often just having somebody who knows most of the players in the Wedding Formals can save a bunch of time. Also, giving your Photographer or somebody access to the PA system (and being able to fade out any music playing) can be a life saver at particularly large or noisy weddings.
MAKE SURE YOUR PHOTOGRAPHER BRINGS A LADDER
Don't just ask your Photographer to bring a ladder. Make sure that the ladder is somewhere close so they can actually get it easily without killing too much time. (Normally I leave my ladder hidden in some bushes close to the ceremony but out of sight. Usually I set it up after shooting 5 minutes or so of the congratulations after the Ceremony. If I have to walk away to grab my ladder I always let the Bride & Groom know so they don't suddenly call for me and freak out when I'm not there).
DO THE WEDDING FORMALS VERY CLOSE TO THE CEREMONY LOCATION/WHEREVER THE BULK OF YOUR GUESTS ARE
As a professional Wedding Photographer it is your job to take beautiful photos. So the fact that your Wedding Formals also have to be beautiful is a given. But it is super important that the Wedding Formals go quickly and smoothly. For that reason, don't get hung up on the location or the backdrop. Make them beautiful. But whatever you do, make sure they go quickly and easily and it's as painless for everybody as possible.
IF YOU HAVE TOO MANY PHOTOS IN YOUR WEDDING FORMALS, MAKE SOME "MUST GET" AND SOME "NICE TO HAVE"
If your Photographer says you can't fit all your Wedding Formals into your Wedding Timeline, believe them. The best solution at this point is to get rid of any Wedding Formals you don't really need. Then divide the rest into "must get" and "nice to have". Your Wedding Photographer will shoot all the "must get" Wedding Formals first. Then, he/she can tackle some of the "nice to have"s.
CONSIDER DOING YOUR "NICE TO HAVE" WEDDING FORMALS AT THE RECEPTION
Not enough time between Ceremony and Reception to get all your "must get" Wedding Formals? Then consider doing some at the Reception. Now this can be tricky because of all the other stuff going on at the Reception. There are speeches, meals, Cutting the Cake, First Dance etc to factor in. But if you have to, it can be done.
THE MORE PEOPLE IN THE PHOTO, THE MORE SHOTS YOUR PHOTOGRAPHER NEEDS TO TAKE OF THAT GROUP
Now this one is up to your Wedding Photographer. If your Photographer only takes one shot of a group of 20 people, there is a 0% chance that everybody has their eyes open and nobody looks stupid. The more people in each group photo the more shots I will take of it. And even then, I know I may need to swap heads or eyes of some subjects in Photoshop. With a group of 20 the chances of getting everybody looking awesome in one shot are pretty low. I will take say 5 or 6 photos and cheat it in Photoshop if i have to. This means that particular photo takes less time and guarantees good results.
DON'T HAVE A LIST OF WEDDING FORMALS YET? HERE, TAKE MINE.
If you're struggling, here's a list of the most commonly asked-for Queenstown Wedding Formals;
MOST COMMON FAMILY/GROUP PHOTOS
1 Partner A & Partner B with Partner A's parents
2 Partner A & Partner B with Partner A's immediate family (parents and siblings)
3 Partner A & Partner B with Partner A's grandparents
4 Partner A & Partner B with Partner A's parents and grand-parents
5 Partner A & Partner B with Partner A's extended family
6 Partner A & Partner B with Partner B's parents
7 Partner A & Partner B with Partner B's immediate family (parents and siblings)
8 Partner A & Partner B with Partner B's grandparents
9 Partner A & Partner B with Partner B's parents and grand-parents
10 Partner A & Partner B with Partner B's extended family
11 Partner A & Partner B with sons/daughters
12 Partner A & Partner B with Partner A's siblings
13 Partner A & Partner B with Partner B's siblings
OPTIONAL FAMILY/GROUP PHOTOS
14 Group photo of entire wedding party with all guests. (I put this one under optional even though it's normally a "must get". This is because it's one photo that takes quite a long time. So ditching this one photo if you have to will save you a lot of time).
15 Partner A & Partner B with Flower Girl(s) and Ring Bearer(s)/Page Boys
16 Partner A & Partner B with both sets of parents
17 Partner A & Partner B with both sets of grandparents
18 Partner A & Partner B with both sets of parents and grand-parents
19 Partner A & Partner B with both extended families
20 Partner A & Partner B with both immediate families
21 Partner A & Partner B with special friends and family
22 Any other important family/friends you definitely want photos of on the day.
Note: I've put the photos in the order you see here because generally speaking it's the most efficient time-wise.
I hope this Blog Post helps you pull off Awesome Queenstown Wedding Formals and a Relaxed, Natural & Fun Queenstown Wedding! If you did find this Blog Post helpful, you can sign up to receive regular blog posts at the bottom of our Home Page (or any other page).. You will also find a tonne of useful info about Queenstown Wedding Venues and Vendors as well as Wedding Photography over at the Queenstown Wedding Blog. (I am the author).
Patrick
P.S. If you found this Ultimate Queenstown Wedding Photography Guide helpful, you might also enjoy the following related Blog Post and Real Weddings helpful and inspirational;
The Ultimate Queenstown Wedding Photography Guide
7 Easy Steps To Finding Your Dream Queenstown Wedding Photographer
EPIC Queenstown Snowboard Wedding!! At Coronet Peak…on snowboards…in a snow storm!!
Nick & Nina's Unconventional Thurlby Domain Elopement
Louise + Tom's Breathtakingly Beautiful Queenstown Winter Wedding
Megan & Simon's Stunning & 110% fun Backyard Southland Wedding