LUKE & SARAH'S ST JOHNS CHURCH WEDDING ARROWTOWN
(With a Snap-On Tools & Dairy Milking Theme!)
THE WHY & THE WHEN
Luke & Sarah's St Johns Church Wedding Arrowtown was a pretty freakin' amazing mix of traditional and quirky. (With a theme they described as "Snap-On Tools & Dairy Milking", I knew right from the start that their wedding was going to be awesome and pretty damn unique!)  Luke & Sarah's wedding is a great example of how embracing tradition where it suits but "ditching it where it don't" can make your wedding feel more natural and fun, more "you".   As you will see, doing your wedding your way can also result in some pretty unique and kick-ass photos!!  And one thing's for sure – Luke & Sarah's wedding was totally unique and also a hell of a lot of fun for everybody involved!  Although I am obviously biased, I am stoked on their wedding photos –   100% kick-ass without a doubt!!
But anyhoo, I'm getting ahead of myself…let's wind back the clock to Saturday the 16th of June 2018 and relive the craziness for a minute or two…
SNAP-ON TOOLS & RED BAND GUMBOOTS
Scenery, Snow & Good Coffee!
Luke and Sarah are from Palmerston North, Luke's a mechanic and Sarah's a Dairy Farmer.  They decided to get married in Queenstown because of the "Scenery, snow & good coffee lol!".   Luke & Sarah decided to have a St Johns Church Wedding Arrowtown Wedding.  They chose St John's Presbyterian Church in Arrowtown for their Wedding Ceremony because as christians it was important to them to have a church service.  As Sarah and Luke put it, "St. John's was a cute little intimate church and suited us".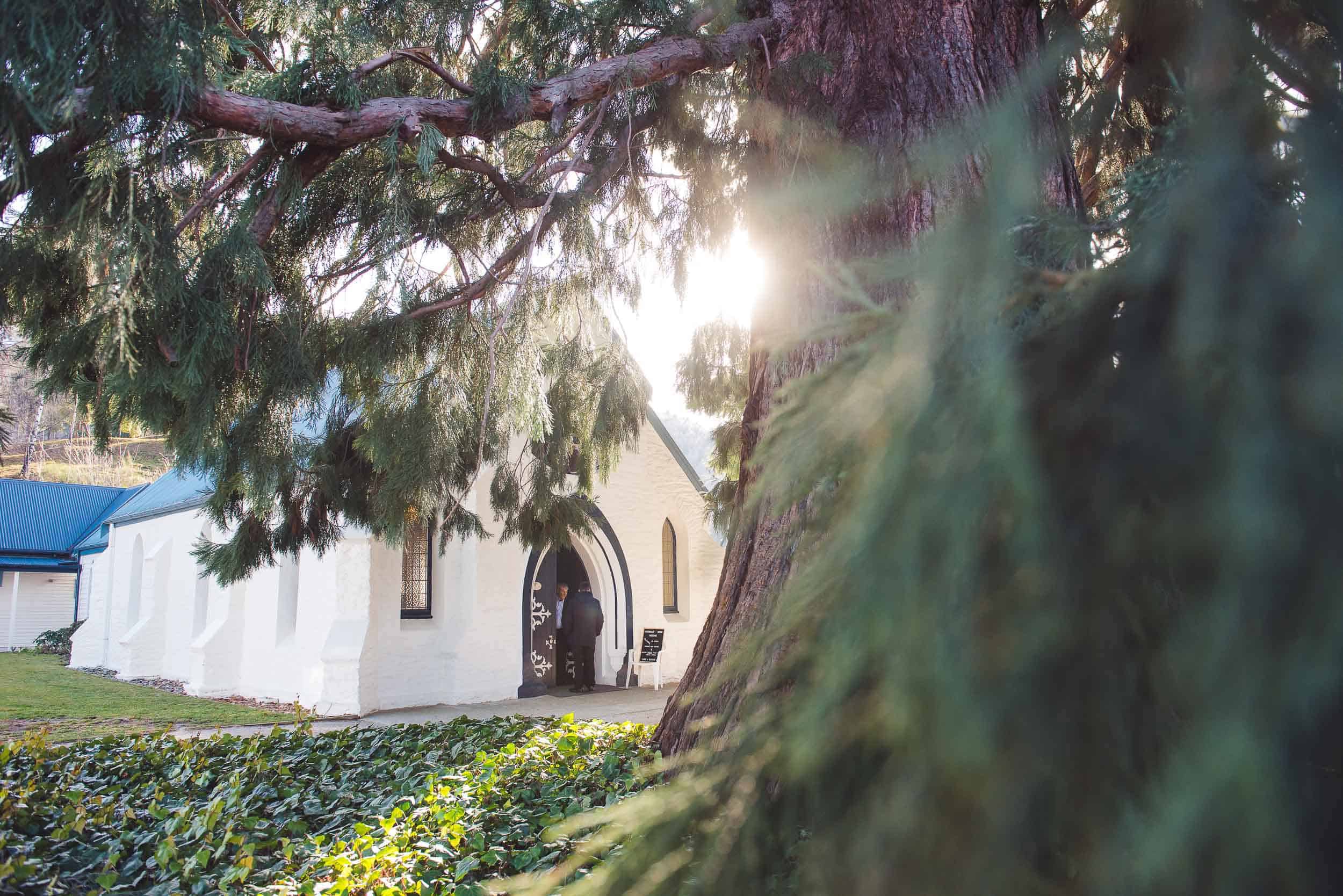 The Helicopter Line Are Out Standing In Their Field (Dad Joke!).
After the Ceremony, the plan was for Luke, Sarah and I to get picked up by a helicopter from The Helicopter Line from a private landing strip called McCauley's* near Arrowtown.  We would then take some heli photos on the snow at the Remarkable's Ridge (weather permitting).  After that, the plan was to fly on to Skyline where we would join the rest of the guests at the Reception.
NOTES
*McCauley's private landing strip is located just off Denison Way, pretty much opposite the Western entrance to Millbrook Resort.  It was my recommendation to Luke & Sarah right from the beginning that we try to get a heli pickup from a private landing strip somewhere near Arrowtown rather than flying from the Heliport.  The reason for this is simple – a heli pickup from a private landing strip almost always saves you a lot of time on your wedding day and this helps to ensure your wedding day feels relaxed and not rushed.  For more helpful tips like this, check out these Queenstown Wedding Tips and this blog post over on The Queenstown Wedding Blog – "How to plan an awesome Queenstown helicopter wedding & get married like a rock-star!"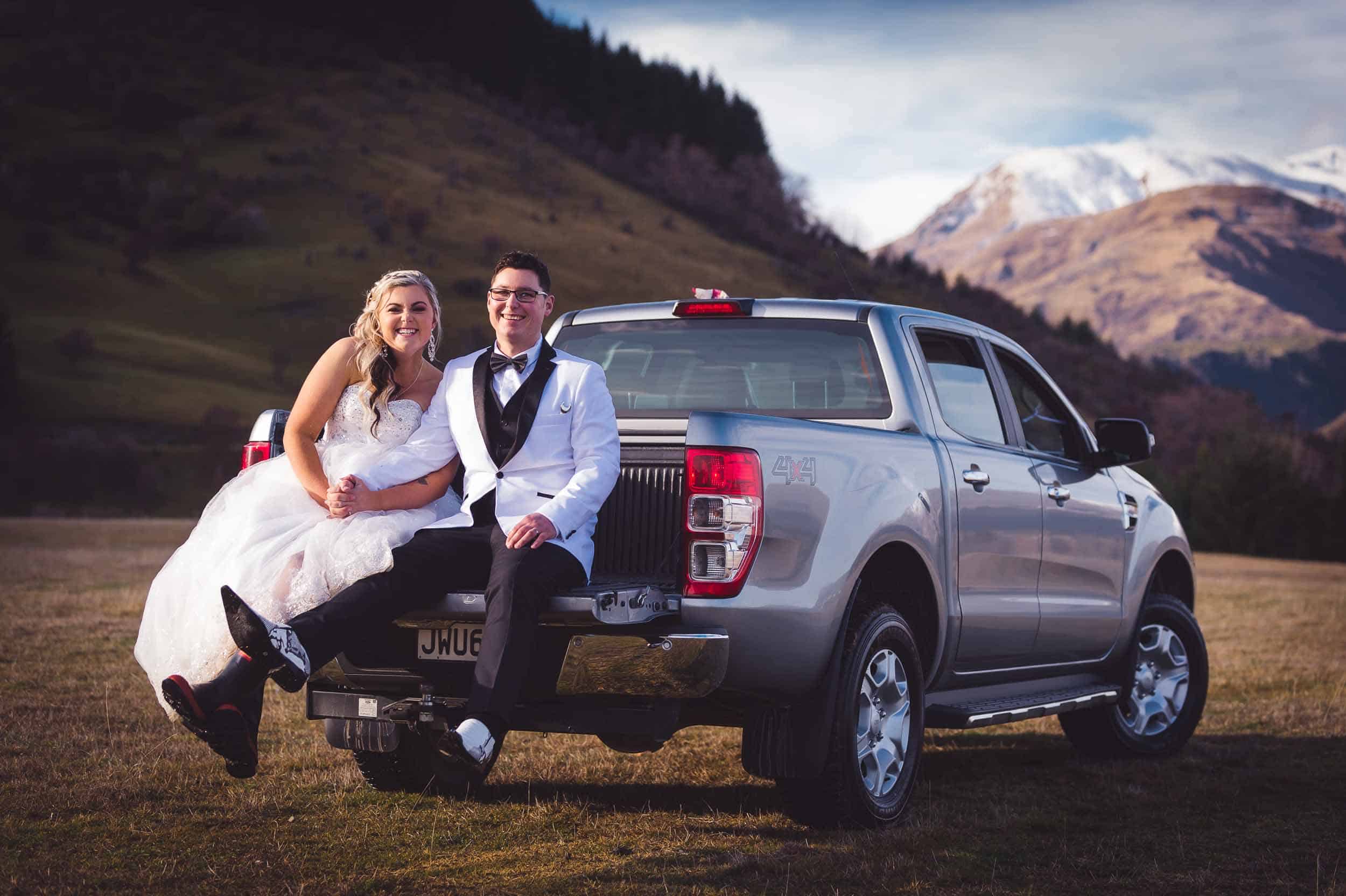 "THE STAFF AT SKYLINE WERE SO HELPFUL AND THE VIEWS WERE AMAZING"
Luke & Sarah chose Skyline Queenstown  for their Reception because, "after checking out Venues all over queenstown, the staff at Skyline were so helpful and the views were amazing".  Perhaps the biggest reason of all that Luke & Sarah chose Skyline for their Reception was the food.  "Their selection of food won us over too as most of our guest were big burly blokes and farmers and they needed a decent feed".  Another big factor was the fact that Luke & Sarah were planning a helicopter flight on their wedding day and they could actually land the helicopter** at Skyline Queenstown. This meant they could fly direct from the Heli Location to Skyline without needing to drive and would save them a tonne of time and help to make their wedding day feel less rushed and more relaxed.
NOTES
**The Helicopter Line is the only helicopter company permitted to land their machines at the helipad at the top of Skyline Queenstown.  So, if you are planning a helicopter flight on your Wedding Day and your Reception is at Skyline, it really is a no-brainer to fly with The Helicopter Line.
So that was the plan.  But how did "the plan" turn out in reality?  Well, that's another story….
THE WEDDING DAY
THE CALM BEFORE THE STORM
On the day of Luke & Sarah's St Johns Church Wedding, the weather was stunning.  There was a bit of low cloud in the early morning and you couldn't see the sky but I knew from my 20+ years living and shooting in Queenstown that this was an inversion layer hovering low over the lake and it would burn off after a few hours to reveal glorious blue skies above.  (Probably).  Besides, I would always rather have some clouds than boringly perfect blue skies!  Luke & Sarah and their 3 bridesmaids and 3 groomsmen were getting ready in separate rooms at Rydges Lakeland Resort Queenstown.
THE GIRLS
When I turned up at the girls room, everything seemed pretty under control and the girls seemed calm.  The room they were using to get ready was perfect for the job, with two adjoining living areas and a huge deck area outside with stunning views of the Remarkables Range and Lake Wakatipu.  The girls were in their matching kimonos with Georgie Henderson taking care of the girls hair and makeup.  (Georgie did a fantastic job and the girls all looked gorgeous).  Sarah made the bouquets herself from bits and pieces she brought with her from Kmart back home.
CONVERSE SNEAKERS & RED BAND GUMBOOTS
The Bridesmaids were all wearing white converse sneakers and black shoulder-less dresses with fur wraps to keep them warm.  Sarah was wearing her beloved Red Band Gumboots down the aisle, complete pink Snap-On Tools socks and a white dress from AliExpress.  As Sarah put it, "I'm not a dress person and didn't see the point in spending lots of money on a dress that I can only wear once!". Sarah's wedding dress only cost $63 delivered!  One of the little touches from Luke & Sarah's Big Day was the secret love note written inside Sarah's gumboots by Luke.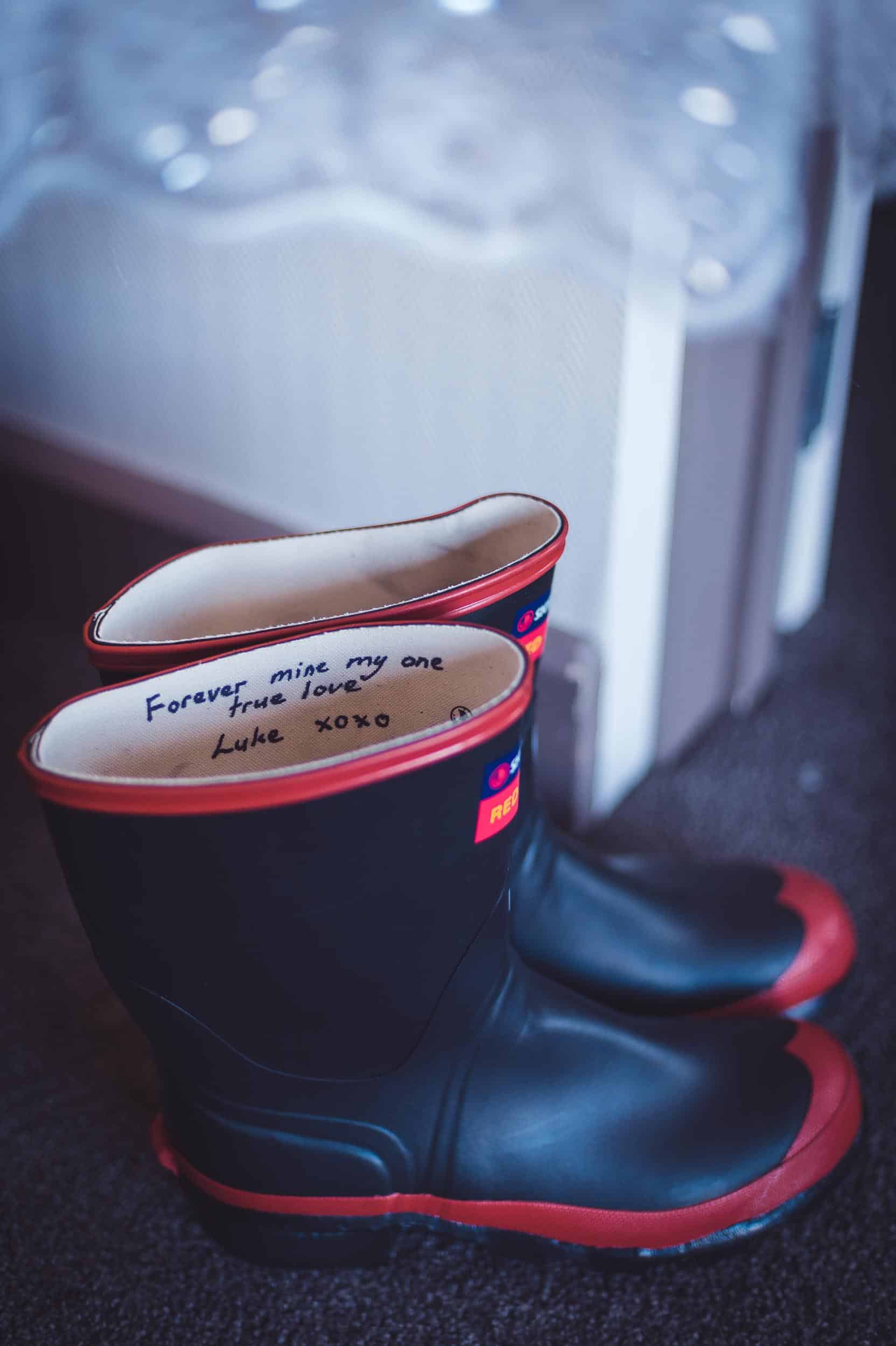 THE LADS
When I turned up at the lads room, they were mostly dressed, ironing was going full-steam (pun intended) and only Luke had yet to slip into his suit.  (He hadn't told his groomsmen but he was going to be wearing a white tuxedo suit jacket with steel-tipped crocodile skin winkle-picker shoes).  All of the groomsmen received a Snap-On Tools branded silver hip flask and a crescent spanner and silk kerchief from the groom for their button-holes.  Luke's cuff-links were silver turbos.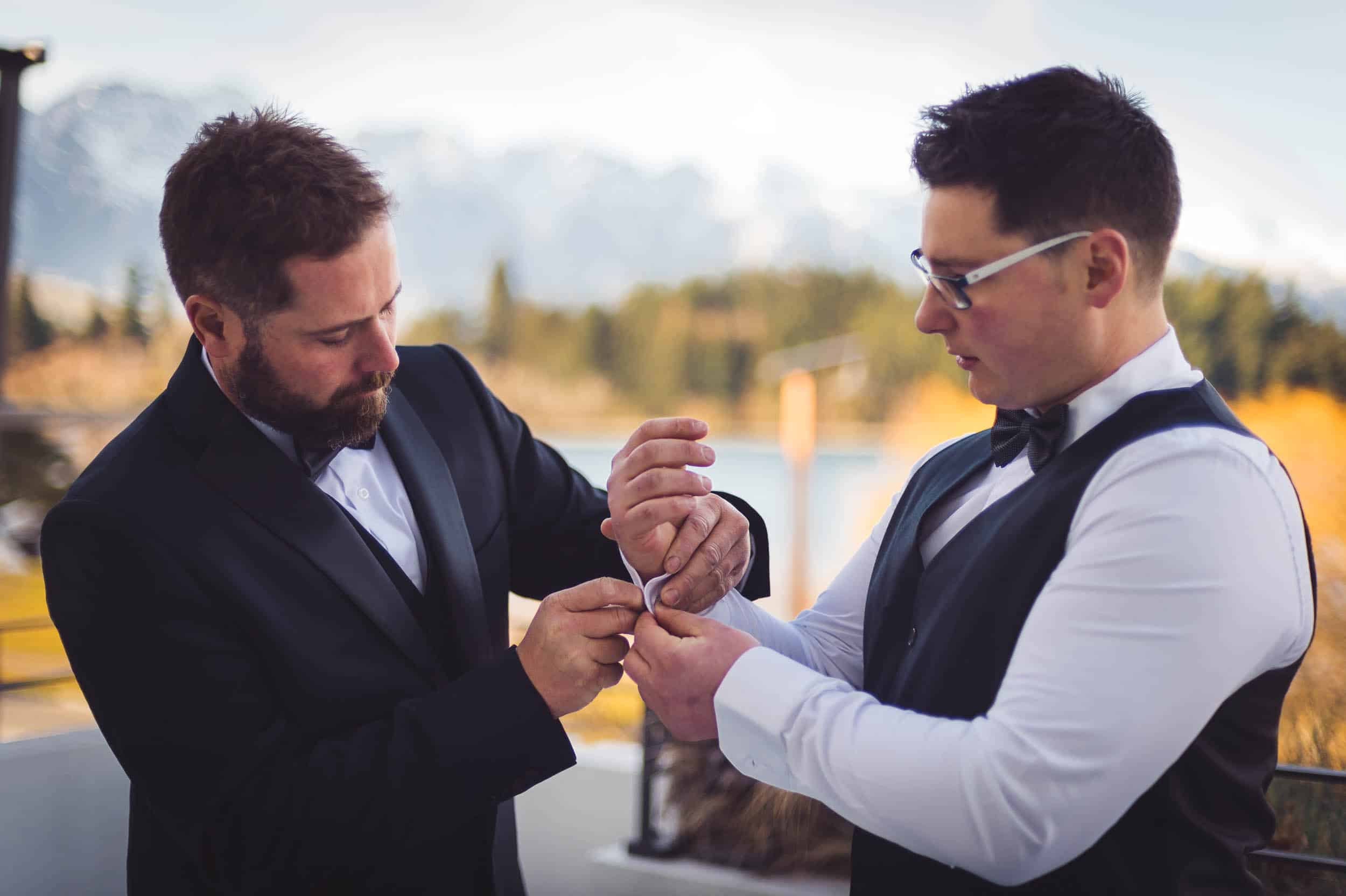 ST JOHNS CHURCH WEDDING ARROWTOWN
Before we knew it we had all whisked ourselves out to the beautiful St John's Church in historic Arrowtown, Sarah had walked down the aisle and it was all happening!  The rest of the day went by in a blur, as weddings often tend to do.  But here's the highlight reel…
The Rev. Dr. Carlton Johnstone did a fantastic job of the ceremony and I think Luke & Sarah's friends and family had a wonderful time watching these two make it official and become man and wife (finally!).  After the ceremony, Luke & Sarah spent a bit of time being hugged and hand-shaked and generally congratulated by all their friends and family.  This part of the day is something couples often don't factor in when whipping up their Wedding Timeline.  But it is important to factor it in because;
It's a lovely part of the day, and
It's also a good opportunity for your photographer to get some lovely long lens candid shots.
And perhaps more importantly, you can't really avoid it!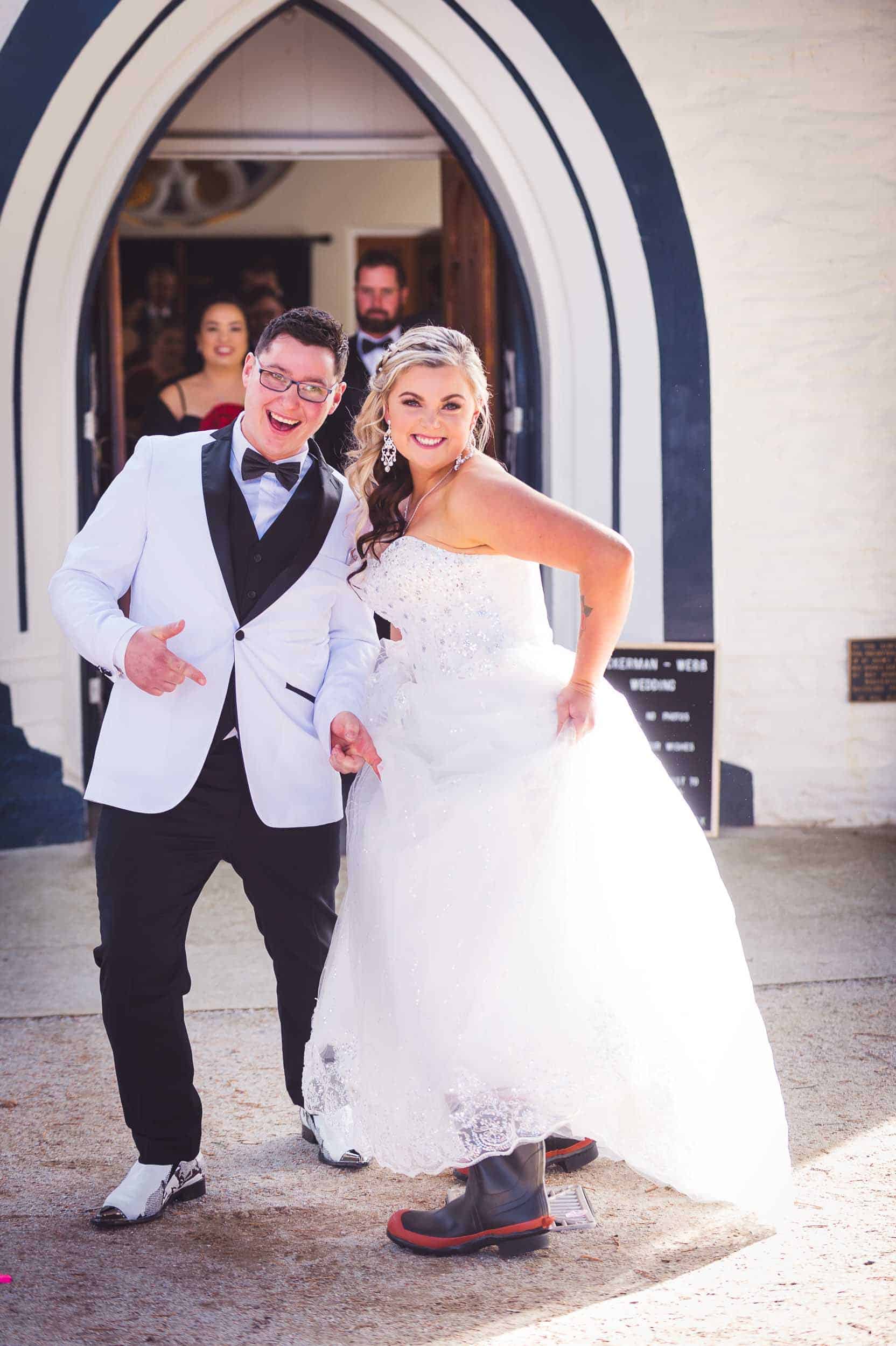 WEDDING FORMALS WORLD SPEED RECORD ATTEMPT
After that we went for the World Record Family Photos Speed Record Attempt!  Just kidding – of course.  As a wedding photographer it is my job to take beautiful photos so that is a given.  But if the family photos drag on too long or are stressful, they can really set the tone (in a bad way) for the rest of your day.  For this reason, I always make sure we get the Family Photos done as fast as possible and make them as much fun as possible.  (Pro tip: make sure you give your Wedding Photographer a list of the Family Photos you want well before the wedding day.  That way (a) They can take care of wrangling the relies on the Wedding Day, and (b) If your list is unrealistic and won't be possible given your Timeline, they can hopefully alert you to this fact).
Once we'd nailed all the Family Photos we did a really minimal amount of Bride & Groom and Bridal Party Photos there at St John's.  After that, we whisked away for some Bridal Party photos with the two rental Ford Ranger ute Wedding Cars on a beautiful country road I know.
WHO DOESN'T LOVE A GOOD HELICOPTER?
After that, we all made our way to McCauley's landing strip for the heli pickup.  (Luke and Sarah and their bridal party were traveling in two rental Ford Rangers Wedding Cars.  I was following along in my little wagon – we were quite the convoy!).
We got some awesome farm pix at McCauleys which I just knew Luke & Sarah were going to absolutely love.  And before we knew it, out chopper from The Helicopter Line picked up Luke, Sarah and I and whisked us away to the Remarkables Ridge for some stunning snowy Heli Wedding Photos.  We totally lucked out with light, weather and snow at the Remarkables and got some really gorgeous pix in no time.  Which was just as well because the sun dipped behind some thick dark clouds shortly after that and the light became very average all of a sudden.  So we pulled the pin slightly early, hopped in the heli and our pilot whisked us away to Skyline Queenstown Gondola & Restaurant for Luke & Sarah's Reception.  (Note: The Helicopter Line is the only heli operator allowed to land at the helipad at the top of the Gondola.  So if you are planning a heli flight on your wedding day and your reception is at Skyline Queenstown it's a no-brainer to use The Helicopter Line for your heli flights).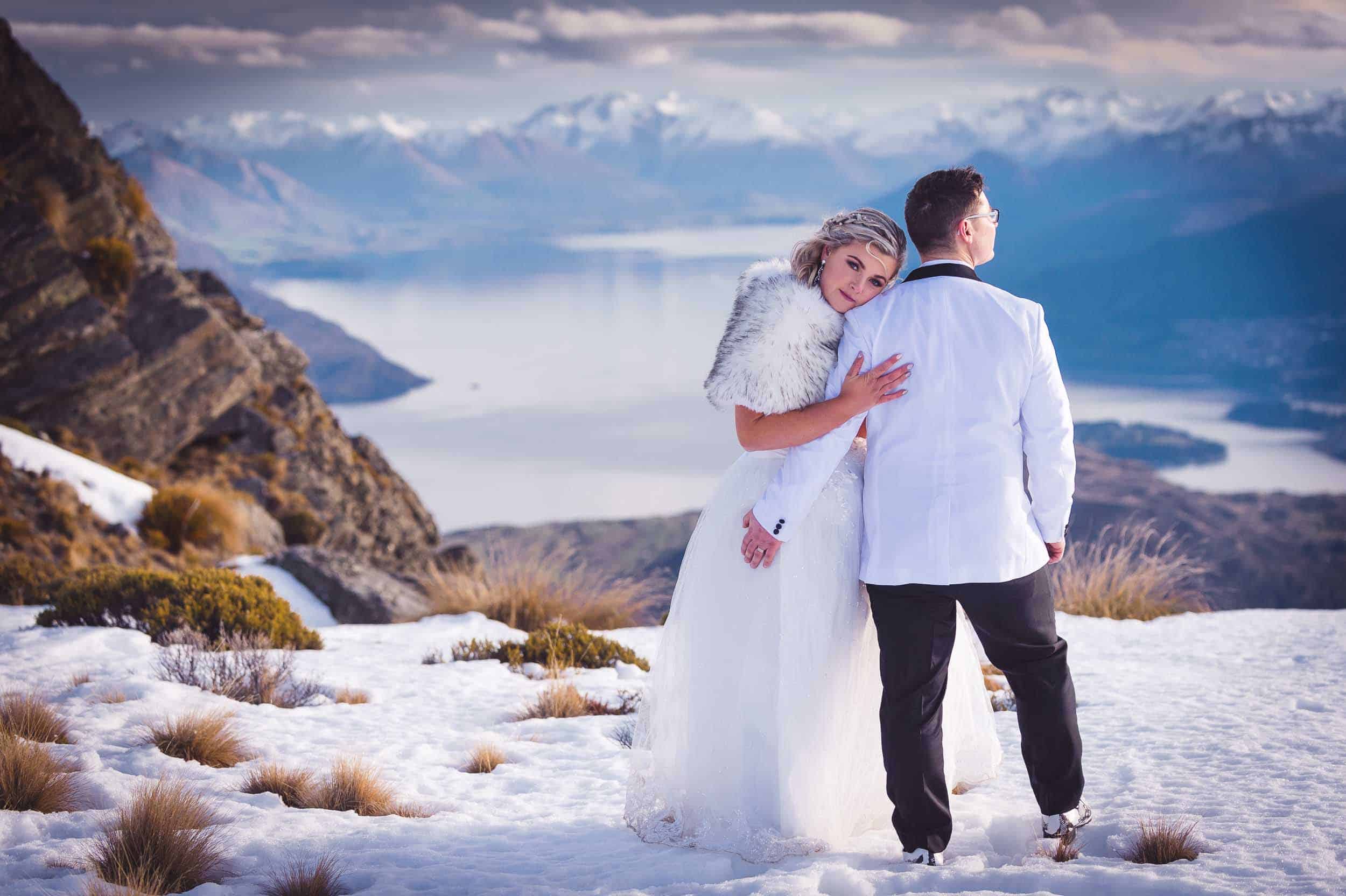 A MOUNTAIN-TOP BUFFET, DOING A "SHOEY" & THE SILLY SALMON
Upon arrival at Skyline, Luke & Sarah's MC wrangled the bridal party out from the reception and we whipped off a few quick snaps at a couple of scenic spots I know at Skyline.  (For somewhere that has such amazing views, it is surprisingly difficult to photography people at Skyline.  There actually aren't that many spots you can get a photo with people and a nice view.  And even less  either a whole lot of building or a whole lot of tourists in the background!).  And then it was time for the party to begin!
Highlights of Luke & Sarah's Wedding Reception from my perspective would have to be the views and amazing buffet, Luke & Sarah playing the shoe game then doing "a shoey" out of Sarah's Red Band gumboots, the silly salmon..  There were just so many highlights that had me & the rest of the guests laughing or smiling, far too many to list here.
Luke & Sarah's Wedding Day is a reminder to all of us that
(a) You don't have to follow every single wedding tradition known to man,
(b) you don't have to do your wedding the way everybody else does their's, and
(c) believe it or not, weddings can actually be fun!
If you're planning your very own Queenstown Wedding, I hope you find this Blog Post helpful.
Patrick
Q&A WITH LUKE AND SARAH
What were some of the greatest sources of information and inspiration when planning your wedding?
Mr Google, Mr Google oh and Mr Google. And our friends that had done an elopement helicopter wedding
How did you feel in your dress?
Like a princess
How did you feel just before you walked down the aisle? What about as you were walking down the aisle?
Emotional,emotional and happy
What was the most stressful moment/part of your wedding planning? What was the most stressful part of your wedding day itself?
when the helicopter time had changed an hour earlier so the start time had to be moved foward an hour. Leaving no time for errors on the morning.
Making sure everyone was organised early
How many bridesmaids did you have? Where did you get your bridesmaid dresses from?
Pagani City chic
Where did the boys get their suits from?
Hallenstines
What was your wedding colour scheme or theme?
Black, white,gold
Farming,milk tins and flowers,cows,motorbike
Mechanical, spanners
What was the best moment of your wedding day? And what were some of the other highlights for you?
Sarah; being able to see Luke at the church knowing everything was going to be ok as he's my rock
Luke; Knowing we can relax after the first dance.
Shane getting a bit slippery in his car.
Being mr and mrs Ackerman in the helicopter. With that little bit of time to Ourselves
Getting on with Patrick as he was just another one of our friends
His and hers,shoe question game
The laughs with the props in the photo booth
What was the funniest thing that happened on your wedding day?
his and hers shoe game
What 3 words would you use to describe your wedding day?
blessed,fairytale,scenic
Were there any special details at your wedding day that were unique and particularly special for you two?
Red band Gum boots,Luke's shoes,turbo cuff links ,snap on hip flasks,spanners in suits,milk tins on tables and cow tags,males got male tags and females got female tags. Luke's grandmothers necklace on Sarah.
Any tips or advice for other brides planning their wedding that you'd like to share?
Keep numbers down. We loved having our close family and friends together makes it more special .
Don't be disappointed if people don't make it. The ones that truely care will make it.
Spend the right money in the right places. Photos are your memories,
Photo booth was worth it. It makes guests feel like the day is about them as well
Did you discover any amazing Vendors or Suppliers you'd like other brides to know about?
For fairy lights. The light lady it was $80 per 100m of lights we used 200m to do the roof
Looking back, is there anything you'd change? Is there anything you wish you knew before you started planning your wedding?
Made a checklist of things that to need to happen. To make sure all planning is on time
Queenstown Wedding Planning Posts and Articles
If you are currently in the midst of planning your Queenstown Wedding, you might also enjoy the following Blog Posts and Real Weddings helpful and inspirational;
The Ultimate Queenstown Wedding Photography Guide
7 Easy Steps To Finding Your Dream Queenstown Wedding Photographer
How Your Queenstown Wedding Formals Can Make Or Break Your Wedding Day
More Real Queenstown Weddings To Inspire You
EPIC Queenstown Snowboard Wedding!! At Coronet Peak…on snowboards…in a snow storm!!
Nick & Nina's Unconventional Thurlby Domain Elopement
Louise + Tom's Breathtakingly Beautiful Queenstown Winter Wedding
Megan & Simon's Stunning & 110% fun Backyard Southland Wedding (Ok so this one isn't in Queenstown but I love it!!).