So you're planning on doing a Queenstown Helicopter Photo Flight but you have absolutely no idea where to start. Well, you're in the right place! Let me walk you (slowly) through everything you need to know about Queenstown Helicopter Photo Flights.
Step# 1: Know the lingo
And by "Know the lingo", no I don't mean you be able to say things like "Foxtrot Yankee Six Niner, this is heli base do you copy, over?". But it does help if you understand some words you're going to run into in most Queenstown Helicopter Photo conversations. Right, here are the main ones you want to know…
Queenstown Helicopter Photo Flights
There are a couple of options when it comes to combining helicopters and photos in Queenstown and it's helpful to know what to call them so you don't get confused with a different type of product. Here are the main ones and what the names mean.
Queenstown Heli Wedding. This is where the bride and groom and any vendors and guests are traveling by helicopter to/from a heli location (usually a mountain top) where they will be married.
Queenstown Helicopter Photo Flight. There are a few different situations/types of shoots where you might want a Queenstown Helicopter Photo Flight rather than a Heli Wedding. The 2 main types I can think of off the top of my head are…
A Queenstown Helicopter Photo Flight on a couple's wedding day. Ie they get married elsewhere then hop in a helicopter and fly to a dramatic mountain-top, waterfall or mountain lake somewhere with their photographer for epic mountain-top photos.
Surprise Heli Proposal
Squirrels everywhere (but not small cute furry animals in this case).
"Squirrel" is the name most people use to refer to the Eurocopter AS350 helicopter.
The Squirrel is by far the most popular helicopter in Queenstown, in fact some companies only operate Squirrels. A Squirrel seats 6 + pilot. So, a typical loading for heli-wedding might be pilot, celebrant, bride, groom, photographer and one guest/empty seat. Note that some companies offer smaller helicopters than the Squirrel. These smaller machines seat fewer people (most seat 4 + pilot) but are much cheaper to run and therefore can save you quite a bit of money. An example of these machines is Heliworks's Queenstown's EC120b.
Civil Twilight/Civil Dusk
Most helicopters don't have navigational radar and therefore must be flown by sight. This means that they can't fly when it's too dark (or in very cloudy conditions). Because of this, Civil Aviation Authority regulations stipulate that any helicopter must be back at base before Civil Twilight and can not leave base before Civil Dusk. Please check with your helicopter company for the earliest/latest times you can be in the air on your shoot day.
Charter Flights
In Queenstown, we are always on a charter flight when we fly in a helicopter for photos. This means we book and pay for the helicopter exclusively. Booked this way, payment is based on the flight time to the heli location and the Time On The Ground (see next).
Time on the ground
Time on the ground is what you probably thought it was – the length of time you and the helicopter are on the ground at any given heli location. With Queenstown Helicopter Photo Flights, most companies base their prices on 30 minutes on the ground. You can usually request longer on the ground for an additional fee but it will be subject to the helicopter and pilot's availability.
Machine
Most pilots and photographers will refer to helicopters as "machines". So, if you want to sound like you know what you're talking about, this is a good one to know.
Spin down the rotors
Often with wedding photo flights, the pilot may ask you to wait until the main rotor has stopped spinning before loading/unloading. This is simply for your safety.
Heli Base
Actually, I'm not sure if everybody says this – it might just be me! I use the term Heli Base to refer to the individual helicopter company's physical location. Ie where their heli pad, hangar and office is located. All of the Queenstown helicopter companies without exception have their heli bases within a couple of hundred metres of each other near Queenstown airport at Frankton. It's useful to know the term Heli Base as sometimes where the helicopter will pick you up from or drop you off at might NOT be the Heli Base.
Heli Pickup Location/Drop-off location
If you are getting picked up from/dropped off at somewhere that is NOT the heli base, these are the terms you use to refer to those locations.
Weather Call
The helicopter company will make a Weather Call to your or your Photographer 1 hour before your departure time. My advice would be to let your Photographer deal directly with the helicopter company as they will be more familiar with the heli locations, travel and flight times etc.
Time waits for no man/woman
If you are planning to do a Queenstown Helicopter Photo Flight on your Wedding Day then time is critical. Often-times, even if a couple does have the budget to add a helicopter flight to their wedding day, they often don't have enough time to do the flight.
Here's an example timeline snippet of how long the helicopter part of the day might take;
1445 – 1500. Bride + Groom and photographer depart Ceremony Venue for heli base at Frankton.
1500 – 1515. Safety briefing and check-in at Heli Base.
1515 – 1530. Load into heli
1530 – 1545. Fight time to heli location including time to spin down rotors upon landing.
1545 – 1615. 30 minutes of photography during our time on the ground.
1615 – 1630. Load back into helicopter.
1630 – 1645. Fly back to heli base.
1645 – 1700. Unload
1700 – 1715. Pay for heli flight/check out.
1715 – 1730. Drive from heli base to reception venue.
So, as you can see from the above, a Queenstown Helicopter Photo Flight when you fly to/from Frankton might take a total of 2.75 hours. And this is based on 15 minutes drive time from Ceremony Venue to the heli base at Frankton and 15 minutes drive from the heli base to your Reception Venue. This is a lot of time to squeeze into a busy wedding day!
When I first started shooting weddings in Queenstown, pilots could land wherever they wanted. Getting married at Venue X? The heli would pick you up and drop you off right outside your door.
These days however, Queenstown is a lot busier and there are far more restrictions in place on where and when helicopter companies can land their machines. To make it even trickier, some helicopter operators might be able or willing to land at Location X while others may not.
Save a bunch of time with a private Heli pick-up/drop-off location
Finding somewhere closer to your Ceremony Venue and/or Reception Venue than the Heli Base will likely cost you a little bit extra but it can save you a tonne of time. Even if it is exactly the same travel time as to the Heli Base, it will still save you a bunch of time because there is less faffing. For example, the safety briefing will usually just be the pilot saying "Keep your head down and follow me".
Here's an example timeline snippet based on being picked up from/dropped off at a pick-up/drop-off location that is still 15 minutes from your Ceremony and Reception Venue.
1445 – 1500. Bride + Groom and photographer depart Ceremony Venue for private Heli pick-up location.
1500 – 1515. Safety briefing and load into heli
1515 – 1530. Fight time to heli location including time to spin down rotors upon landing.
1530 – 1600. 30 minutes of photography during our time on the ground.
1600 – 1615. Load back into helicopter.
1615 – 1630. Fly back to private drop-off location.
1630 – 1640. Unload
1640 – 1655. Drive from heli base to reception venue.
So, as you can see from the above, even with exactly the same travel time as to/from the heli base, using a private pick-up/drop-off location might still save you 35 minutes! And if your pick-up/drop-off location is closer it might save you even more time.
Costs with private heli pick-up/drop-off locations
There are usually costs associated with using a private pick-up/drop-off location. The obvious cost is the landing fee. But other costs you should be aware of are additional flight time from the helicopter's heli base to/from the pick-up/drop-off location and from the pick-up/drop-off location to/from the heli location. Because the pick-up/drop-off location can affect flight times, couples sometimes end up choosing a different heli location than they might have otherwise. For example, if your pick-up/drop-off location is near Arrowtown, of the 2 main Queenstown heli locations, it will be cheaper to fly to Remarkables Ridge (because it is closer) than The Ledge/Cecil Peak.
Whatever the weather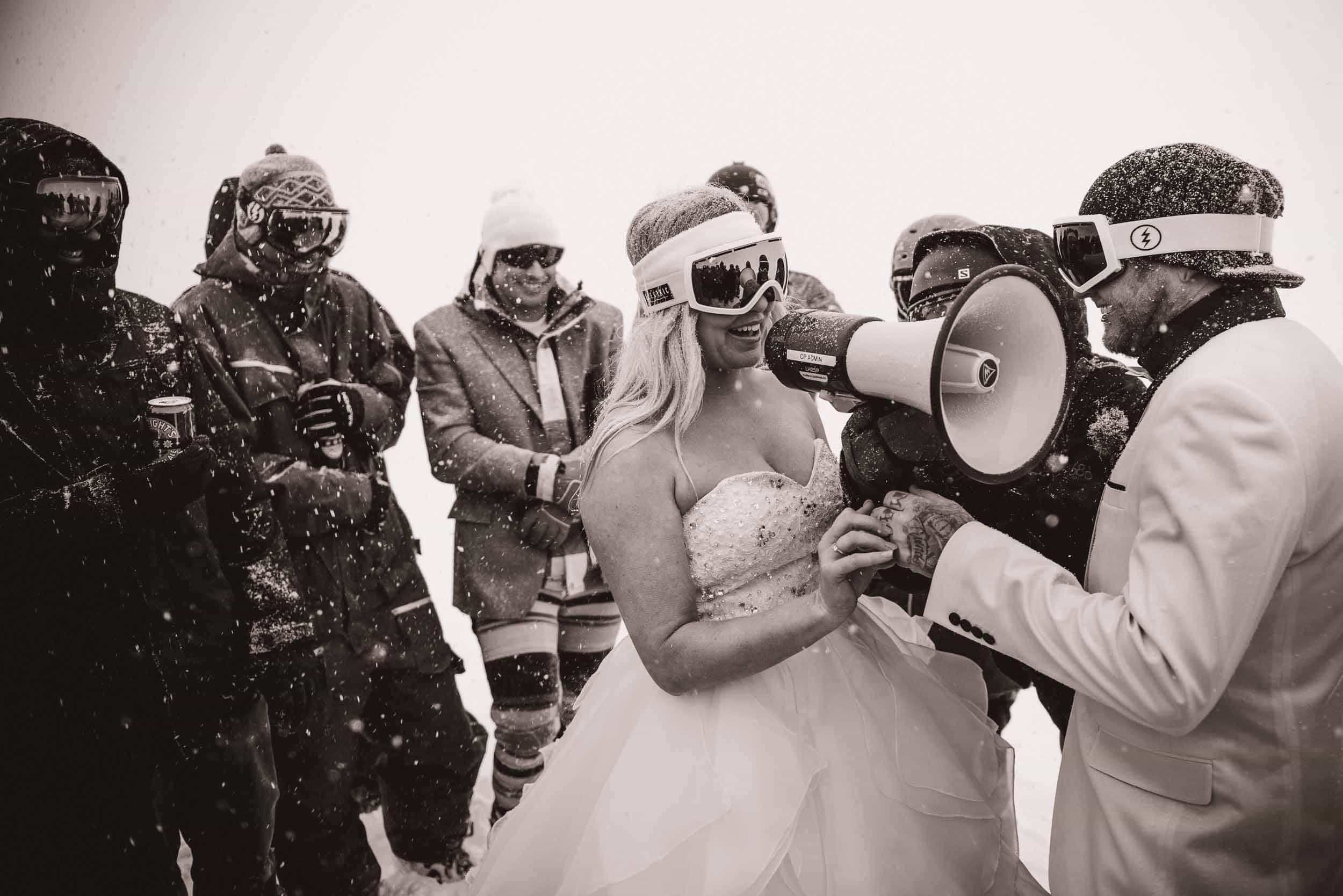 You can't talk about helicopters in a mountainous region like Queenstown without having the weather conversation. Weather really is the number 1 topic (whether you like it or not) with heli flights. Let's tackle it first head on and get it out of the way.
Queenstown Helicopter Photo flights do occasionally get cancelled or rescheduled. To give you a very vague indication, I would say for every 10 heli flights I have booked 2 or 3 would get rescheduled. I say rescheduled and not "cancelled" because the heli operators will always bend over backwards to get you on a flight at another time if your original booking is a no-go. If we have to cancel a heli flight (as opposed to rescheduling it) it is usually only because the couple is unable or unwilling to reschedule. (Eg let's say it's a wedding day heli photo flight. If the flight is unable to proceed on the wedding day, many couples won't want the added expense of getting hair, makeup and photographer/videographer on a second day for a post-wedding flight).
The heli can still fly, but you probably won't want to…
Keep in mind that helicopters can actually fly in absolutely horrible weather. But the helicopter companies know that;
We probably won't want to be on that mountain-top in 35 kmph winds or driving rain, and
We probably don't want to get everybody airsick in a super rough flight just before you get married/propose/start your photo shoot.
Mother Nature: 1, Humans: 0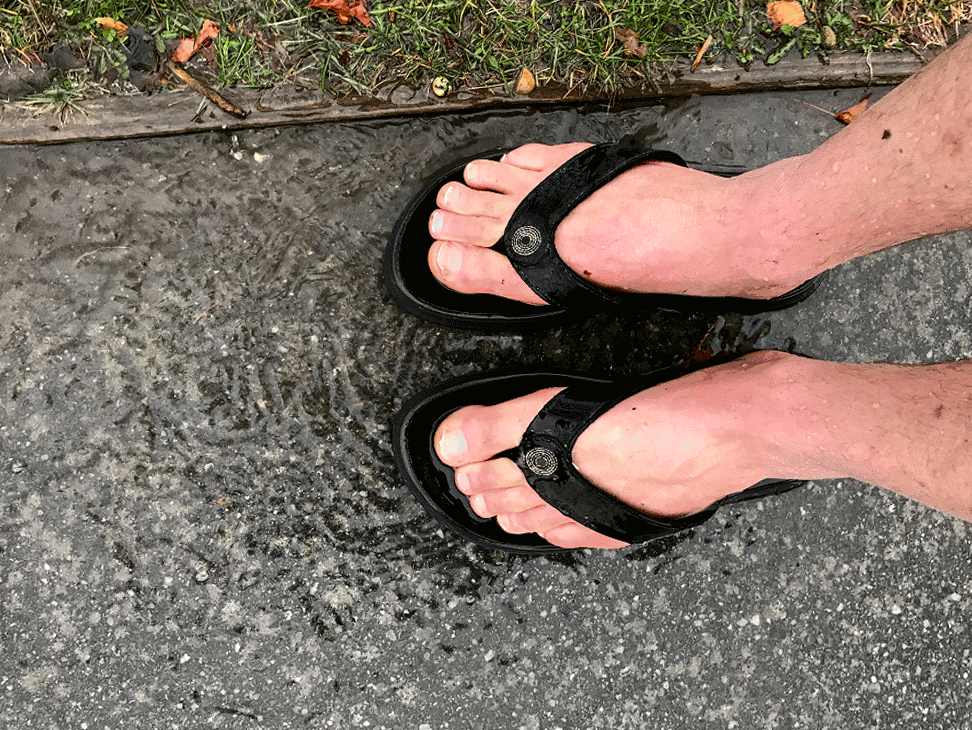 The main weather challenges facing the helicopter operators are;
Wind. The number one reason Queenstown Helicopter Photo Flights get rescheduled or heli locations changed is because of wind. If you are down at valley floor level and the trees are moving a bit in the wind, it can often mean it's blowing a gale up in the mountains. In a situation like this, the helicopter company will often suggest we change to a more sheltered heli location or reschedule to later that day or another day altogether.
Cloud. The Number 2 reason heli flights get rescheduled/heli locations get changed is cloud. With the exception of rescue or medical choppers (which have special equipment), helicopter pilots fly purely by sight. This means cloud is a big factor as they can't see the mountains (or anything else) if they are trapped in cloud. As a result, the pilot has to think not only about getting you to your mountain-top destination but also getting you home safely. So heavy cloud can cause them to rethink the heli location or flight time/date.
Precipitation (rain, hail or snow). This type of weather challenge happens way less than the first 2. Queenstown is actually a fairly dry sub-alpine environment. This is why our mountains are brown rather than green – they don't get much rainfall. Obviously, rain, hail or snow can limit visibility and make it difficult or dangerous to fly. But more importantly, if it's raining cats and dogs or snowing heavily, the heli company will likely suggest we might not want to be on that mountain-top even if we could get up there!
Weather checks
Most of the helicopter companies will make a weather check and call you to either confirm or try to reschedule 1 hour before your flight time. They will normally call whoever made the booking to confirm/reschedule. If your photographer is experienced with heli flights, is local and you trust them, I would suggest you get the heli company to call them for the weather check. And if there are parts of your wedding day that hinge upon the timing of the heli flight, you might want to ask the heli company to do the weather check earlier to give you more advance warning.
You can't fly when you planned, so what next?
Ok, so let's assume that it's 1 hour before you are due to fly and the heli company rings to say they can't fly and are going to have to reschedule due to weather. What happens next?
Rescheduling versus cancelling
Rescheduling
If you are planning a Wedding or Elopement and have booked hair and makeup and possibly rented clothing, rescheduling your heli flight may mean increasing these costs. You would certainly also be increasing costs for your Photographer and Videographer as they would now be shooting an additional half day at least. Lastly, don't forget to factor in the extra time commitment required to do another shoot and prep for it on a second shoot date.
But, on the positive side, doing the heli flight sometime after your wedding day will make your wedding day more relaxed. This is because of all the time freed up by not having to drive to the heli base, do the safety briefing, load, fly, shoot, fly, unload and travel to the reception venue. It also means you can potentially fly at the best time of day for awesome photos. Ie if you are now doing your heli flight the day after the wedding you might be able to do a sunset flight on a good weather day for awesome light.
Cancelling
If you are unable to fly at the time planned and you can't reschedule to later that day/another date, usually the heli company won't charge you.
However, if the weather is good enough to fly but you decide to cancel anyway, they may charge you a cancellation fee. It varies from company to company, but most heli operators won't charge a cancellation fee if you cancel 48 hours before the flight time or earlier.
Payment
Unless you have booked your heli flight as part of a Package (eg a Wedding Planner's Package that includes the heli flight), chances are you haven't paid anything for the heli yet. Normally, if you book direct the heli company will take your credit card details as a deposit but not actually charge anything to your card. This is because cancellations happen often enough that it's not worth their while charging you until your flight is guaranteed. So, even if your flight cancels you shouldn't have to do anything with regards to payment. No flight = no charge.
Photographer/Videographer
If the heli company has called you to tell you the heli flight can't go ahead as planned, I recommend you tell your photographer/videographer ASAP. Giving them as much notice as you can makes it easier for them to come up with/fine tune a Plan B.
Other vendors
Check with your photographer; if the heli flight reschedules/cancels, will it affect the timing of any other important parts of the day? If so, let the appropriate vendors know. Eg if your flight reschedules to later in the day, will this affect meal times at your Wedding Reception? If so, definitely contact your caterer immediately. Rescheduling dinner for 100 pax is slightly more complex than just warming up the oven a bit later than planned!
Ok, so now that we've ticked off the weather question, let's walk through all the other bits of info you need to know to plan a heli flight in Queenstown…
Helicopter Operators
First of all, you need to know who the helicopter operators in Queenstown are so you can make inquiries with them.
Queenstown Helicopter Operators
The helicopter operators in Queenstown are as follows;
(Note: Heli Tours stills shows up on Google but they are no longer in business).
Glenorchy & Wanaka Helicopter Operators
If you are considering doing a heli flight somewhere near but not in Queenstown you might also want to check out these operators;
Queenstown Helicopter Photo Locations
Note: I'll be adding more Queenstown Heli Locations asap.
The Ledge, Cecil Peak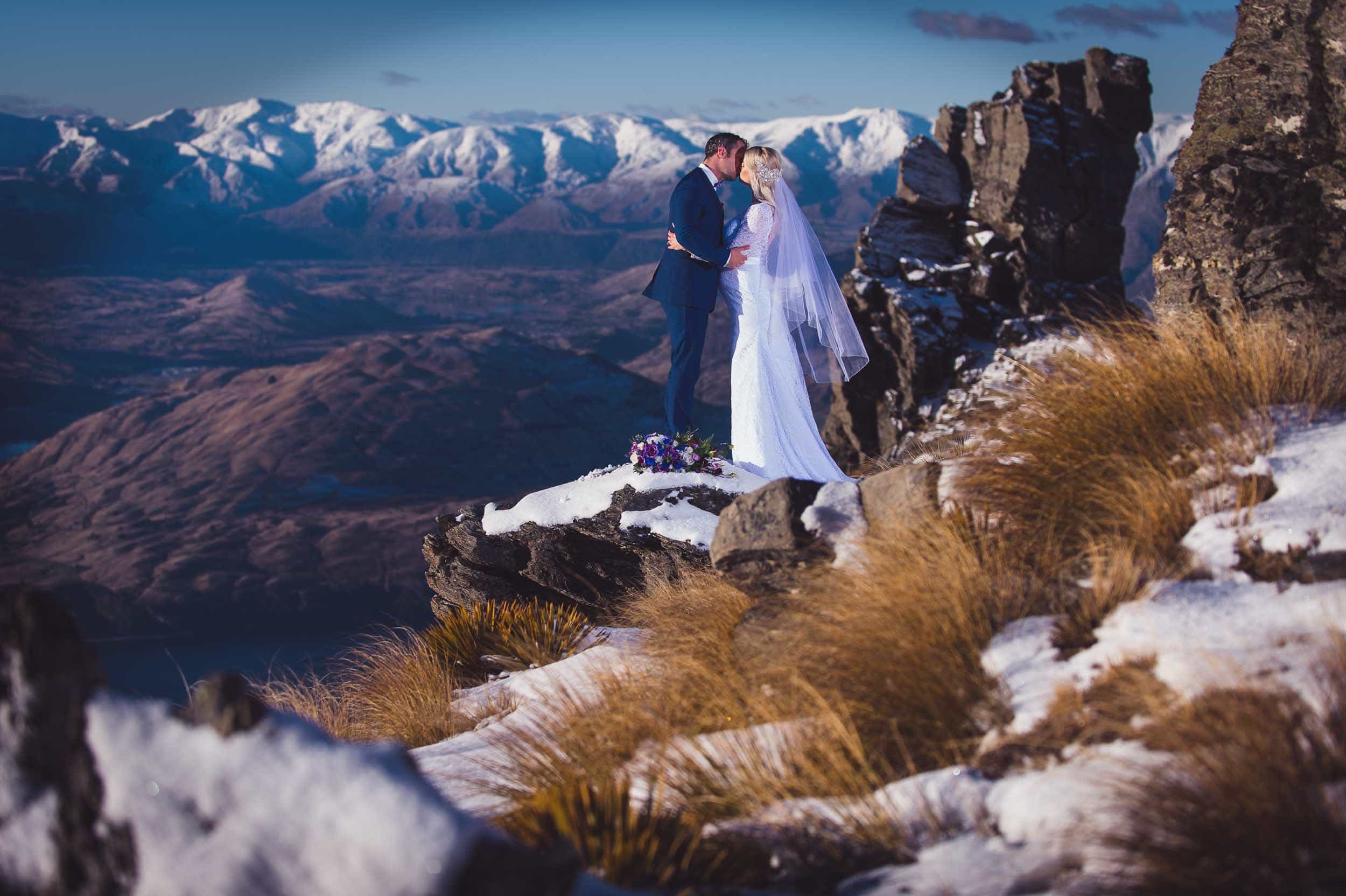 By far the most popular heli location in Queenstown is a spot called The Ledge. The Ledge is a specific spot on the mountain known as Cecil Peak. It is super popular because;
The Ledge offers stunning views of Lake Wakatipu, Queenstown and the surrounding mountains.
This heli location also features dramatic cliffs that can give your photos a real extreme/mountaineering edge.
The Ledge is a short 5 minute flight from Queenstown. This short flight time helps keep the helicopter costs to a minimum.
The only real downside with The Ledge is that it IS so popular. If you want a unique location that hasn't been seen all over the internet, The Ledge is probably not your best choice.
Note: it is not uncommon for a couple/photographer to plan to fly to The Ledge only to have to land elsewhere on Cecil Peak due to wind/cloud/weather. As an example, in the past month I have had 3 heli flights that were planned to land at The Ledge. Of those 3, on 2 occasions we had to give up on The Ledge. On one occasion this was because it was too windy. On the second occasion, it was because The Ledge was very close to some low cloud. The pilot was able to land there but there was a risk that if the cloud lowered we wouldn't be able to fly home. (Which would be somewhat of a problem!).
Remarkables Ridge
Remarkables Ridge is the second most popular heli location in Queenstown. Like Cecil Peak/The Ledge, it is a very short flight time from Queenstown and this helps keep the flight time and therefore helicopter costs to a minimum. To my knowledge, all of the Queenstown heli operators charge the same for Remarkables Ridge as Cecil Peak – providing they are flying from their heli bases near Queenstown airport.
One of the main reasons (in my opinion) for preferring Remarks Ridge (as the heli companies call it) over Cecil Peak is if your flight is in winter and you are keen on snow. You are definitely not guaranteed snow at either location but Remarkables Ridge is slightly more likely to have snow on the ground than Cecil Peak. Other than that, it's all down to personal preference as to which location is the better of these two.
Right, I think that about covers it – hopefully you find this blog post helpful in planning your Queenstown Helicopter Photo Flight.
Here are a few other related blog posts you might find helpful;
Surprise Queenstown Heli Proposal WITH PHOTOS – How To Pull It Off