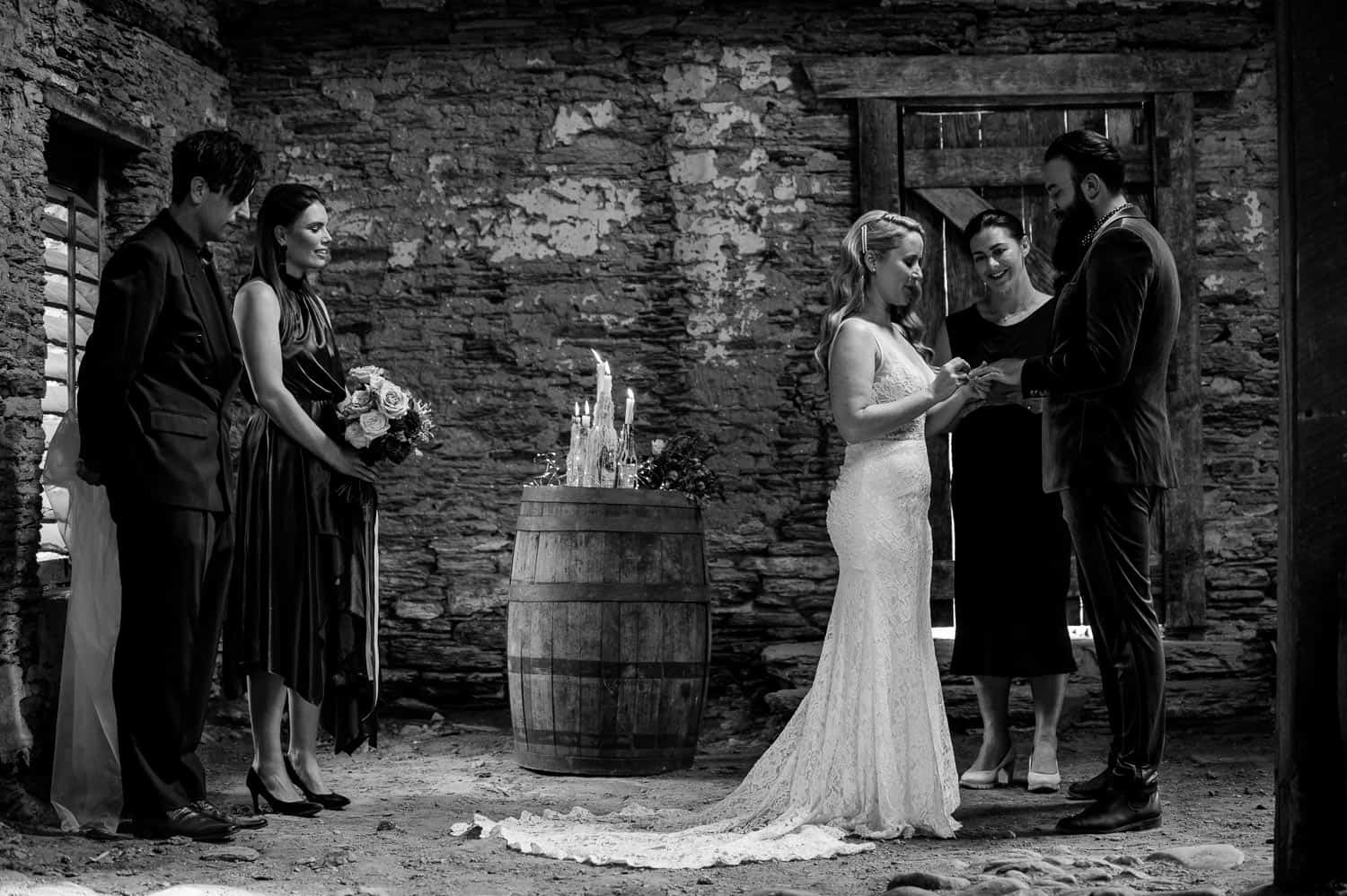 A DIY Queenstown Elopement that was "Eclectic, intimate and cheeky".
Chantelle & Joshua's DIY Queenstown Elopement was indeed "eclectic intimate & cheeky". And these three words summed up exactly what Chantelle & Joshua wanted their big day to be.
Chantelle had fallen in love with the old stone stables at Thurlby Domain the very first time she saw a photo of them. And so, even though the weather was perfect, Chantelle and Joshua got married inside the dark, moody and romantic old stone stables at Thurlby Domain.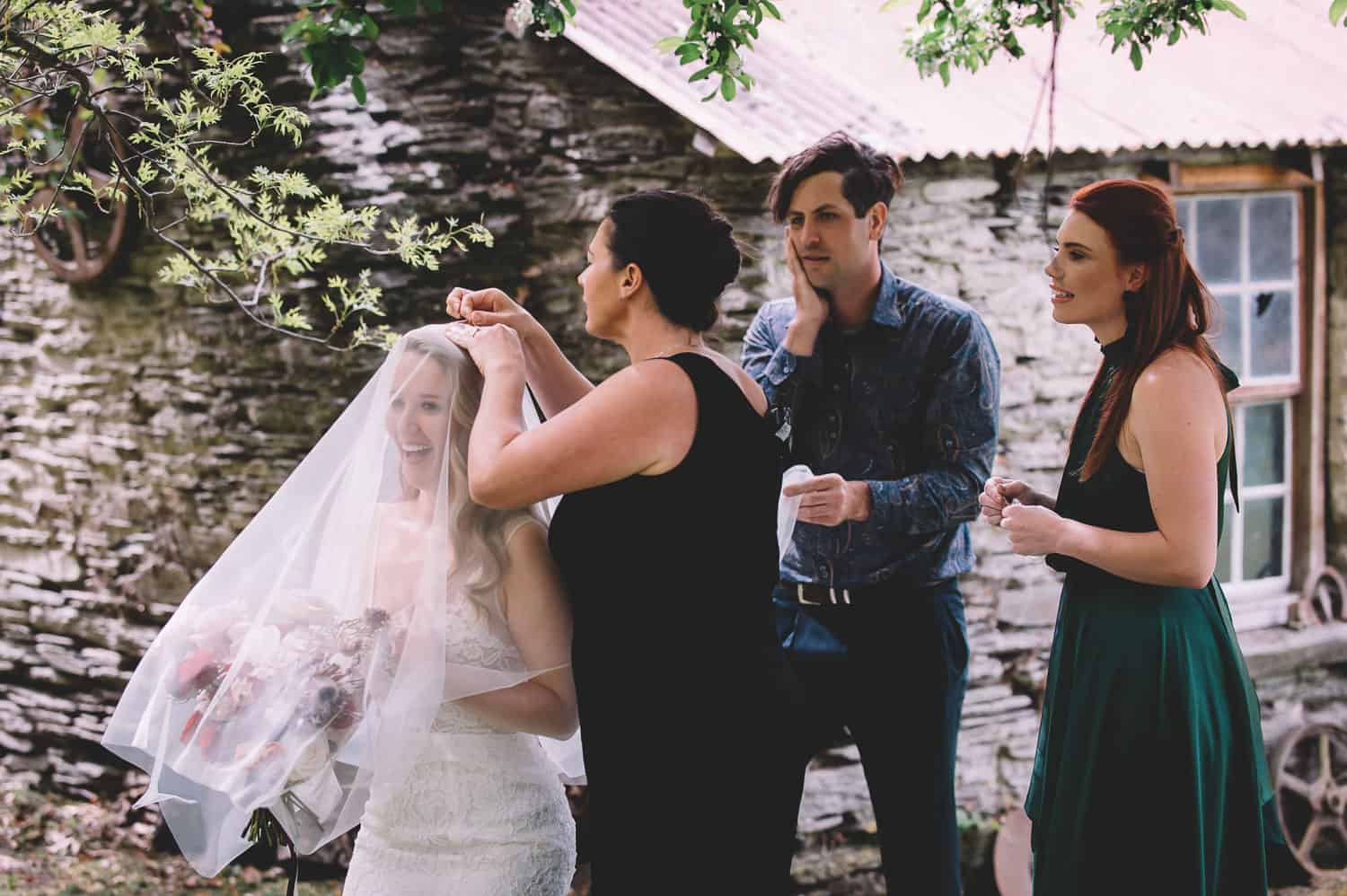 [cp_modal display="inline" id="cp_id_dad64″][/cp_modal]
On the day.
This was a totally DIY Queenstown Elopement! Josh set up the ceremony site himself with help from best man Robbie and Maid Of Honour Nicole. The gorgeous bouquets were supplied by Rosie Flowers. They also arranged a stunning cheese board and gorgeous home made candle-holders. (The candle-holders were made out of fancy booze bottles covered in dripped candle wax).
On the day, the lovely Emily O'Leary handled the "official" bits beautifully and the ceremony was relaxed, romantic and intimate. (Emily even came to the rescue during the infamous "Bobby Pin Incident". She rescued Chantelle's stray veil moments before Chantelle was due to walk down the aisle).
The awesome Cristian from Eureka Films was shooting video. Yours truly, Patrick of Fallon Photography was in charge of the photo department.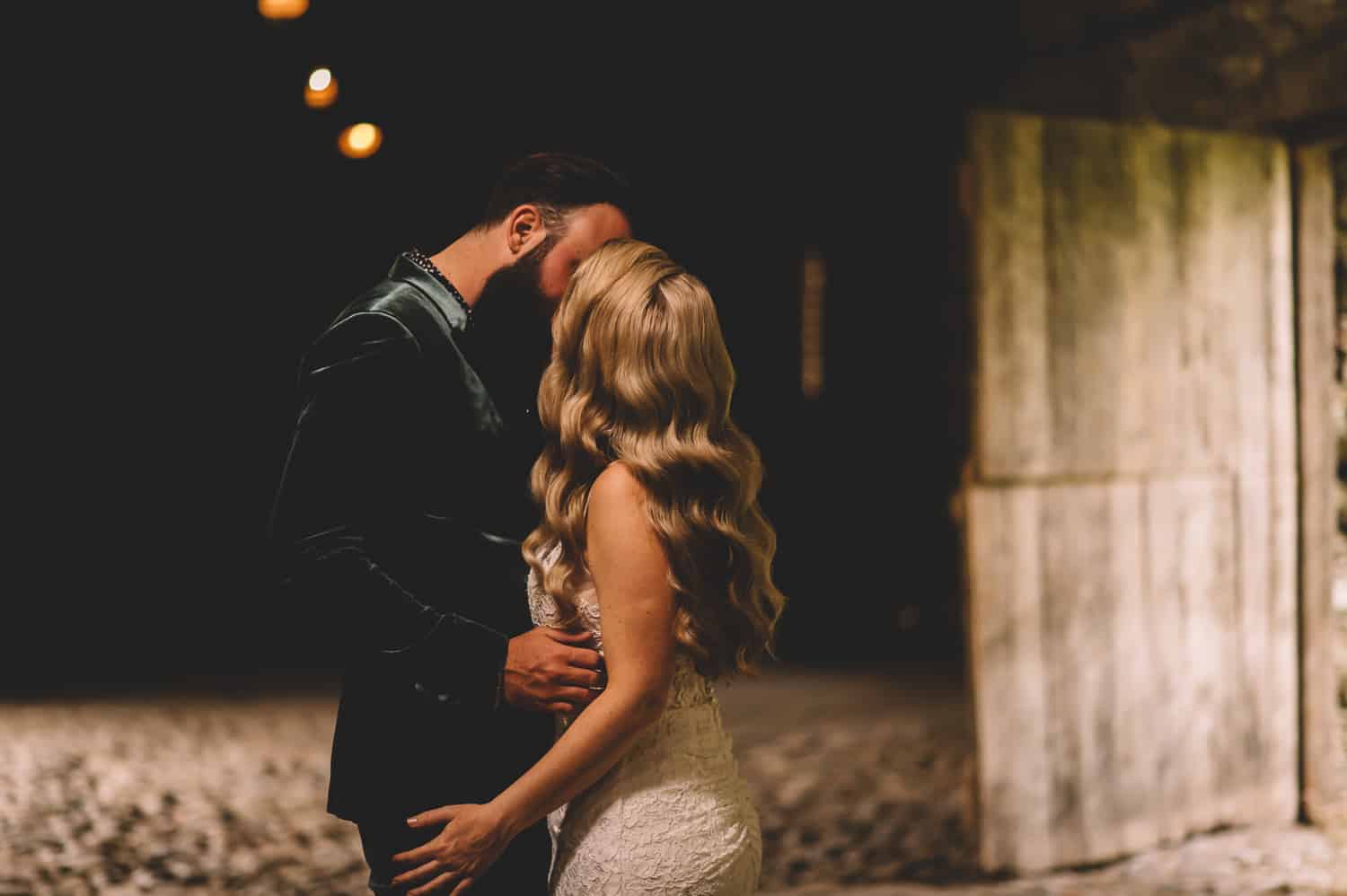 Claire from Beautiful Bridal Hair did the most amazing work with Chantelle's hair. I mean, I'm a bald bloke so hairstyles aren't high on my list of priorities but even I had my jaw dropped by Chantelle's hair. Work. Of. Art.
Don't try this at home!
One of the most impressive aspects of the wedding planning was the fact that Chantelle planned it all herself remotely from Australia. Not only this, but on the day, Chantelle and Josh pulled it all together in true DIY fashion with only the help of their two guests and a small core group of Queenstown Wedding Vendors.
(Chantelle's bridesmaid and besty Nicole actually used to be a wedding planner in Sydney but as Chantelle is a Project Manager she was all over the wedding planning herself).
Chantelle & Josh's Love Story….
How did you meet?
We met at a party (but i cant remember… no Alcohol…just bad memory) 5 years ago. Josh became my brother's best friend. I thought he was a bit annoying. The year we met, I had a masked bday party, when it was time to leave I went in for an INNOCENT kiss on the cheek and he did a swift one and kissed me on the lips…in front of everyone.. I yelled at him.. he ran away.
We did a lot of hanging out 4wd, camping, church, and social gatherings. Still thought he was annoying… Thinking back we always teased each other and had good banter – still do. I used to tease him by saying I'm going to marry you one day; i even went as far as when i met his mum and dad (about 4 years ago) my opening line to them was… "Hi Mum and Dad, I'm going to marry your son on day – no joke! That same day while watching movies with the crew, his mum busts in and says….I've got the dress….she legit had his younger sisters wedding dress in hand.
Back to the future…
Fast forward till about December 2018 (i hadn't seen him for about 2 years) My dad was in a bad accident and i was on leave. He and my brother came out to the farm and we ended up doing farm chores together to help dad and prepare for New Year camping with the Crew. I remember just hanging out in the fields, cutting and poisoning thistle, listening to Pentatonix, but still had no idea what was about to hit me.
When/how did you know you had found "The One"?
The moment for me happened when he was driving the ATV and i was a passenger. I looked sideways and his eyes shook my soul. I literally would run away / avoid him on the farm because i couldn't understand why i felt like i was about to 'fall in'. The next 2 weeks were hard i kept waking up at 3am to just pure joy in my chest and the first person i thought of was Josh – but we hadn't even started dating. It just was. We hung out with his folks for coffee, which then progressed to movies, then other outings until he asked me to be his girlfriend when we were sitting on the beach.The moment for him was apparently the first time we met – he had liked me since then.
What are your hopes and dreams for the future and what is important to you both?
She says: To be best friends and support each other in our ideas and to one day love children who are abandoned. He says: A hope to live a peaceful life.
If you were to describe your dream wedding in just 3 words, what would those 3 words be?
Eclectic Intimate Cheeky
What is your connection with Queenstown?
Patrick haha. (Chantelle and I had been emailing each other for a loooooong time planning this wedding. I felt like I had known her for years when we met for the first time! P).
What have you seen/heard at other weddings that you loved/hated?
Stress…no stress…hence eloping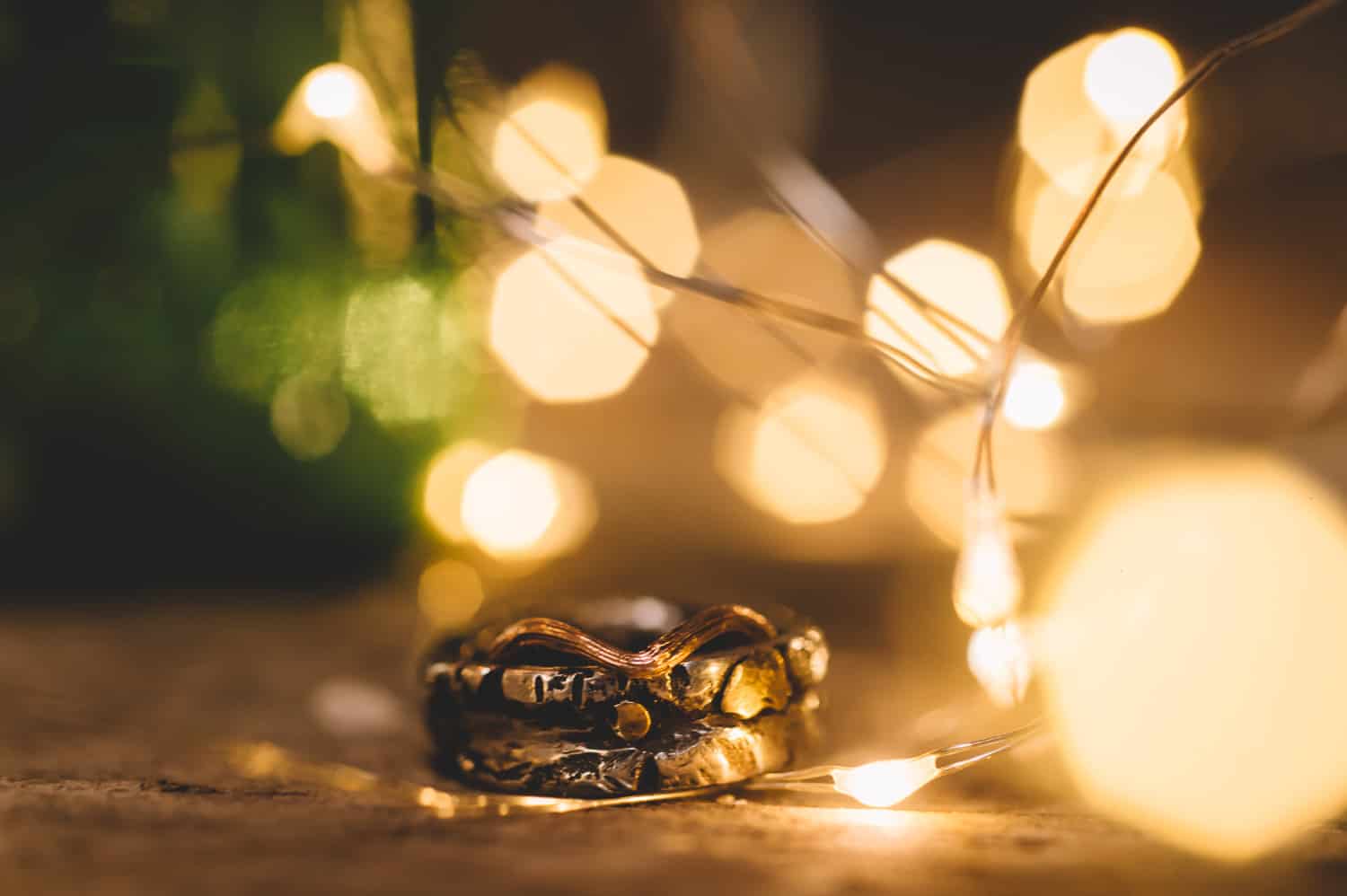 Where did you get your rings?
My wedding band was 14k Rose Gold handmade in America (it's from Etsy), to match the one i did have, till it was taken ? It's cast from a twig. Josh always had in his mind to have my bands made to this effect. So we were pleased that we found a jeweller on Etsy of all places. At first we were a little apprehensive about buying something online without seeing it, but honestly it was the best thing we did. What was Josh's ring made from? His is a mixer!! 18k yellow gold, 14k rose gold & yellow gold and fine Silver. Handmade by a Melbourne artist we found on Etsy.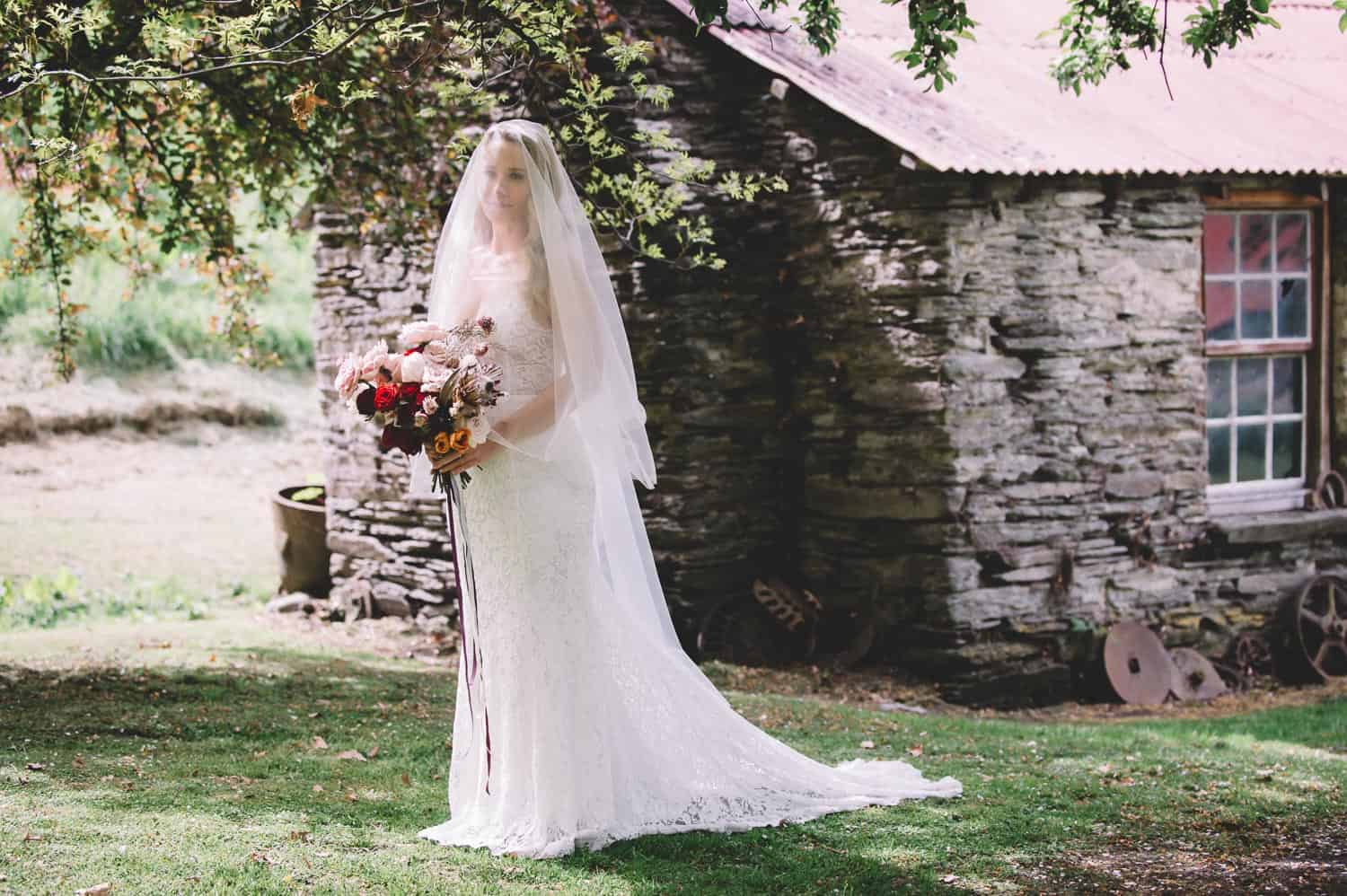 Where did you get the dress?
From a boutique store called Sphere Collective; the dress designer however is "Made With Love Bridal"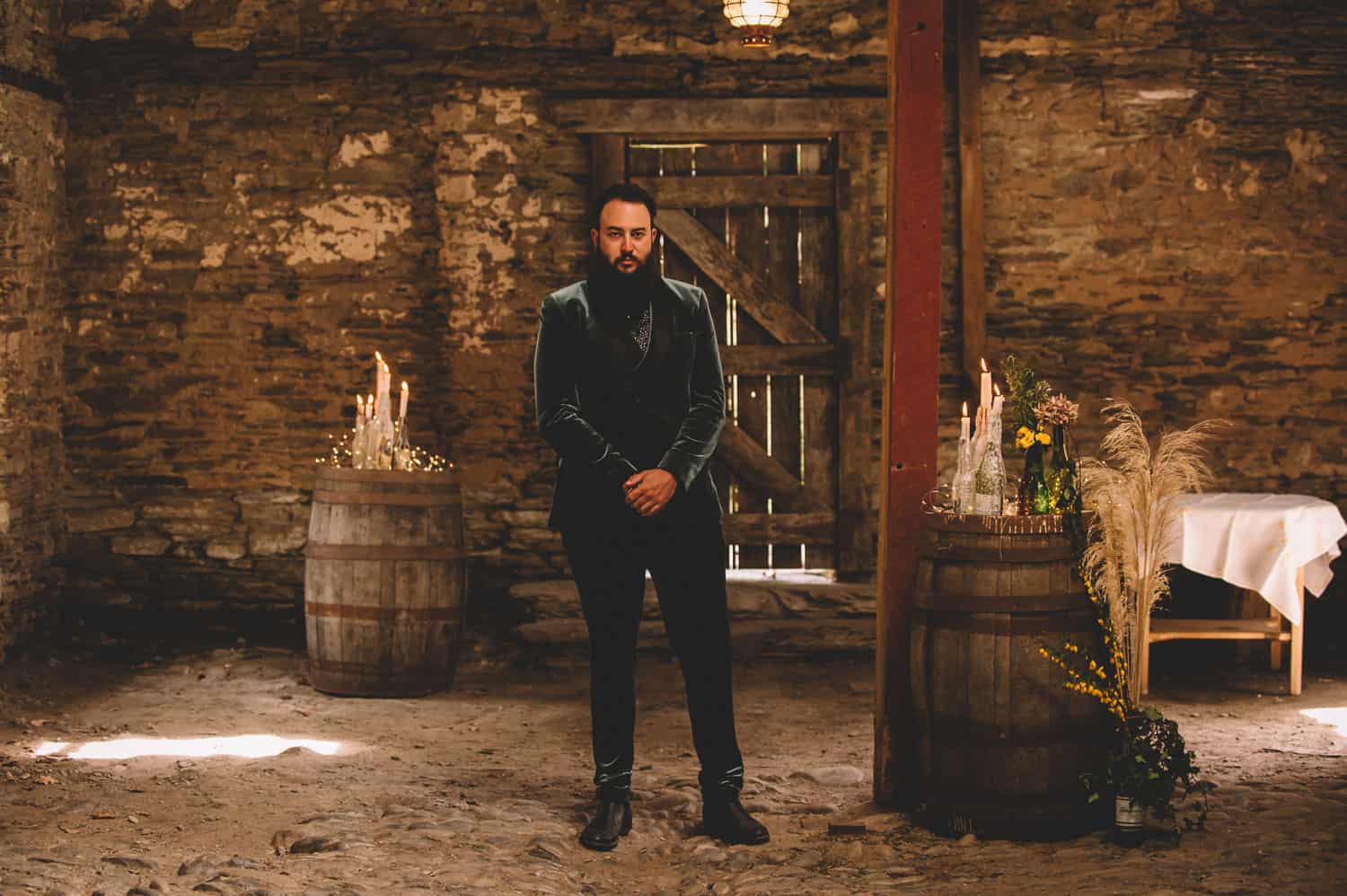 Where did Josh get his suit?
ASOS!! Killer suit ? We ordered 2 suits which were delivered in 3 days and returned the suit that didn't make the cut. ASOS made this process really easy.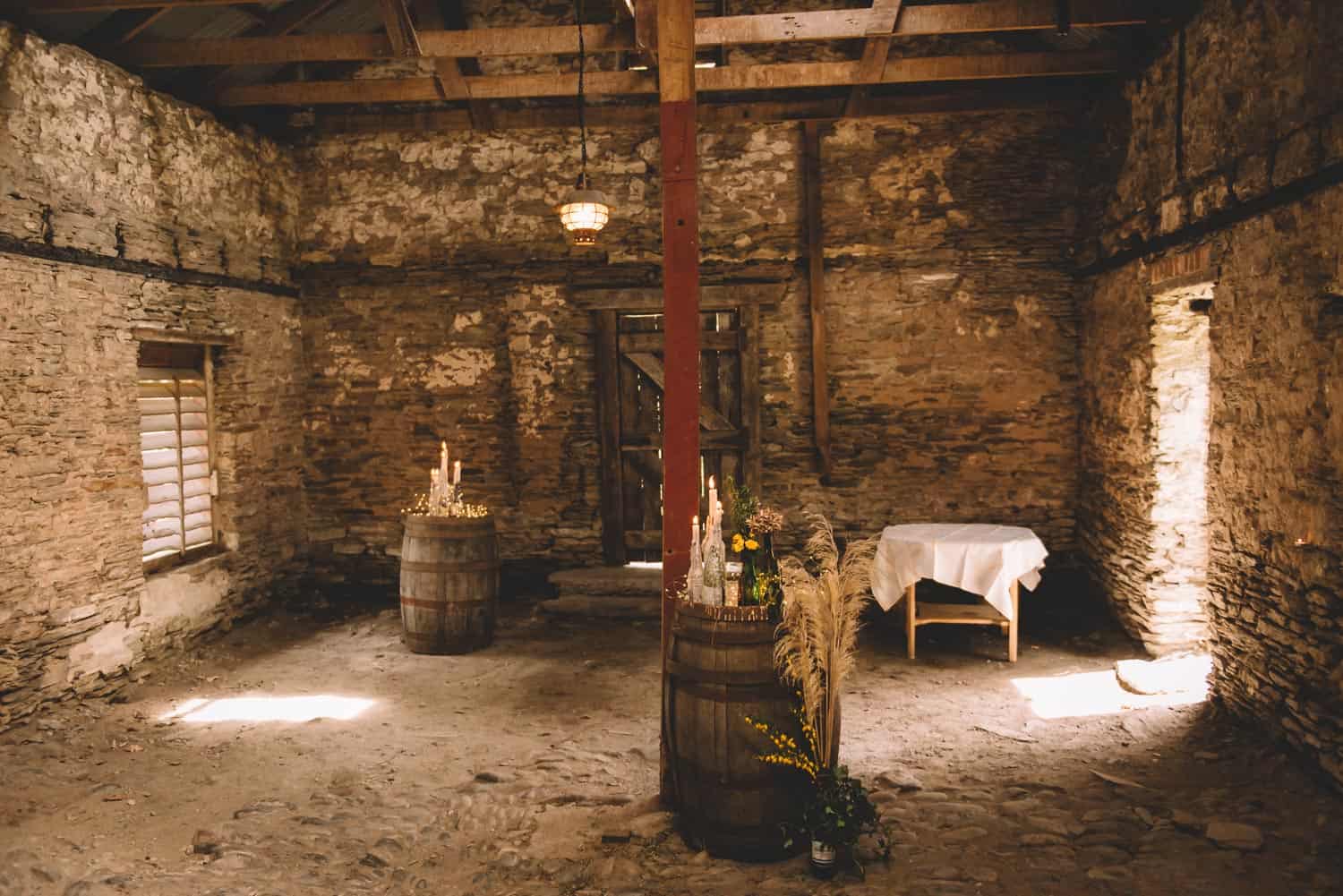 How did you find your Venue?
I think I originally came across your photos of Thurlby Domain and inquired with you (years ago!!) and you forwarded me on.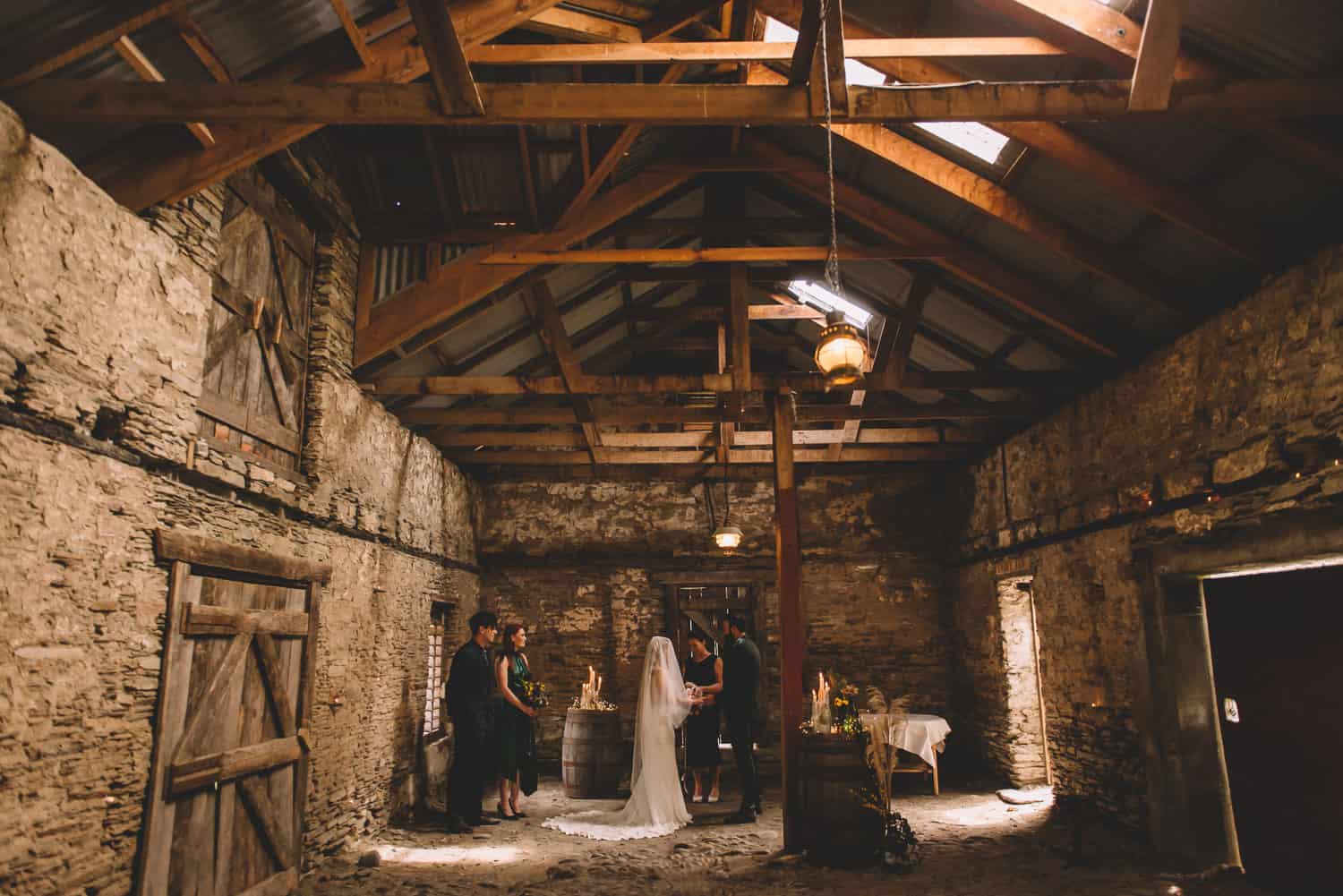 What made you decide to get married inside in the old stone stables rather than outside even though the weather was so perfect?
The Vibe! We wanted an intimate, moody wedding and wanted a venue littered by candles/lights. We appreciate the beauty of imperfection and something in its organic form.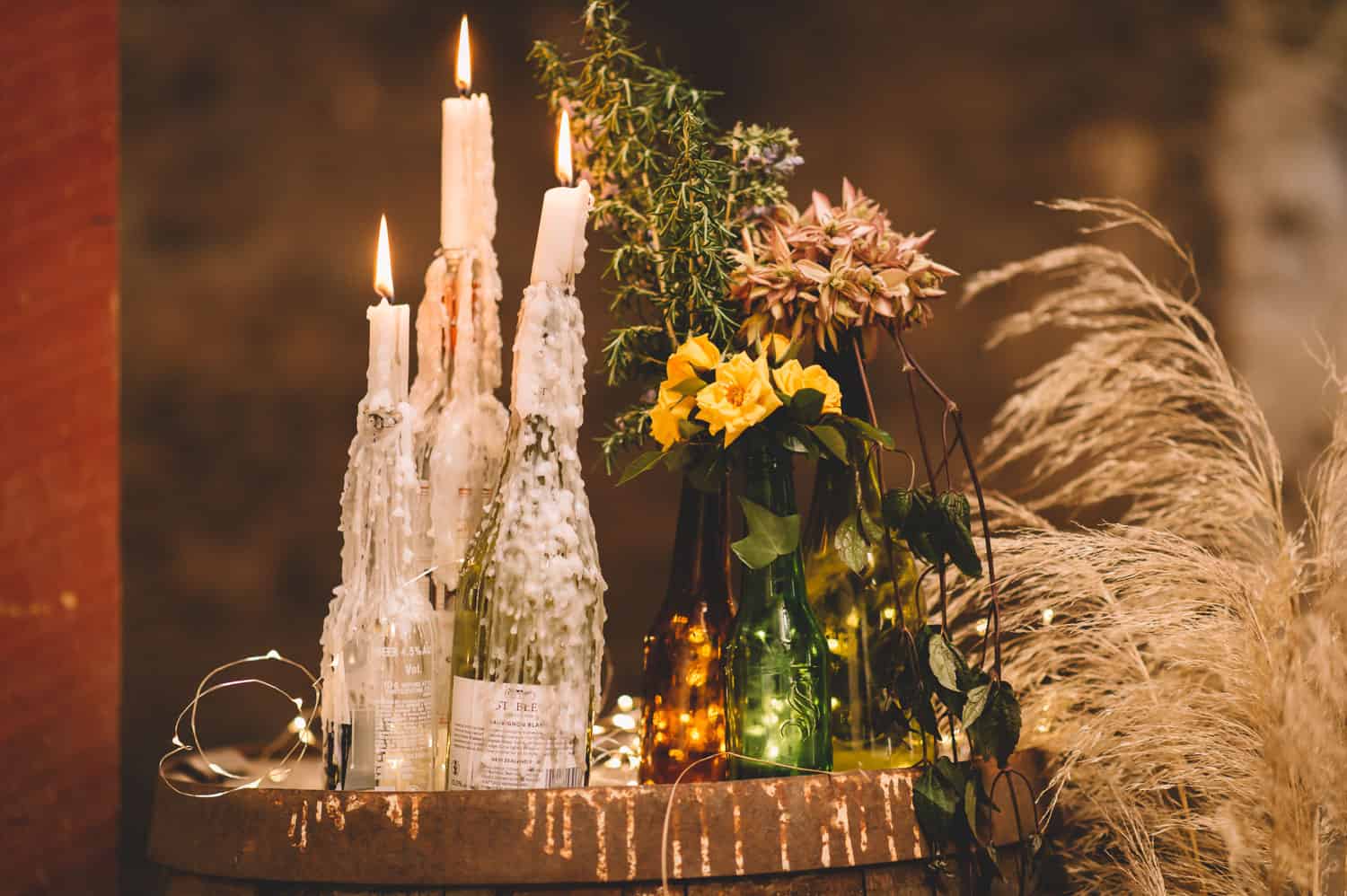 What were your favourite moments from your Queenstown Elopement?
Walking into the stable and seeing it for the first time – everything was perfect. I was impressed because the boys set up the venue – the best man even picked and made our made of honours bouquet. The most important thing was everyone had the freedom to be ourselves and that were able to focus on what Marriage meant for us, being our faith and commitment.
What were the most stressful parts of your wedding day?
That last hour till the ceremony. The day was smooth sailing but the final touches was were I realised why brides go crazy haha. I cut off some of my eyelashes after many failed attempts of putting my eyelashes – did my nails in the back seat on the way to the ceremony – and still had to put my veil on when i got to Thurlby. Besides those little hiccups everything was really wonderful and stress-free. I just think our bridal party and suppliers were super capable, relaxed and willing to 'go with the flow' – that is what made the day so magical.
What were the hardest/most stressful parts of planning a Queenstown Elopement?
Dealing with peoples expectations and my own doubts about what a wedding "should be" like. My husband (so happy i can say that now) has always encouraged me to do things that bring joy. E.g. I LOVED the velvet green suit (snagged me hottie might i say!), but had thoughts that maybe we will look back on our photos and not like it. I just had to trust in the things we both wanted and loved at the time. It was hard to get a hang of but everything we did was because we wanted to and found joy in.
If i was to give a bride advise it would be:
Respectfully stick to your guns on what you both want.
Make sure all your final touches are done before the hour before the ceremony.
Pick the dream team of suppliers – Patrick, Cristian, Emily, Claire and Rosie ?
Venue & Vendors.
Celebrant: Emily O'Leary https://www.facebook.com/emilyolearycelebrant
Queenstown Elopement Venue: Thurlby Domain https://www.queenstown-wedding-blog.co.nz/2018/03/09/thurlby-domain-queenstown-wedding-venue/
Dress Designer: Made With Love Bridal https://www.madewithlovebridal.com
Florist: Rosie Flowers https://www.rosieflowers.co.nz Insta: @rosieflowersnz
Groom's suit: ASOS https://www.asos.com/
Hair Stylist: Beautiful Bridal Hair https://www.beautifulbridalhair.co.nz/index
Jeweller: Etsy https://www.etsy.com/
Photographer: Yours truly, Patrick from Fallon Photography https://www.fallon.co.nz/
Video: Cristian from Eureka Films https://eurekafilms.co.nz/
[cp_modal display="inline" id="cp_id_dad64″][/cp_modal]
More Queenstown Elopement blog posts you might like
queenstown elopement photography packages – the insider's guide
Elopement Photography Queenstown – The Complete Beginner's Guide
How To Pick The Perfect Queenstown Elopement Locations